How is the weather in your neck of the woods? Fall is almost blending into winter for us here. The cottonwoods in our backyard have shed almost all of the leaves while some beautiful maples on our street have gorgeous burnt red leaves that nearly make you want to stop in your tracks and admire the beauty that this change of seasons has to offer.
I have to admit that I am not much of a cold weather gal and do not look forward to below zero temperature days with literally bone chilling winds and snow. When sun comes out during cold winter days, it makes me want to set a chair out on the porch and soak in all that Vitamin D goodness, but then the moment you step out you realize that though it might be nice, bright and sunny outside, it still is super cold and you might want to enjoy the gorgeous sunny day from the warmth of your home. At least that is what I do.
Cold, cloudy, damp and dreary days are a completely different story though. In days like these, I just want to curl up in a blanket, sip some coffee, and do nothing all day long. On the contrary, drab days like this are also perfect for some indulgent, deep fried goodness. This moong daal stuffed poori (call it kachori if you want) is one such recipe. Traditionally these pooris are made with all-purpose flour but I swapped half the all-purpose flour with whole-wheat flour to make them healthier. A girl gotta try..:P. Serve it with some khatte meethe aaloo (sweet and spicy potato curry, recipe here) or with some tangy pickle, and yogurt and you have got yourself a yummy cloudy day fix.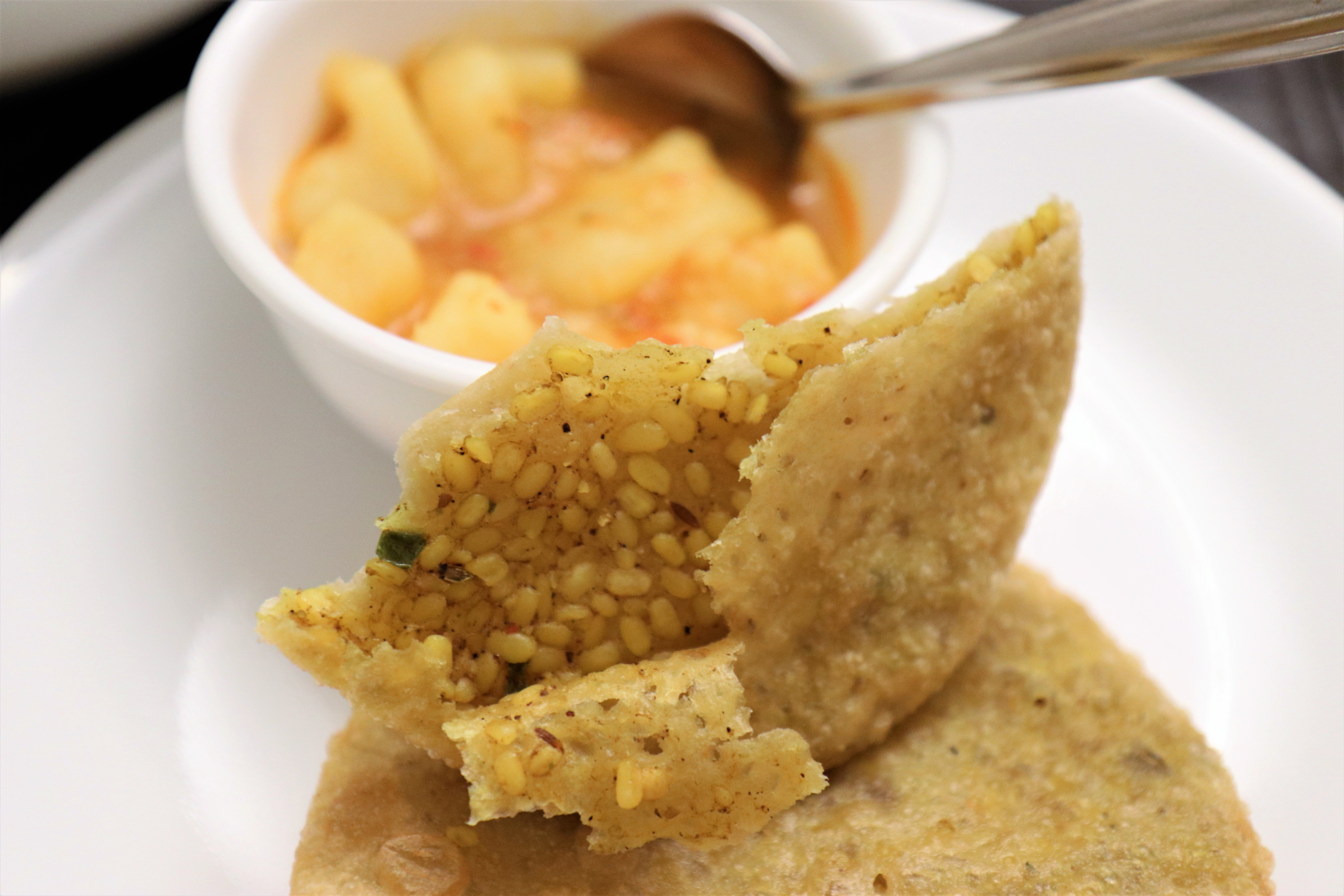 Ingredients (makes 12 pooris):
For the Dough
All purpose flour – 1 cup
Whole-wheat flour – 1 cup
Ghee (recipe here)– 2 tablespoon
Olive oil – 2 tablespoon
Salt – ½ teaspoon
Oil to deep fry the pooris/kachoris
Water – as needed
For the Moong Daal stuffing
Yellow moong dal – ½ cup (soaked for 2 hours in warm water)
Asafoetida – ¼ teaspoon
Cumin seeds – 1 teaspoon
Fennel seeds – ½ teaspoon
Ginger – 1 teaspoon, grated
Green chili – 1, finely chopped
Turmeric powder – ¼ teaspoon
Garam masala – ¼ teaspoon
Red chili powder – ¼ teaspoon (or according to taste)
Amchur powder/chaat masala – ½ tablespoon
Salt to taste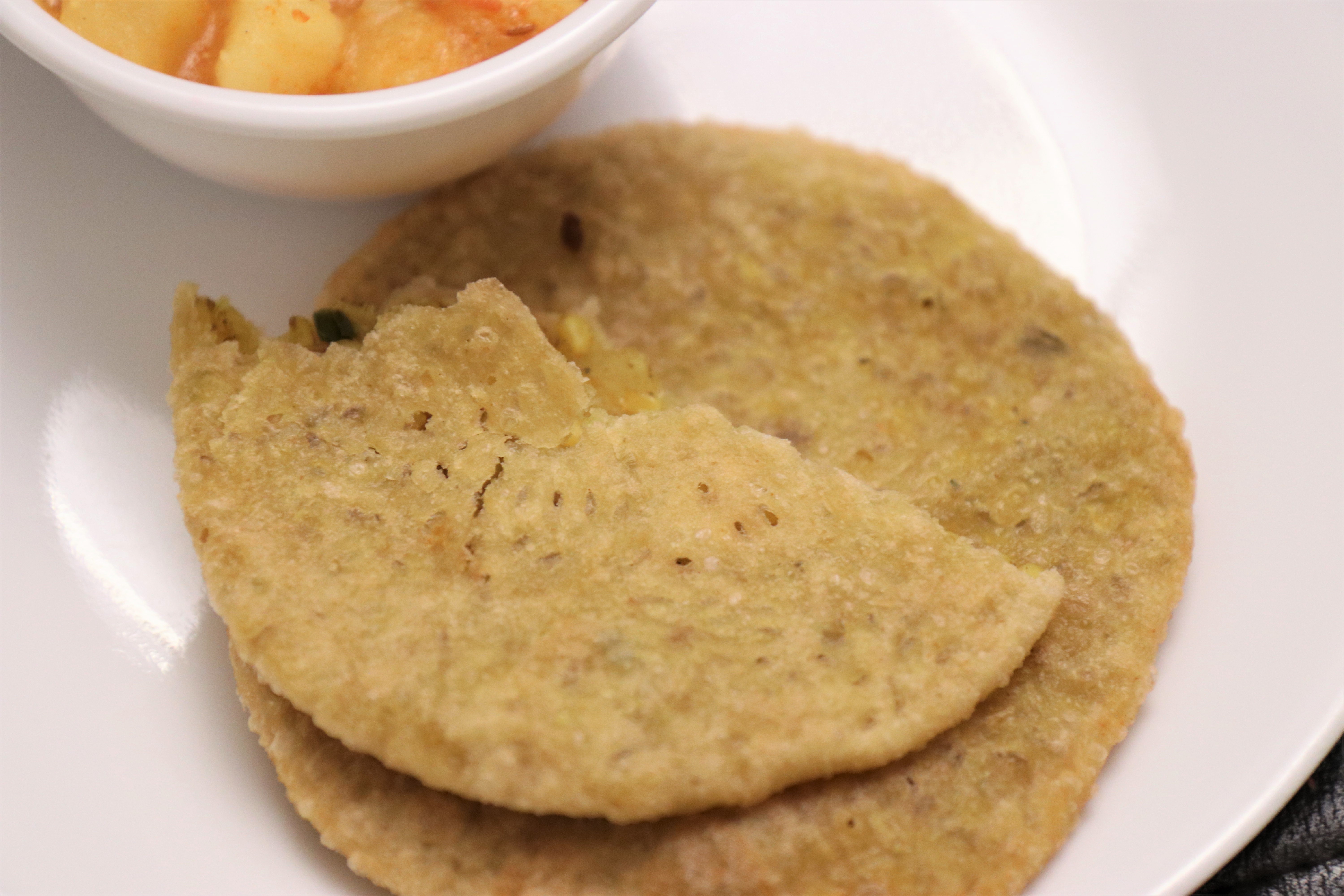 Method:
To make the dough, mix all the ingredients except water together (by hand or in a stand mixer), till the oil and ghee are evenly distributed and the mixture looks like tiny peas. Add water slowly to make a soft dough. I ended up using ¾ cup water. Cover the dough with a damp kitchen towel and let rest till you get the daal stuffing ready.
Drain all the water from the daal. Set a heavy bottome skillet/non-stick pan on medium heat. Heat oil till shimmering and then add the asafoetida, cumin seeds, and fennel seeds. After about 15 seconds add the ginger and green chili. Cook for about a minute or till the raw smell of ginger goes away. Add turmeric powder, mix and add the moong daal followed by all the spice powders and salt. Lower the heat and cook, covered with a lid, for about 10 minutes till the daal is softer and coated in the masala. Turn off the heat, give it a taste check, adjust seasonings, if needed and let the daal cool down a bit. Once cooled, coarse grind it (hand blender or food processor would work great. Pulse only).
Set a deep pan/kadhaai over high heat and add about 2 to 3 inches of oil. Once the oil is hot, lower the heat to medium low. Divide the dough into 12 equal portions. Roll out each portion of the dough into a 2 inch wide circle. Place about a tablespoon of daal masala/stuffing in the middle of the rolled out circle. Bring in the sides of the dough circle in the middle to cover the masala and form a potlee. Flatten it a bit and apply oil on both sides of the flattened stuffed circle. With a rolling pin, roll it to a circle of 2 and a ½ inch diameter, making sure not to puncture the poori and the stuffing is not oozing out from any where. Deep fry on medium low heat in hot oil till golden brown on both sides. These take longer to fry as compared to regular pooris since the poori is thicker. Drain on a kitchen towel and keep warm in a foil lined cookie sheet in a 200 degree F oven.
Repeat till all the dough is gone. I was able to make 12 pooris and about two tablespoon daal masala was left over. Great snack!
Serve the pooris hot with hate meethe aloo or achaar (Indian spiced pickles) and yogurt.
Love – Vaishali.
Tools used:
Stand mixer
Measuring cups and spoons
Knife and chopping board
Grater
Skillet
Pan/kadaahi for deep frying
Oven
Cookie sheet
Foil
Spatula