This aromatic and super flavorful Chicken Biryani Recipe will become your favorite rice recipe of all times. Follow this step by step recipe to make perfect, restaurant style biryani at home every single time.
Jump to Recipe
This recipe of Hyderabadi Chicken Biryani for Friendly Fridays has been a loooong time coming. Our friend, Santosh, is an artist in the kitchen and this Hyderabadi Chicken Biryani is his masterpiece. Santosh and Dr. A are work buddies since a very long time and we have talked about Santosh's chicken biryani in our home ever since. We moved to the Midwest around the same time few years ago. We have been talking about getting to this chicken biryani recipe for as long.
Santosh and Dipti
Last summer Santosh and his beautiful wife, Dipti came to visit us and we put Santosh incharge of the kitchen to make chicken biryani. I was super impressed with his ease around ingredients and kitchen tools. My thought - here's a guy who completely enjoys cooking and puts his passion into every step of it. From slicing onions like a pro to skinning the chicken thighs. I was floored.
We got a chance to visit Dipti and Santosh last year too. Needless to say, we were graced with this aromatic, deeply flavorful, warmly spiced, out of the world biryani along with several other delicacies from their kitchen. They maintain a Facebook page called Healthy Tasty Cooking and strongly believe in that name.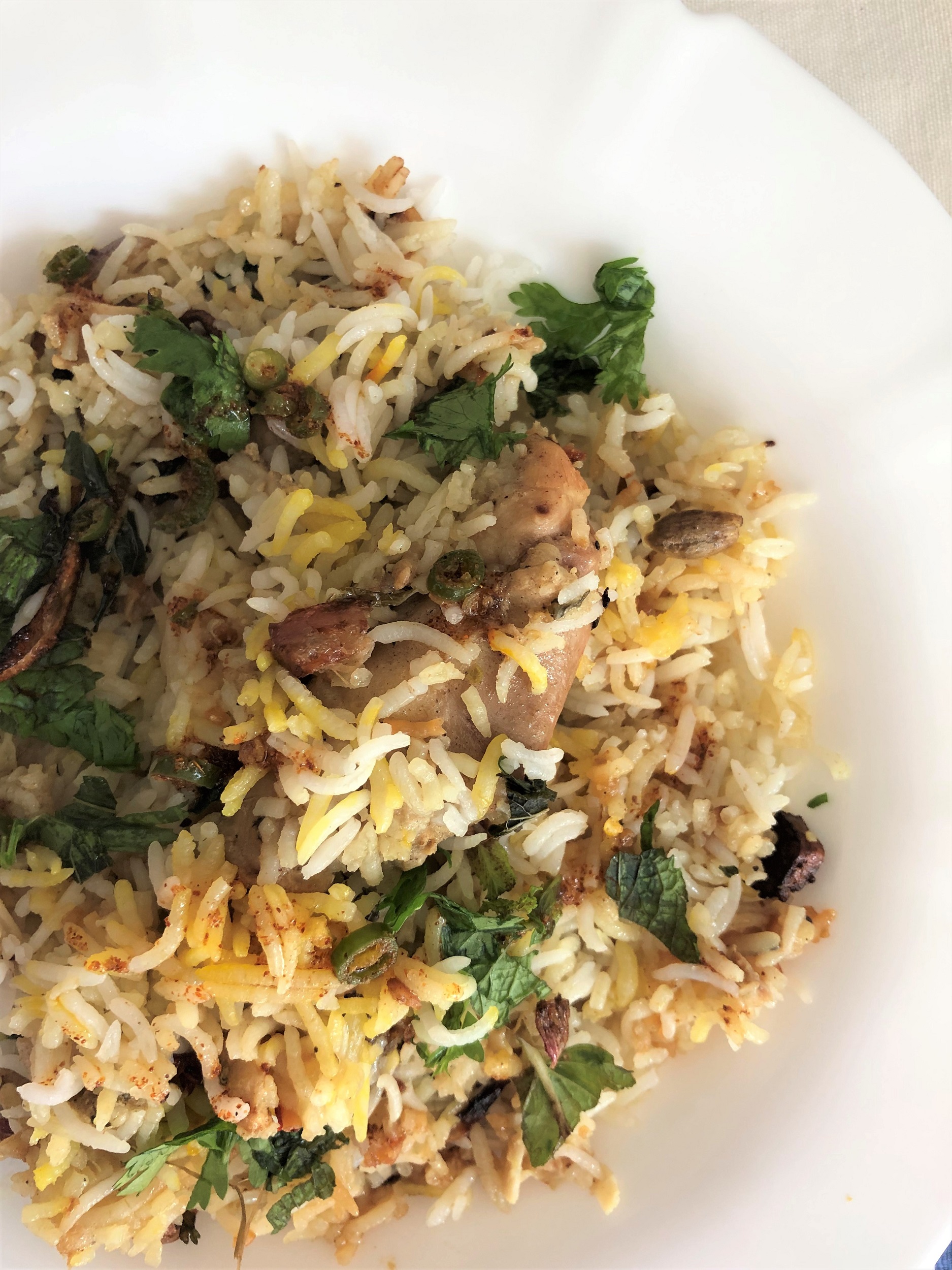 I know you have loved previous Friendly Fridays posts - Avanti's banana bread and Roshani's Coconut Chicken Cups, so I hope you will love this one too. Anywho, I won't stand between you and this recipe of Chicken Biryani so here you go. A brief intro about story of Chicken Biryani by Santosh and then the recipe itself. Enjoy!
From Santosh: History of Chicken Biryani
"Back in the day Biryani used to be the go to diet for soldiers. Instead of cooking rice and other protein separately, I believe one of the Mughal queens came up with the idea of cooking both meat and rice together in a large container. The meal was a balanced diet as it had carbs and protein in one. Further, the number of utensils needed to cook, serve, and eat were also reduced because of the all-in-one meal"
Recipe run down:
The recipe starts with a flavorful masala - a blend of aromatics like onion, ginger and garlic and warm Indian spices. This masala is used to marinate chicken and set aside. While the chicken is marinating you can prepare your garnishes and par cook your long grain basmati rice. The type of rice you choose here is important and you have to pick premium quality basmati rice. No substitutions will do…😊. After the rice are done, its time to layer the biryani in a heavy bottomed pan that is coated with ghee. Chicken Biryani is layered by alternating rice and marinated chicken. Then you close the pan tightly and let the biryani cook low and slow giving it "dum" or steam. This steam will cook the chicken slowly in about half an hour and then your biryani is ready to be enjoyed.
Here is a printable: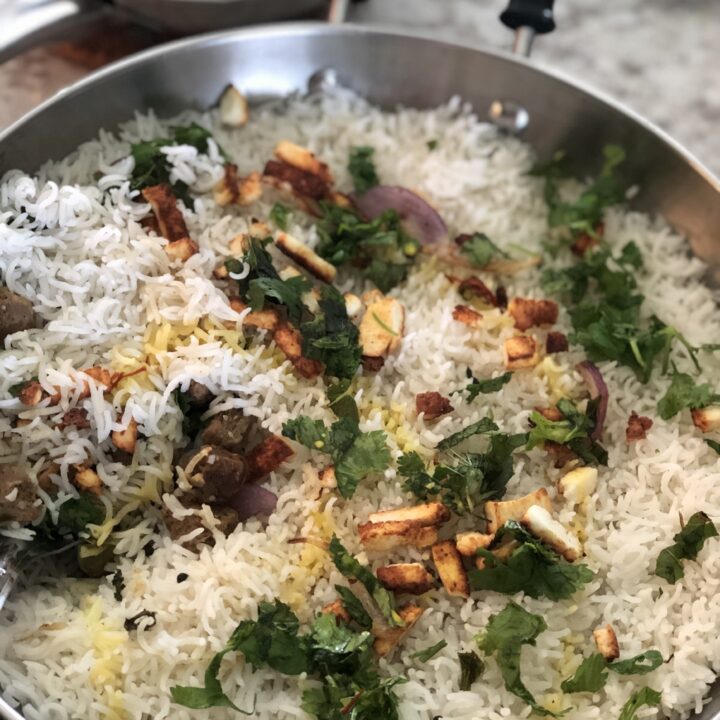 Santosh's Chicken Biryani
This aromatic and super flavorful Chicken Biryani Recipe will become your favorite rice recipe of all times. Follow this step by step recipe to make perfect, restaurant style biryani at home every single time.
Ingredients
1.5 to 2

lbs

Chicken

See notes

2

big

Onions

chopped

1

tablespoon

Ginger garlic paste

1

tablespoon

Yogurt

¼

teaspoon

Turmeric

Salt to taste

1

teaspoon

Red chilli powder

4-5 green chillies (See notes)

5

Cloves

4

Green cardamom

pods cracked open

1

Cinnamon stick

½

teaspoon

Shahi Jeera

See notes

4-5

Bay leaves

½

cup

Cashews

½

cup

Cilantro

finely chopped

Few

Strands of saffron (optional)

soak in a tablespoon of warm water or milk

2

cups

Basmati Rice

1

tablespoon

Lemon juice

1

tablespoon

Garam masala

See notes

5

tablespoon

Vegetable oil

4

Eggs

hard-boiled and then cut in half (optional)
Instructions
Step 1: Marinating the Chicken
Take a pan and put 5 tbsps of vegetable oil (absolutely no olive oil)

Once oil is hot put half teaspoon of shahi jeera

Add cinnamon half inch and cloves

Add chopped onions immediately (to avoid burning of the spices)

Add turmeric and saute onions until transparent

Add 1 tablespoon of ginger garlic paste and keep sautéing the onions until brown

Add chicken to the fried onion and mix thoroughly

Then Grind cashews very fine and add the cashew powder to the mixture

Add salt to taste, red chilli powder (1tsp) based on taste and garam masala

Add half cup yogurt to the marinade and mix thoroughly

Keep mixing thoroughly so all spices and chicken are marinated

Keep the marinade aside for one hour at least. The marinade should look something like this. The difficult part of the biryani is over.
Step 2: Cooking of rice in a separate container
In a separate deep container, add 1 teaspoon veg oil and a pinch of shahi jeera

Fry the jeera for 30 secs, add 4 cups of water with a pinch of salt and allow it to boil

Wash 2 cups of rice thoroughly and add in boiling water. Keep stirring until 80% cooked (about 7-8 minutes).

Towards the end add bay leaves

After the rice is cooked keep it aside, don't mix it too much as you might break the rice and make it sticky
Step 3: Layering the Biryani
Take a shallow container/pot and add a tablespoon of ghee/clarified butter. Transfer the chicken marinade from step 1 into the shallow container. The clarified butter will reduce burning of the chicken and also releases good flavor when the chicken is cooking.

Layer rice on top of the marinated chicken and slow cook it on medium. Drizzle the saffron water if using.

Now here the chicken is going to get cooked and release all the flavor steam that gets trapped in the rice. We have to make sure to cover the pot tightly so that no steam escapes. This is very important as this tight seal and aromatic steam is going to cook the chicken at the bottom
Step 4
After few minutes (20 mins to half hour), the steam escapes from the gaps in the lid and the pan. This tells you that the chicken is cooked and the biryani is done. Some parts of the chicken at the bottom might be a little burnt but that's ok it adds to the taste. To check if the chicken is cooked as you prefer take a spoon and dig deep to get to the chicken piece and taste it.
Step 5: Garnishing the biryani
Red onions: finely sliced half onion

Minced Ciltantro

Eggs (4 hard boiled. Sliced in half)

Cashew (4-5 pcs.)

In 1 tablespoon oil saute the onion until golden brown

Add cashews and eggs and saute for 1 min
Notes
White meat or any cuts of the chicken. Thighs are preferable because they have more fat. If you can get the whole chicken and cut them that would be good too. The whole chicken might add more flavor because of different parts of chicken but requires more work.
Shahi Jeera is not same as cumin seeds but if you cannot find shahi jeera you can use regular cumin seeds.
You can use any chicken spice powder (E.g, M.D.H or Badshah chicken curry powder) instead of garam masala available in any Indian grocery store. Santosh prefers M.D.H. brand
Getting the right consistency for rice is very tricky. If you think you over cooked the rice, transfer the cooked biryani on to a cookie sheet and broil it for few minutes until the top layer of rice becomes crispy
There are no shortcuts to a Chicken Biryani recipe. One bite of this deliciousness and you will realize that it is worth every single minute. I hope you'll give Santosh's recipe a try and enjoy it.
Love - Vaishali.
P.S. If you make this recipe, please don't forget to tag me #thekitchendocs on Instagram!
Tools used: