For an appetizer that's bursting with flavor, you can't go past these Thai-Indian fusion style coconut chicken cups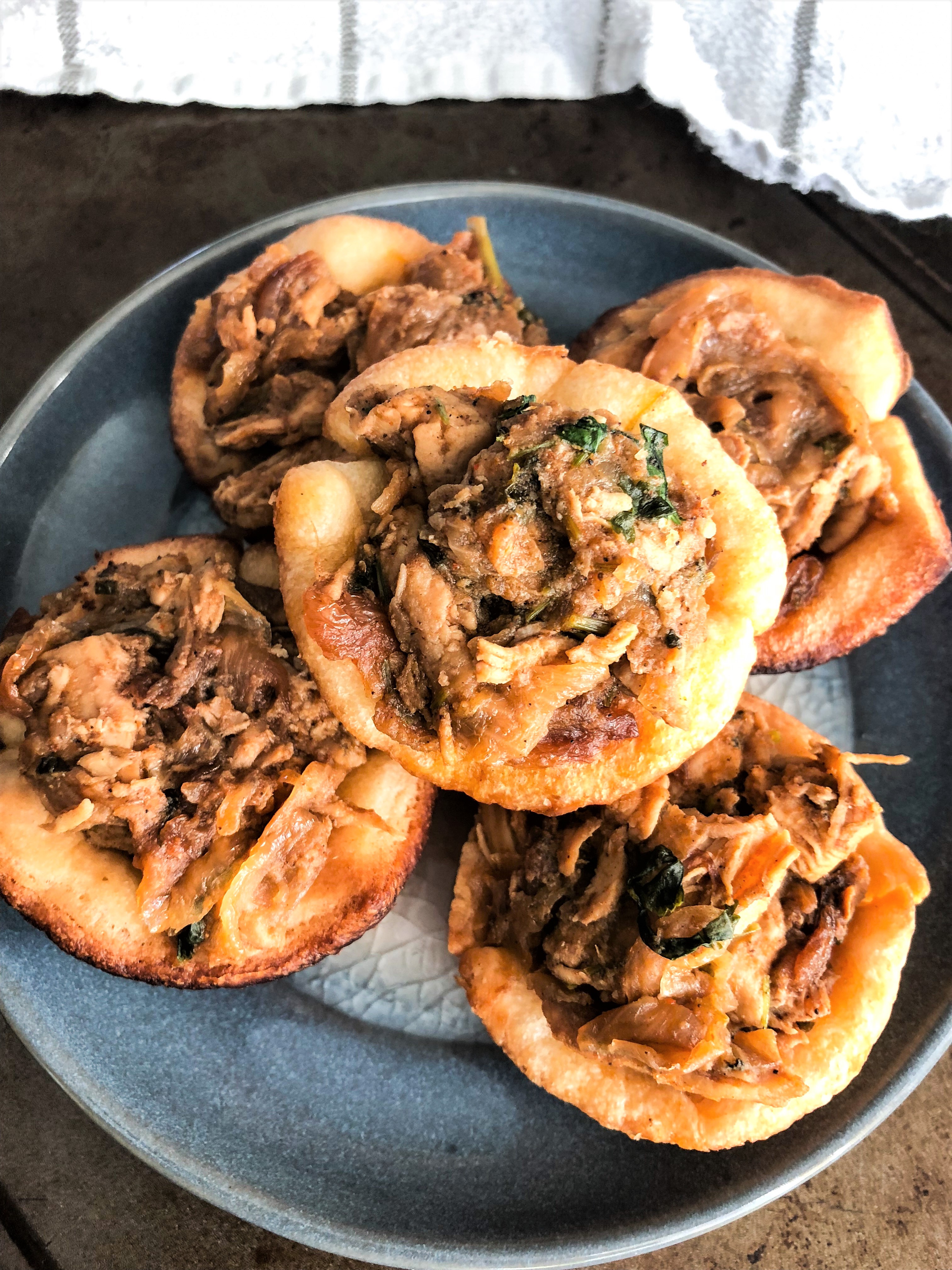 I am back with a Friendly Fridays post dear friends! I love sharing recipes of friends here on TKD. You all loved Avanti's nut free banana bread (recipe here) a lot and that makes my heart happy. So many of us are just naturals in the kitchen, some are "follow a recipe" experts and some cook to just eat. But we are friends - irrespective of our skill set in the kitchen. Which of course does not matter much. What matters is that I have a platform and I have you - all my wonderful readers and my virtual friends. And I love to share with you, recipes from my friends who do not have a way to reach thousands of people like TKD does. So here we are! I feel privileged to be sharing Roshani's Coconut Chicken Cups recipe today.
Jump to Recipe
A little bit about Roshani first. I "met" Roshani on Instagram. Yup the wonderful, expansive and mystic world of social media. She and her husband were moving in to town from up North and she was searching about our little town and its people on Instagram. She stumbled on my profile and sent me a message. That's it - a friendship was twisting and turning under the soil waiting to break ground. Once in town, some texts, coffee and dinners nurtured it and it blossomed. Cheesy? I know, but anyhow Roshani and Saurabh are wonderful and great company to be around.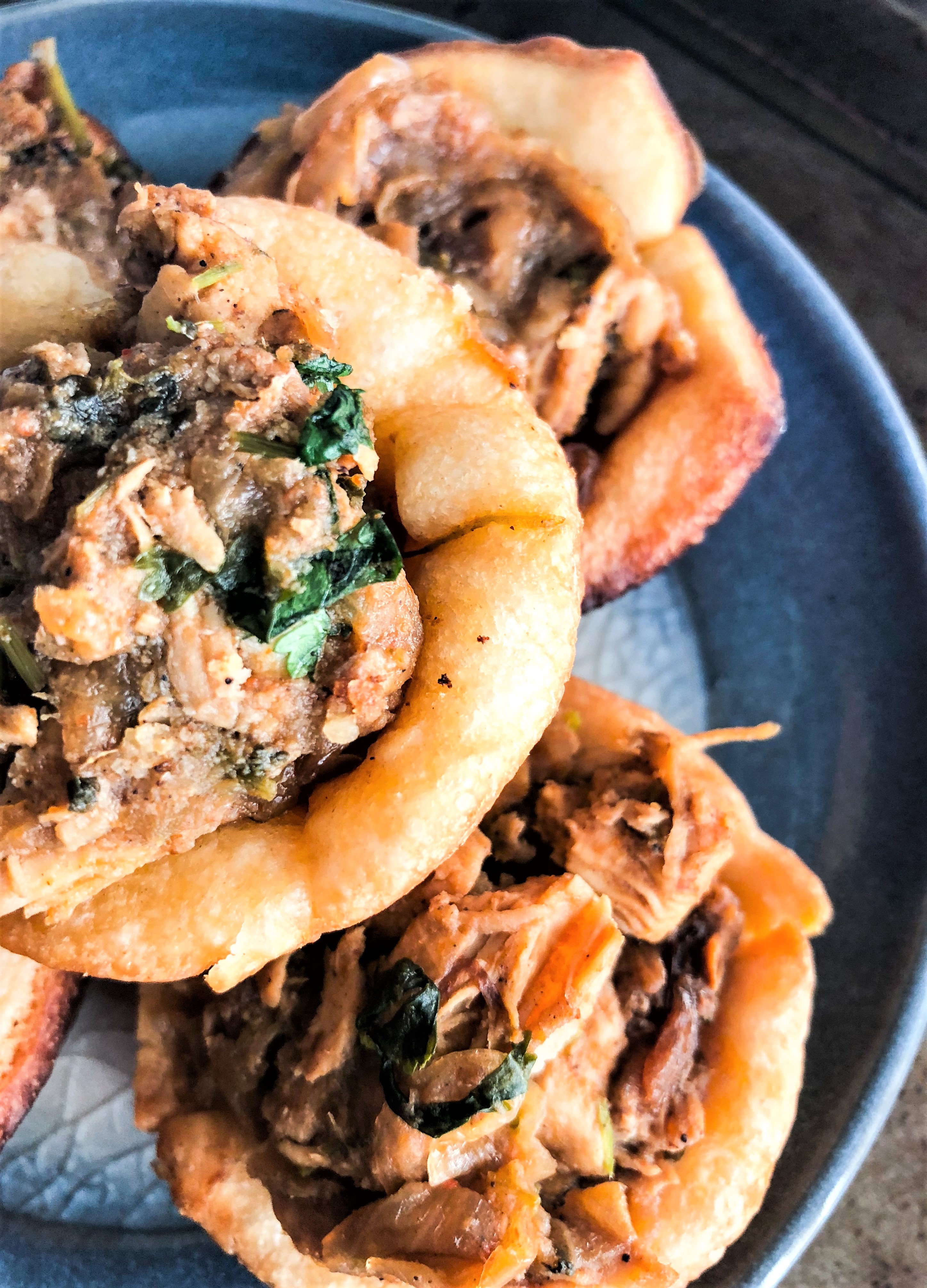 Few weeks ago, we got together at Roshani's house for dinner and she served these Coconut Chicken Cups as appetizers. Roshani is a big follower of The Kitchen Docs and when I asked if she would like to share her recipe for Friendly Fridays, she happily agreed.
Think of this recipe as dry version of luscious coconut chicken curry nestled in a baked dough cup. Spicy, flavorful, tender chicken perfection in every bite. For these coconut chicken bites, Roshani suggests making the filling by sauteeing some ginger garlic and onion together and then adding seasonings followed by chicken breast chopped into small cubes. Coconut milk, cilantro and lemon juice finish the filling for the coconut chicken bites. For the dough she suggests using all purpose flour, a little bit oil and salt to make a soft dough and then bake it in muffin pans to make cups for the chicken filling.
Here is a printable version:
Roshani's Coconut Chicken Cups
For an appetizer that's bursting with flavor, you can't go past these Thai-Indian fusion style coconut chicken cups
Ingredients
For the dough to make cups
1 ⅓

cup

All purpose flour

½

teaspoon

salt

½

teaspoon

sugar

1

teaspoon

baking powder

2

tablespoon

olive oil

½

cup

water

or as needed
For the coconut chicken filling
1

tablespoon

olive oil

1

big

white onion, finely chopped

about 1 ½ cups

1

tablespoon

ginger paste

see notes

1

tablespoon

garlic paste

see notes

1 ½

chiken breast

about 0.75 lb

1

teaspoon

chili powder

like the one you use to make chili

2

teaspoon

garam masala

2

tablespoon

pureed tomatoes

about half a tomato

¼

cup

water

¼

cup

coconut milk

Salt and black pepper

to taste

10

sprigs

cilantro

leaves stripped and chopped

½

lime/lemon

juiced
Instructions
Start by making the dough
Mix all the dough ingredients and make a soft dough. Alternately, you could use store bought pizza dough.

Baking the dough cups
Grease a muffin pan using oil spray. Preheat the oven to 350 degrees F or 175 degrees C


Divide the dough equally into 20 small balls. Roll the balls into small discs and press into each muffin pan cavity to form a cup.


Bake the dough cups for 15 to 18 minutes. Watch till the edges turn golden brown.

Prepare the Coconut chicken filling
While the dough cups are baking, prepare the filling. Start by chopping the onion, cubing chicken breast into small (½ inch) cubes, mincing ginger and garlic (or use store bought pastes)


Set a heavy bottomed skillet over medium high heat and add olive oil. Once the oil is nice and shiny, add the chopped onions and cook for 5-7 minutes.


Once the onions are almost browned, add ground ginger and garlic and sauté well.


Once the raw smell of ginger garlic is cooked away add the chicken breast cubes

Sauté the mixture for a bit, add garam masala powder and a chili powder. Mix and add the tomato puree.


Add water and cook for 5 minutes. Once the chicken is almost done, add coconut milk and sauté till all the liquid is soaked by the chicken.

Season with salt and pepper. Check for seasoning, add chopped cilantro and lemon juice. Cook for a minute or two and turn the heat off.
Assemble the cups
When the dough cups are done baking, remove the pans from the oven. Add about 1.5 tablespoon of coconut chicken filling to each cup and bake for five more minutes


Take the coconut chicken cups out from the oven and serve warm!

Notes
You can use store bought ginger-garlic paste instead of fresh minced ginger and garlic.
You can also use store bought pizza dough instead of making your own dough.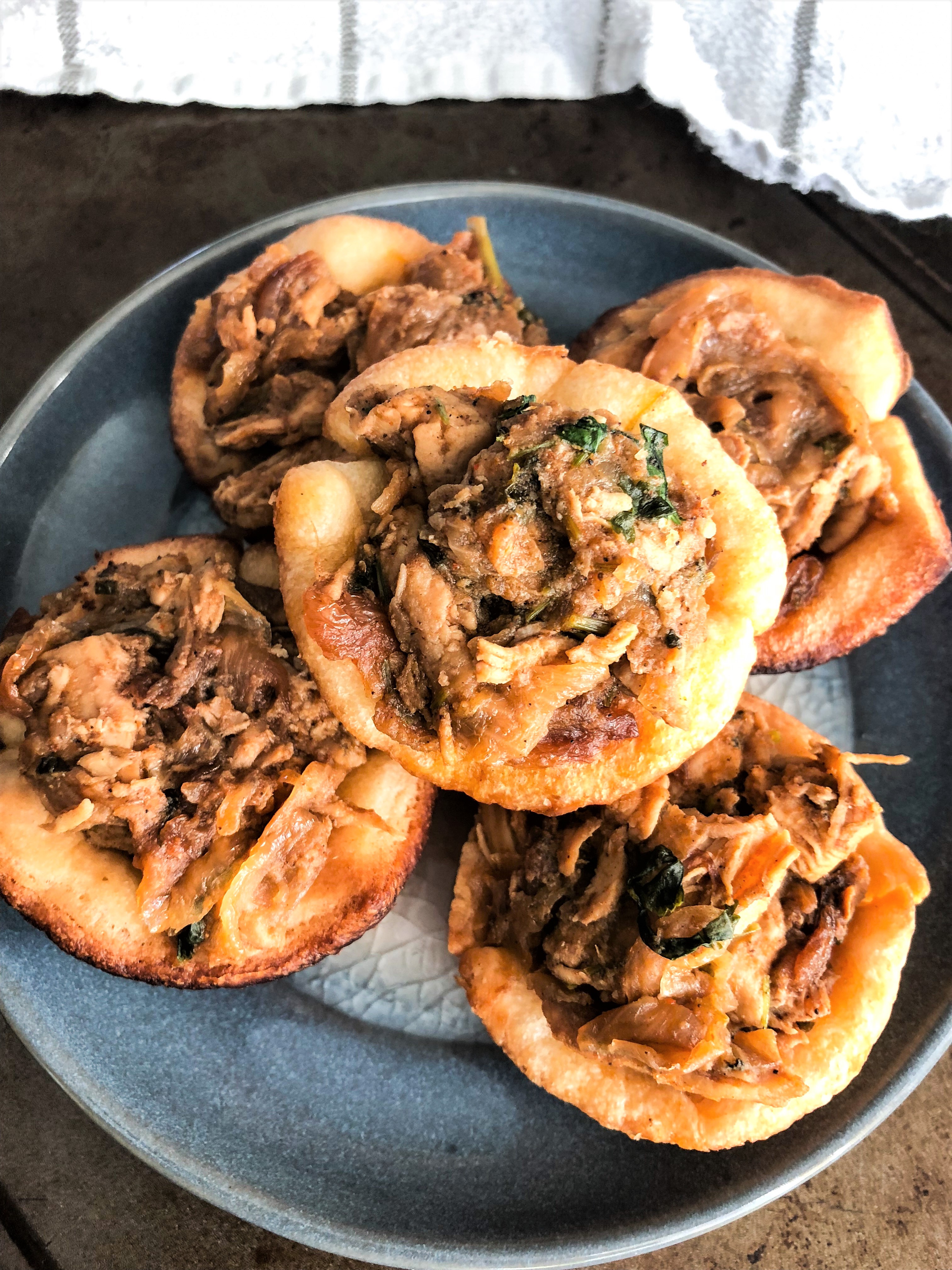 If you make these, make sure to share your pictures on social media and tag The Kitchen Docs (Facebook, Instagram). This will make both Roshani, me and your tummies very happy!
Love - Vaishali.
Tools used:
Oven
Measuring cups:
Measuring Spoons: