This Easy Peach Cobbler recipe is made with fresh, juicy peaches and biscuity, cake like dough is the perfect summer dessert!
This post may contain affiliate links · As an Amazon Associate I earn a small commission from qualifying purchases.
Jump to Recipe
Ever since we built our house and my dad visited us from India, he has been imploring us to plant some fruit trees in our backyard. We have a gorgeous,south facing, gently sloping backyard that gets plenty of sunshine and the horticulturist in my dad sees it as a golden opportunity for zone hardy fruit trees like apples, peaches and pears. Every time we have this conversation, I tell my dad that I will explore local nurseries and such but that has not happened yet! That "yet" is important because Dr. A and I are determined to add some trees but for now juicy and delicious peaches from our wonderful neighbor's peach tree have been made into this Easy Peach Cobbler.
The Recipe
The recipe of this easy peach cobbler comes from an old friend from our Auburn days. If you have been following along, you might know that I have been deeply influenced by the recipes of the deep south…especially desserts. No wonder! There is a southern recipe of apple harvest cake (here) that you might like. This easy peach cobbler recipe is an old fashioned recipe that uses butter and sugar and I don't dare make any replacements or substitutions. Why, you ask? Because there is a time and place and recipe to go healthy and this, my friends, is not one of them. You have to enjoy this recipe as it is - just as my friend told me and just as it is supposed to be. But if you want to and your health conditions or dietary restrictions dictate that you should…then so it be. Do whatever makes your heart happy!
How to choose the right peaches?
Pick ripe peaches. They should not be firm to touch so that when you gently squeeze a peach, there should be some softness. But don't use peaches that are too soft or mushy. There's a middle ground…and you should find it for this recipe. I am sorry that I put you in this difficult situation. Also, never squeeze the peach too hard or you will bruise and ruin it. Just kidding…but please don't do it! Another great thing about this easy peach cobbler recipe is that you can totally use frozen peaches if you cannot find fresh ones.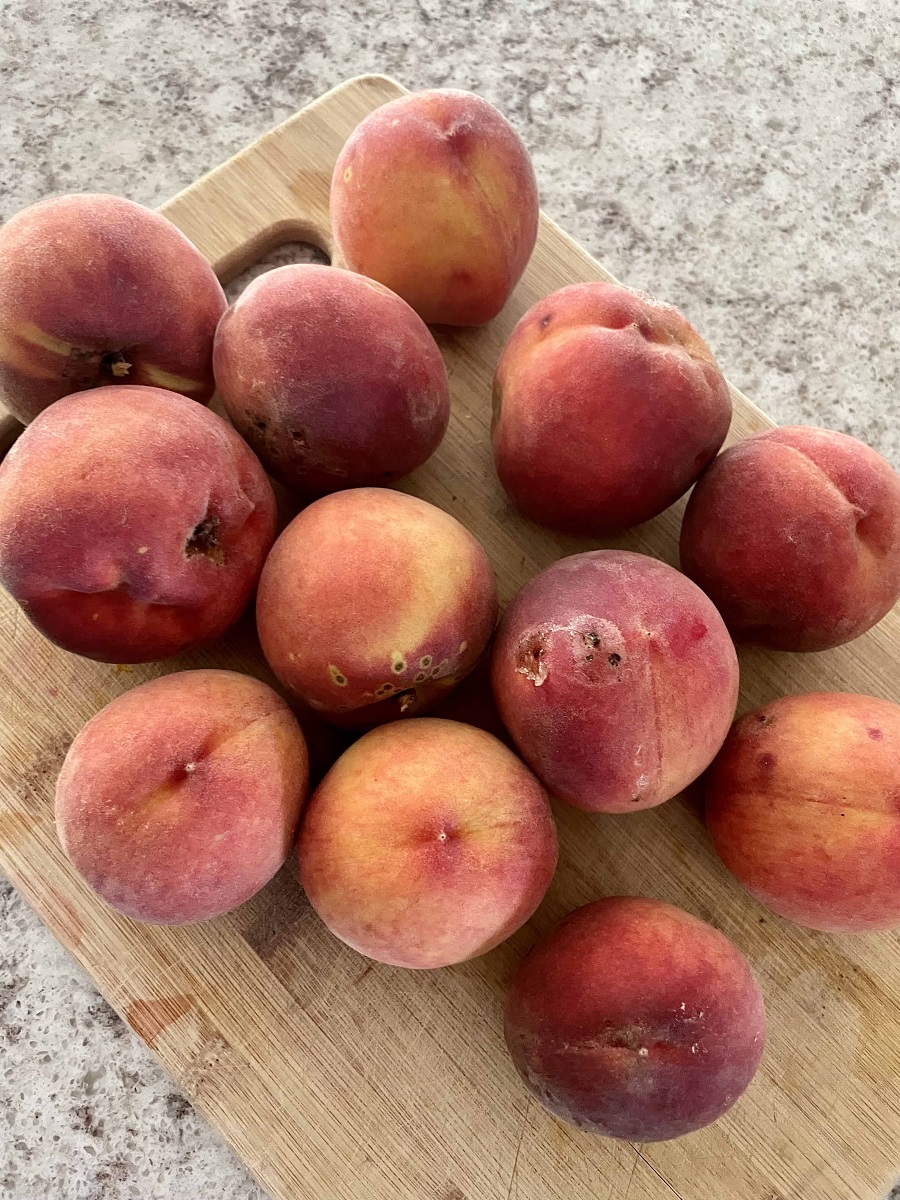 Peach Filling
I don't peel the peaches but if the skin bothers you…go ahead and spend 3.5 hours doing that. No one here got time for that! Pit and slice the peaches and then cook them with some water and sugar. This will soften the peaches and make a delicious sweet syrup that goes into the cobbler.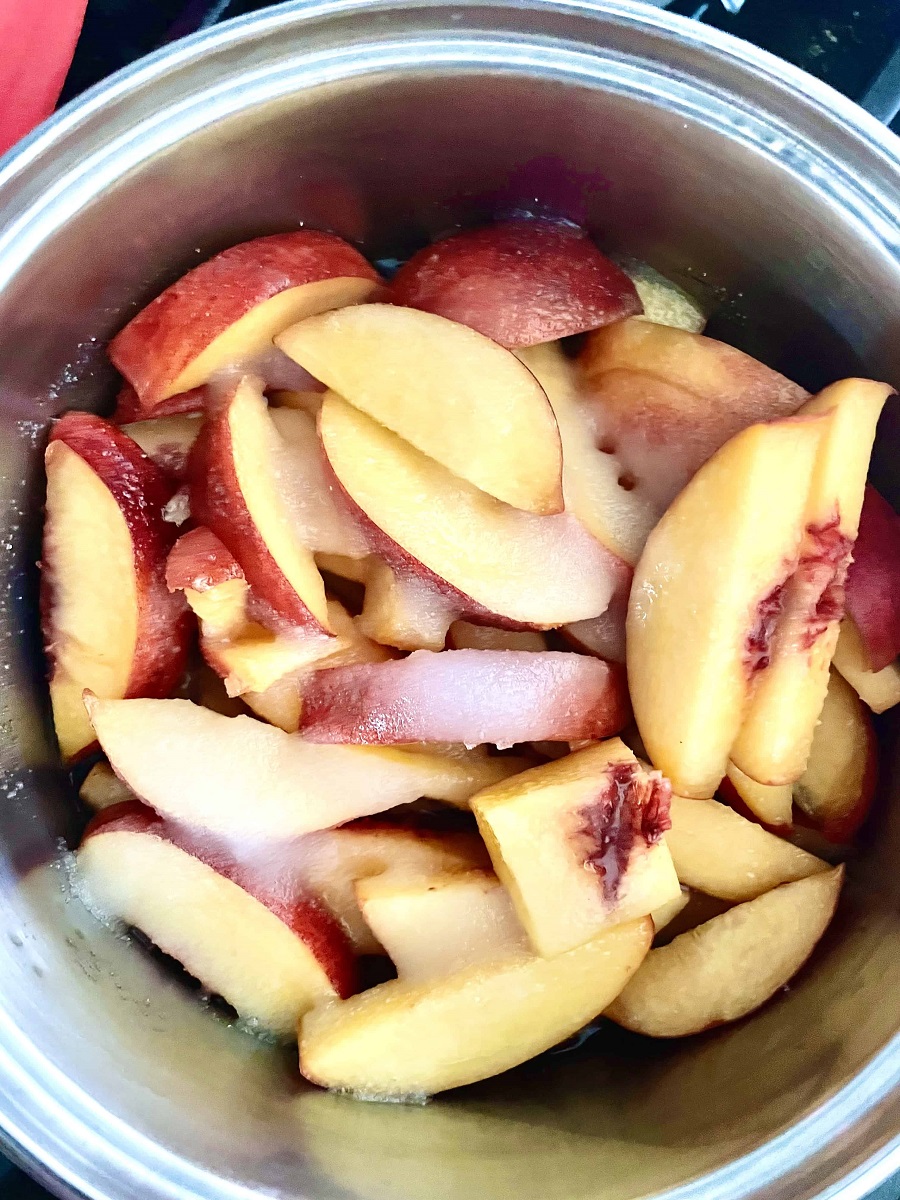 The "Topping"
This cobbler topping comes out more like a cake than a biscuit and it is perfect like this. It is similar in texture to my blueberry cobbler and I believe that self rising flour has a part to play in that. Simple ingredients for the topping include SELF RISING FLOUR, sugar and milk. That's it! But it's important to use self rising flour (see notes)!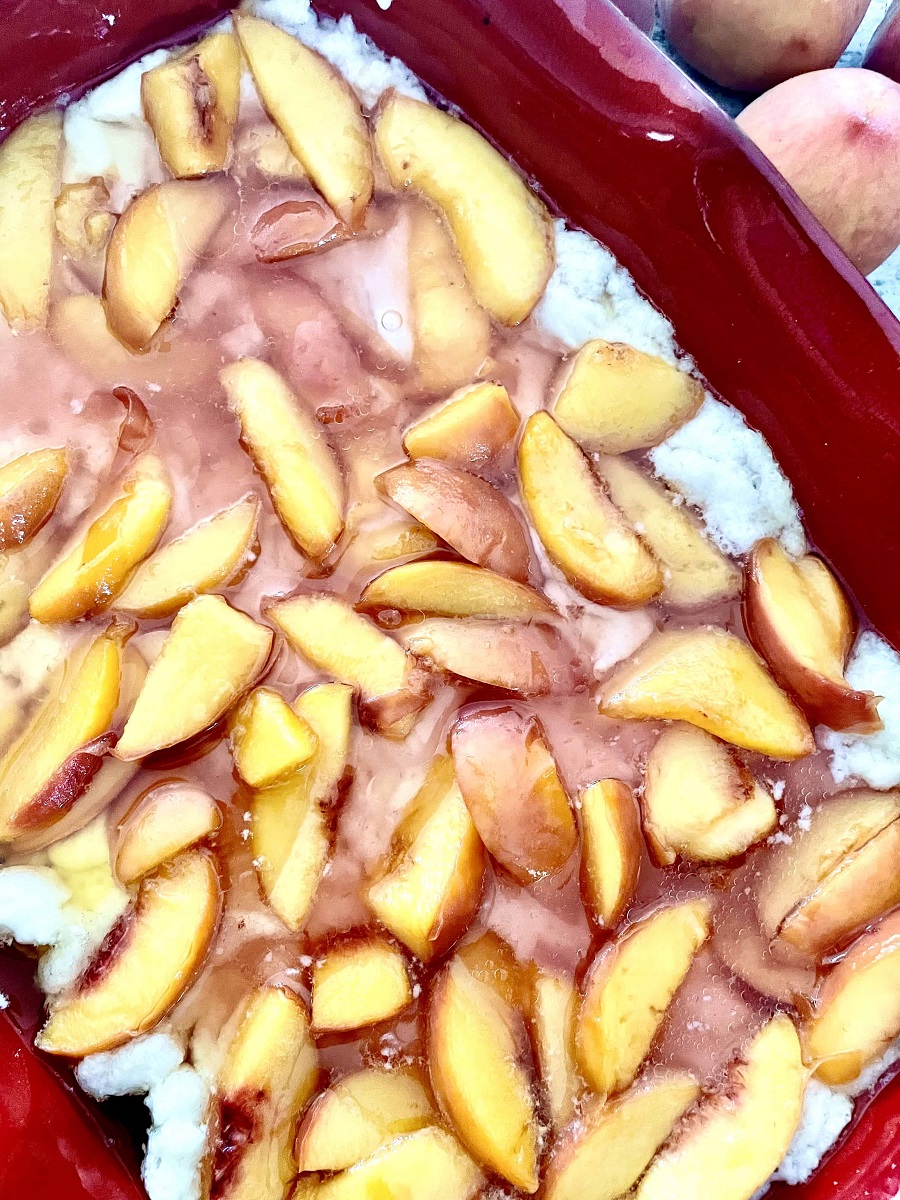 Recipe Run Down
Preheat the oven to 350 degrees F or 175 degrees C.
To make the peach filling: Slice the peaches. Combine with 1 cup sugar, and water in a saucepan and mix well. Bring to a boil and simmer for 10 minutes. Remove from the heat.
While the peaches are cooking, whisk the self rising flour with remaining 1 cup sugar, and milk until smooth and no lumps remain.
Put a stick of unsalted butter in your baking dish and place it in the oven to melt.
Once the butter is melted, pour the flour mixture over it. Do Not Stir! This is VERY important!!
Gently spoon the peaches and the syrup on top. Sprinkle it with ground cinnamon.
Return the dish to the oven and bake for 35-40 minutes, until the cobbler is golden brown.
Serve with vanilla ice cream or whipped cream, if desired.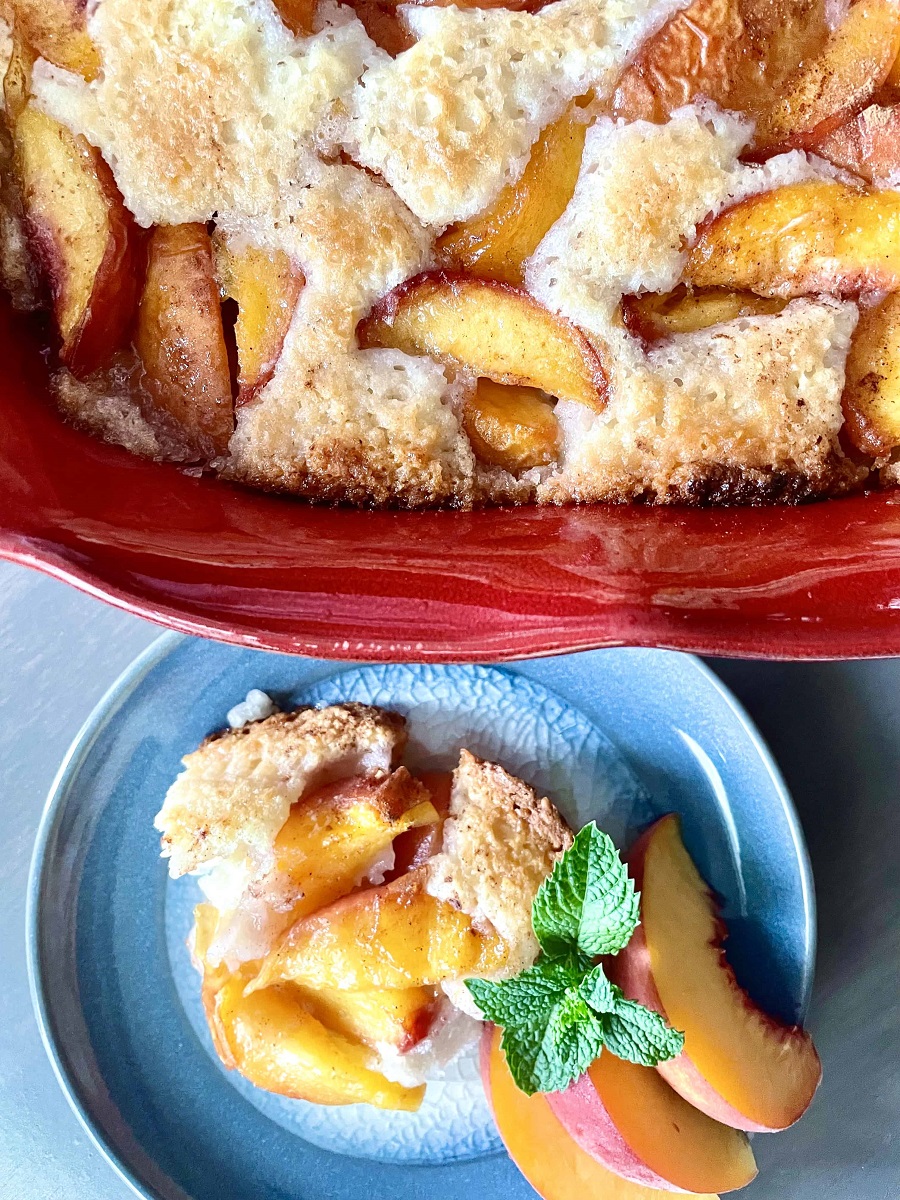 More Similar Recipes
Here's yer handy dandy printable: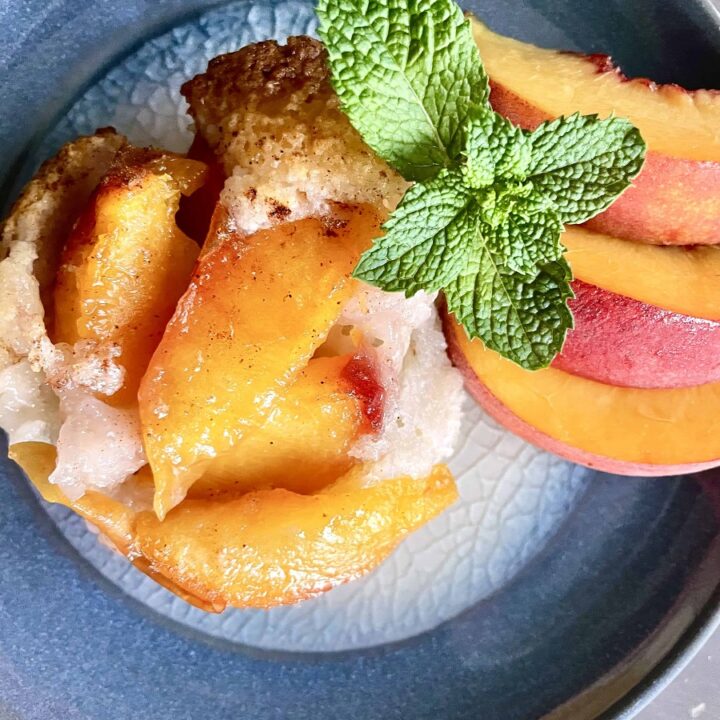 Easy Peach Cobbler
This Easy Peach Cobbler recipe is made with fresh, juicy peaches and biscuity, cake like dough is the perfect summer dessert!
Ingredients
1 ½

cups

self rising flour

see notes

1

stick

unsalted butter

1 stick is half cup

½

cup

water

2

cups

sugar

divided

4

cups

peach slices

from about 5 peaches

1

cup

milk

Ground cinnamon

to sprinkle

Vanilla Ice cream or Whipped Cream

for serving optional
Instructions
Preheat the oven to 350 °F or 175 °C.

Combine the peaches, 1 cup sugar, and ½ cup water in a saucepan and mix well. Bring to a boil and simmer for 10 minutes. Remove from the heat.

Put the butter in a 3-quart baking dish and place in the oven to melt. This can be done while the oven is pre-heating

Mix remaining 1 cup sugar, self rising flour, and milk and whisk slowly to prevent clumping. Take the baking dish with melted butter in it out of the oven. Pour the flour mixture over melted butter. Do not stir.

Spoon the sliced peaches on top, gently pouring in syrup. Sprinkle top with ground cinnamon, if using. Batter will rise to the top during baking. Bake for 30 to 45 minutes.

To serve, scoop onto a plate and serve with your choice of whipped cream or vanilla ice cream.
Notes
If you do not have self rising flour, you can make your own. To make 1 cup of self rising flour, take 1 level cup of all-purpose flour, 1½ teaspoons baking powder and ¼ teaspoon salt and whisk to combine.
Store cooled, leftover cobbler covered in the fridge for up to 3 days.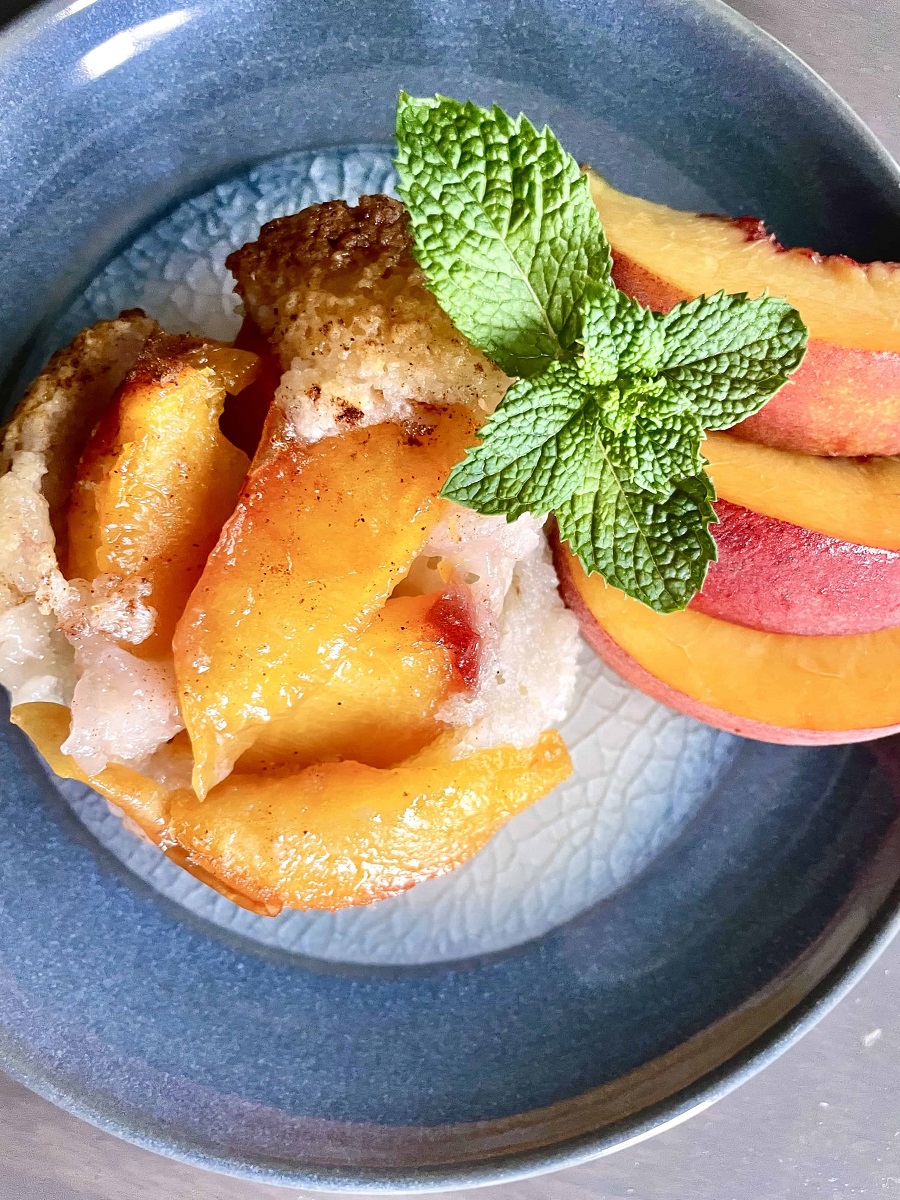 If you make this Easy Peach Cobbler, please leave a comment and/or give this recipe a rating! I would love to hear from you guys. And don't forget to tag me on Instagram and Facebook! I love to look through your creations!!
Love – Vaishali
Shop this post: