Happy Monday friends! Here is to start of a brand new week. Sometimes I feel that every week is a new challenge that brings unique circumstances in the most predictable routines. With all the kids' activities and classes that go on throughout the week, one thing that I try to keep in mind while cooking and baking over the weekend is that they have something that is light and that the kids (and grown ups) can scarf down in a hurry, for breakfast or for snack. The chocolate chip zucchini muffin recipe that I have on the blog is one of our family favorite but I wanted to try something that was satisfying and scored high on real food groups (whole wheat). And at the same time, I made sure that processed ingredients were at a minimum to pack maximum nutrition punch.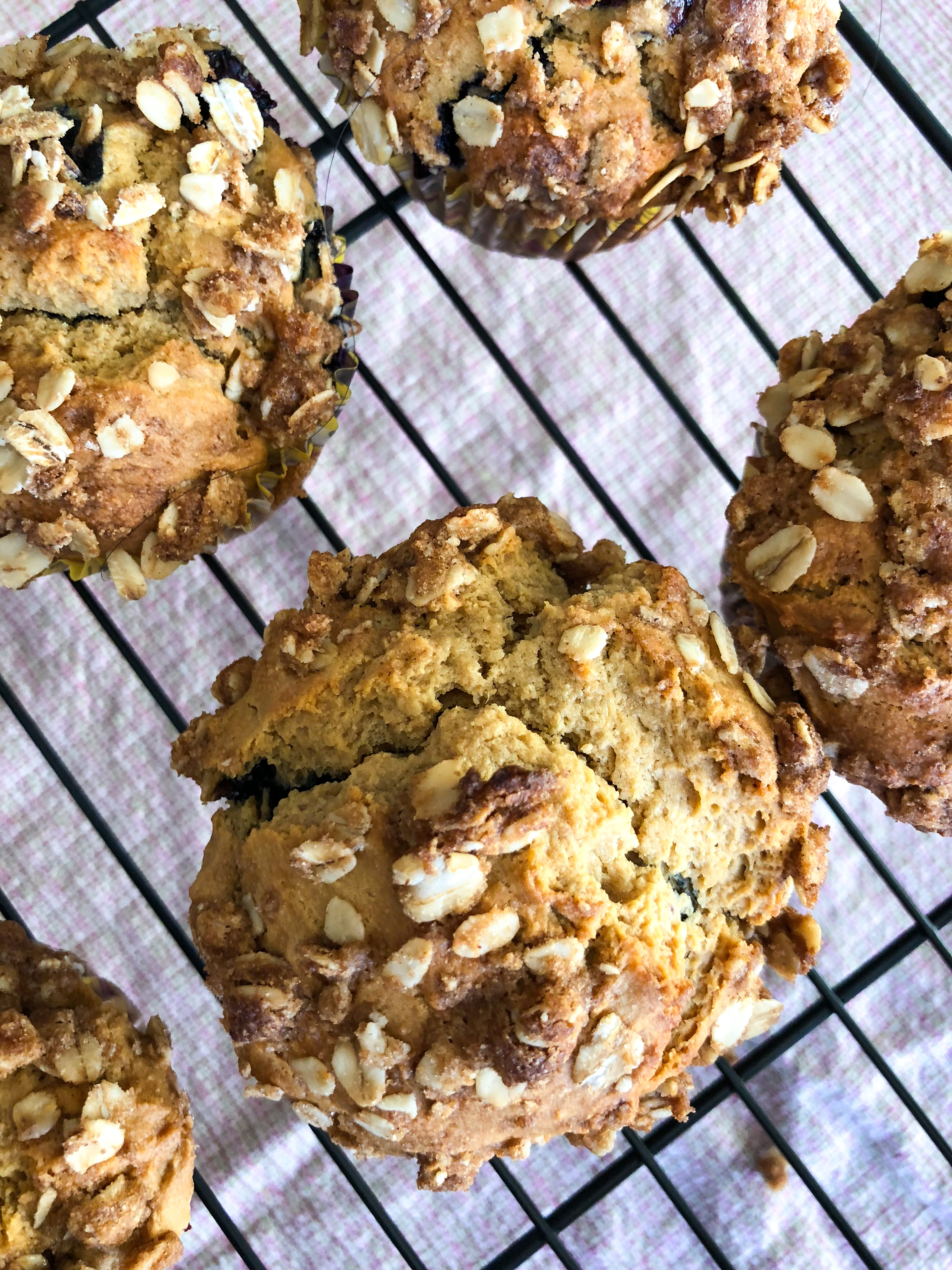 These muffins are your favorite blueberry muffin with  way lower sugars, calories and fat. The muffins are made with 100% whole wheat flour so no processed or "enriched" flour products, brown sugar is used instead of white sugar and are not overly sweet; just slightly sweet flavor and lots of wholesome ingredients to get your day started. You know I am sucker for a good crumble topping (remember this one?). For this recipe though, I wanted to keep it nut free so that Mr. Little V can enjoy it as much as the rest of us - so I went with oats crumb topping - another feather in the health points cap for these muffins. The crumb topping is optional, but I would completely stand behind it, just because it adds a crunch and hint of sweetness that this muffin desperately needs.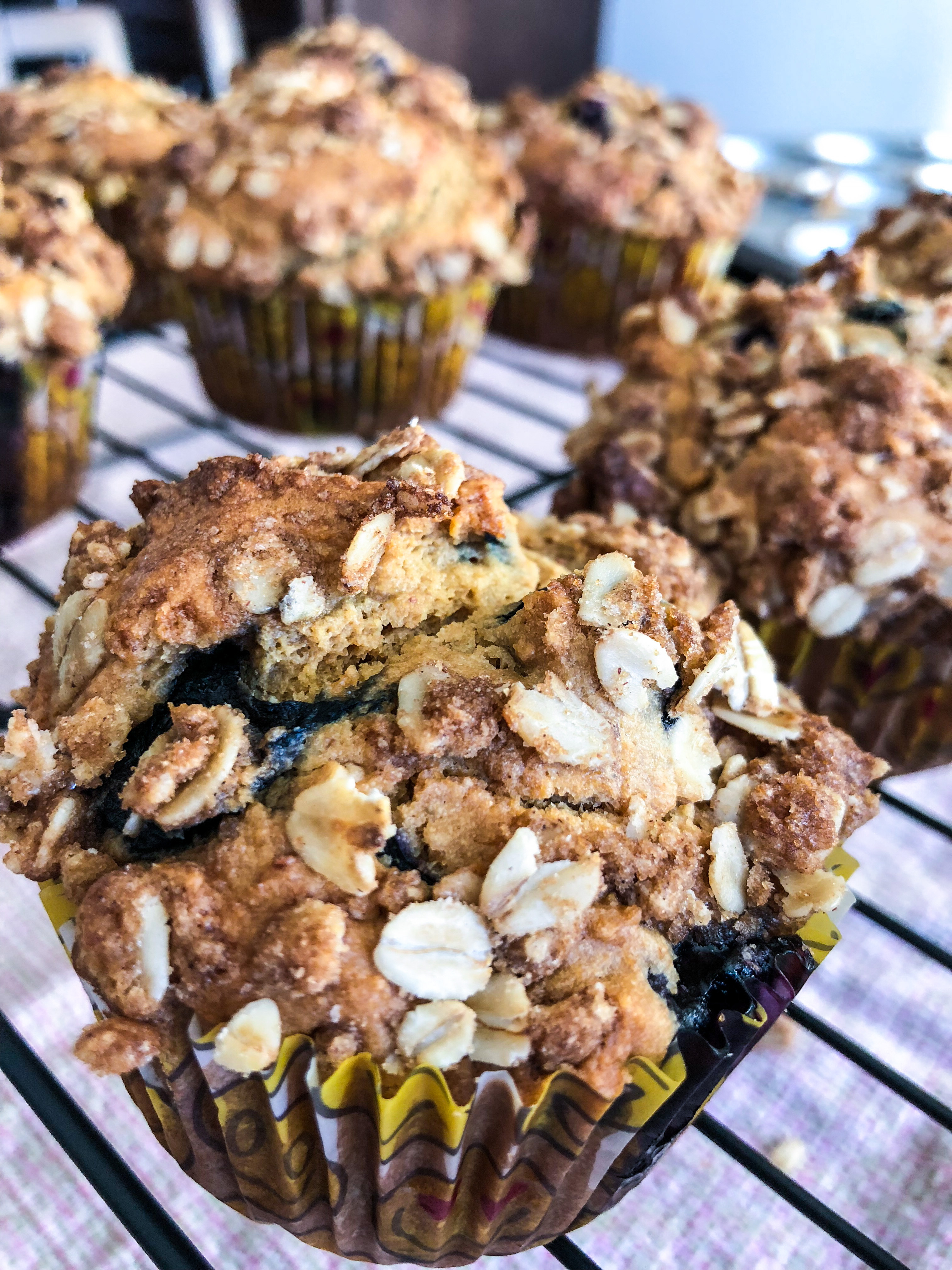 All of the ingredients of this recipe are most likely already sitting in your refrigerator and pantry. I used buttermilk in making these muffins but if you do not have buttermilk, it is completely OK. You can add lime juice or vinegar to regular milk to make homemade buttermilk.
Tip: To make 1 cup buttermilk add 1 tablespoon lime juice/white vinegar to a measuring cup and then fill it up to 1 cup measure mark with milk. Stir and let sit for five minutes. Your buttermilk is ready!
Here is a handy printable of the recipe: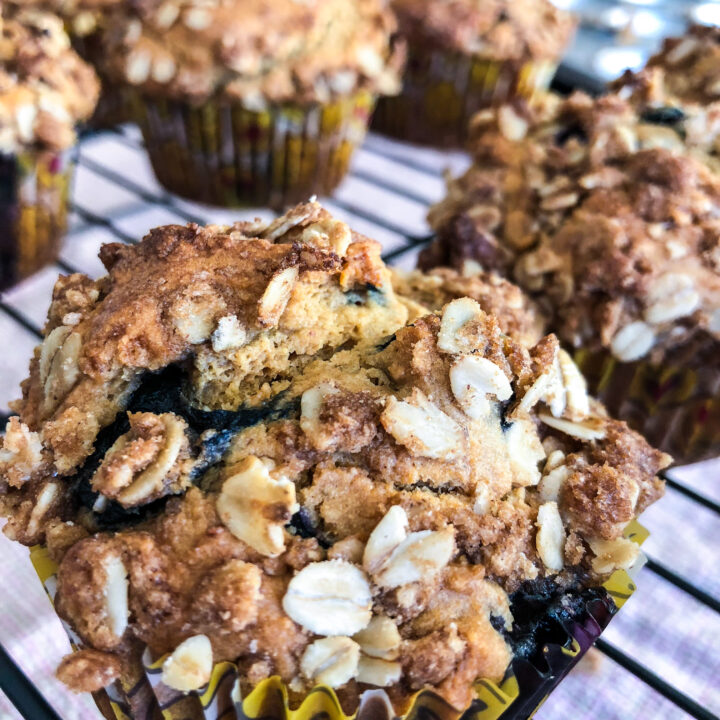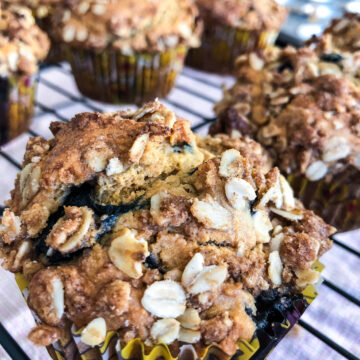 Healthy Blueberry Oatmeal Breakfast Muffins
Healthy blueberry muffins made with whole wheat flour, heart healthy oats, brown sugar and sweet blueberries. Moist and fluffy, perfect for a grab and go breakfast or snack.
Ingredients
2

cups

whole-wheat flour

2

teaspoons

baking powder

¼

teaspoon

baking soda

½

teaspoon

salt

6

tablespoons

unsalted butter

room temperature

1

cup

buttermilk

¾

cup

brown sugar

1

large egg

room temperature

1.5

teaspoon

pure vanilla extract

1 ½

cups

fresh blueberries
Crumb topping
⅓

cup

old-fashioned rolled oats

¼

cup

brown sugar

½

teaspoon

ground cinnamon

1

tablespoon

whole wheat flour

2

tablespoons

unsalted butter

room temperature
Instructions
Preheat oven to 400 degrees F or 200 degrees C. Line a muffin pan with 12 muffin-cup liners.

Whisk together 2 cups flour, baking powder, baking soda, and salt in a mixing bowl until combined and set aside.


In the bowl of your stand mixer fitted with beater paddle (I use my Kitchenaid) or in a separate bowl, mix together butter and sugar till creamy. Add the egg and continue mixing till light and fluffy, about a minute. Then add buttermilk and vanilla extract in a bowl. Add the dry ingredients slowly and stir just until combined. Fold in blueberries. Divide batter evenly among the 12 muffin cups.

Make crumb topping: Combine oats, sugar, cinnamon, and flour in a bowl. Cut in softened butter with a fork. Sprinkle topping evenly over muffins. Bake at 400° F for 15-18 minutes or until a wooden pick inserted in center comes out clean. Cool muffins in pan for 5 minutes before removing them to a wire rack.
Notes
The muffin mixture is sticky and thicker than most muffin batters that you might have made. This is perfectly fine.
Use two spoons to scrape and drop the batter into muffin cups. This recipe will make 12 perfect size muffins.
If making mini muffins, adjust the baking time. I would say start checking at the 12 minute mark.
These freeze beautifully, cool and store in freezer bags. Thaw and heat up in a toaster oven to enjoy.
These muffins are mildly sweet. If you want to satisfy your sweet tooth, toast a muffin in a toaster oven, drizzle with honey or maple syrup and devour!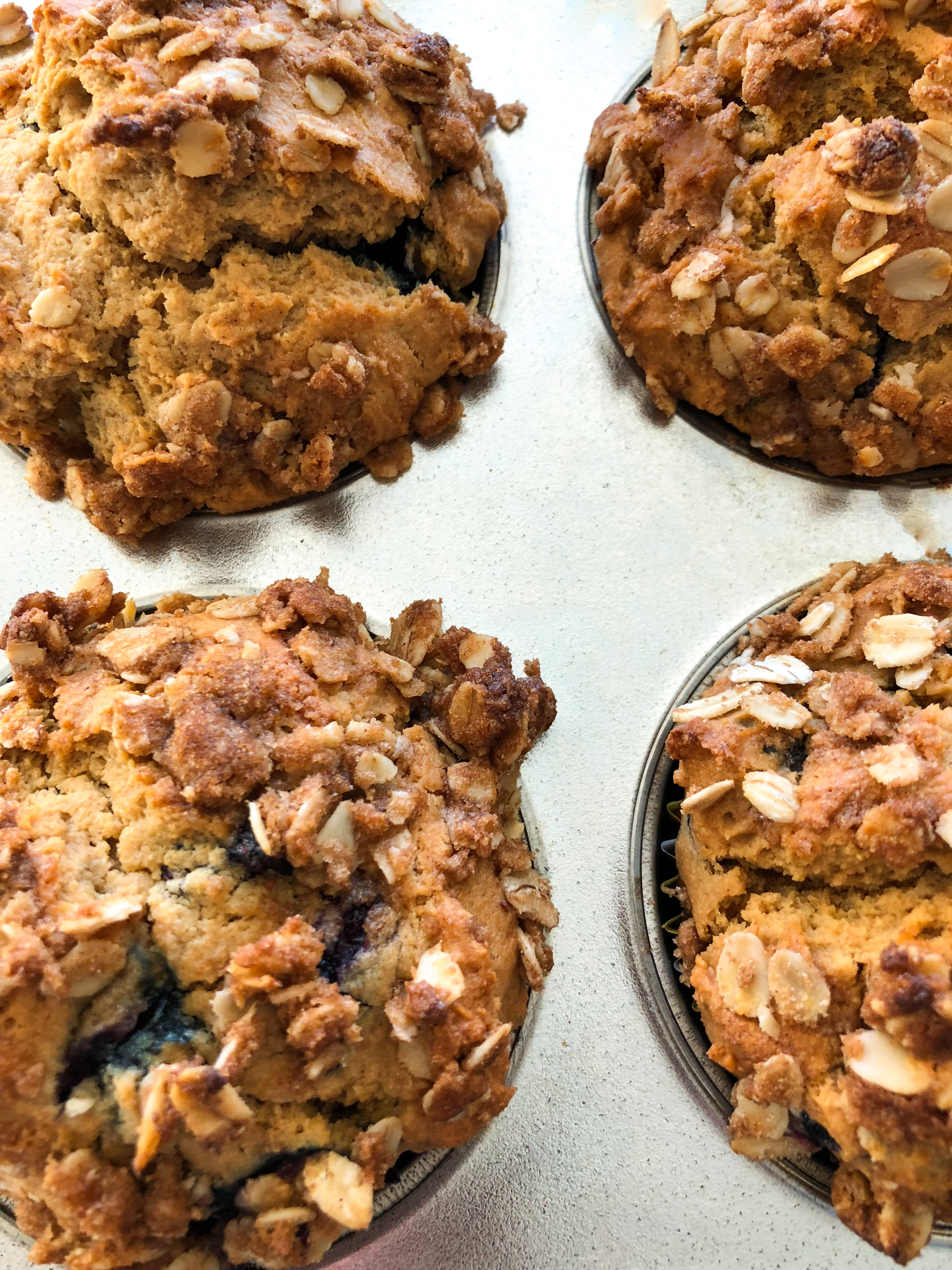 All you need is a cup of milk or coffee. Let me know if you try theses!
Love Always - Vaishali.
Tools Used:
Oven
Muffin pan
Stand mixer (This one)/Hand mixer/Whisk
Measuring Cups and Measuring Spoons
Fork