Baked sweet potato fries – with just three ingredients – yes, that is it. Technically, these are not fries because, well, they are not fried. I assume there is no rule about not calling veggies that are not fried "fries". Therefore, we will go with fries. Shall we? Here is what I have for you today – say with me – 3 ingredient "baked" sweet potato "fries".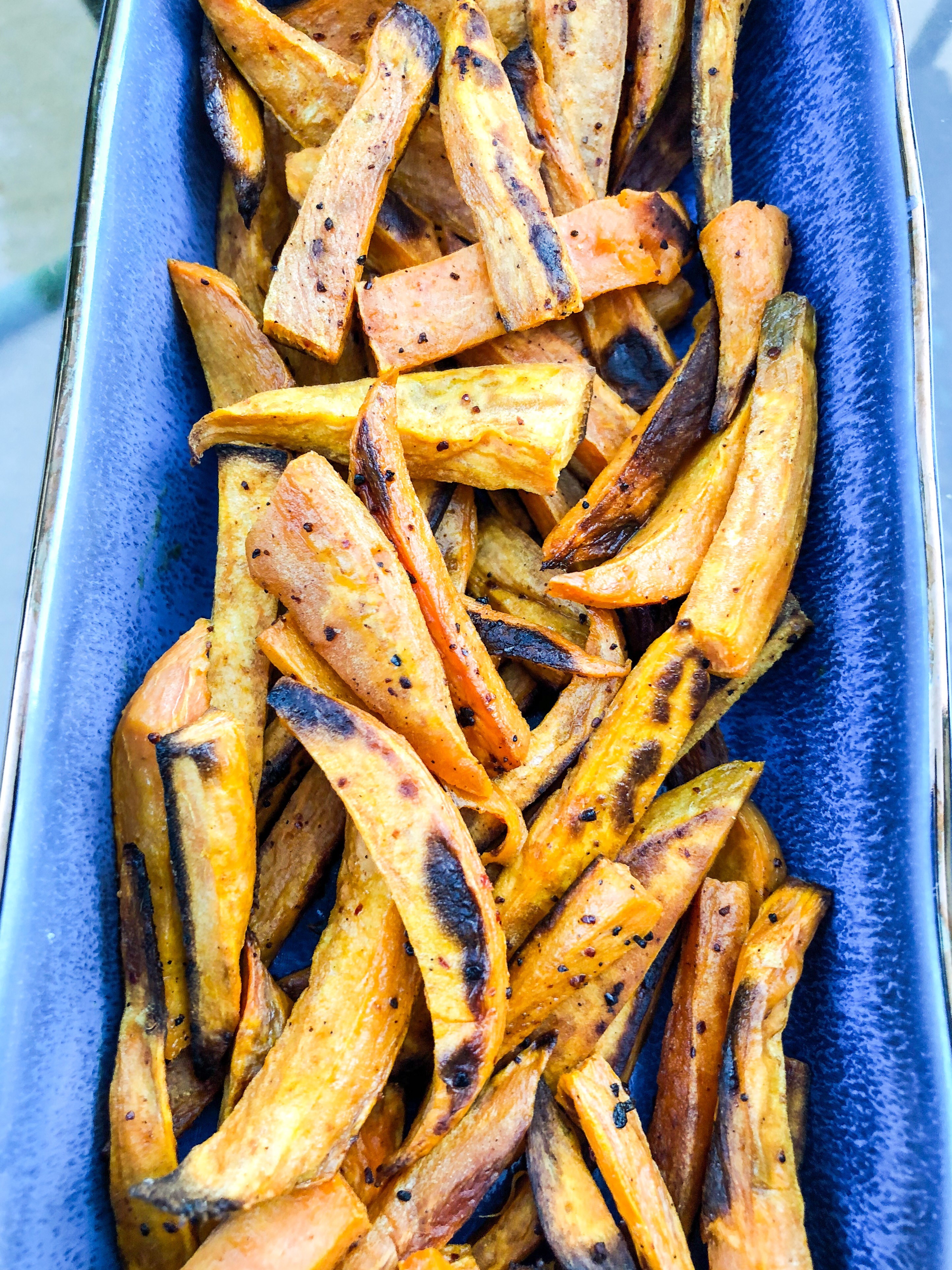 How do we feel about sweet potatoes here? Love them, do not care, or cannot stand them? I happen to love them. Growing up I was not a big fan. Indian version or sweet potatoes that were locally grown in the part of India where I am from were called "Kachalu". It is kind of a fun word to say but I did not have as much fun eating them. The usual or most common way of serving kachalu was as a 'chaat" (check out this sweet potato chaat). So boiled sweet potatoes, cubed, mixed with chopped onions, green chilis, cilantro and dressed with tamarind and mint chutneys. I did not care for it much then but now that as I am writing it down, it seems fun and interesting. I actually might have to make it share with you all. What do you think?
Jump to Recipe
I love the texture of sweet potato fries and I first tried them in Auburn where a local restaurant served them as a side. If you have been reading TKD for some time now, you might know that I love to oven "fry" or roast many things. Like this broccoli, sweet potatoes (cubes, not fries…hah), Brussel sprouts and so on. Oven roasting or baking adds a nice texture and crunch to the veggies without all the oil. These baked fries are very healthy since they have all the goodness of sweet potatoes and they are not fried.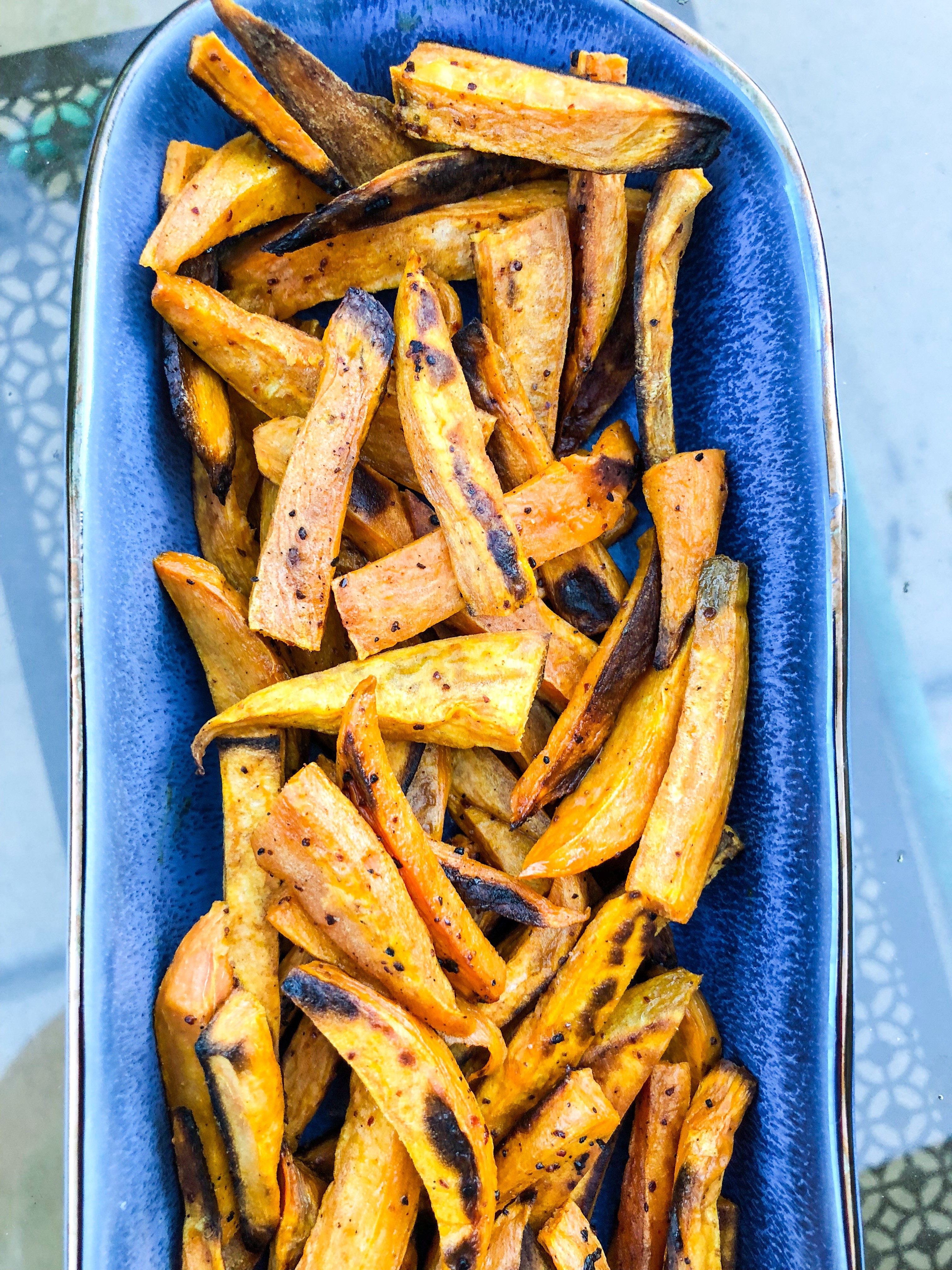 Sweet potatoes are so good for you. They are lower in calories and carbs than a regular potato, so if you are watching carbs, sweet potato is your buddy (sweet potatoes are higher in sugar though). With pretty much a similar texture as a potato, sweet potatoes can be substituted for a potato in almost anything. Mashed sweet potatoes, shepherd's pie, sweet potato wedges, sweet potato fries etc. Grab some sweet taters and make these baked sweet potato fries – pronto!!
Recipe run down
Three ingredients – sweet potatoes (duh), olive oil and chili lime seasoning (or any kind of seasoning blend you like). Slice the sweet potatoes and cut into "fries", mix the ingredients, lay on cookie sheet and bake in a 425 degrees oven for 20 - 25 minutes. There will be some brown spots on the fries and you want them. Do not be intimidated or think that you have burnt the fries. Trust me when I say that there is a lot of flavor in those burnt (err..charred) spots.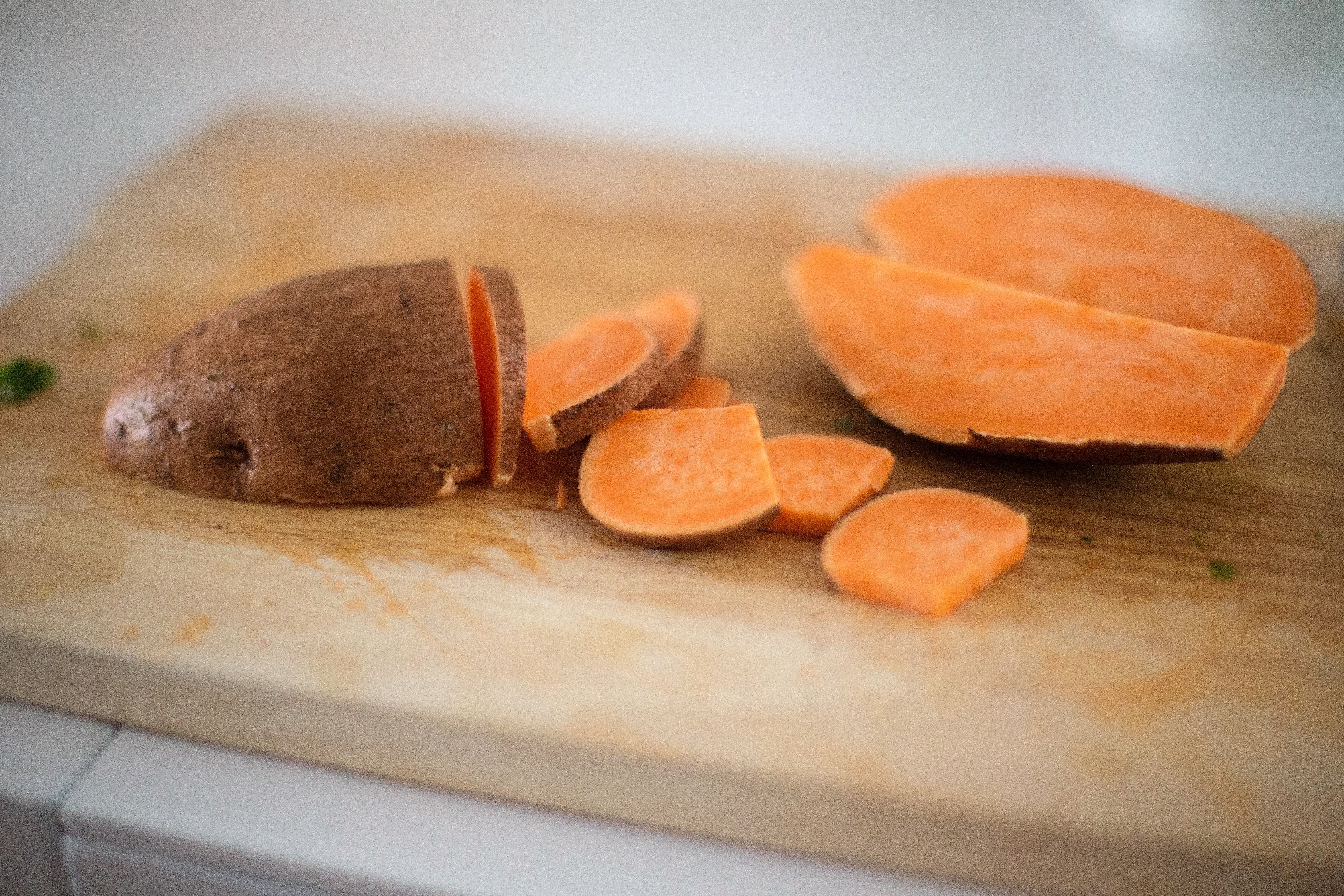 Serve these baked sweet potato fries for game day, as a healthy side dish with your dinner or just as a snack to munch on anytime during the day. Oven roasted sweet potatoes (like these) are awesome too – by themselves or in this salad. Pretty good!
Here is a handy printable.
3 Ingredient Baked Sweet Potato Fries
Oven baked sweet potatoes fries tossed in a olive oil and chili lime seasoning. Perfectly healthy, crispy and yummy!
Ingredients
4

sweet potatoes

peeled and cut into sticks/fries

2

tablespoons

extra virgin olive oil

2

teaspoon

chili lime seasoning

see notes
Instructions
Preheat your oven to 425 degrees F or 220 degrees C

Place the sweet potatoes on a large cookie/baking sheet and toss with olive oil and chili lime seasoning.

Make sure that the fries are spread out in an even layer and do not overcrowd the cookie sheet.

Bake for 15 minutes, shake the cookie sheet, rotate it and bake for another 5-10 minutes.

Your crispy yet tender baked sweet potato fries are ready. Remove from the oven and enjoy!
Notes
If you do not have chili lime seasoning, feel free to use any kind of seasoned salt or just a blend of salt, black pepper and garlic powder. Yumm!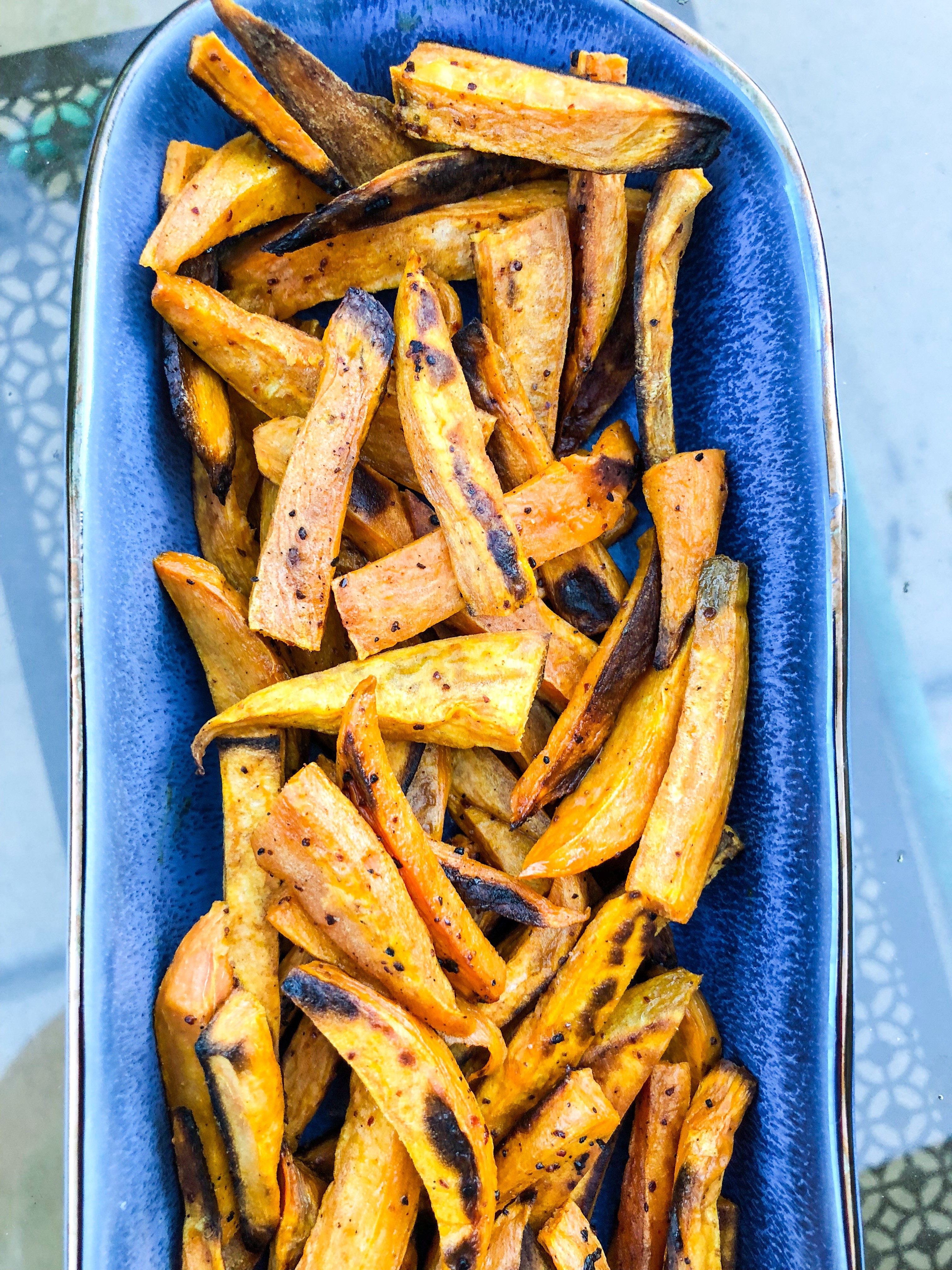 If you end up making these baked sweet potato fries, don't forget to also tag me on Instagram so I can check yours out!  Also, please leave a comment below and/or rate this recipe.
Love - Vaishali.
Tools used:
Measuring Spoons:
Cookie Sheet:
Oven