A healthier take on traditional aloo or potato chaat, this roasted sweet potato chaat is sweet and tangy at the same time. A combination of tamarind and cilantro mint chutneys will tickle the taste buds you did not even know existed.
Jump to Recipe
What is chaat?
Aaah…chaat…where should I start? Chaat is not only a snack or a street food in India but is a culture. It is a combination of all flavors and textures you can think of – sweet, spicy, tangy, umami, soft, mushy, crispy..you name it! I cannot even begin to tell you that how many types and versions of chaat exists in my beautiful country. Just like a I have said many times before, this staple also varies from region to region and state to state. Read about regional food here, here, and here.
Sweet potato is known as Shakarkandi in north India, shakar literally means sugar or sweet. Roasted sweet potato chaat is not as popular as the evergreen potato chaat primarily due to the seasonality of sweet potatoes.
A much healthier option to potato chaat, this roasted sweet potato chaat will hit all the right notes and you will love it. I promise! You can think of it as a salad with dressing made of yummy Indian chutneys i.e. hari (green) chutney made with cilantro and mint and meethi (sweet) chutney made with tamarind and jaggery. Find chutney recipes here!
This roasted sweet potato chaat recipe is super simple and involves chopping and tossing together of ingredients. The only major step is roasting the sweet potatoes. Traditionally, boiled or smoked sweet potatoes are used in this chaat and you can by all means boil them or even cook them in the microwave. Go do your thing, nobody is judging! To roast the sweet potatoes for this roasted sweet potato chaat you can use this recipe of chili roasted sweet potatoes which is easy as 1-2-3.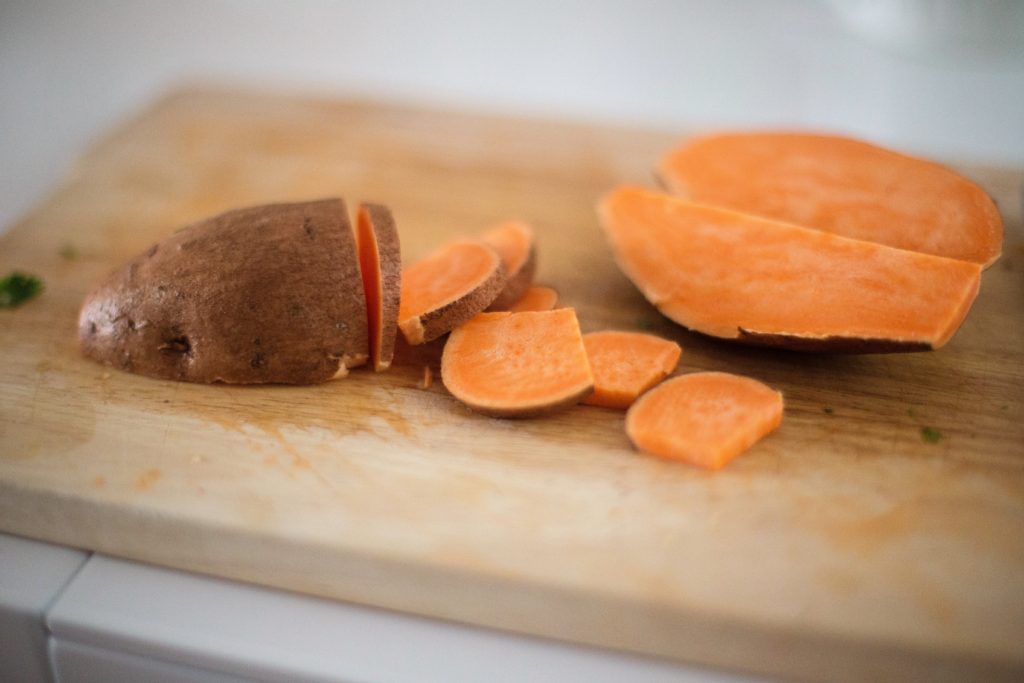 If cooking in the microwave, you can wrap the sweet potatoes in food grade plastic wrap, poke holes with a knife or fork and nuke them along with half a bowl of water in the center of microwave for 4-6 minutes. Time of cooking in the microwave will vary according to the size of your sweet potatoes as well as the power of your microwave.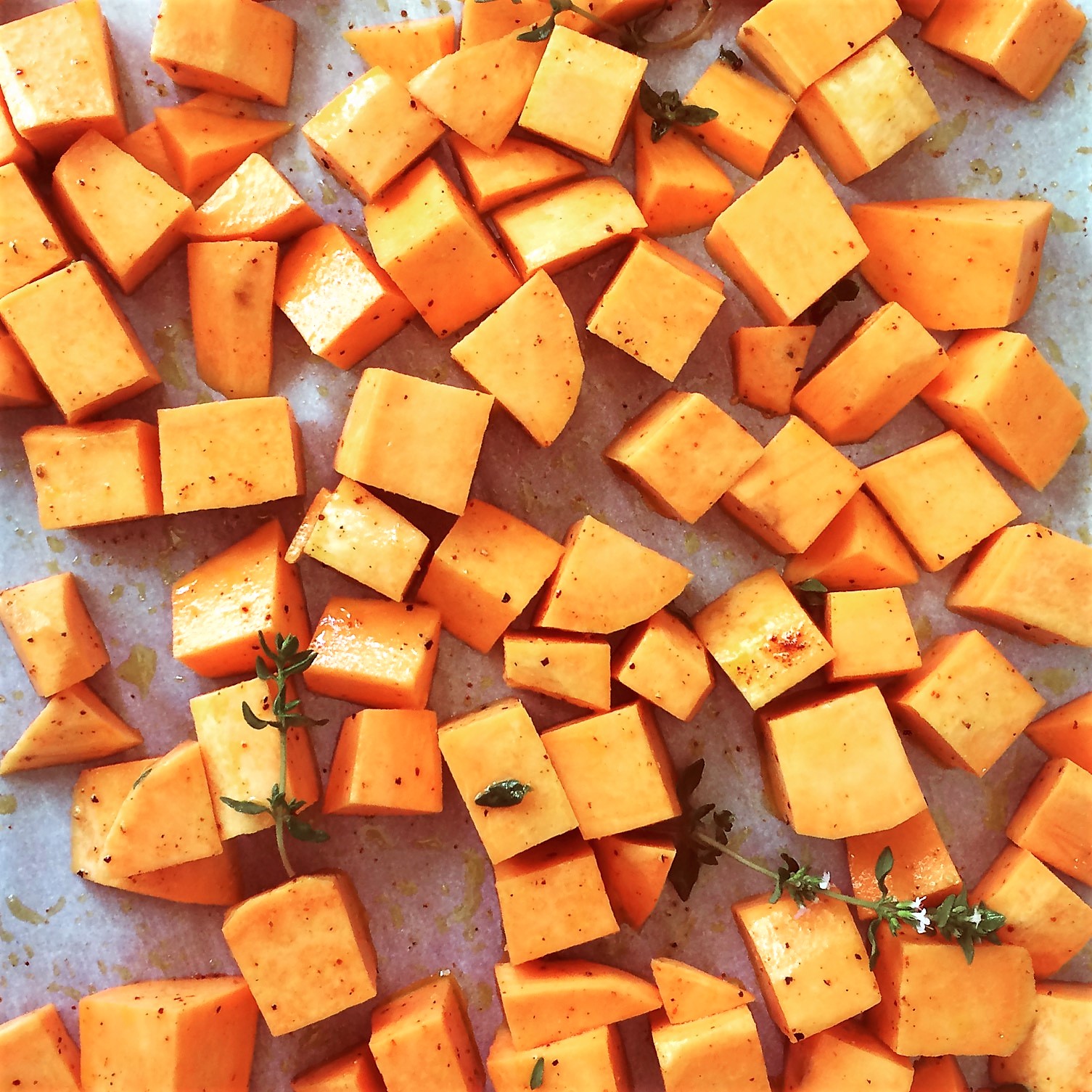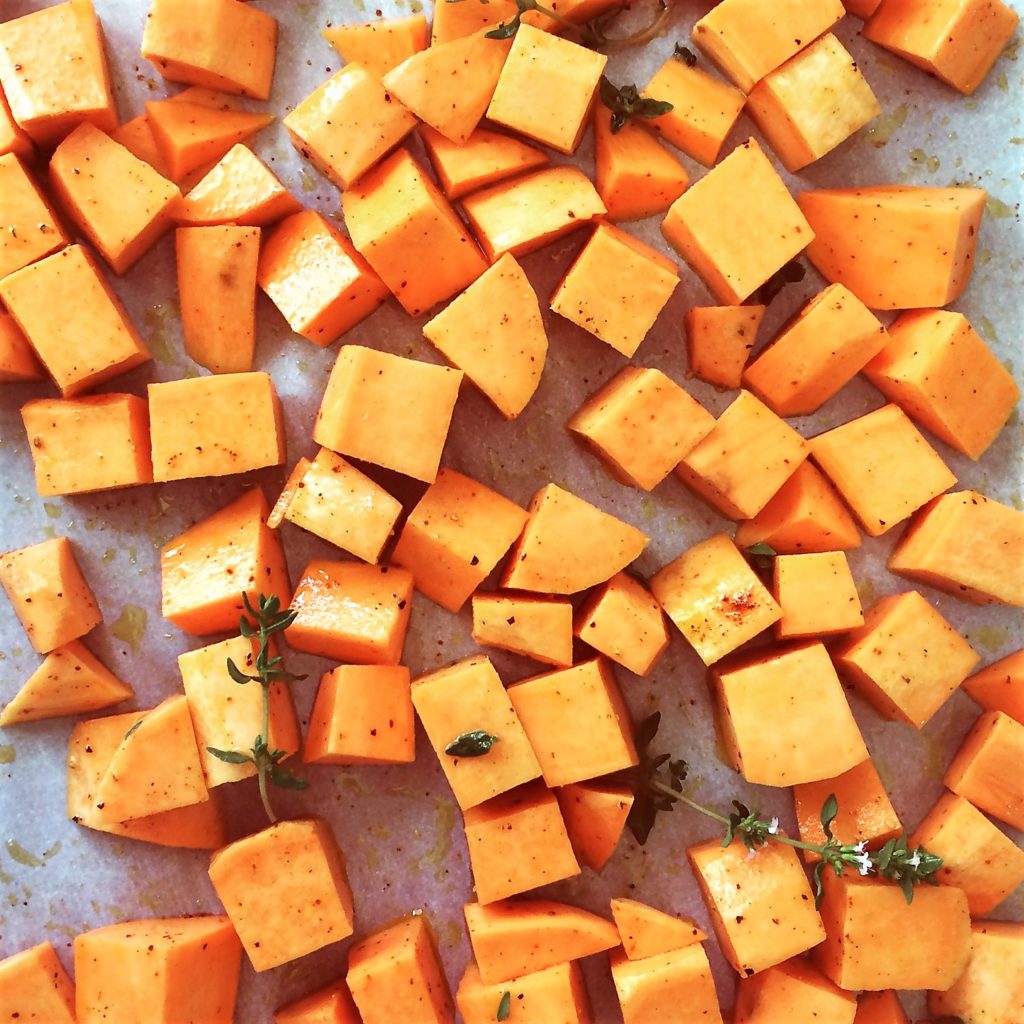 Vegan, gluten-free and healthy
The recipe is vegan, glutenfree (sev we use is made of chickpea flour), and healthy. Because sweet potatoes are healthy, right?? It's light, and summery and perfect. You've gotta give it a try!! Oh and need a special and different dish for your Thanksgiving table this year? Make this roasted sweet potato chaat! You're welcome!!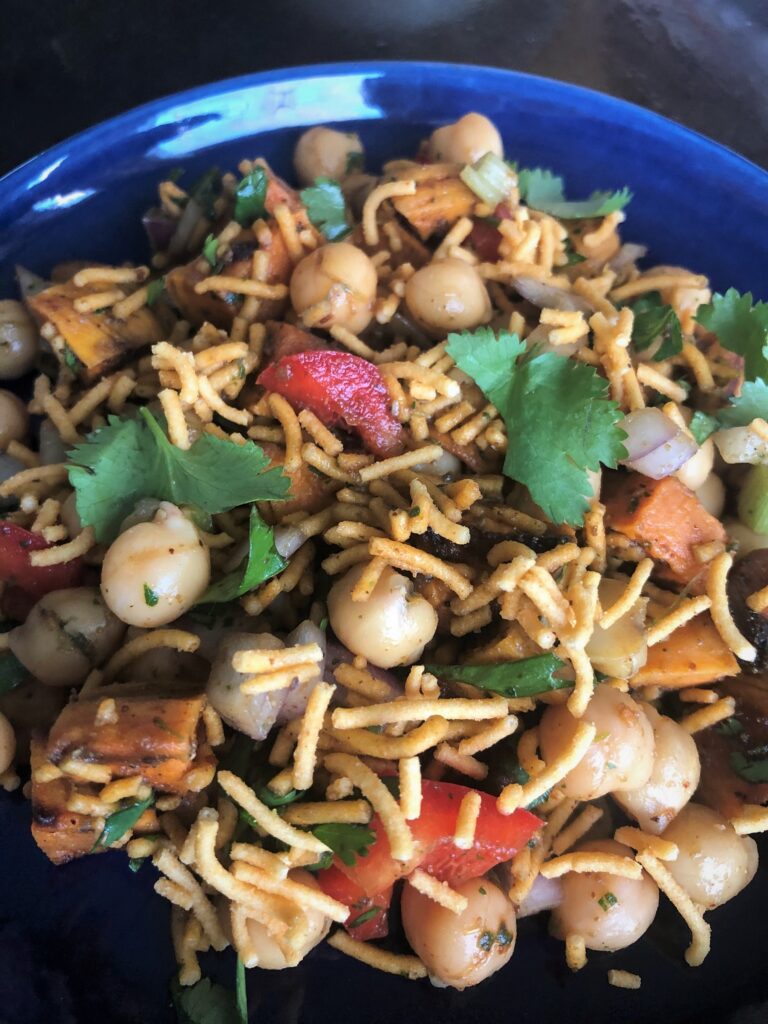 Recipe run down:
Roast your sweet potatoes! Then drain and rinse a can of chickpeas. Finely chop red onion, red bell pepper, green chili (jalapeno, serrano, thai – you pick!), and cilantro. Grab the green and tamarind chutneys. Seasoning will include salt, pink salt, black pepper and chaat masala. You can find chaat masala at most Asian/Indian grocery stores or you can order it from amazon. It's great – I won't skip it. It's a spice blend with a savory, tangy, and umami flavor achieved by mixing dry mango powder, dried pomegranate seed powder, cumin, etc. Then just dump everything in a big mixing bowl. Drizzle the chutneys, add the seasonings and mix. Add a big squeeze of lime juice and serve topped with sev or bhujiya and more chopped cilantro. Ta da!! Take a bite and do your happy dance!!
Printable recipe for ya:
Roasted Sweet Potato Chaat
A healthier take on traditional aloo or potato chaat, this roasted sweet potato chaat is sweet and tangy at the same time. A combination of tamarind and cilantro mint chutneys will tickle the taste buds you did not even know existed.
Ingredients
2

batches of roasted sweet potato

recipe "Chilli Roasted Sweet Potatoes"

1

can chickpeas drained and rinsed

½

cup

chopped red onion

½

cup

diced red bell pepper

1

tablespoon

minced green chili

¼

cup

chopped cilantro

plus more for garnish

1

lime/lemon

juiced

3

tablespoon

green chutney

Cilantro mint chutney

3

tablespoon

tamarind chutney

Chaat masala

to taste

Salt/pink Himalayan salt

to taste

Freshly cracked black pepper

to taste
Garnish
More chopped cilantro

Bhujiya/sev

We love Haldiram's aloo bhujiya
Instructions
In a big mixing bowl, add roasted sweet potatoes, chickpeas, onions, red bell pepper, green chili and cilantro.

Add chaat masala, salt and black pepper and give a mix. Now drizzle the chutneys, add lime juice and mix again. Give the chaat a taste test and adjust seasonings if needed.

The chaat should taste, savory, slightly sweet tangy and umami. Basically BOMB!!

When ready to serve, plate a portion and sprinkle with sev/bhujiya and more cilantro.
Notes
You can used boiled sweet potatoes but roasted taste best.
You can add roasted peanuts to add a crunchy element. We don't because of allergies.
Another variation could be adding a burst of sweet juicy pomegranate seeds.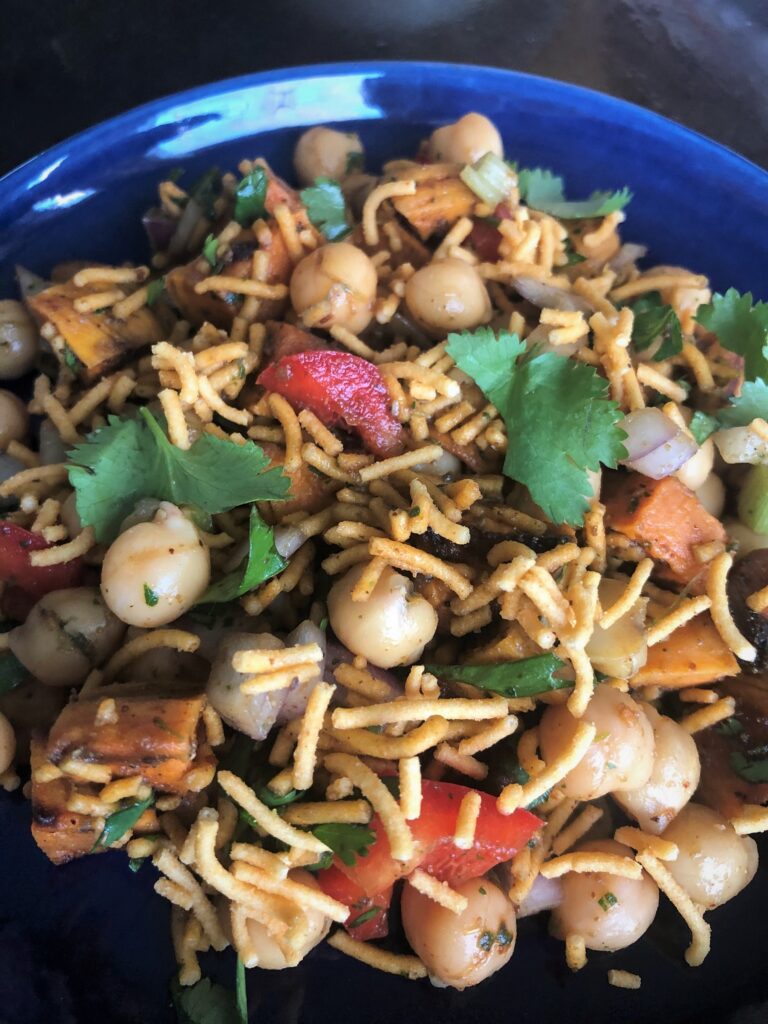 I hope you give this chaat a try and love it! If you try it please let me know how you liked it. I love hearing from you - Facebook, Instagram or email - you choose!
Love - Vaishali.
Recommended Products: