Sweet potatoes are not some vegetable I grew up eating..well if you consider trying sweet potato chaat from a street cart in India once in a blue moon..you can call it the food of my childhood..just kidding. The more I read and understand about the qualities and benefits of different foods that we put in our bodies, the more I feel connected to it. Sweet potato is one such vegetable. Few years ago, one of Dr. A's work friends gave me a few sweet potato plants to plant in my young vegetable patch. And when came the time to harvest it, I started reading and researching about when and how to harvest sweet potatoes. During this learning curve I found out that after you dig out sweet potatoes, they need to be stored for sometime to let the sugars in them develop. Who knew right? Just one of the many many interesting things that you learn when you start researching the science of food production. So we harvested our first batch of sweet potatoes that year and every year since. The bright orange color, which indicate that they are rich in beta carotene (helps building immunity and ward off diseases like cancer), just takes your breath away. When I first started to cook with sweet potatoes, I started with this simple recipe of roasted sweet potatoes. There has been no looking back and we as a family enjoy many other sweet potato recipes, which I promise to share here slowly but surely. For now, I leave you with this simple and humble recipe of chilli roasted potatoes.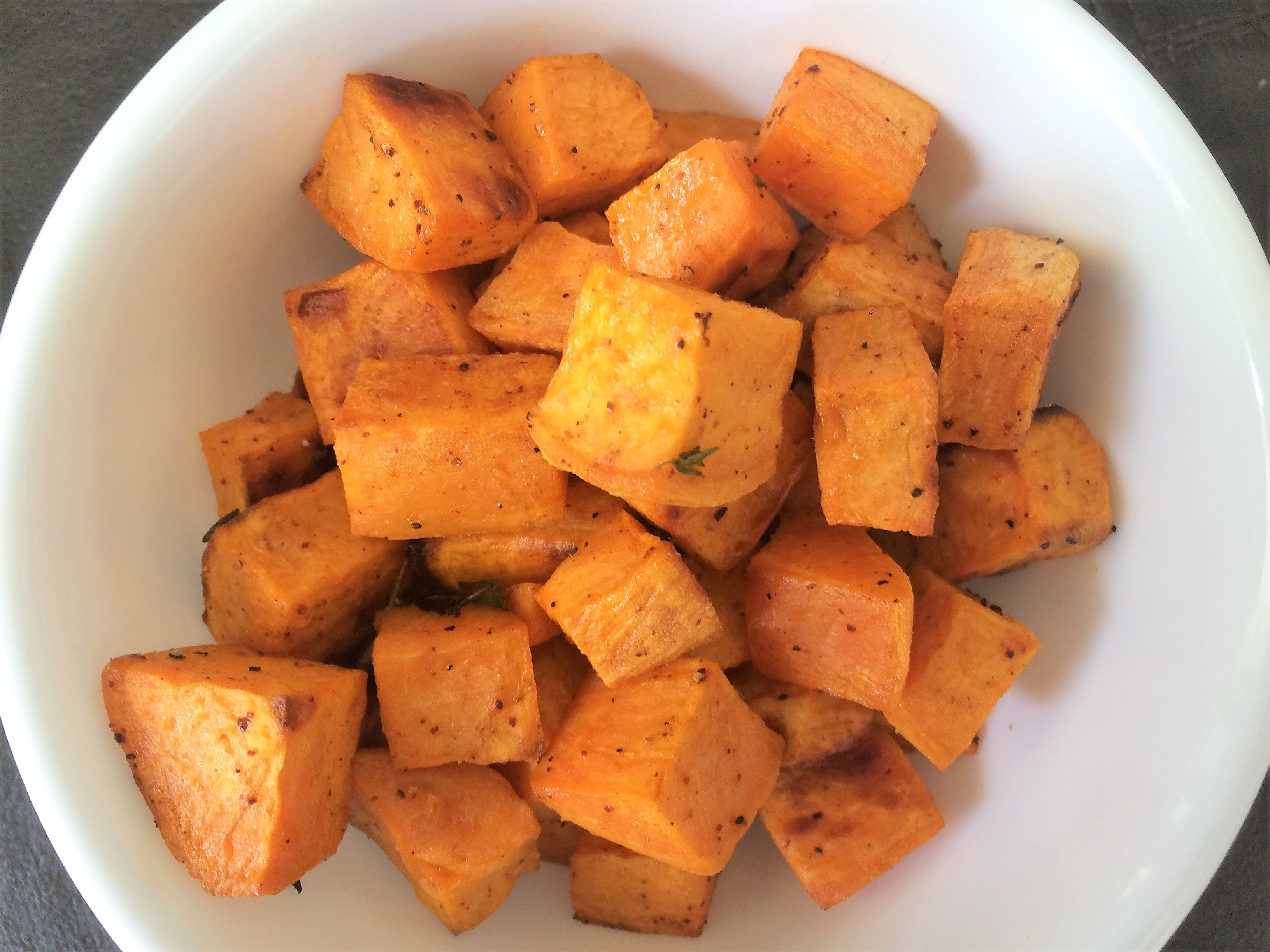 Ingredients:
Sweet Potatoes – 2 large
Olive Oil – 1 tablespoon
Salt to taste
Chili Powder – ¼ tsp
Fresh Thyme – leaves from 2 sprigs.
Method:
Preheat your oven to 425 degrees. Line a baking sheet with parchment paper. Wash, peel and chop the sweet potatoes into bite size pieces. Uniform size of sweet potatoes will ensure uniform roasting. In a deep mixing bowl, add the chopped sweet potatoes and all other ingredients. Mix well. Spread them out on the prepped baking sheet in a single layer and bake for 20 minutes, stirring half way through. Let them cool a little bit and enjoy. We love to munch on these as a snack, but these are great in salads too (try this). I hope you try this and let me know how it goes…
Love – Vaishali.