Friends, yesterday was tough! We lost a very sweet friend, Mrs. Murphy, to cancer. Dr. and Mrs. Murphy were the first people that we met when we came to house hunt in this small college town in Kansas. They took us out for lunch, showed us the town, and made us feel very welcome. Mrs. Murphy helped me in hosting our first ever thanksgiving meal, right from brining the turkey to guiding me to what silverware to use. She was a retired teacher and had a great way to connect to our kids, specially Ms. Little A. She could talk to Ms. A about school projects, what she liked and disliked, what to expect in the next grade and so on.
We met Mrs. Murphy last at the annual Christmas Tree lighting ceremony in town. And then cancer came and her tall, slender, beautiful self fell victim to the most horrible disease that we know of.
Jump to Recipe
Over the past six months, Dr. A would check with Dr. Murphy how she was doing and pass on the sad updates to me. Last week we came to know that she was in hospice care and did not have a lot of time left. Today, the heartbreaking news came. It is hard to put into words how I feel. Just sad, sorry, relieved, angry – so many emotions. Sad that such an amazing lady was taken from Pat, her kids, grand kids, and rest of the family. Sorry that we were not able to meet her one last time while she was sick. Relieved that she is not suffering anymore. And angry at the stupid disease that is so relentless, #cancersucks.
Mrs. Murphy helped us plant some trees, plants and bushes in our yard. She got them from their farmhouse and I take respite in the thought that a teeny tiny piece of her will always be with us. Rest in peace Anne, the Shardas will always miss you!
This watermelon salsa recipe is something that I had not planned on sharing but I shared few pictures of it on Instagram and Facebook and then the requests started to come in. Not that you can ever get tired eating of eating watermelon as such, but if you do try making this watermelon salsa. I think I first came across a watermelon salsa recipe on ThePioneerWoman website.
I am not in a mood to write too much about the recipe today but it surely is an unexpected but welcome twist to the juicy and crunchy watermelon. Adding red onions is optional but I would not skip any other ingredient, specially the roasted cumin powder (find how I make mine here). Choose a seedless watermelon, cut it into discs and then cut into cubes (see pictures below). Finely chop everything else, mix and refrigerate. When ready to serve, add seasonings, a big squeeze of lime juice and enjoy.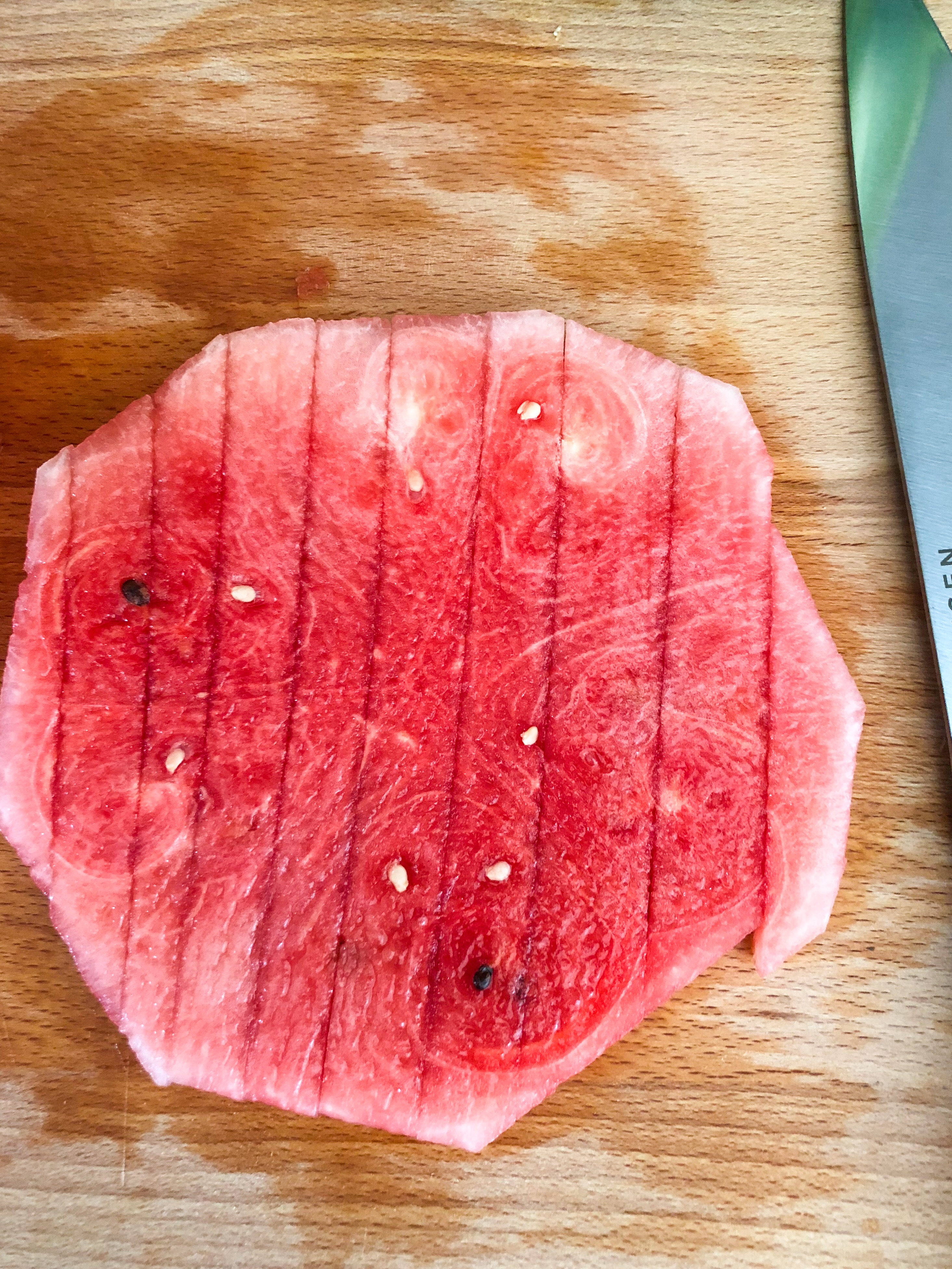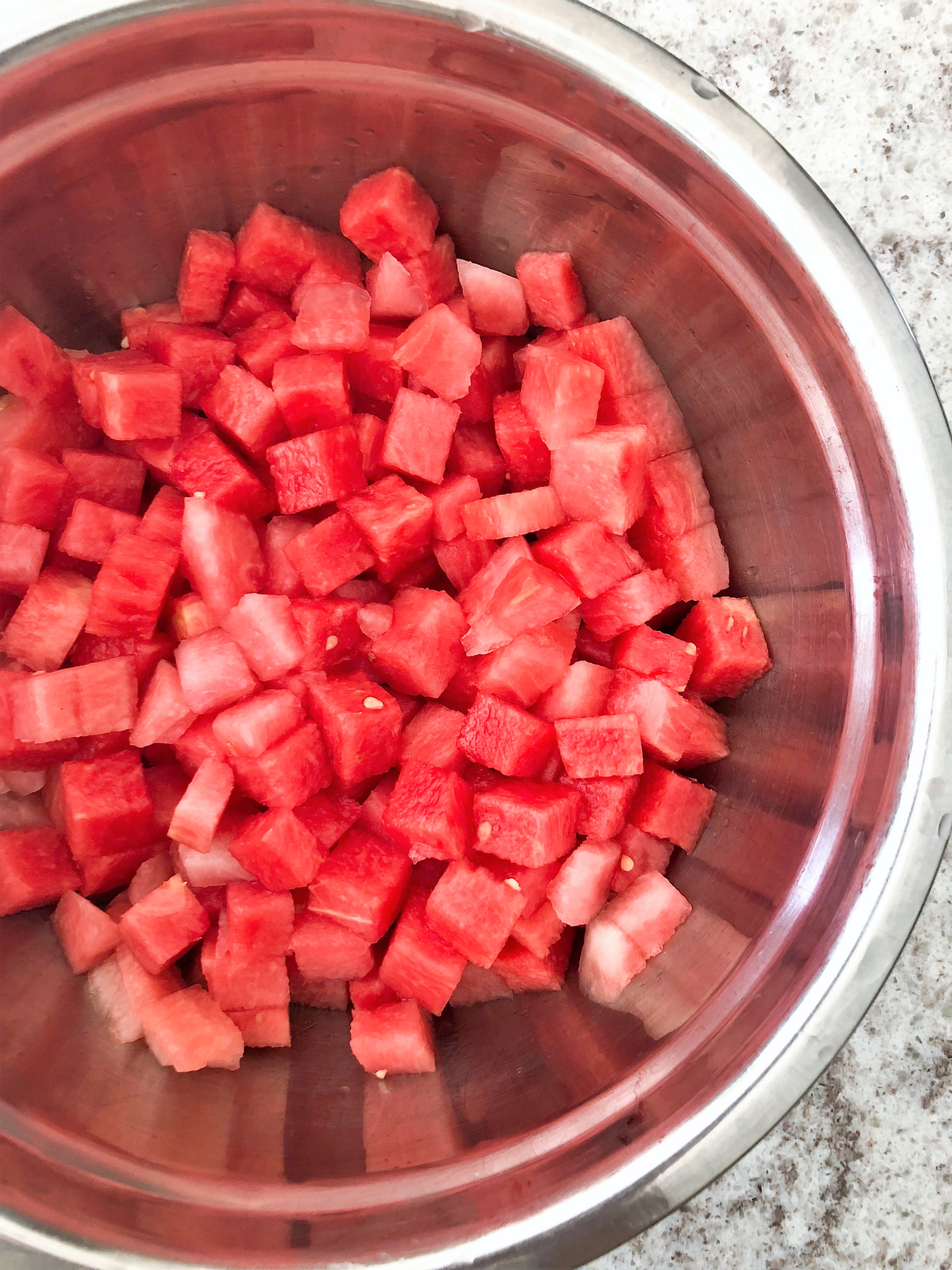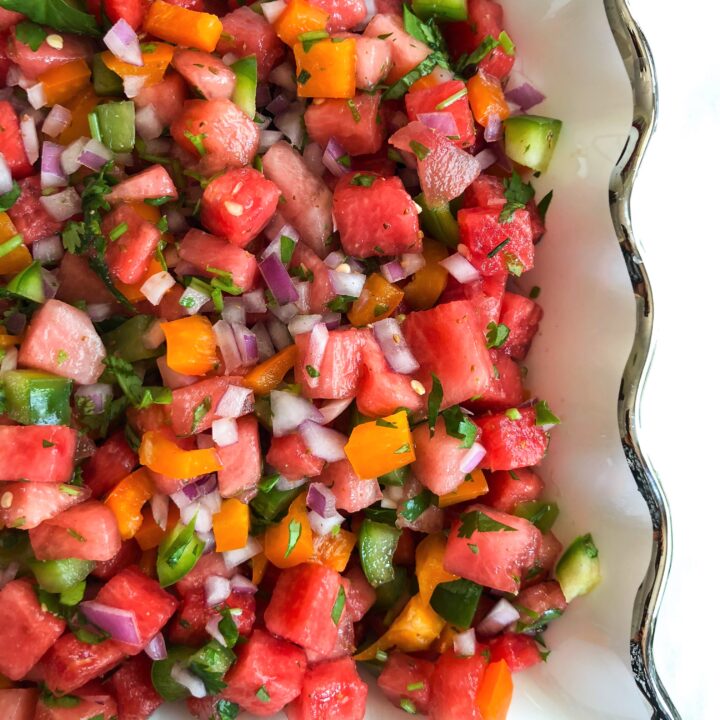 Watermelon Salsa
A refreshing and flavorful way to enjoy fresh watermelon. Try this watermelon salsa recipe that is quick and easy to make and is sure to impress.
Ingredients
¼

Personal sized seedless watermelon

diced

½

green bell pepper – diced small

½

orange bell pepper – diced small

½

cup

chopped red onion

15

sprigs of cilantro – chopped

1

jalapeno - minced

Juice of 1 lime

1

teaspoon

roasted cumin powder

Salt to taste
Instructions
Put all the ingredients in a bowl and mix. Check for seasoning and adjust, if needed. Serve with chips or as a side salad.
Notes
All the fruits and veggies can be chopped ahead of time and kept in the refrigerator. Before serving, mix everything, squeeze lime juice, season and enjoy. Use chili pepper of your choice – jalapeno, serrano or thai chili.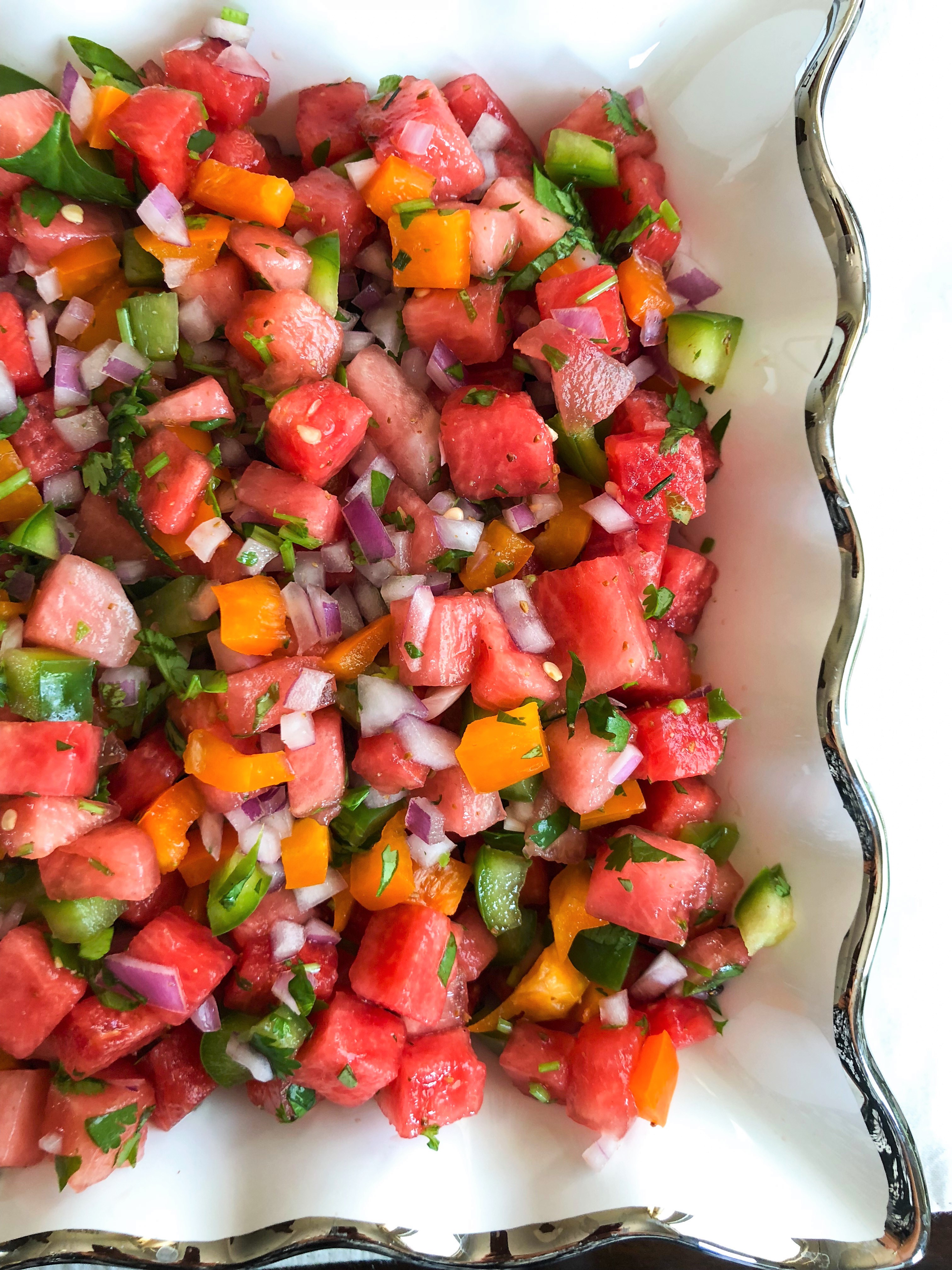 Enjoy!
Love – Vaishali.
Tools Used:
Measuring Cups:
Measuring Spoons: