We are a family divided when it comes to broccoli. Half the family loves it and the other half barely tolerates it. But this broccoli recipe is a game changer. I had bought a few heads of broccoli from our health market a few days ago, the crowns looked so fresh and green that they almost begged to be put in my shopping cart (a stellar sale price was a bonus!). It took me a day or two to decide how to cook it. When one evening, Ms. Little A requested pasta (this one will work great) and garlic bread of dinner, I thought – Bingo! there's my chance to incorporate that broccoli into our dinner plans.
Not wanting to risk ruining the pasta for some members of our family, I decided to roast it and make into a side dish. The rule on our dinner table is that you always have to try one bite of everything that's on the table, even if you are convinced that a particular food might leave you unable to swallow ever again! The idea behind this broccoli is to roast at a high temperature to make it crispy, almost charred at certain spots. Crispy broccoli and creamy pasta seemed like a match made in heaven, at least in my mind.
The result was out of this world. Now that might not be a description that broccoli normally gets but consider this as a testimonial – everybody enjoyed this side dish – even Ms. little A. If you knew how many excuses she will make to not try broccoli, the fact that she finished her serving of this roasted broccoli and asked to pack it next day for lunch, speaks volumes about the appeal of this recipe to kids and grown-ups alike.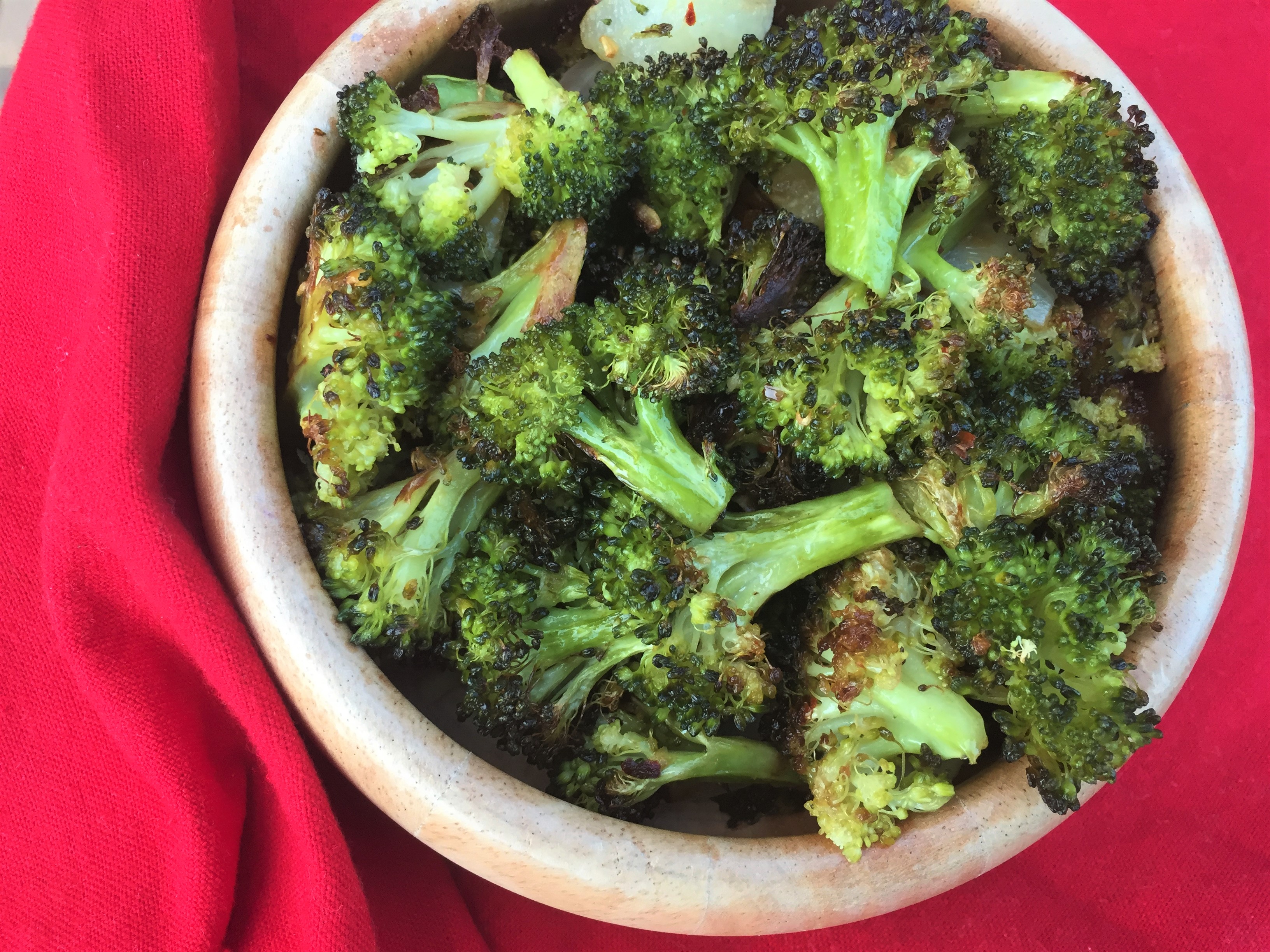 Ingredients:
Broccoli – 1 head, about 1 lb or 250 gm
Olive oil – 2.5 tablespoons, divided
Lemon – 1
Red pepper flakes – a pinch
Salt – to taste
Garlic – 2 cloves
Method:
Preheat your oven to 425°F (220°C). While the oven is preheating, wash and break the broccoli into equal size florets. Peel a thick layer of skin from the stem and cut the peeled stem into bite-sized pieces. Zest the lemon and cut in half to squeeze the juice of one half of the lemon, mince the garlic. Take a medium size cookie sheet and spread about a tablespoon of olive oil onto the cookie sheet. Add broccoli, lemon zest, garlic, pepper flakes, remaining 1.5 tablespoon olive oil, and salt to the cookie sheet and mix till everything is happily mingled. Spread everything in an even layer on the cookie sheet.
Roast in the oven for 30 minutes, stirring and flipping broccoli mid-way through the roasting process. Add lemon juice and mix. Check the broccoli for your desired level of crispiness and seasonings. Adjust accordingly and serve hot.
Love – Vaishali
Tools used:
Oven
Cookie sheet
Knife and chopping board
Spatula
Measuring spoons