This salad beautifully features the delicate texture and earthy flavor of quinoa and is perfect for a light lunch or served as a side dish with a hearty dinner. As I have mentioned in some of my posts earlier, quinoa is a flavorful and healthy alternative to some of the other rice or pasta side dishes. I have talked about the health benefits and versatility of quinoa and that it is full of fiber, proteins and many vital vitamins. This salad is made even heartier by its other nutrient-dense components like black beans, corn, and carrots, etc. This quinoa salad differs from some of the other quinoa salads that I make, as I do not dress this salad, the flavors come from sautéing the veggies and beans with some seasonings and adding salt and pepper to quinoa while it is still cooking. I also started by dry toasting the quinoa to a little bit to further bring out its nuttiness and flavor before adding liquid to the saucepan.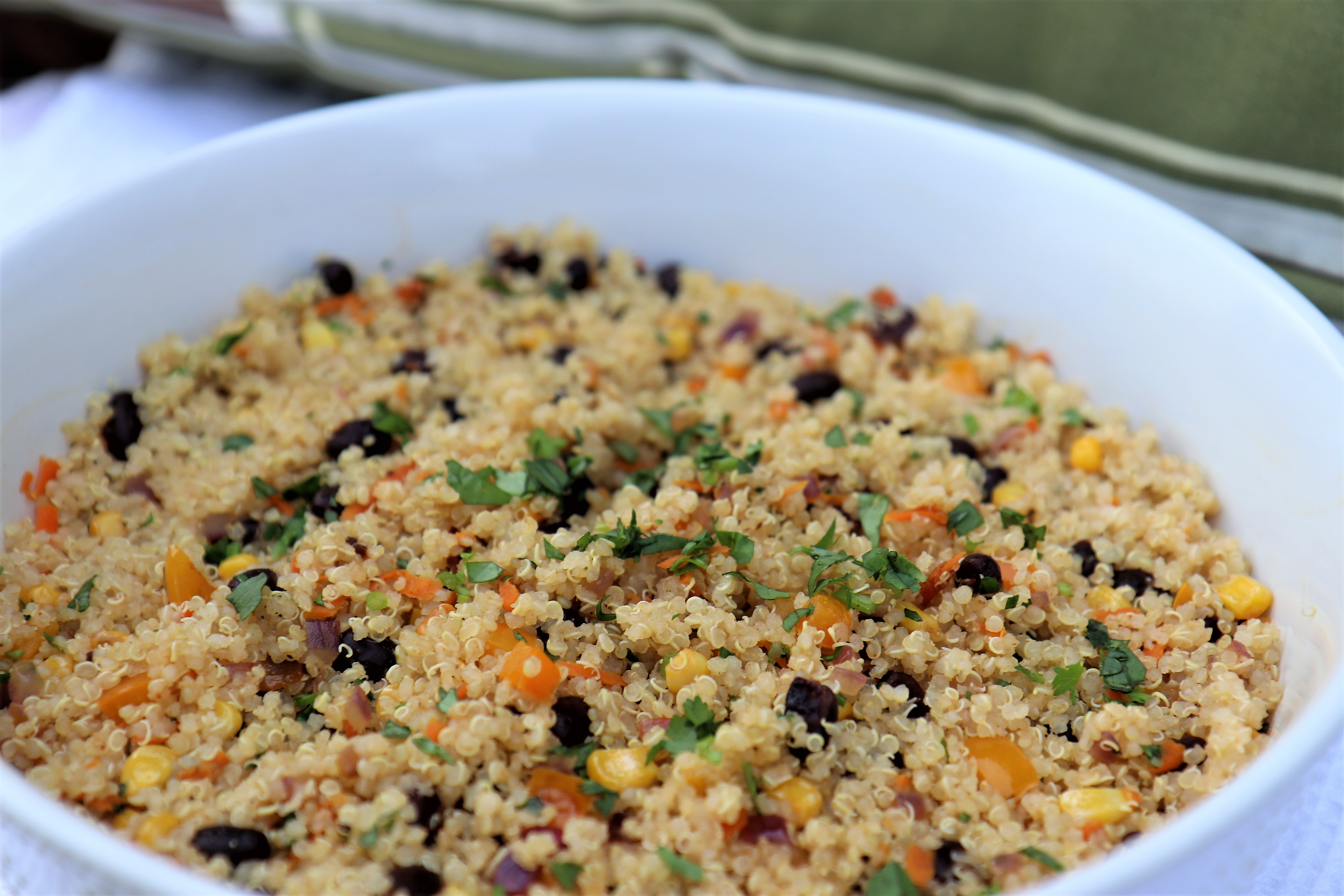 Ingredients:
White quinoa – 1 cup (cooked)
Jalapeño or serrano pepper – ½, chopped
Red onion – ½, medium, chopped
Carrots – 2, peeled and coarsely shredded
Corn kernels – 1 cup, or cut from 1 corn on the cob
Red bell pepper – ½ , seeded and chopped
Black beans – from 1 can, drained and rinsed well
Scallions/green onions – 2, sliced thin
Olive oil – 1 tablespoon
Taco seasoning – 2 teaspoon
Lime juice – from 1 lime
Cilantro leaves – from 2-3 sprigs, chopped
Salt and black pepper – to taste
Method:
Set a medium saucepan on medium low heat and add the dry quinoa to it. Toast the quinoa, stirring in-between until fragrant, about five-seven minutes. Proceed to cook it as described here (add salt and pepper while cooking). While the quinoa is cooking, set a medium sauté/ frying pan on medium high heat. Add olive oil, chili pepper and red onions to the pan and cook for 30 seconds. Add the carrots and red bell pepper and cook for a minute or two. Now add the black beans and corn, followed by the taco seasoning (I make my own taco seasoning – will share the spice blend soon). You might want to add just a little bit salt to the veggies. Mix and cook for 2-3 minutes and then turn off the heat.
Fluff the cooked quinoa with a fork and transfer to a big mixing/serving bowl. Add the sautéed vegetables to it followed by scallions and limejuice. Give everything a big mix, give a taste check and adjust salt if needed. Sprinkle cilantro leaves on top and serve warm. Enjoy!
Love – Vaishali
Tools used
Saucepan
Saute Pan
Knife and chopping board
Measuring cups and spoons
Mixing bowl
Spatula