This recipe of Meethi Seviyan aka Sweet Vermicelli is the easiest dessert recipe. 5-ingredient and ready in less than 15 minutes, you know you have got to try it.
Jump to Recipe
If you love all the recipes that I share on the blog, please join me on Instagram. I do a lot of cooking videos on Instagram and other fun stuff. We have a great TKD community there so please come join us! If Facebook is your thing, head here and I promise, you'll love it!
Sometimes I look at recipe archives in this space and realize that we really do not have a lot of dessert recipes. And I'm partially to blame for this one, or completely. I mean you see what I choose to share. So, I'm sorry! You all know well that I do not have a very big sweet tooth so I'm kind of partial towards savory recipes. But both Dr. A and Ms. A dig sweet treats and we make Indian desserts, cakes, cookies, ice creams, etc...etc. often. Just do not get to share them here often. But that is changing today. With this bomb recipe of Meethi Seviyan or Sweet Vermicelli.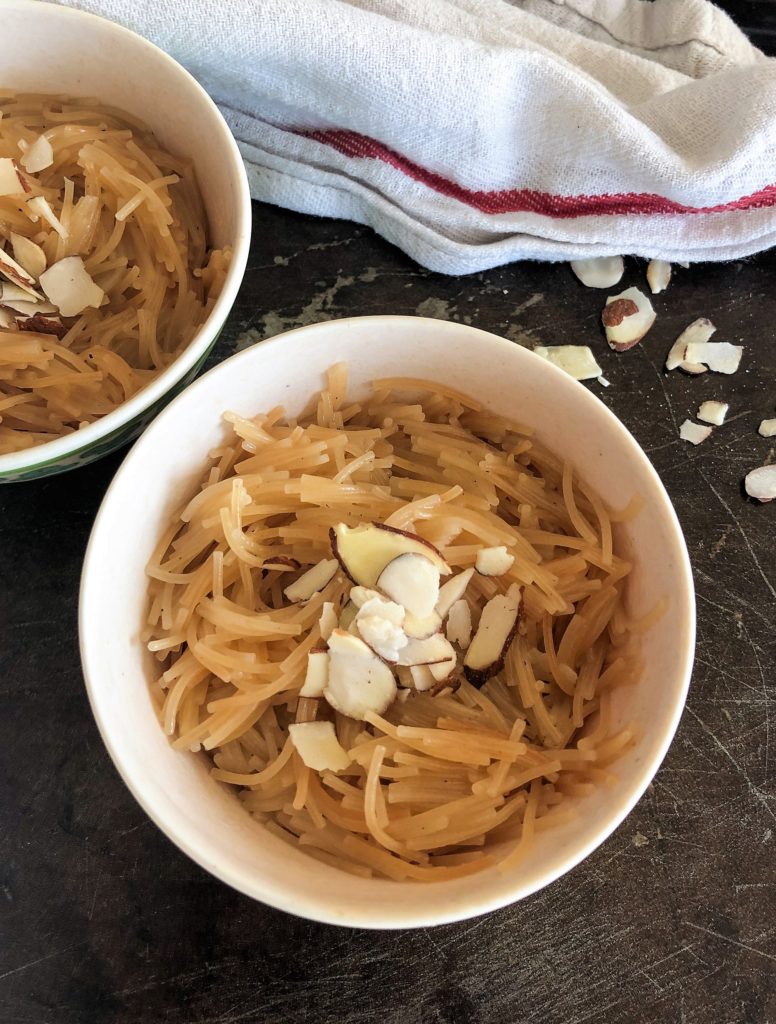 Disclosure: This post contains affiliate links.
What are Seviyan?
Seviyan is the hindi/punjabi name of vermicelli. Usually a wheat product, seviyan can be made into namkeen seviyan (savory vermicelli with vegetables, recipe here), meethi seviyan or doodh wali seviyan (dessert, milk based). Back in the day, seviyan were made with hand which was actually a labor of love (and patience, if I may add). Making the dough, rolling it out and then making these teeny tiny pieces of day using your fingers. Then the vermicelli would be sun dried and stored until ready to use. Now, we can buy them roasted, thin, thick, and other different kinds from the comfort of a grocery store. Easy as that. And delicious!!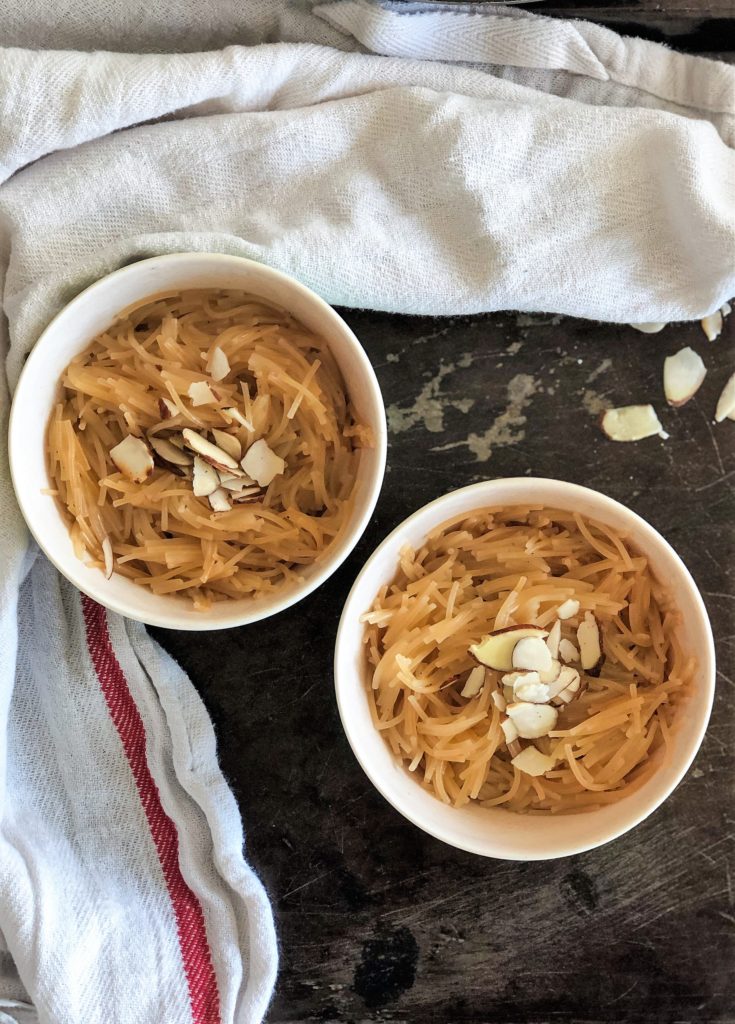 My mom's recipe.
This recipe of meethi seviyan is my mom's (like many others). My mom is a true hostess and I admit that I have inherited some of her traits in this department. The idea and thought of hosting and feeding people at our home makes us both giddy with excitement. But she is definitely the matriarch in this department. If you tell her 15 minutes ahead of time that we are having company for breakfast, she will have a spread ready. And by spread I mean paranthas, eggs, yogurt, homemade butter, fresh fruit and more than likely these meethi seviyan on the breakfast table. It is one of her go to recipes. And why won't it be. 5 ingredients that you most likely have in your desi pantry and less than 15 minutes and a stellar dessert that works just as great in breakfast as it does after a heavy dinner.
When in doubt, call mom.
So one Saturday morning, we were unable to narrow down a breakfast that will appeal to everyone in the family. I stood there with the pantry door wide open in front of me. Looking for some inspiration. That's when the jar of roasted vermicelli (seviyan) caught my eye. And I thought, that's it. While Dr. A can make something savory, let me add meethi seviyan to today's breakfast. I picked up the phone and called my mom in India. Asked her the recipe, scribbled behind the pest control company's visiting card and got to work. Yup, that's how we roll.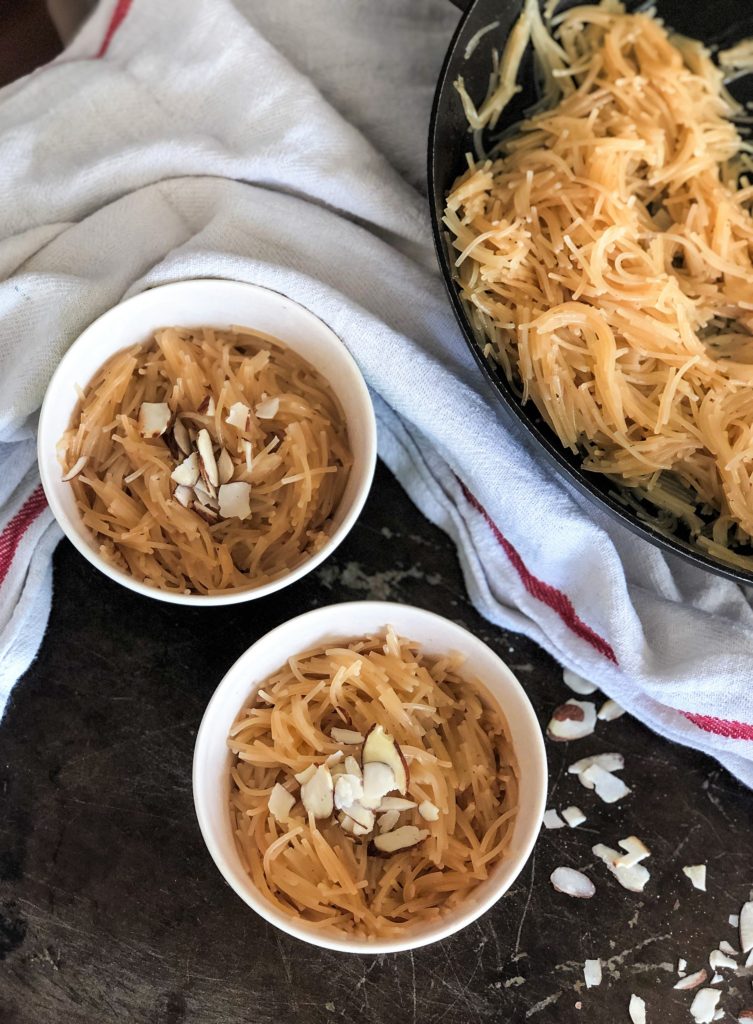 Recipe run down
I know I have already mentioned this 289 times in this post but this is the easiest recipe. You start with a good, trusted pan (like these) add some ghee. Toast the seviyan until nice and golden brown. I used pre roasted vermicelli (like these) so I only spent a few seconds toasting it in ghee. But if you cannot find roasted ones, then you might have to spend a few extra minutes and a little more ghee to toast the vermicelli on low heat until fragrant and toasted. Then we add water and cook, covered until almost 90% done. Followed by adding sugar and cardamom powder (if using) and cooking for a minute or two, until the sugar is absorbed and there isn't any liquid left in the pan. Sprinkle with any chopped nuts or dried fruit and enjoy!!
Here's your handy dandy printable:
Meethi Seviyan | Easy Sweet Vermicelli Recipe
This recipe of Meethi Seviyan aka Sweet Vermicelli is the easiest dessert recipe. 5-ingredient and ready in less than 15 minutes, you know you have got to try it.
Ingredients
1

cup

Seviyan/Vermicelli

roasted, see notes

½

tablespoon

ghee

1.5

cup

water

¼

cup

sugar

or to taste, see notes

½

teaspoon

cardamom powder

optional

Chopped nuts/dried fruits

for garnish
Instructions
Set a heavy bottomed pan on medium high heat and add ghee to it.

Using a wooden/silicone spatula stir around the seviyan until fragrant and toasted for about 30 seconds. See notes.

Add water, turn the heat to high, cover and let it come to boil.

Once the water is boiling, turn the heat to low and cook, covered for 6-7 minutes.

At this point most of the water should be absorbed by the seviyan. Test seviyan for doneness and add the sugar and cardamom powder.

Turn the heat up to medium and mix. The sugar will release water. Cook for a minute or two, stirring gently until most of the liquid is absorbed. See notes

Serve warm garnished with nuts and dried fruits, if using. Ta da!!!
Notes
I used bambino brand, roasted vermicelli. They are already pre-cut or broken into pieces. If you are using the long, thin ones, make sure to break them into smaller pieces and use less water.
In the US, we get fine sugar. If you are using the grainy kind, your cook time and amount will vary. ¼ cup sugar adds mild sweetness.
If you are using regular seviyan (not roasted) then this step will take longer and you will need about a tablespoon of ghee and may be 4-5 minutes of medium heat toasting while stirring so that the seviyan do not burn.
You can taste check sweetness here and add more. Keep cooking until most of the liquid is absorbed.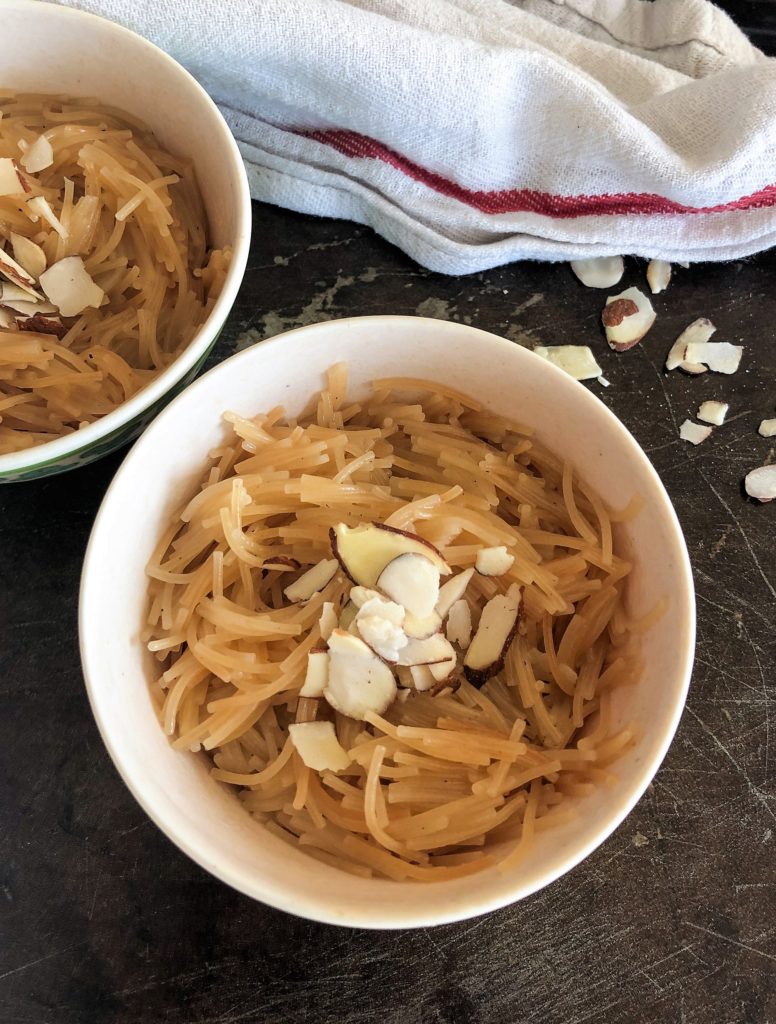 If you make these Meethi Seviyan, please leave a comment and/or give this recipe a rating! I love to hear from you guys. And if you do make this recipe, don't forget to tag me on Instagram and Facebook! I love to look through your creations!!
Love – Vaishali
Key Recipe Tools and Ingredients:
Pan (like these):
Spatula:
Seviyan/Roasted Vermicelli:
Ground Cardamom: