When the news of Anthony Bourdain's passing spread around the world one early morning few weeks ago, I was deeply saddened. Why did such a free spirit, "take it in your stride" kind of person commit a suicide? I am not an expert in mental illness or human psychology but what I gather from recent celebrity suicides is that there are so many internal struggles and demons that each of is fighting. So, the least we can do is to be kind to each other and spread love and compassion. Anthony Bourdain was such an inspiration. The complete abandon with he approached food from around the world was awe-inspiring. His shows spread awareness about how the world cuisine is a melting pot of cultures, regional and seasonal produce, and how deep the threads of humanity run.
Jump to Recipe
This recipe of tandoori quesadillas is also such an attempt. A fusion of cuisines. I have repeatedly written about our family's love for Mexican cuisine (see here and here). We regularly make tacos, Mexican style Buddha bowls, salads, quesadillas, enchiladas etc. at home. While I normally stick to trying to make every recipe as authentic as I can, sometimes I let the refrigerator take charge of what is cooking. What does that mean, you ask? That means that I cannot simply overlook what lies in the refrigerator, begging for my attention, and cook something using produce or ingredients that I know won't last very long. This recipe was born due to this problem that I have.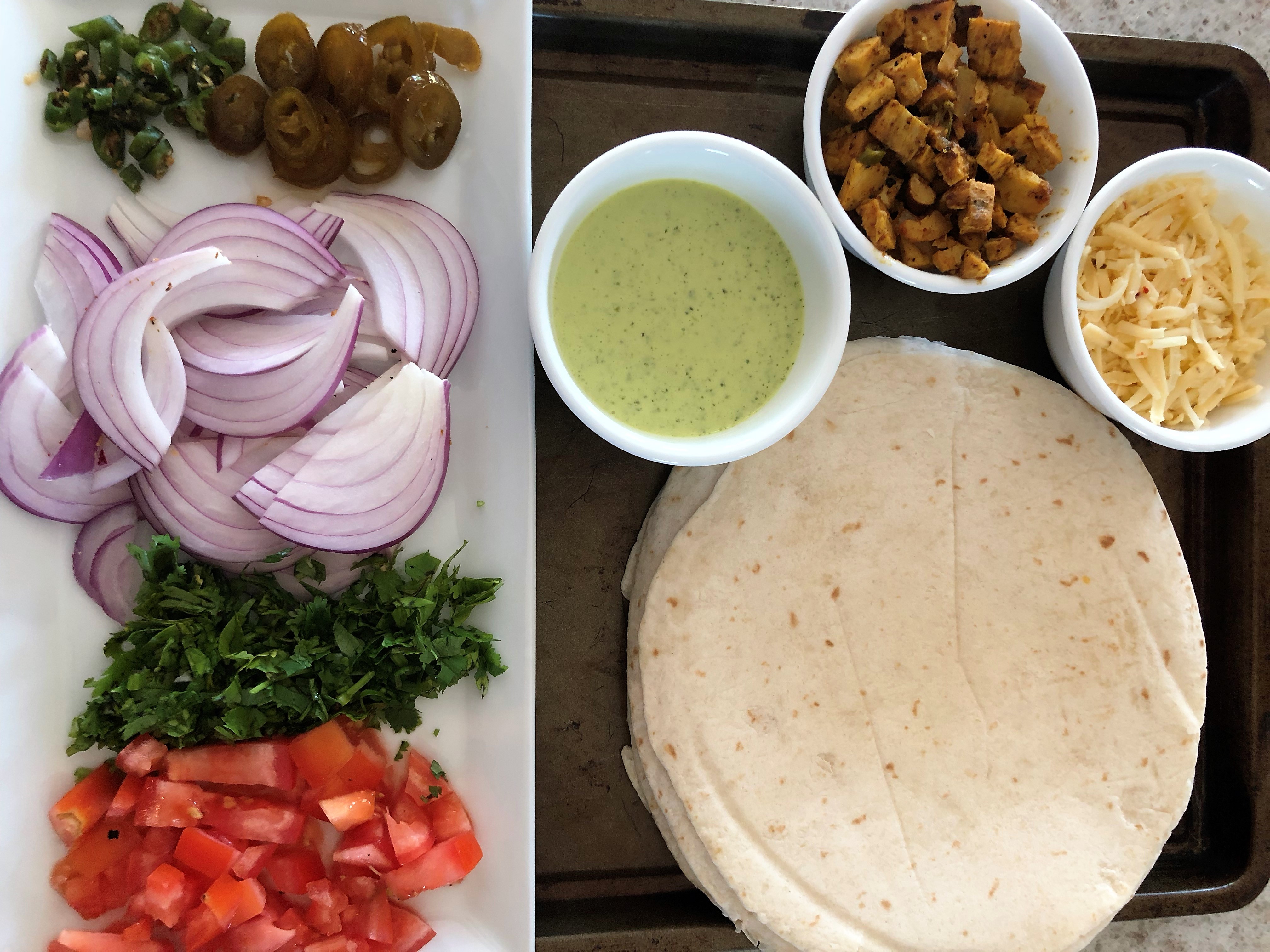 We Punjabis love anything tandoori. Tandoori food is cooked in super-hot clay oven called tandoor. The foods ranges from tradition tandoori chicken, kebabs, roti and naan to more contemporary tandoori vegetables like mushrooms and cauliflower. There are electric tandoors being sold in the markets, which I am not at all convinced to buy. I have seen few DIY tandoor options, which, I might be able to convince to Dr. A to try. We shall see. For now, our trusted grill (we have this one) is what comes closest to a tandoor.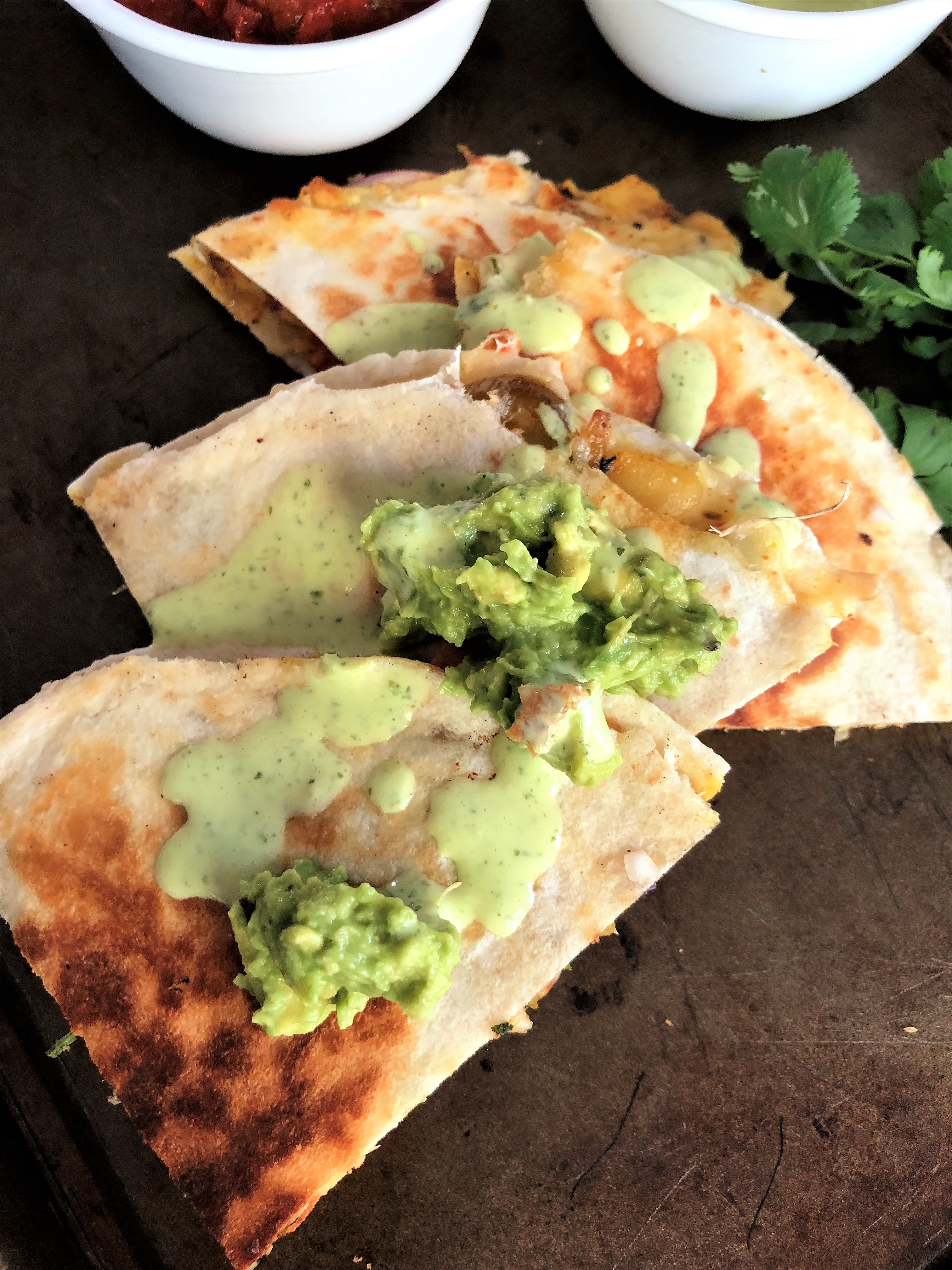 We had some tandoori chicken leftover from Father's Day cook out. I had talked to a friend about this concept of making "Indian style" quesadillas few weeks ago so I thought it would be a good time to try that. I have used leftover tandoori chicken in this recipe, but you could use any kind of leftover chicken. Even rotisserie chicken from the grocery store will work in a heartbeat. Or even paneer or tofu to make it vegetarian. You pick!
I diced up the chicken small (you can shred it too), vamped it up with some spices and sliced onions.  I used pepper jack cheese in the tandoori quesadillas to make it spicy. The kids got Colby jack instead. Tortillas crisped up on a hot cast iron skillet and then covered with all the toppings. Covered with another tortilla or folded in half and served with cilantro lime crema, guacamole (recipe here), salsa (recipe here) and other invitados a la fiesta.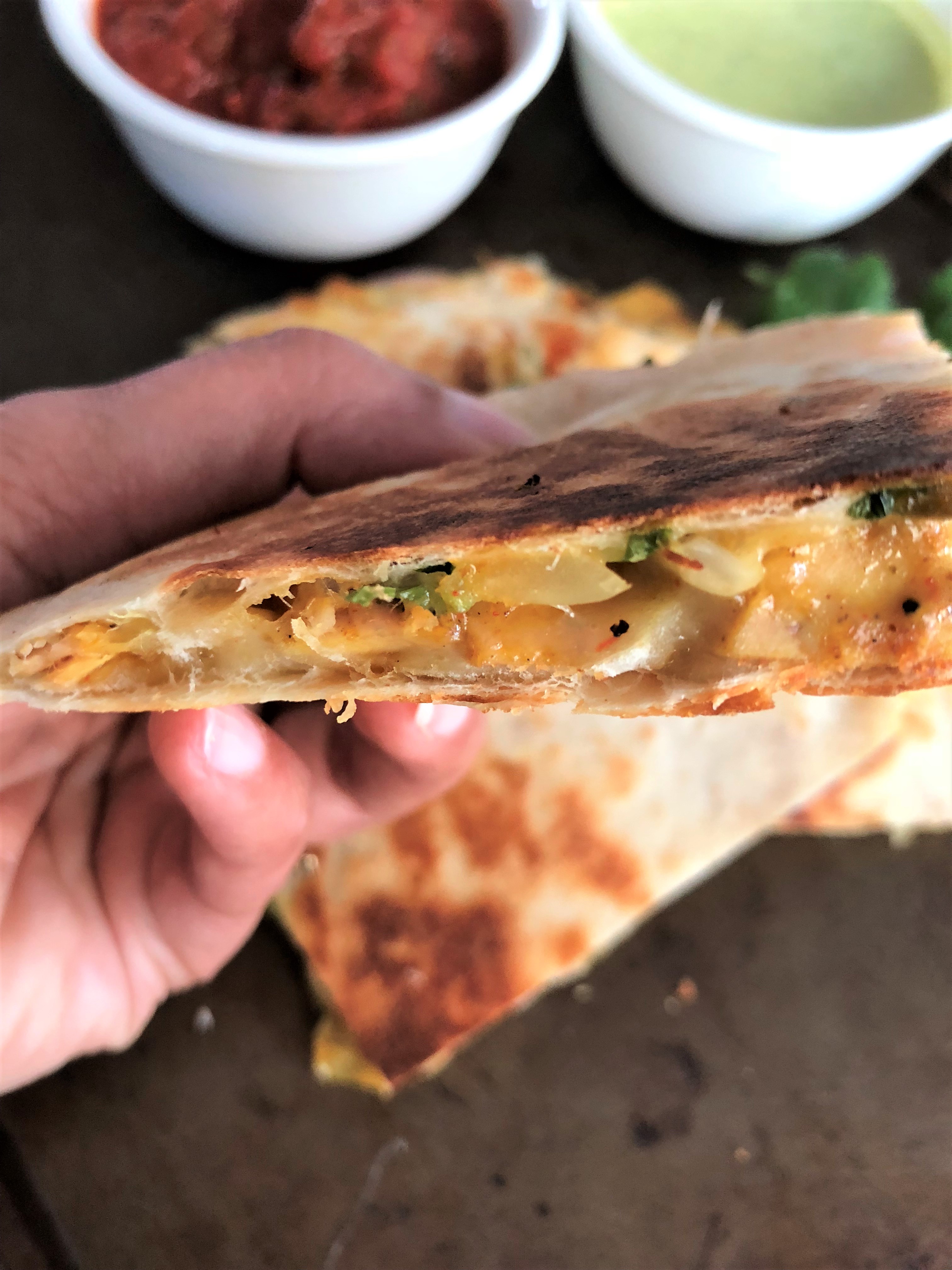 Again, by all means use tofu or paneer instead of chicken to make these quesadillas vegetarian or vegan. Everything else in the recipe stays the same (you might have to use a dairy free cheese for vegan).
Here is a handy printable:
Tandoori Quesadillas
Leftover chicken gets an Indian flair with tandoori spices, a toasted flour tortilla with melted spicy cheese, this tandoori quesadillas recipe has an impressive taste with little work.
Ingredients
1

tablespoon

olive oil

plus more for the tortillas

1

cup

chopped onion

1

green chili, minced

optional

2

cloves

garlic, minced

½

tablespoon

ginger, minced

2

cups

cooked chicken, small diced

See notes

¼

teaspoon

turmeric powder

1

tablespoon

tandoori masala powder

¼

cup

chicken or vegetable broth

1

cup

pepperjack cheese

shredded

4

8-inch flour tortillas

See notes
Quesadilla Toppings (optional)
½

cup

sliced red onion

½

cup

chopped tomatoes

¼

cup

chopped cilantro

Pickled or fresh sliced jalapenos

optional
Cilantro Lime Crema
1

cup

yogurt/sour cream

See Notes

10

sprigs

cilantro

2

green chilis

1

clove

garlic

½

lime, juiced

Salt to taste
To Serve
Guacamole

See Notes

Pico de gallo/Salsa

See Notes
Instructions
To make tandoori filling
Set a cast iron skillet on high heat. Add olive oil and let it get shiny. Now add in the garlic, onions, and green chili. Mix and cook for a minute. Then add minced ginger and mix.


Add the turmeric powder and tandoori masala and cook the mixture for a minute.


Now add the cooked chicken, salt and broth. Lower the heat to medium low. Cover and cook for 5 minutes. This will soften and reheat the leftover chicken evenly while infusing it with deeper tandoori flavor.


After five minutes turn the heat off, take the mixture out in a bowl and set aside.

To assemble the quesadillas
Return the cast iron skillet that you used to cook chicken in back to heat, wipe with a kitchen towel and heat up over medium heat.

Start warming up the tortilla, add some oil on both sides and get it slightly toasted. Turn the heat to low so that you do not burn the tortilla while you add the other ingredients.


Top half of the tortilla with shredded pepperjack cheese first, then top with tandoori chicken and chopped onions, cilantro, tomatoes and jalapenos (if using).


Fold the other half of the tortilla over the chicken and cheese. Cook till the cheese is melted and both sides of quesadilla are crisp and golden brown.

Remove from heat, slice into three slices.

Serve hot with cilantro lime crema and other condiments.

To make Cilantro Lime Crema
Blend together all the ingredients and serve with tandoori quesadillas.

Notes
To make vegetarian tandoori quesadillas, use diced paneer. You don't need to add broth while cooking tandoori paneer.
Use whole wheat tortillas to make this recipe healthier.
Using homemade yogurt makes the sauce a little liquidy. Preferably, use greek yogurt or sour cream to make the crema.
Find the guacamole recipe here
Find Salsa or Pico de gallo recipe here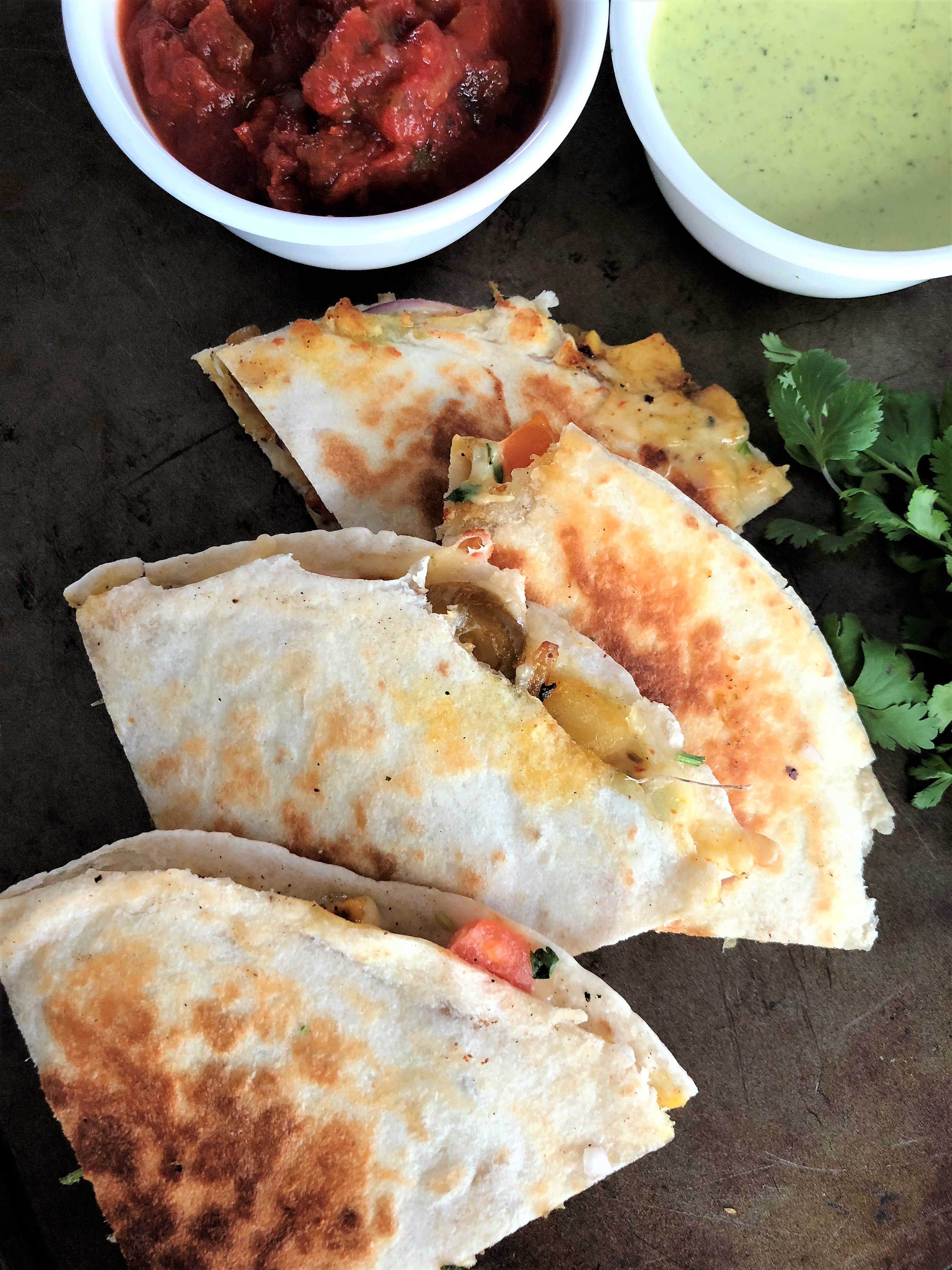 Enjoy this tandoori goodness in form of a mess free hand held quesadilla.
Love - Vaishali.
Tools Used: