As I have mentioned before, Indian cuisine – flavors, methods, textures, colors and aromas, all vary from one region to another in India. There is a strong influence of locally available produce, grains, meats and seafood on what people cook and eat in any part of India. To a person who is new to Indian cooking, the list of basic spices needed for any recipe can be unnerving. But please don't be intimidated by the spice list, once you've stocked up your pantry with the basics, you're set. If you think, you won't be cooking Indian foods as frequently, I would suggest buying your spices at the bulk section of your grocery store. This way you can buy as much or as little as you like. Or pick the smallest package that is available at your Indian/Asian grocery store. Also, you can store your spices in the freezer to maintain their freshness and flavor for a longer time.
My spice essentials, in order of frequency of use and liking are:
Coriander powder – Made from coriander seeds. These come from coriander/cilantro plant and help in digestion. I cannot function without fresh ground coriander powder in my kitchen. I buy coriander seeds and then grind them to a powder using my coffee grinder – which I don't use for grinding coffee…:P. I like my coriander powder to retain some texture so I don't grind it to an absolute powder. This way it adds a nice texture to the curries/lentils that I use it in.
Cumin – Cumin seeds along with asafoetida (known as Heeng) are the absolute starting point of my most vegetarian dishes. Toasting cumin seeds in oil to release its earthy and warm flavor is Indian cooking done right from the very beginning. Cumin seeds can be dry roasted and ground to a powder to be used in certain curries or flavoring yogurt to make raita. Cumin seeds also form the base of garam masala, which is a magical blend of various spices and is used to finish a dish.
Turmeric – This deep yellow spice comes from the dried root of turmeric plant. Growing up, my father would plant turmeric and it would sit neglected in a corner of our vegetable patch for months. When it was time to harvest, tiny, almost ginger like roots would be dug out and set to dry. Fresh turmeric is very potent and has a very strong flavor. It can be added to smoothies (in a very small amount) to reap its health benefits. Using turmeric in your foods daily is really good for you with the benefits ranging from it being anti-inflammatory, immune-boosting, anti-depressant, good for your bones, can be used in managing diabetes, among others. A cup of steaming milk with some turmeric and honey mixed in it is a go to remedy for coughs, colds, and provides comfort if you have any sort of injury. Turmeric adds a distinct yellow tinge to any dish it's added to. I use a tiny bit of turmeric in almost all of my recipes.
Red Chilli powder – There is wide range of 'hotness' in which you can buy chilli powders, ranging from burning hot to extremely mild. I do add chilli powder to my Indian recipes but mostly for color so I normally use a mild red chilli powder.
Ajwain – or carom seeds is another indian/middle-eastern spice that promote digestion and over-all gut health. These look like a smaller version of cumin seeds, just more round. It has a strong pungent flavor and a small amount of ajwain used in any dish can result in an "ajwain-flovored" dish..:P. Its great to be used in flat breads made for breakfast to give your day a kick-start and is also used in dishes that are 'heavy' or difficult to digest.
Mustard Seeds – are not traditionally used in North Indian dishes and is more prominently used in South India. I often make south Indian recipes too and that's where I use mustard seeds for tempering. They are added to hot oil in the beginning of a recipe and they split and pop with heat to release a beautiful smell and flavor the oil.
Green Cardamom – A very potent spice with a beautiful, fresh but strong flavor. It is used a lot in desserts and also in most of rich, and creamy gravies or curries. Dr. A. also uses it in his tea and can also be added to a lot of rice, biryani and pulao dishes. The pods can be used whole to flavor the oil in whic a curry is being cooked or the pods can be opened to get the seeds out, which can be then ground to use as a powder.
Others: Other similar spices, each with its own flavor profile and health benefits include whole cloves, cinnamon, fennel seeds, fenugreek seeds, bay leaves, dried fenugreek leaves (kasuri methi) etc.
Traditionally, the everyday used spices are kept in a masaaldaani/masala dabba, also simply called a spice box. It is your go-to box and has an assembly of spices that you need to quickly temper a daal, make a curry or any dry dish. It is a must have if you cook Indian food 4-5 times a week. Here is mine: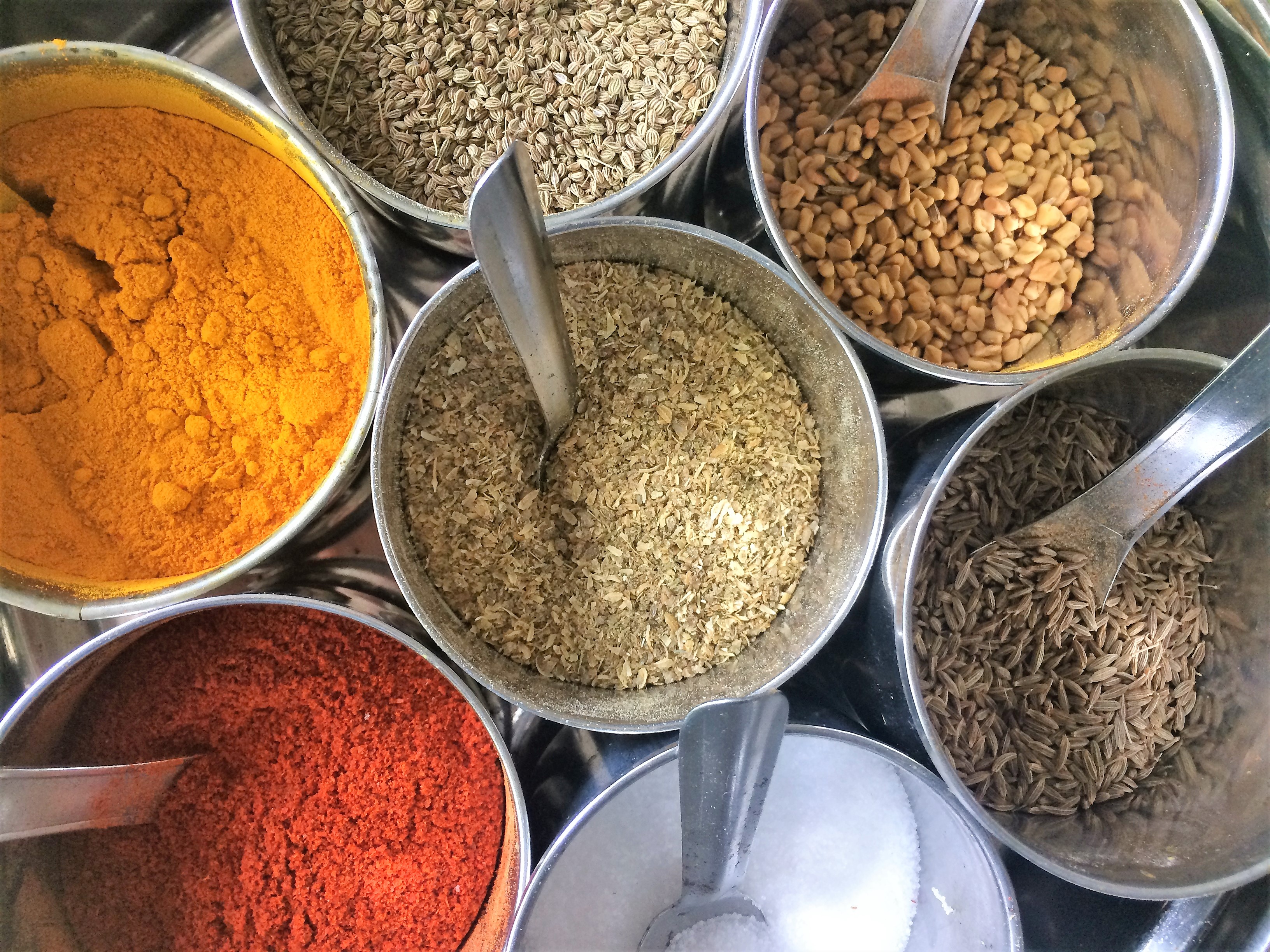 I can go on and on about all other masalas used – which are basically mixtures of the above spices plus some others in different combinations and quantities..but that's a post for another day!
Love – Vaishali.