Simple, nutritious meals that are easy to cook and come together quickly, are my main considerations when I plan to cook something during a weeknight. This thought was on my mind while looking at the crisp bunches of fresh spinach at the grocery store the other day. If you have been following along with me for the past few months, you might know that procuring and cooking whatever is in season is one of my biggest drivers in kitchen. I share local produce guides for every month on may Facebook and Instagram accounts. I guess using whatever is growing locally (or in our garden) brings out the hidden forager in me. Looking at the gorgeous spinach leaves, I thought that sure I could make palak paneer (recipe here) or use them in making palak parantha (recipe here), but I wanted to find a new way to enjoy this beautiful bounty.
Jump to Recipe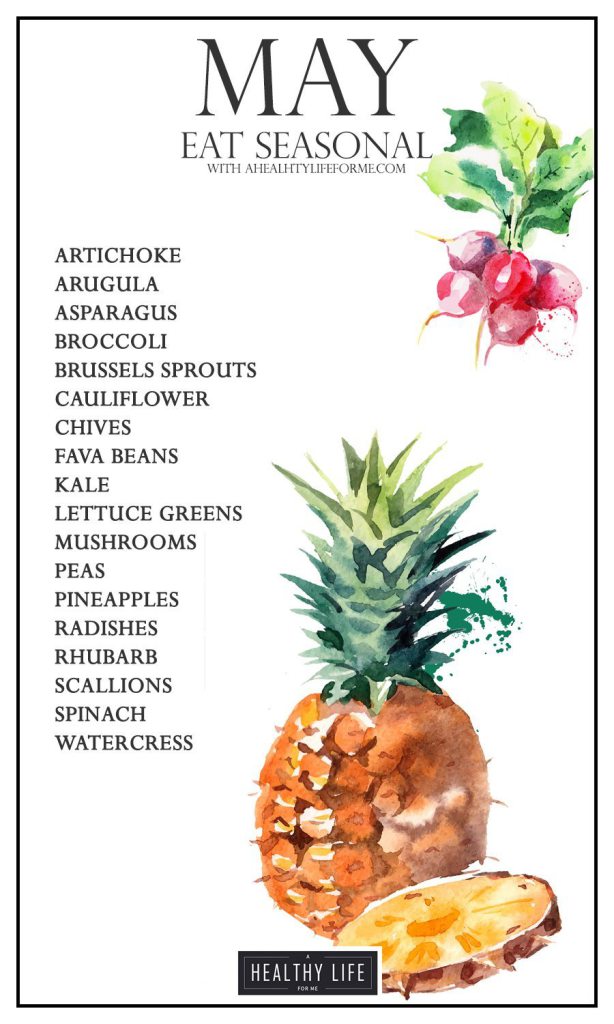 I started thinking about the first time I added chopped spinach to rice and the kids loved it. Since spinach is such a good source of Niacin and Zinc, and a very good source of dietary Fiber, plant based protein, Vitamins A, C, E, B6 and K, Thiamine, Riboflavin, and Folate along with other beneficial minerals, addition of spinach to anything is a no-brainer for me. So I thought of making "Green Rice", as the kids adorably ended up naming this Spinach Rice dish.
I added whole spices like green cardamom and clove to the rice. These spices add a great flavor and warmth to a dish without making it hot (as in spicy). Moreover, addition of khade masale (or whole spices), make any simple dish stand out. The second genius step was to make this rice in the pressure cooker. I was very skeptical about it, since I have not had much success with cooking rice in a pressure cooker. But I wanted to give it another try. Having not enough time on my side could have been another factor! By all means this rice dish can be made in an open pot.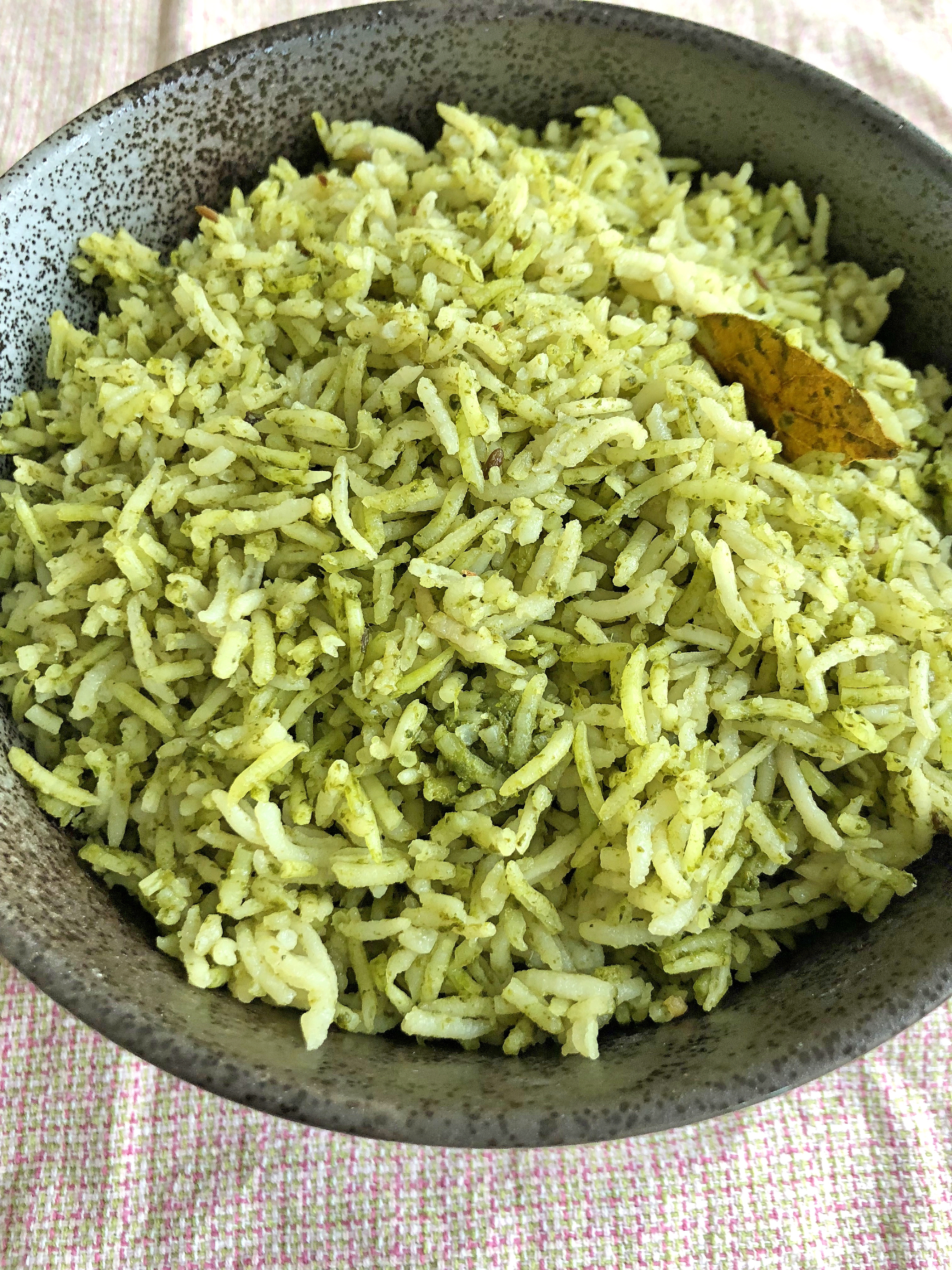 I pureed the spinach with ginger, garlic and green chili so that the rice get a uniform gorgeous green color as opposed to a spotty appearance that we would get with chopped spinach. But if you are running short(er) on time, feel free to just give the spinach a rough chop and proceed. All the power to you. I promise the flavor will still be just as awesome. Make a batch of these rice and enjoy them with a mild curry or daal (like this one) or with a dollop of creamy yogurt (Mr. Little V's favorite).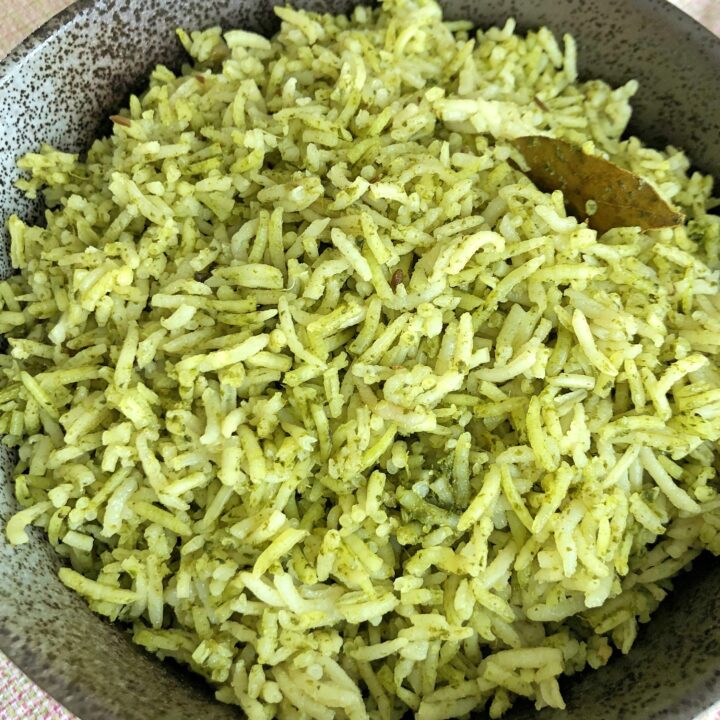 Spinach Rice or Palak Pulao
A favorite rice dish, updated with addition of nutritional spinach. Great when served as a side dish or enjoyed with lentils or curries.
Ingredients
For spinach puree:
4

cups

spinach

roughly chopped

1

inch

piece of ginger

1

green chili

optional

1

clove

garlic
For spinach Rice
1

cup

long grained basmati rice

2

tablespoon

ghee/olive oil

1

green cardamom

1

clove

1

bay leaf

1-

teaspoon

cumin seeds

½

onion sliced

about 1 cup

1 ¼

cup

water

½

lime

juiced

Salt

to taste
Instructions
Rinse and soak the rice while you get everything else ready.
For spinach puree:
Blend everything together to make a smooth puree. You should have close to 1 cup of puree. (See Notes).
To cook Spinach rice
Set a pressure cooker on medium high heat and add the ghee/olive oil to it. Once the oil is hot and shiny, add the khade masale (whole spices – green cardamom, bay leaf and clove) followed by cumin seeds.

Next, add the sliced onions and sauté them until they turn light golden, about 4-5 minutes. Then add the spinach puree, stir and cook for another five minutes.

Now drain the soaked rice and add to your pressure cooker. Stir the rice around until completely coated with spinach puree. Add 1 ¼ cups of water, lime juice and salt to taste.

Put the lid of the pressure cooker on and lock it in place. Turn the heat to high and wait until the cooker reaches full pressure (or "whistles"). At this point, turn the heat to medium low and cook for 5-6 minutes.

Turn the heat off and wait for the pressure to release by itself. This should not take more than 7-8 minutes. Open the lid and gently fluff the rice a fork.

Serve warm with yogurt or daal.
Notes
If not making spinach puree, after adding cumin seeds, add minced garlic and chopped green chili (if using), followed by onions. After the onions have browned a bit, add chopped ginger and cook until the raw smell of ginger goes away. Then add chopped spinach and proceed as above. If not using a pressure cooker, add 2 cups of water after adding rice to a big sauce pan or dutch oven. Bring to a boil on high heat, turn the heat to low, cover and cook for 20 minutes.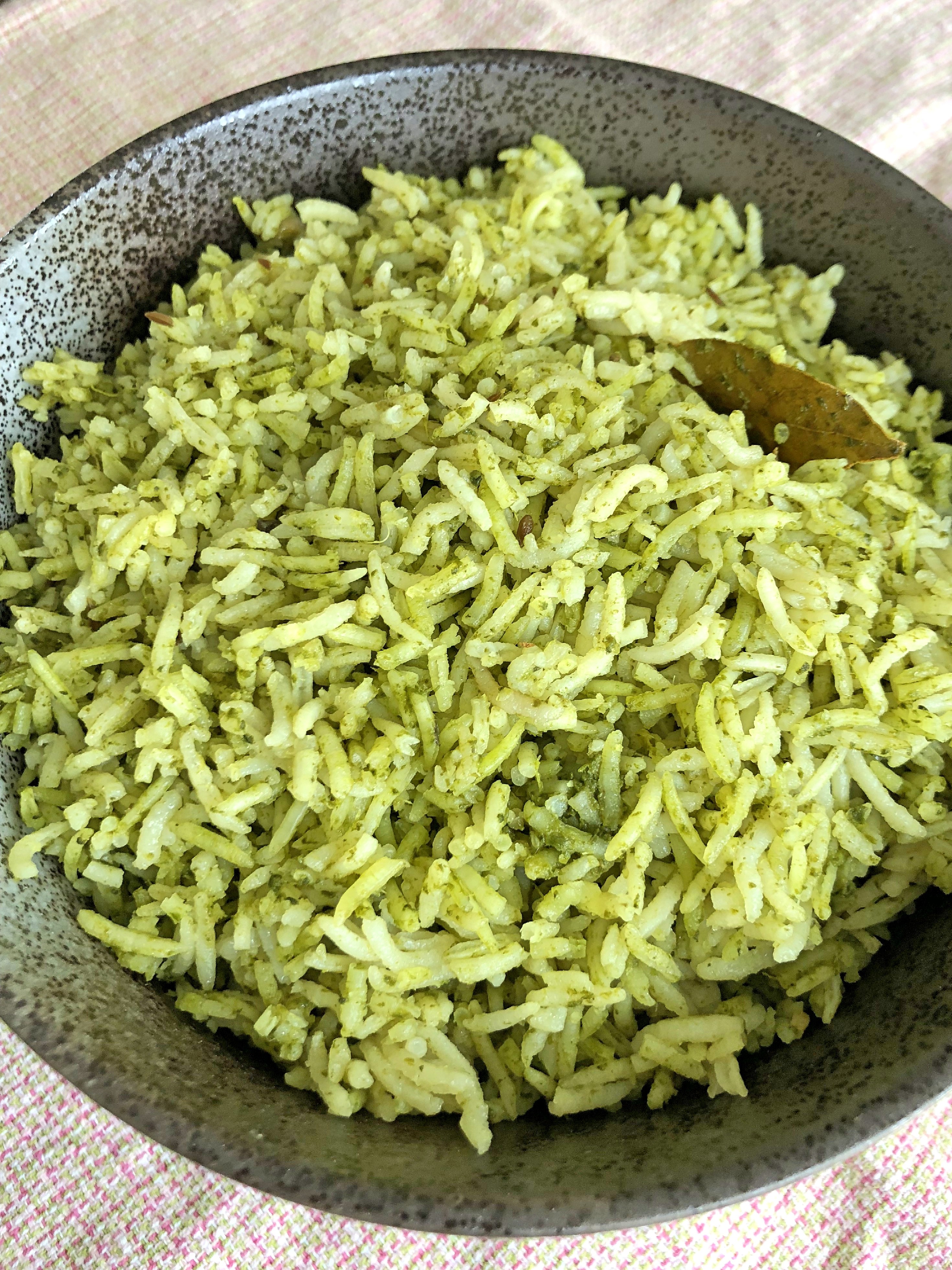 Store the leftovers in the refrigerator for 2-3 days and reheat in the microwave before serving.
Leave a comment below letting me know how you like this recipe.
Love- Vaishali
Tools Used
You can grab some of the tools I used to make this recipe by clicking on the images below.
Spatula
Mixing Bowl
Fork