Ahhh..if you ask me there is nothing more comforting than a big bowl of yellow lentils drizzled with some ghee. It is an all season dish, however, I do tend to modify the good ol lentils recipe sometimes to make good use of seasonal produce. Daals are perfect carriers of any kind of vegetables. You can add whatever vegetables you have on hand and make the consistency thin, like that of a clear soup; or thick, like a stew. Though the purists might disagree. I know my late grandfather might be thinking – "we taught you better than this". Thinking about what his reaction would have been has actually made me smile as I type these words. He liked his daal with nothing but a tempering of ghee, heeng (asafetida), cumin seeds and coriander powder.  Now I am thinking of endless summers that we spent at my grandparents' house, enjoying all that summer had to offer. It is funny and heartening how a simple recipe of daal can bring back so many memories. That's why food becomes such an important thread of this quilt we call life!
Many or some of you might be growing your own vegetables in your garden this summer. Or some might have a subscription to a CSA box. Or may be access to a really good farmer's market. Or may be just an excellent neighborhood grocery store. Whatever the case may be, summer brings around beautiful and colorful beets, specially the dark red ones. I mean have you looked at the color when you cut into a beet – just gorgeous!! Though it might get messy to cut beets, I love to use them in salads – either fresh or roasted.  But something I have always struggled with is throwing away the beautiful beet greens. One day, while talking to my mom on the phone, this topic of beet greens came up. She suggested trying using them in a daal just as you would use spinach (I have an excellent spinach daal recipe – but that is another story to tell).  So I embarked on this journey to try and cook some yellow lentils with beet greens.
The daal turns out to be earthier in flavor than regular daal due to the beet greens. It is great to be had on its own or you can serve it with a bowl of steaming rice or a hot roti. So here it is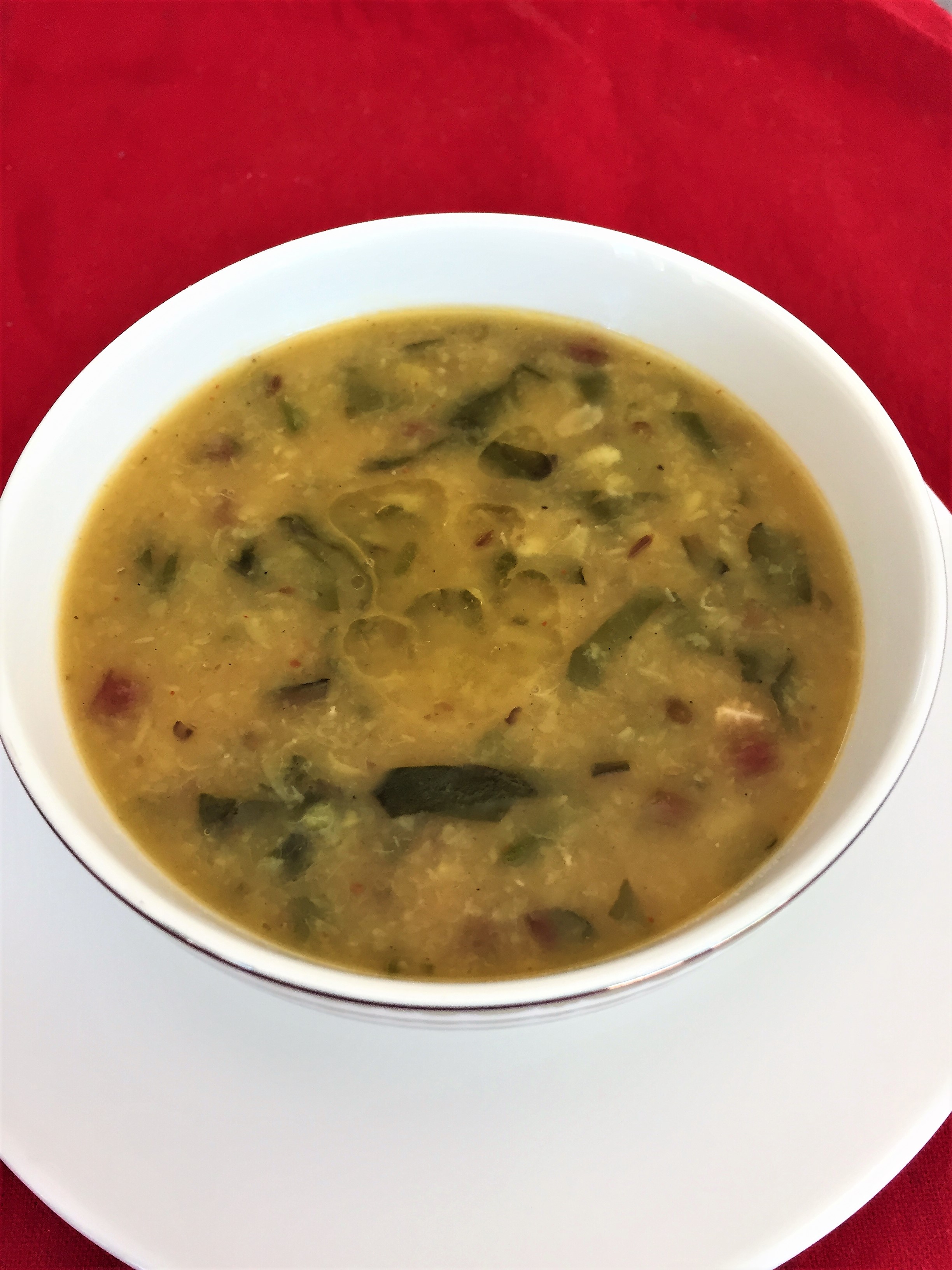 Ingredients:
Moong daal/Split yellow lentils – 1 cup
Beet greens – from one bunch of beets
Water – 3 and a ½ cups or as needed
Oil/Ghee – 1 tablespoon
Cumin seeds – 1 teaspoon
Heeng/ Asafetida – ¼ teaspoon
Ginger – 1 teaspoon (fresh grated or minced)
Green chili – 1 (optional)
Turmeric powder – ¼ teaspoon
Coriander powder – 1 tablespoon
Red chili powder – ½ teaspoon
Garam masala – ½ teaspoon
Salt – to taste
Lime – 1
Method:
Wash the beet greens very well and then chop them along with the bright red stems. Wash the moong dal 2-3 times or till the water runs clear.
Pressure cooker method:
Heat your ghee in a pressure cooker on medium heat. Once the ghee is melted and shiny, add heeng and cumin seeds and let them sizzle. Then add ginger and cook for about 30 seconds or until the raw smell of ginger goes away. Now add chopped beet leaves and stems and stir around for 2-3 minutes. Add turmeric powder, chili powder and coriander powder. Now add the moong daal/lentils. Give everything a big mix and add 3.5 cups of water along with salt. Close the lid of the pressure cooker and increase the heat to medium high. Cook until one whistle. Do not open the lid until the pressure escapes by itself. After that open the lid, add more water if the daal looks too thick. If adding more water, turn the heat back on and give it a boil. Add garam masala and lime juice. Give it a taste check to adjust salt. Serve it hot with rice or roti.
Open pan method:
Set a heavy bottomed saucepan on medium heat. Add ghee and let it heat up. Follow all the steps as per the pressure cooker method until adding water. You might have to start by adding 4 cups of water in this method. After adding water, turn the heat to high, put a wooden spoon in the pan, and cover the pan partially with a lid. You might have to watch this daal closely since it tends to boil over and spill. Keep stirring it in between and cook for about 30 -35 minutes. If at any point you feel that the daal is getting too thick, keep adding more water – ¼ cup at a time. Check some lentils for doneness by pressing them between your finger and thumb to check if it mashes easily. Once the daal is cooked, add garam masala and lime juice and enjoy!!
Love – Vaishali
Tools used
Pressure cooker/ Sauce pan with lid
Chopping board and knife
Measuring cup and spoons
Spatula/Wooden spoon