Hello friends! How are things going at your end? I am holding up well, given the circumstances. Remember (in this post) when I told you that Dr. A was traveling quite a bit and I was going crazy balancing work and life? Well, to that list of Dr. A's travels, add an unexpected and stressful trip that is still ongoing and I am trying to make the best of the situation by keeping myself and the kids busy with our routines. I feel that when some disruptions occur to the daily life, it is incredibly important to give the little ones in your family a sense of routine and smooth flow so that they do not sense anything different or out of the normal. It always amazes me how quickly their small bodies and mind can sense change.
One such routine is to fix fresh breakfast for both Ms. Little A and Mr. Little V every morning. Now, as they are growing up, they have their choices – cereal with milk, waffles, pancakes, oatmeal, paranthas, etc. Growing up, our routine was to eat a paranthi, which is a smaller, cuter version of a parantha. If you are not familiar with parantha, it is a flatbread made mostly with whole-wheat dough (recipe here), that is either stuffed with vegetables, or just spread with some ghee (recipe here), salt with caraway seeds (ajwain). As much as I would love to give the kids a fresh, hot, off the tava parantha every day for breakfast, it is sometimes not possible for me to make some. Therefore, for now, the kids know that weekends are parantha days. Hence, this recipe!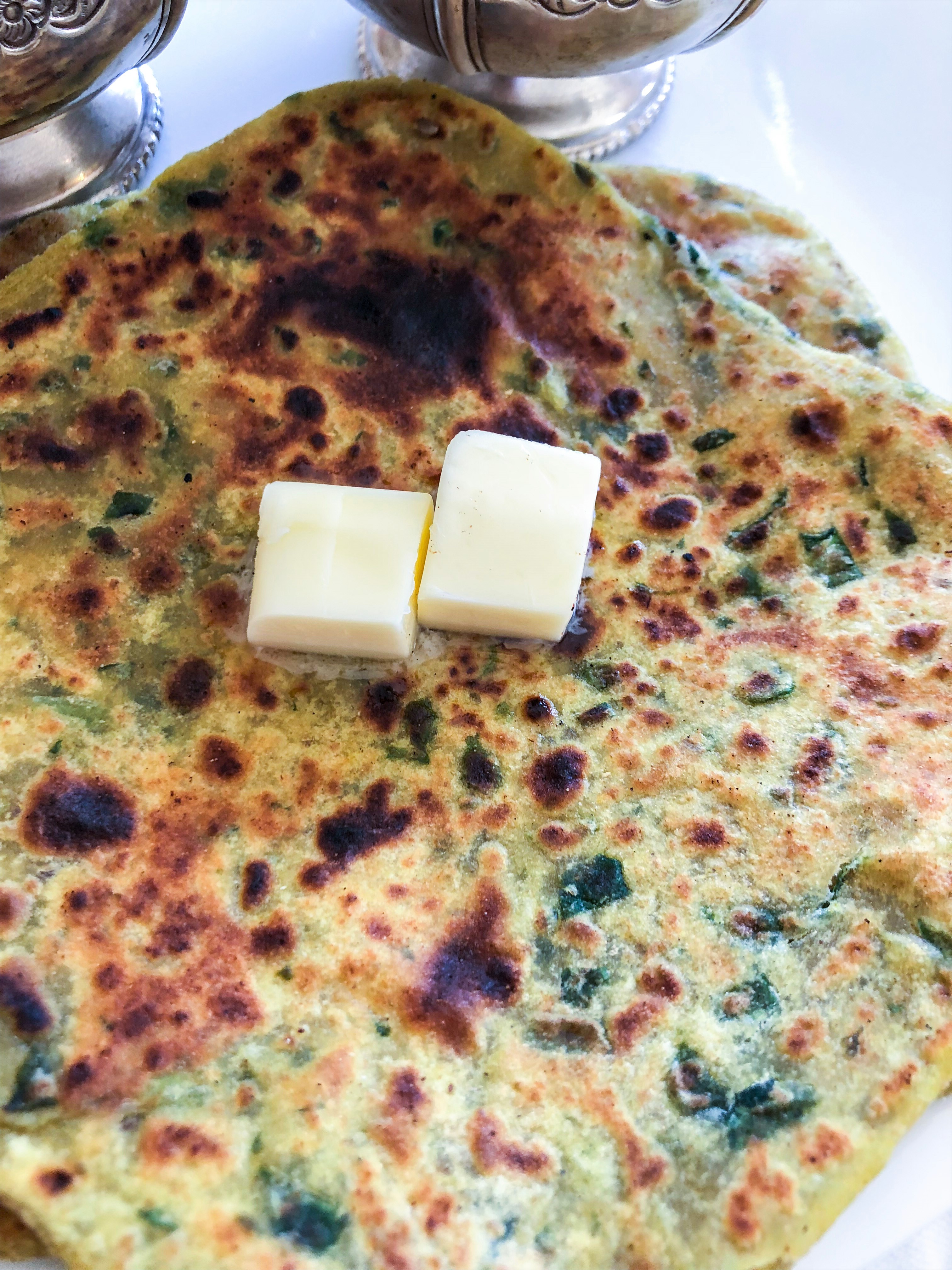 There are numerous different types of paranthas that I make to keep the variety going (like this makki ki roti), but spinach parantha is one of my favorite recipes because it is simpler, and it packs a nutritious punch. Unlike other veggie paranthas, where you would use plain whole-wheat dough to roll out a disc and then stuff the vegetable filling in, spinach parantha is made using a dough with spinach kneaded into it (just like Paalak wali poori – recipe here).  Roll out the dough, spread with some ghee, and then roll out again before cooking. I made my first recipe video to show you guys the technique. Check it out here on The Kitchen Docs Facebook page or over at our Instagram (here). And while you are at it, do not forget to like and follow TKD..:).
So chop up some fresh spinach. Dump it in the bowl of your stand mixer (or a mixing bowl), add some flour along with flavor enhancers like fresh ginger, ajwain seeds, turmeric, salt and some oil. All these spices, apart from adding flavor, also have health benefits. Back in the day, I wrote this post about my basic Indian spices and their health benefits. You might want to check it out here. Knead everything together with water until a soft ball forms. Then refer to the video here and here to see how it is done. Also find the directions in the recipe printable below.
Palak Parantha – Whole wheat spinach flatbread
Easy, healthy and delicious spinach paratha. Great for lunchbox too!
Ingredients
1

cup

spinach

fresh, chopped

2

cups

whole-wheat flour

1

inch

ginger

grated

1

green chili

minced (optional, skip if making for kids)

1

tablespoon

olive oil

¼

teaspoon

turmeric powder

2

teaspoon

salt

or to taste

½

teaspoon

Caraway or Ajwain seeds

1

and a ¼ cup water

or more

4

teaspoon

Ghee

Olive oil – for greasing/shallow frying the parantha
Instructions
Add all the ingredients except water and ghee (also skip the olive oil for shallow frying the paranthas) in a deep mixing bowl or the bowl of your stand mixer (I use my KitchenAid Stand Mixer, fitted with dough hook) and mix. The moisture in the spinach will help in starting the dough to come together. Add water, a little bit at a time to make a soft dough. Knead the dough until nice and smooth or until the dough pulls away from the walls of your stand mixer bowl. Let the dough rest a few minutes so that the gluten can work its magic.

Set a heavy cast iron skillet or tava on medium high heat. Take a golf ball size portion of the dough and form into a smooth ball. Lay it on a flat surface dusted with some flour (your clean kitchen counter will work just fine) and using a rolling pin, roll into a circle about 4 inches in diameter. Take half a teaspoon of oil and spread it on the rolled disc. Bring all the sides of the disc in to form a square pouch (see video here). Dust the square dough with some dry flour and roll into a flattened square of about 4-inch side. This is your raw parantha.

Gently pick up the rolled parantha and lay it on the hot tava/skillet. Wait for about 30 seconds and then flip. You will see that the surface facing you has some brown spots on it. Score! That is what we are looking for. Flip again after 30 seconds and apply some oil or ghee on the top surface. Flip again; apply oil on the other surface and flip. Using a flat spatula, gently press the parantha. Remove from heat and keep warm. Congratulations – you just made your first parantha.

This dough should be enough to make around 8-10 paranthas. Repeat until all the dough is used up or store the remaining dough in the refrigerator for 1-2 days to make another batch of fresh paranthas.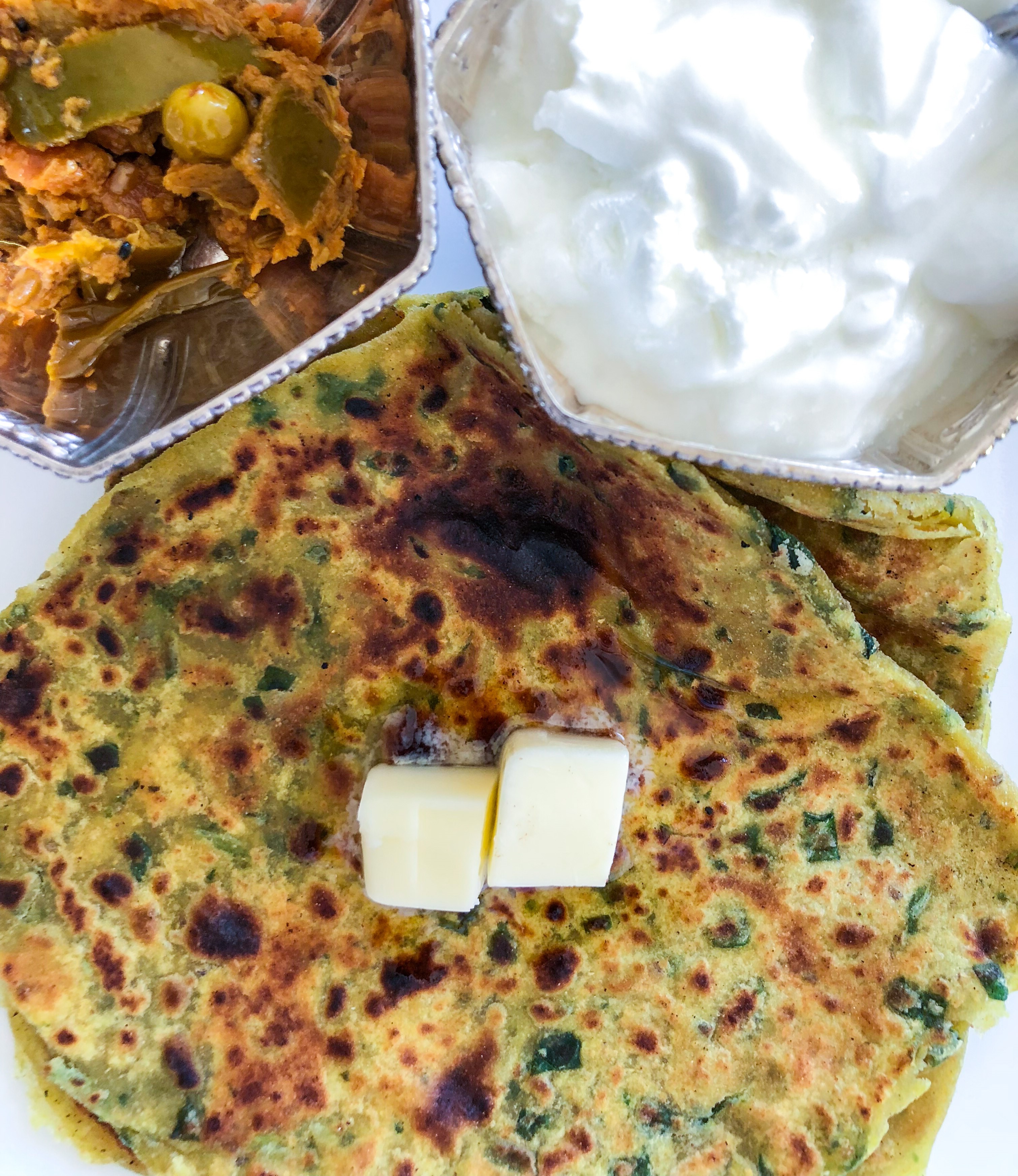 Serve with yogurt and butter. Indian style pickles or achaars are a very traditional accompaniments for paranthas. Check out some of the pickles on TKD here, here and here.
Hope you will give these healthy and nutritious paranthas a try!
Love - Vaishali.
Notes:
Watch the video here and here to quickly glance through the technique.
Make this recipe vegan by substituting ghee with olive oil.
Leftovers can be warmed up in a toaster oven or in a skillet.
Paranthas can be easily frozen. Layer between sheets of parchment paper and freeze in freezer bags for upto 3-4 months.
These paranthas go really with scrambled or fried eggs (recipe here and here)
Tools used:
Stand Mixer (My KitchenAid)
Cast Iron skillet (tava)
Rolling pin
Spatula
Measuring Cups and Measuring Spoons
Knife and chopping board