Today is Terra Madre Day, Terra Madre means "Mother Earth". To celebrate, join me and The Kitchen Docs in supporting tasty solutions to climate change. I am participating in Food for Change Meal with Camellia Beans and Meatless Monday. Slow Food USA invited me to contribute a recipe and to come to the table to celebrate Food for Change! This recipe of Indian style Lentils and Rice, popularly known as Khichdi is a perfect example of a nutritionally balanced plant based meal made with ingredients grown and produced in climate-friendly ways.
Jump to Recipe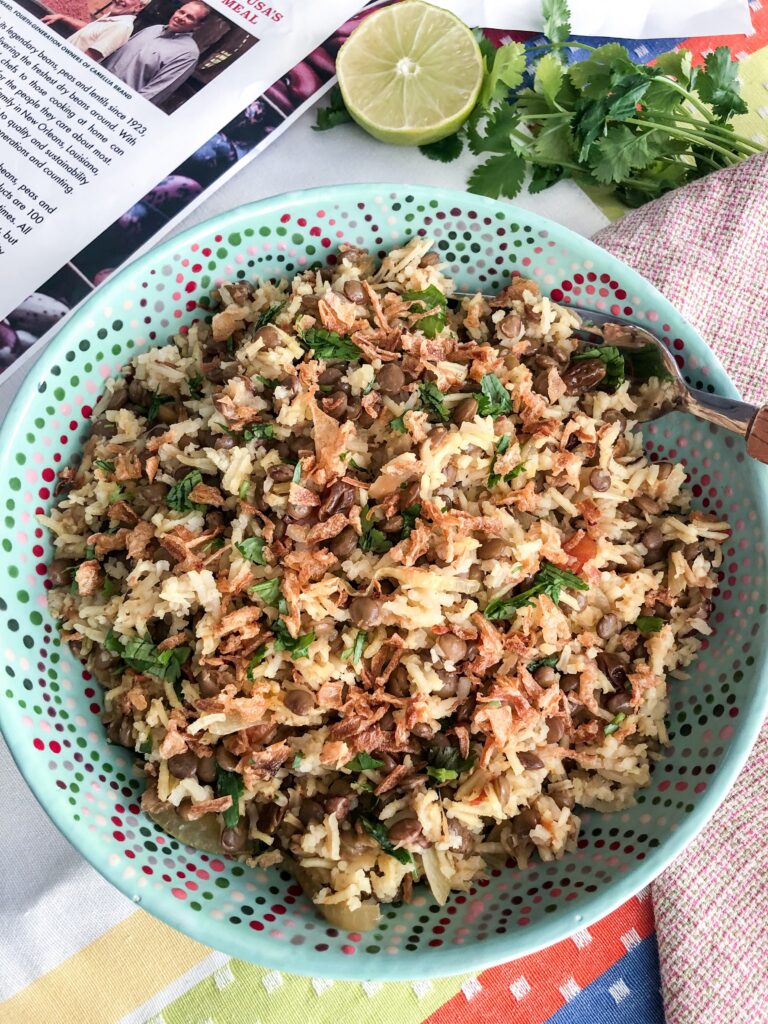 As responsible citizens of our planet earth, we need to act together as a global network and pivot towards more sustainable food production and farming systems, and achieve a climate friendly future. Food is a cause and victim of climate change, but also a delicious solution. This year, SlowFoodUSA has focused on the positive solutions of Slow Food to connect the dots between farmers and consumers as the everyday climate champions.
Recipe rundown

Most traditional recipes of khichdis involve cooking rice and lentils together in a pressure cooker using a plenty of water to ensure a flowy consistency. This recipe of Indian style lentils and rice or sabut masoor khichdi is slightly different. It is made with whole masoor lentils (brown skinned lentils that you can find in a regular grocery store).
To give the recipe a head-start I par-cooked the lentils with plenty of water for 15-20 minutes. Then I drained the lentils to use in the khichdi. While the lentils are cooking, you can get started on the khichdi. Prepare a masala by sauteeing some onions, freshly minced ginger (if store bought ginger paste is your jam, feel free to use that) and tomatoes along with Indian spices. This recipe of Indian style lentils and rice uses coriander powder, turmeric and roasted cumin powder. I strongly recommend fresh roasted cumin powder. You can find all about these spices in this post.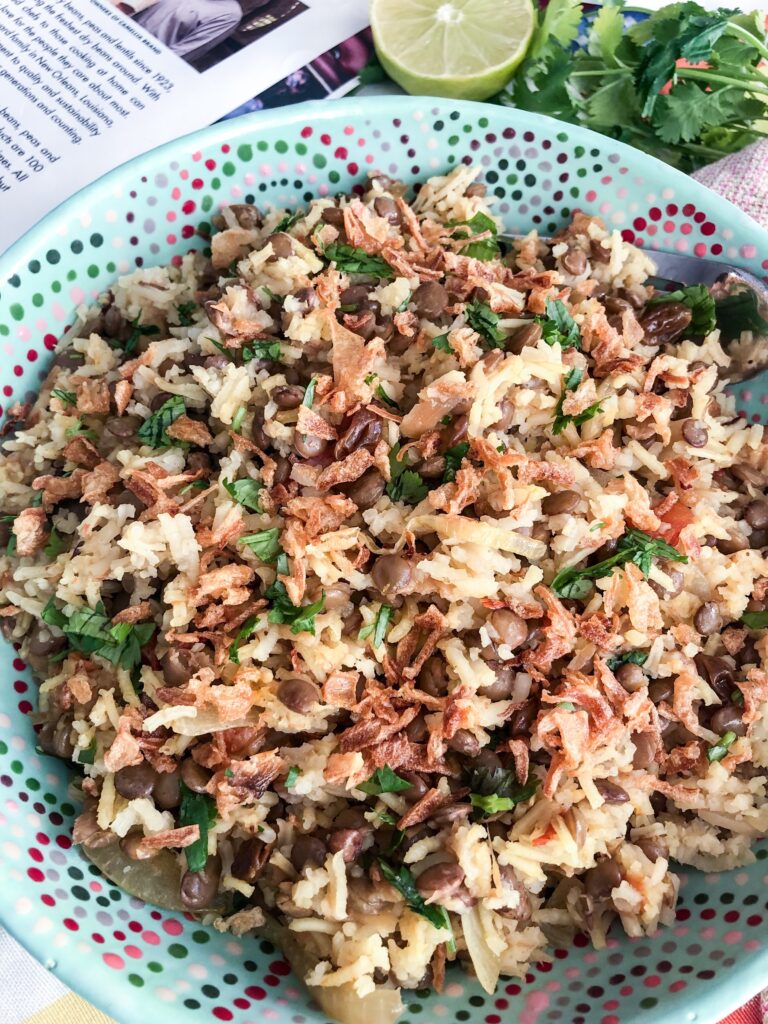 Toast some basmati rice with the masala before adding the cooked lentils, raisins and fried onions. Add plenty of water and cook till done. Garnish with cilantro, more fried onions and a squeeze of lime. Mike-drop!
Here is a handy dandy printable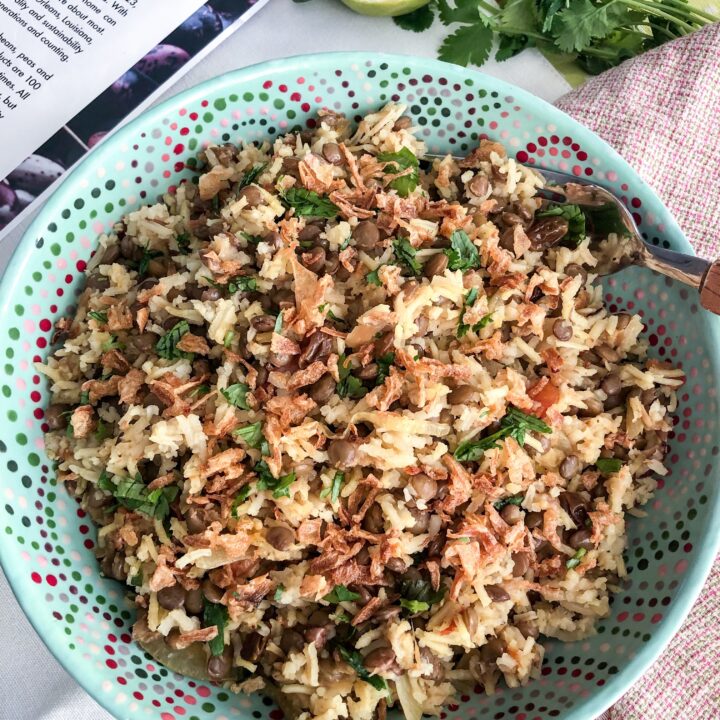 Indian Style Lentils and Rice - Sabut Masoor Khichdi
A plant based, nutritionally balanced dish of Indian style lentils and rice that is a complete meal in itself. Fried onions and plump golden raisins add a ton of flavor.

Ingredients
1

cup

brown lentils

sabut masoor

1

bay leaf

1

tablespoon

olive oil

A

pinch

asafoetida

optional

1

teaspoon

cumin seeds

½

white onion

sliced

1

tablespoon

fresh minced ginger

see notes

¼

teaspoon

ground turmeric

1

tablespoon

coriander powder

1

tablespoon

roasted cumin powder

1

roma tomato

diced

1

cup

basmati rice

¼

cup

raisins

¾

cup

fried onions

see notes

10

sprigs

cilantro

leaves stripped and chopped

½

lime

juiced

Water

Salt and fresh ground black pepper

to taste
Instructions
Set a medium saucepan on medium high heat and add the lentils to it.


Add about 2.5 cups of water, bay leaf and a generous pinch of salt. Cover the pan, increase the heat to high and bring to a boil.


Once boiling, turn the heat to simmer/low and cook for 20 minutes (use a timer). After 20 minutes, drain the lentils in a sieve or colander and set aside.


While the lentils are about 10 minutes into cooking, set a heavy bottomed pan (that has a lid) on medium high heat.


Add oil and wait for it to get shiny. Now add asafoetida (if using) and cumin seeds. Wait for the cumin seeds to start dancing around in the oil.


Add the sliced onions, a pinch of salt and cook for a minute or two.


Now add the ginger and turmeric, coriander and roasted cumin powder.


Cook for another 2 minutes before adding the diced roma tomato. Stir and cook for a minute. Add the raisins, ½ cup fried onions and mix.


Add the rice and and cook, stirring often (gently so you don't break the rice) until slightly toasted and opaque. About two minutes.


Now add the cooked lentils, 2 cups of water and salt and fresh ground black pepper to taste; bring to a boil.


Turn the heat down to low so that the pan is at a simmer, cover and cook 25 minutes. The water should be completely evaporated and rice should be tender. See notes.


Turn the heat off, add cilantro, lime juice and rest of the fried onions. Keep the lid on and let the rice rest for five minutes.


After five minutes, gently fluff the lentils and rice with a fork. Serve warm with yogurt.

Notes
Feel free to use store-bought ginger paste if you cannot find fresh ginger.
Fried onions are easily available at Indian grocery stores. French fried onions, found in most American grocery stores can also be used.
If there seems to be water in the rice at end of the cooking time, cover and cook for additional five minutes.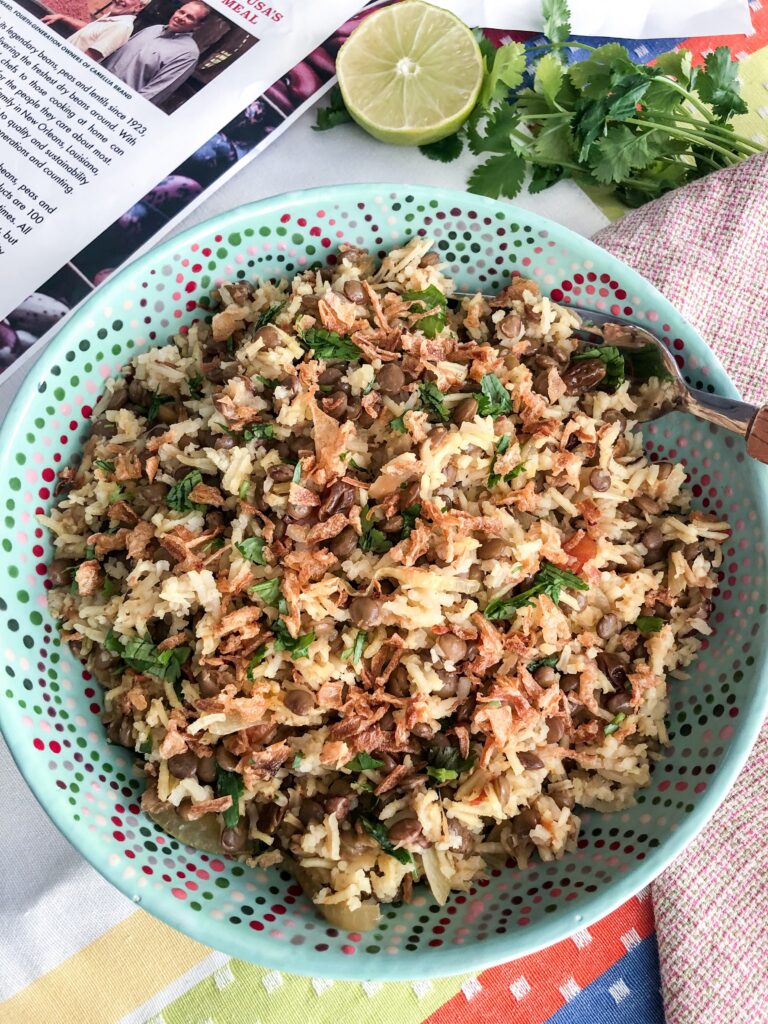 So this Terra Madre day, choose climate-friendly foods, try this recipe at home, and tag your dish with #FoodforChange and #MeatlessMonday on social media. Let us spread the word and do our part!
Other recipes to make with lentils
Protein Rich Quinoa and Lentil Salad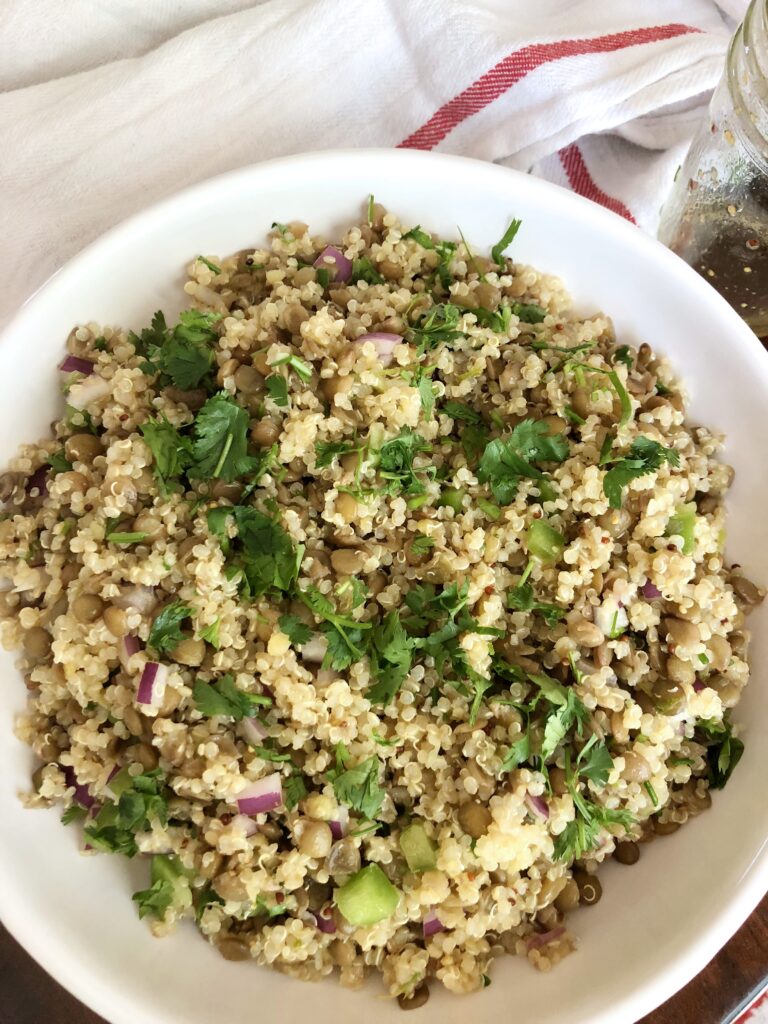 Love - Vaishali.
Disclaimer: Slow Food USA provided me with Camellia beans for this project. This post may contain affiliate links.

Tools used:

Knives:
Chopping Board:
Measuring Cups:
Measuring Spoons:
Sauce pan:
Skillet with lid:
Supplies you might need: