Happy St. Patrick's Day! Have you had your fix of green yet? While we have never really celebrated St. Patrick's Day, around this time of the year, it is kind of hard to miss all the green decorations all around the stores – green foods, green clothes, green candy, green EVERYTHING! Though every festival has now become more of a commercial event, there is still a sense of happiness and fun associated when everything around you looks so festive and bright.
One thing that puts me off a little bit is all the artificial colors and dyes used in making our foods suitable for a particular festival or color theme. I try to stay away from artificial dyes as much as possible and whenever we have to try to add color to some food, I do some experimenting on my own (remember these dye free cookies). Spinach has such a vibrant and bright green color that it can beautifully highlight the spirit of St. Patrick's Day (IMO).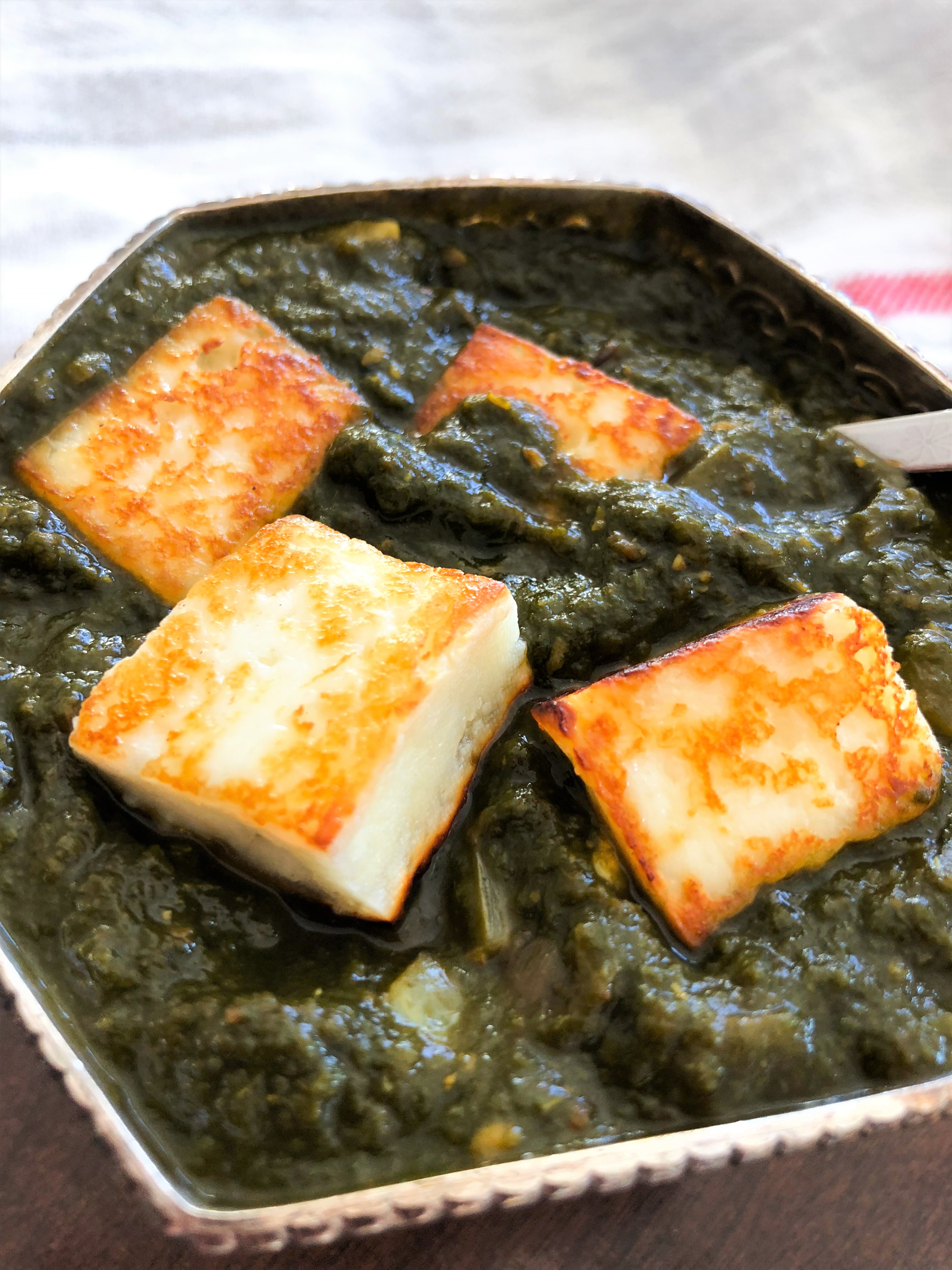 Palak Paneer is an iconic North Indian dish that is almost as common in home cooking as it is in restaurant food. In the U.S, it typically goes by "Saag Paneer" where saag means a mash of greens. In my Punjabi mind, saag is only and only mustard greens so I just cannot call palak paneer (homemade paneer recipe here) "saag paneer". It is very easy to make paneer at home and I have paneer recipe for you right here. To make palak paneer you can use fresh, frozen or canned spinach. I would 200% vote for fresh spinach, may be around 75% for frozen and 5% for canned (just because I had to). Fresh spinach gives this "sabzi" an earthy taste and a beautiful color. However, if spinach is not in season, go for frozen spinach, just not canned…please!
I blanch the spinach first and then shock it in cold water to retain some color. Then I blend the spinach with some flavor enhancers like ginger and green chili. A "tadka" or tempering of onions, garlic and tomatoes along with aromatic spice powders in bhoonoed and then I add the spinach to it. After cooking the spinach for a few minutes, add paneer cubes and season the dish. That is it. Paneer cubes can be shallow fried if making the dish for company; I normally do not do it. In the pictures you see in this post, I pan fried the paneer because I wanted it to look pretty for you all beautiful people..<3.
Lot of people add heavy cream to palak paneer to make it "restaurant quality", I feel cream is totally unnecessary. The spinach has its own creaminess and flavor and I feel that cream just takes away from the originality of the dish. You be the judge of that OK? Divide the dish into two parts and add cream to one and then try both the dishes to tell the difference…just kidding ..lol. So here, ladies and gentleman, I present to you the ever popular, loved by many, full of Iron and proteins, a healthy North Indian dish – PALAK PANEER!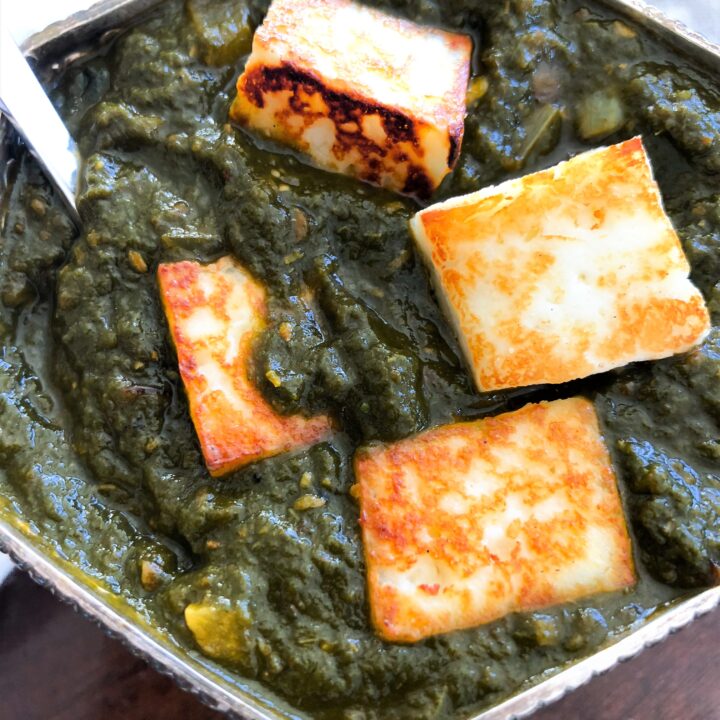 Punjabi Palak Paneer – Spinach curry with paneer
An easy, creamy and rich recipe of paneer cooked in a flavorful spinach gravy. Healthy, nutritious & delicious dish from North India that is one of the favorites among vegetarian "restaurant" food as well as to cook at home.
Ingredients
For spinach puree:
1

lb

Fresh spinach

450 gm

1

green chili

optional

½

inch

ginger

2

cloves

garlic

Water

Ice cubes/cold water
For the curry
2

tablespoon

oil

1

green cardamom

½

teaspoon

cumin seeds

A

pinch

asafoetida

½

cup

finely chopped white onion

1

clove

garlic

minced

½

cup

finely chopped tomatoes

1

tablespoon

coriander powder

¼

teaspoon

garam masala

10

oz

paneer or Tofu – see notes

or 1 batch paneer from the recipe on kitchendocs.com

Salt

1

teaspoon

kasuri methi

dry fenugreek leaves (optional)
Instructions
To make puree
Set a big saucepan on high heat with about 3-4 cups of water. Salt the water, cover the pan with a lid and bring the water to a roaring boil.

As soon as the water starts boiling, add in the washed spinach leaves. Blanch for 3-4 minutes; carefully drain the spinach, remembering to save about a cup of the water in which spinach was blanched. Immediately dunk the spinach in a bowl full of ice water to stop the cooking and retain the gorgeous green color of the spinach.


Drain the spinach, transfer it to a blender along with green chili and ginger, and grind to a coarse paste so that spinach retains some of its texture. Set the spinach aside.
To make the curry
Set a heavy bottomed pan on high heat. Add oil and wait for it to heat up. Once the oil is nice and shiny, add green cardamom, cumin seeds and asafoetida. Wait for 30 seconds before adding the garlic and chopped onions.


Lower the heat to medium high and let the onions brown a little bit, about 4-5 minutes.

Add all the coriander powder, mix and add the chopped tomatoes. Lower the heat to medium, bhoono the tomatoes along with the masala till the moisture dries up and tiny droplets of oil start appearing on the edge of the masala, about 7-8 minutes.

Add the spinach puree, salt to taste and cook covered for another five minutes.

After five minutes add paneer and garam masala along with kasuri methi. Mix, give your palak paneer a taste check, and adjust seasoning if needed.

Cover and let the flavors marry for 5 minutes before turning the heat off. Let sit for another 10 minutes before serving.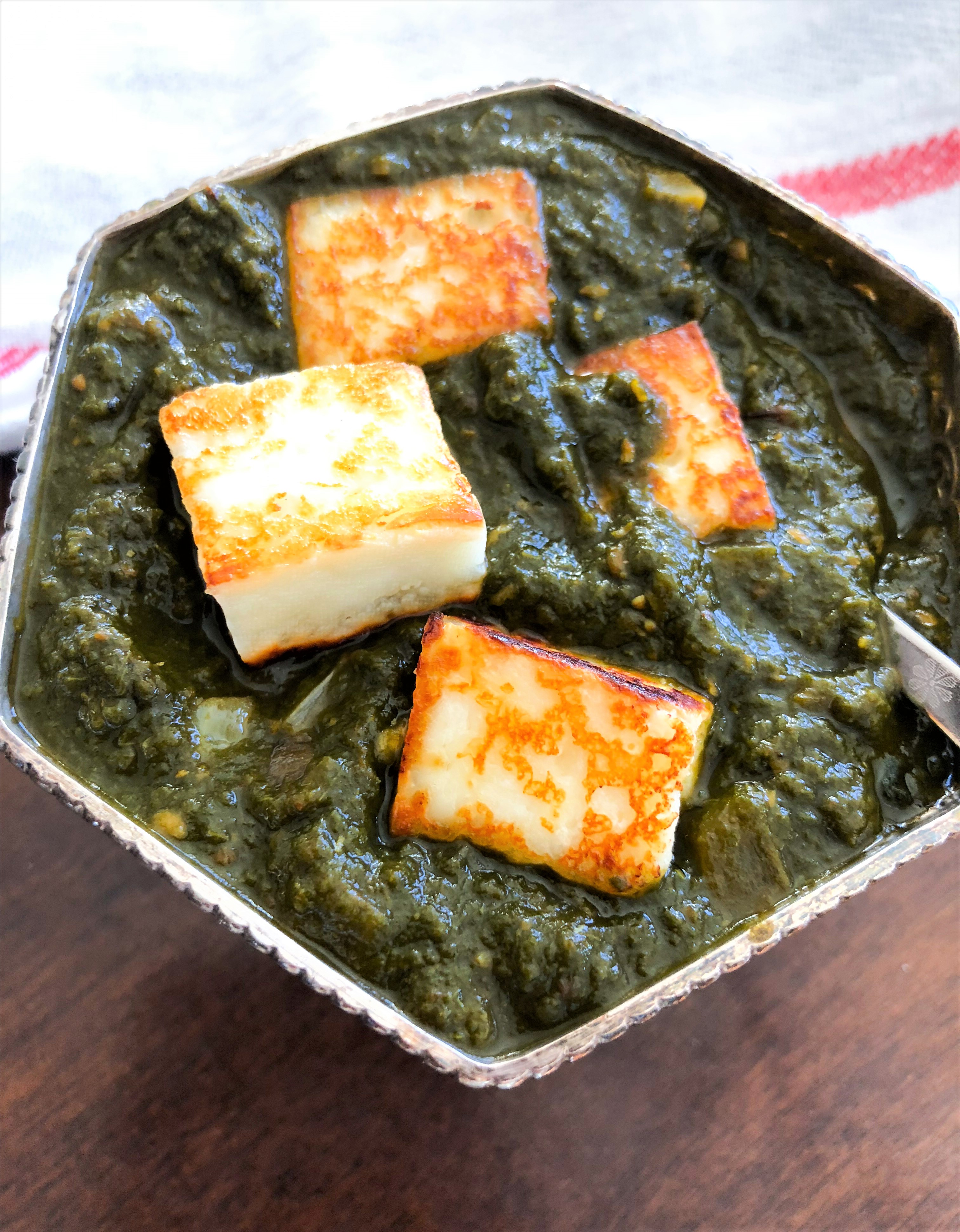 Serve hot with roti (recipe here) or rice (recipe here).
Love – Vaishali.
Notes:
Use tofu to make vegan palak "paneer". Use same amount of extra firm tofu. Press the tofu with a heavy pan to get the extra moisture out. Start with this step and then proceed with getting everything else prepped.
This dish freezes very well. Cook the spinach with all the masalas but do not add paneer. Cool and freeze in airtight container for up to 3 months. When ready to eat, thaw and reheat in a skillet and add paneer.
Find the recipe of homemade paneer here.
Tools Used:
Blender (I use this one)
Saute Pan/ Skillet (Here's mine)
Knife and chopping boards
Spatula