Sooji (Rava) Hulva
Any happy occasion in our family calls for some homemade dessert. Often times its the warm and comforting hulva, a sweet concoction of traditional Indian flavors. Dr. A is often given the honors to make hulva for us as both the kids and I agree that he makes it the best. Hulva is a very traditional recipe that can be tracked down in the north Indian kitchens of our grandmothers. As is the case with most Indian recipes, the method and ingredients vary from region to region and family to family in the country. The recipe that I pen down below is how we like it and how Dr. A has adjusted and perfected it over the numerous times he had made it over the last 10 or so years. I say 10 because that's when he probably took his first steps...uhmm....towards the kitchen stove. He might have made a serving or two of Maggi noodles (an Indian counterpart of Ramen noodles) for himself while we were still in India, nothing beyond that. So without further holding you guys here is Haavla - that's how both little Ms. A and little Mr. V called it in their baby-toddler phases..<3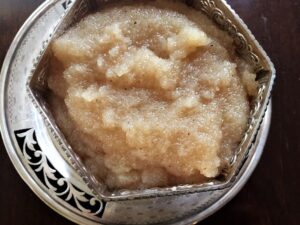 Ingredients:
Ghee - ¾ cup (find the recipe here)
Sooji (rava) - 1 cup (Note: you can buy this at Asian/Indian grocery stores - sometimes also called cream of wheat. Buy the coarse variety for a more textured halwa and  fine rava if you want it to be more smooth.)
Water - 3 cups
Sugar - Scant 1 cup
Green cardamoms -2 (pounded to release the seeds from the pods)
Method:
Put a heavy bottomed pan on medium high heat and start toasting the rava. Keep stirring and toasting till the rava starts to change color and a roasted aroma fills your kitchen. This will take about 3-4 minutes. After this, take the rava out on a clean, dry plate.
At the same time, in a different sauce pan, add sugar, water, cardamoms (powder and skins) and start heating.
To the same pan in which you roasted the rava, add ghee and heat till its melted. Add the rava back to the pan with melted ghee and begin stirring. Keep stirring till the rava gets further toasted and changes color to a medium brown.
Bring the water with sugar to a boil and turn the heat off. Strain with a fine mesh strainer into another pan or if you are feeling courageous and adventurous strain it directly into the pan with roasted rava in it (next step). I have to warn you though, this can be life threatening..just kidding...though you have to be extremely careful while adding hot liquid to a hot pan with lot of grease in it. Wear an oven mitt or ask somebody to help you with this step.
Once the rava and ghee mix is ready, add the water sugar syrup into it. At this point, aggressively stir it with a wooden spoon. The rava will slowly absorb all the liquid and you will see that the mix will start leaving the sides of the pan and start to come together. This is the last step to tell that your halwa is ready!! So basically when rava absorbs all the sugar syrup and leaves the sides of the pan, you have successfully made yourself a soul comforting dessert.
Love - Vaishali.