This experimental quinoa was a complete surprise. Thursday evenings are a bit crazy due to Ms. Little A's activities schedule so I was in a hurry to put dinner together this past Thursday. I had a quinoa grain bowl in mind with some sort of tofu and vegetable combination. I wanted quinoa (see the basic How to cook quinoa recipe here)to be ready in the same time as I got everything else for the grain bowl ready. Now, this is totally doable, if you have about 45 minutes to an hour to prep and cook. I only had around 30 minutes. So, as a rare stroke of genius, I had an idea to give cooking my quinoa in my pressure cooker a try. I dumped in some quinoa, broth, black beans and some fresh salsa (store bought) for flavor in my pressure cooker and prayed to the pressure cooker gods.
I requested Ms. Little A to help with slicing some veggies while I set the tofu to drain and prepped some more veggies. I rarely cook rice in the pressure cooker, I am more of an open pot rice kind of gal, but I had similar concept in mind for quinoa in a pressure cooker. Wait for full pressure to build up on high heat, say five minutes and then turn the heat off and wait for the pressure to release by itself. Using a smaller pressure cooker when cooking small quantities fastens the pressure build up process. I got this new two liter pressure cooker this year, it is adorable and I am slightly obsessed with cooking in it whenever I can. I am weird like that!
Coming back to the quinoa – so it took about 6 minutes to reach full pressure, after which I turned the heat off and then waited for the pressure to release by itself, about 10-12 minutes. And then – the moment of truth – fluffy and light quinoa – and I won't be exaggerating if I said that it's better than the open pan texture. So if you own a pressure cooker, try it to make quinoa – you will not be disappointed!
Also, if any of you try this in an electric pressure cooker, let me know how it worked and the time it took and I will update the recipe. Thanks!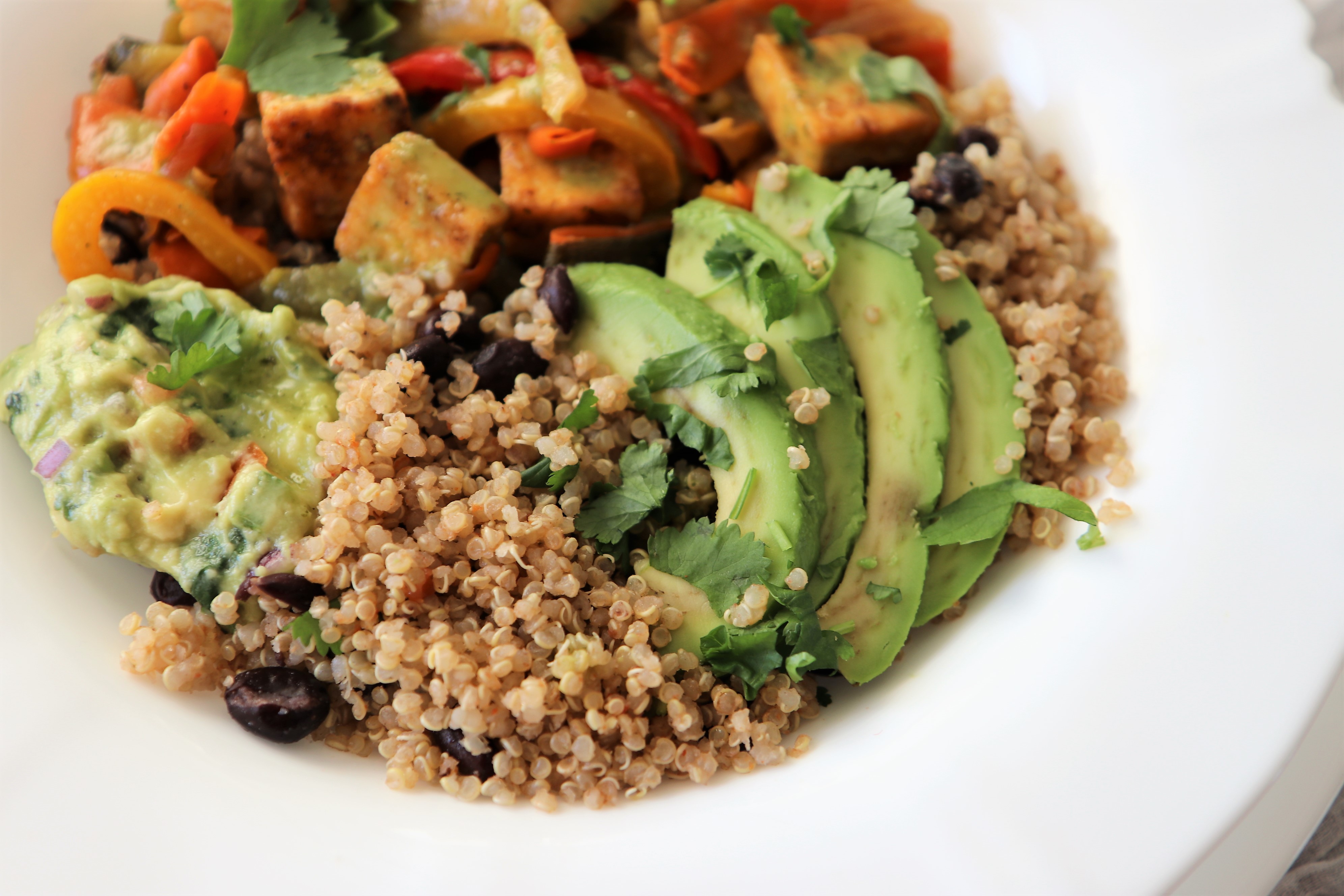 Ingredients:
Quinoa – 1 cup
Broth or water – 1.5 cup
Black beans – 1 can
Fresh salsa – 2 tablespoon ( homemade recipe here)
Taco seasoning – 1 teaspoon
Method:
Put everything in a pressure cooker, lock the lid and turn the heat to high. As soon as the cooker reaches full pressure (or gives out a loud whistle), wait for 1 minute and then turn the heat off. Let the pressure to release by itself before opening the lid. This should take about 10-12 minutes. Open the lid and gently fluff the quinoa with fork and enjoy in a grain bowl or salad or howsoever your heart desires.
Love – Vaishali
Notes:
If you want to make quinoa with nothing added to it, this recipe should still work fine. 1 cup quinoa to 1.5 cup liquid ratio.
I highly recommend using chicken or vegetable broth instead of water. It adds flavor to the quinoa.
A little butter never hurt anyone..
Tools used
Pressure cooker
Measuring spoons and cups
Fork