Who is ready for another simple, delicious DIY recipe? Please say yes, because this 30-minute grain bowl is calling your name. In my last grain bowl post (find it here), I talked about all the basic components of a grain bowl and the concept of this grain bowl today is the same – just much quicker to make. I came up with this grain bowl quickly trying to fix dinner while juggling 100 other things on a weekday. Big bonus point was that I used whatever was in the refrigerator and pantry. Everything came together in about 30 minutes, though I had a sous-chef (Ms. Little A) helping me. If you do not have that luxury, it might take you a tad bit longer but not forever.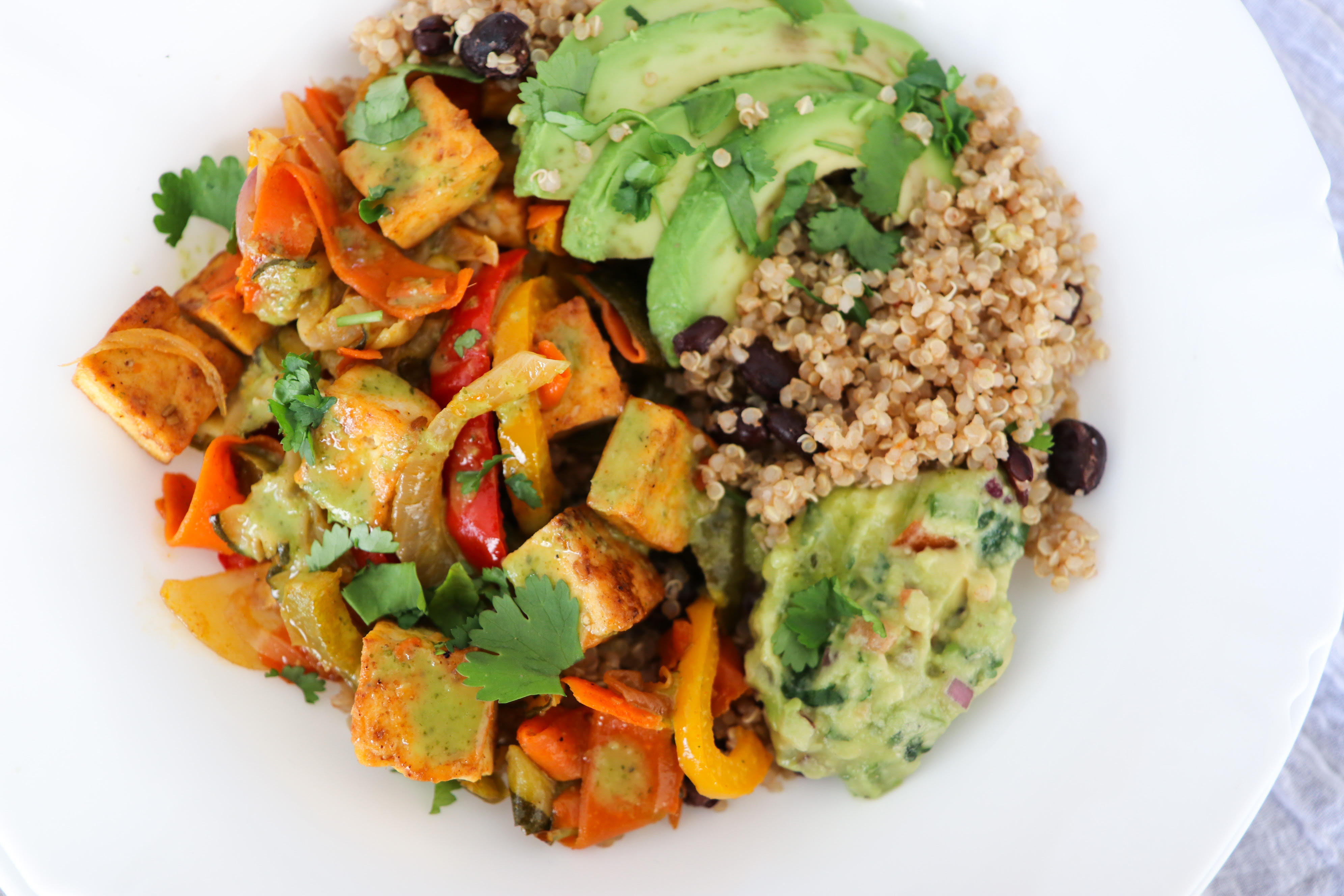 Just like the grilled chicken grain bowls, the concept is simple: veggies sautéed fajita style, crisped up tofu, pressure cooker quinoa (recipe here), and a dynamite sauce (recipe here) to tie everything together. My kind of meal! This recipe requires just 30 minutes and the leftovers reheat beautifully, making it perfect for lunches throughout the week. I hope you all will LOVE this recipe! I found this recipe to be EASY, hearty, comforting, packed with veggie goodness, VEGAN, protein-rich, flavorful and delicious! Have I convinced you yet? Give the recipe below a quick read and I am sure you will love it!
Ingredients:
Quinoa – 1 cup, cooked in a pressure cooker (recipe here)
Quinoa recipe also calls for 1 can black beans and fresh salsa
Extra firm tofu - 1 (16 ounce) container
Olive oil - 3 tablespoon, divided
Onion – 1 small, sliced
Red, yellow and green bell peppers – ½ each, sliced
Zucchini – 1, cut in half lengthwise and the made into ribbons using a vegetable peeler
Carrots – 2, cut in half lengthwise and the made into ribbons using a vegetable peeler
Fajita/Taco seasoning – 3 teaspoon, divided
Lime juice – 1 teaspoon
Red wine vinegar – a splash or 1 teaspoon
Cumin powder – 1 teaspoon
Salt and pepper to taste
Cilantro and olive oil blender Sauce – ½ batch (recipe here)
Optional garnishes –       Guacamole (recipe here), sliced avocado, chopped cilantro
Method:
Begin by draining the tofu, wrap it in a kitchen or tea towel and weigh down with a heavy object to drain out that excess moisture. This is a necessary step in making crispy tofu. Next proceed to make quinoa in pressure cooker (recipe here) or in open pot (recipe here). If you make quinoa in an open pot, this recipe might take longer.
Prep all the veggies and make the blender sauce (recipe here). Unwrap the tofu and cut into small cubes. Set a heavy, non-stick pan (like my absolute favorite – my Scanpan) on high heat. Add a tablespoon of olive oil and tofu into it once the oils is hot. Sprinkle a teaspoon of taco seasoning, and some salt. Cook on high heat for 5-7 minutes or until the tofu is nicely browned and crisp. Add limejuice, mix and take the tofu out in a bowl. Return the pan to heat and add remaining two tablespoon of olive oil. Sear all the vegetables on high heat for 5-7 minutes or until they start turning a little bit brown. Sprinkle fajita seasoning, cumin powder and little bit of salt and pepper and mix. Add a splash of red wine vinegar and loosen any browned bits from the pan, cook until the vinegar disappears. Stir in prepared tofu and turn the heat off.
To assemble: add heaping ½ cup quinoa to your bowl, ¼ of the tofu and veggie mixture, drizzle with sauce and garnishes of your choice. Enjoy!!
Love – Vaishali
Tools used:
Pressure cooker
Non-stick pan
Measuring cups and spoons
Knife and chopping board
Spatula
Blender