I am sure you must have heard about grain bowls somewhere in the past year or so. They are all the rage these days just like the smoothie bowls. Or are they "so last year" already? Well, the point is that grain bowls are great – they are easy to customize with your choice of assorted ingredients, transform your meal into a pile, allowing you to choose textures and flavors with layers. Now, I would say that I grew up on Desi grain bowls, specifically basmati bowls…uhmm. I love rice and for as long as I can remember, I have been famous in the family to make a big mess (or so they call it) of rice, lentils/beans, whatever veggies we were having, salad and yogurt and then mixing and eating it. That is essentially your grain bowl right there.
Grain bowls have five components: a grain base (of course), some type of protein, a sauce, vegetables and toppings. The bowl can easily be designed around any regional cuisine, for example a Mexican burrito bowl, a Thai bowl or an Indian bowl. Start with a grain base – it can be rice (brown or white), quinoa, oatmeal, wheat berries, cracked wheat (daliya), noodles etc. Second component is a protein – choose from meat, tofu, eggs, lentils, or beans. Third component is to fill up the bowl with lots of vegetables (to stay along the healthy lines) – pick from avocado, tomatoes, kale (sautéed), spinach, onions – endless possibilities and choices. Fourth (and my favorite) component is a sauce - sauce is vital to a grain bowl, it adds a blast of flavor and helps tie all the ingredients together. Choose a sauce that goes with your cuisine choice, for instance, you might use a pesto if the meal is based on Italian ingredients or a chimichurri, a tahini or create your own. The sauce recipe that I share below is divine. I literally add it to everything. So good! Finally, top the bowl with toppings that can add texture, a punch of flavor along with aesthetics to your bowl. It can be in forms of toasted nuts, seeds, some seasonings, cheese chunks or fresh herbs (like cilantro). So there you have it – your grain bowl in all its glory! It literally is a piece of art, so get creative with it, enjoy the beauty with your eyes first (while you salivate) and then dig in and devour it!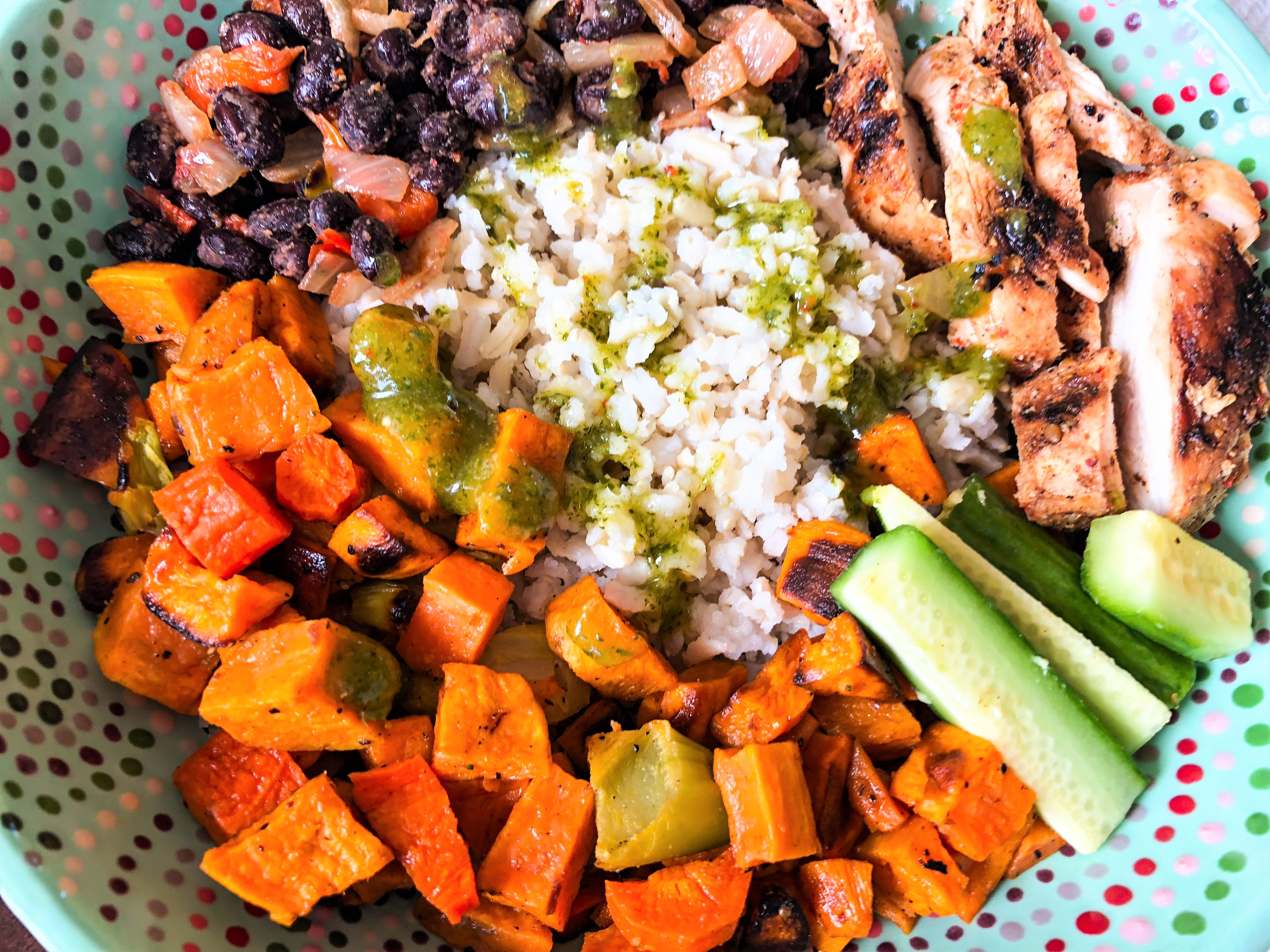 This grilled chicken bowl is a muddled interpretation of a Mexican flavors but the flavors are out of this world. There is a lot of prep work that goes into a grain bowl, because of many different components, so if you have prepped ahead, it helps in saving time and then putting together a bowl is a breeze. If using chicken as a protein, I first start with marinating chicken, and while the chicken is soaking in the marinade goodness, I prep the other components.
Ingredients:
For grilled chicken:
Boneless skinless chicken breasts – 2 (about 1 lb or 450 gm)
Olive oil – 1 tablespoon
Lime juice – from ½ a lime
Taco seasoning – 2 teaspoon
Salt – 1 teaspoon
Garlic powder – 1 teaspoon
Vegetables of your choice – about 4 cups (sweet potatoes, carrots, broccoli, cauliflower), cubed
Olive oil – 2 tablespoon
Chili powder – 1 teaspoon
Salt and pepper – taste
For Brown Basmati Rice:
Brown Basmati Rice – 1 cup (or use regular brown rice)
Water/broth – 2.5 cups
Butter – 1 tablespoon
Salt – 1 teaspoon
For black beans:
Olive oil – 1 tablespoon
Black beans – 1 can, drained and rinsed
White onion – ½, medium, chopped
Garlic – 1 clove
Red bell pepper – ½ chopped (or use roasted bell pepper from a jar)
Cumin powder – 1 teaspoon
Salt and pepper – to taste
For the sauce:
Olive oil – ½ cup
Water – 2 tablespoon
Lime juice – 2 tablespoon
Salt – 2 teaspoon
Cilantro – 10 sprigs (stems and leaves)
Garlic – 1 clove
Fresh ground black pepper – to taste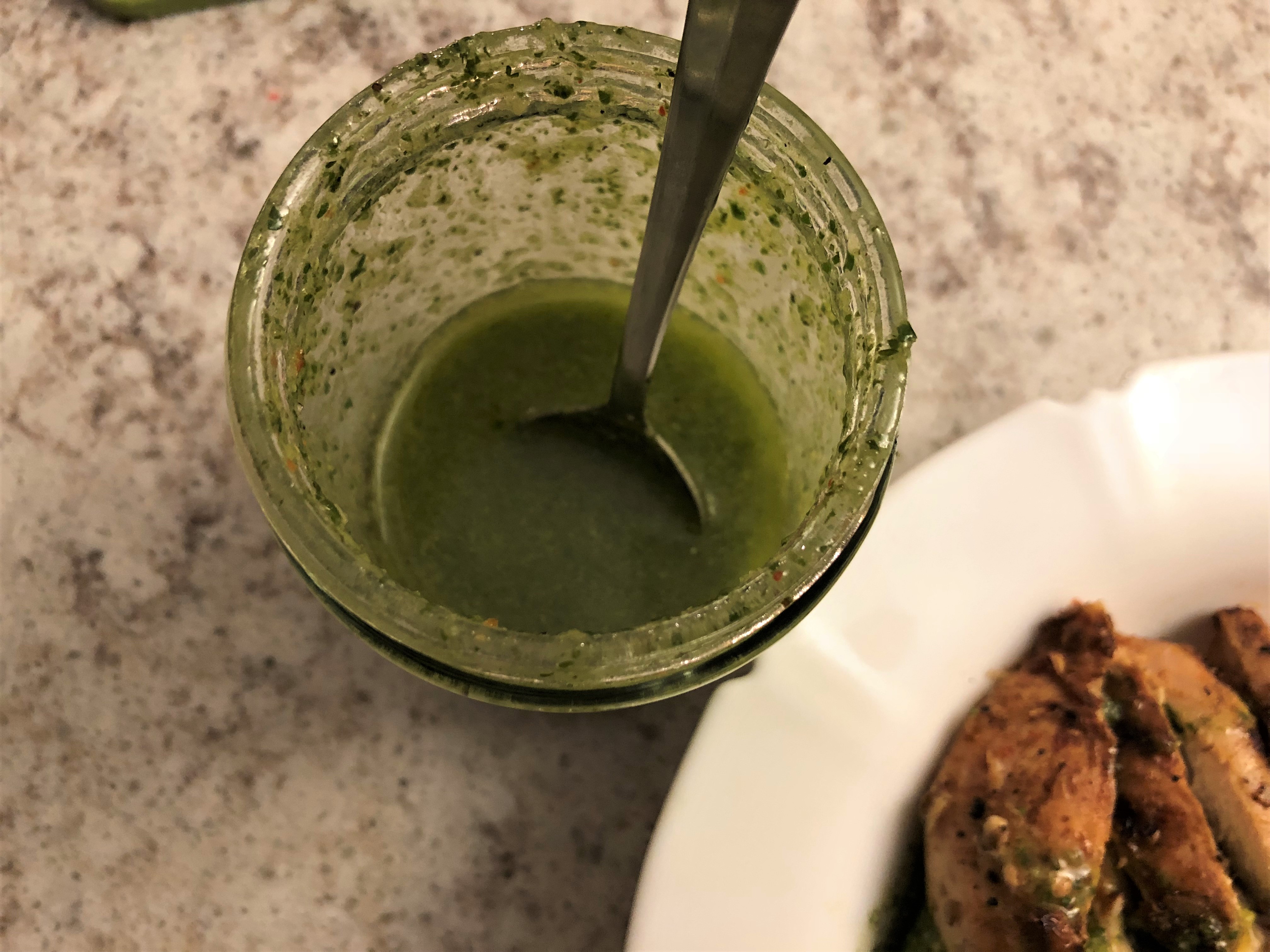 Other:
Sliced avocado or cucumber for serving
Method:
Veggies: Start by roasting the vegetables because that is going to take the longest. Follow the directions given in this post.
Rice: Set a sauce pan with 2.5 cups of water or broth on high heat. Add butter and cover. Once it starts boiling add the rice and let it come back to a boil. Add salt only if you are using water. Lower the heat to the lowest setting, cover and cook for 40-45 minutes. Turn the heat off and after 5 minutes lightly fluff with a fork or stem of a spoon.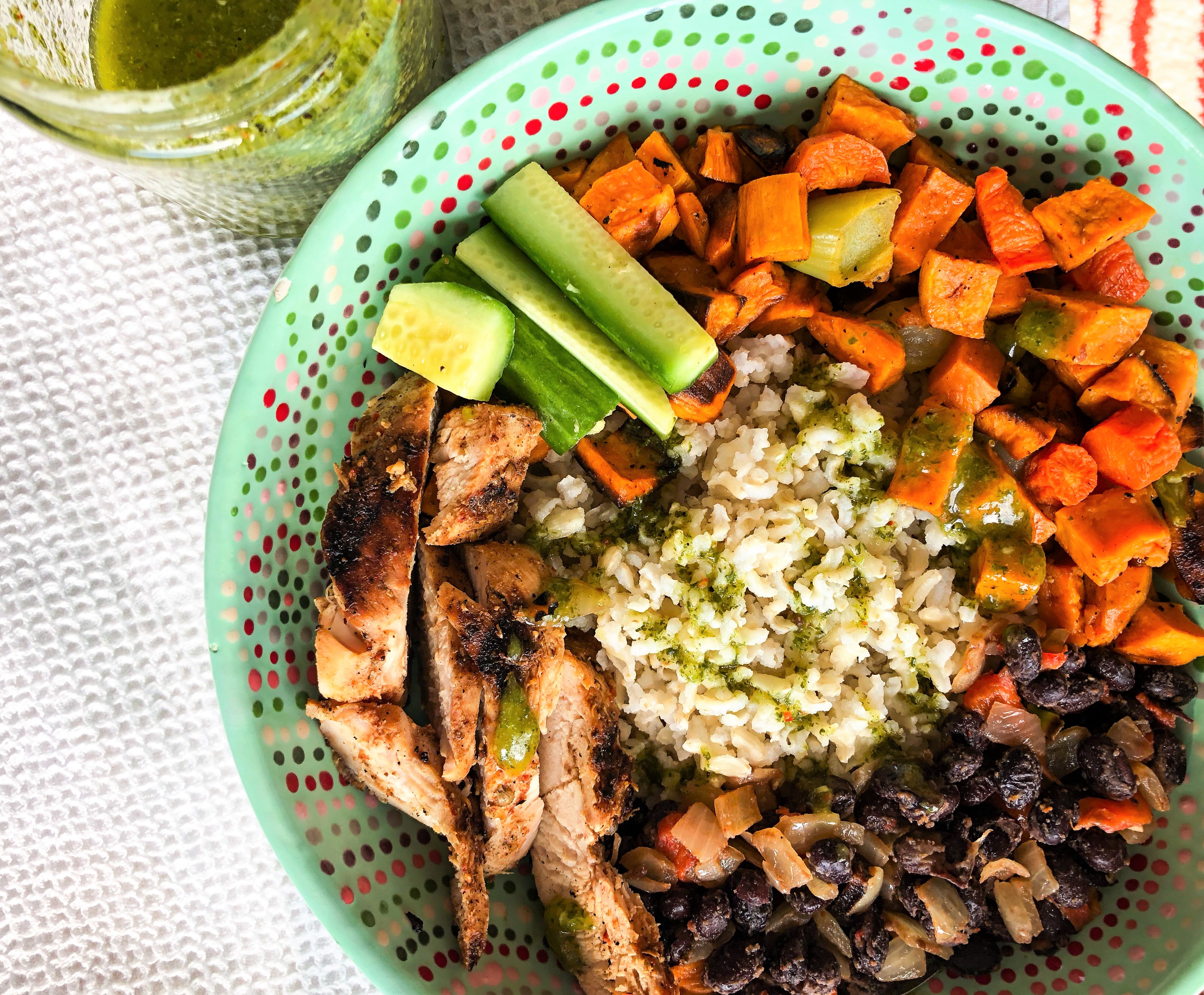 Chicken: You can use outdoor grill or a cast iron grill pan to grill your chicken breasts. Dr. A normally uses the outdoor grilling and I prefer it that way too. But do not let that stop you from making this grilled chicken. A grill pan will work just as well. If using the grill, heat the grill to high heat (450 degree F/230 degree C) and place the chicken on greased grates. Cover and cook for 5 minutes or until nice golden grill marks are established. Flip the chicken and grill for another 3-4 minutes. Turn the grill to medium heat (350 degree F or 175 degree C) close lid and cook for five more minutes until cooked through. Check the internal temperature at the thickest part to be 165 degrees. Let rest for 5 minutes and then slice.
If using grill pan, heat it on high heat, add some oil to the pan and then place the marinated chicken into it and allow the chicken to sear for 3 minutes without touching. After 3 minutes, lower the heat a bit and continue cooking for a total of 5 minutes or until the underside is nicely browned. Flip the chicken and lower heat to the lowest setting. Cover and cook for another 5-8 minutes or until internal temperature reaches 165˚F. Once the safe internal temperature is reached, remove the pan from heat and allow to sit for 5 minutes, then slice.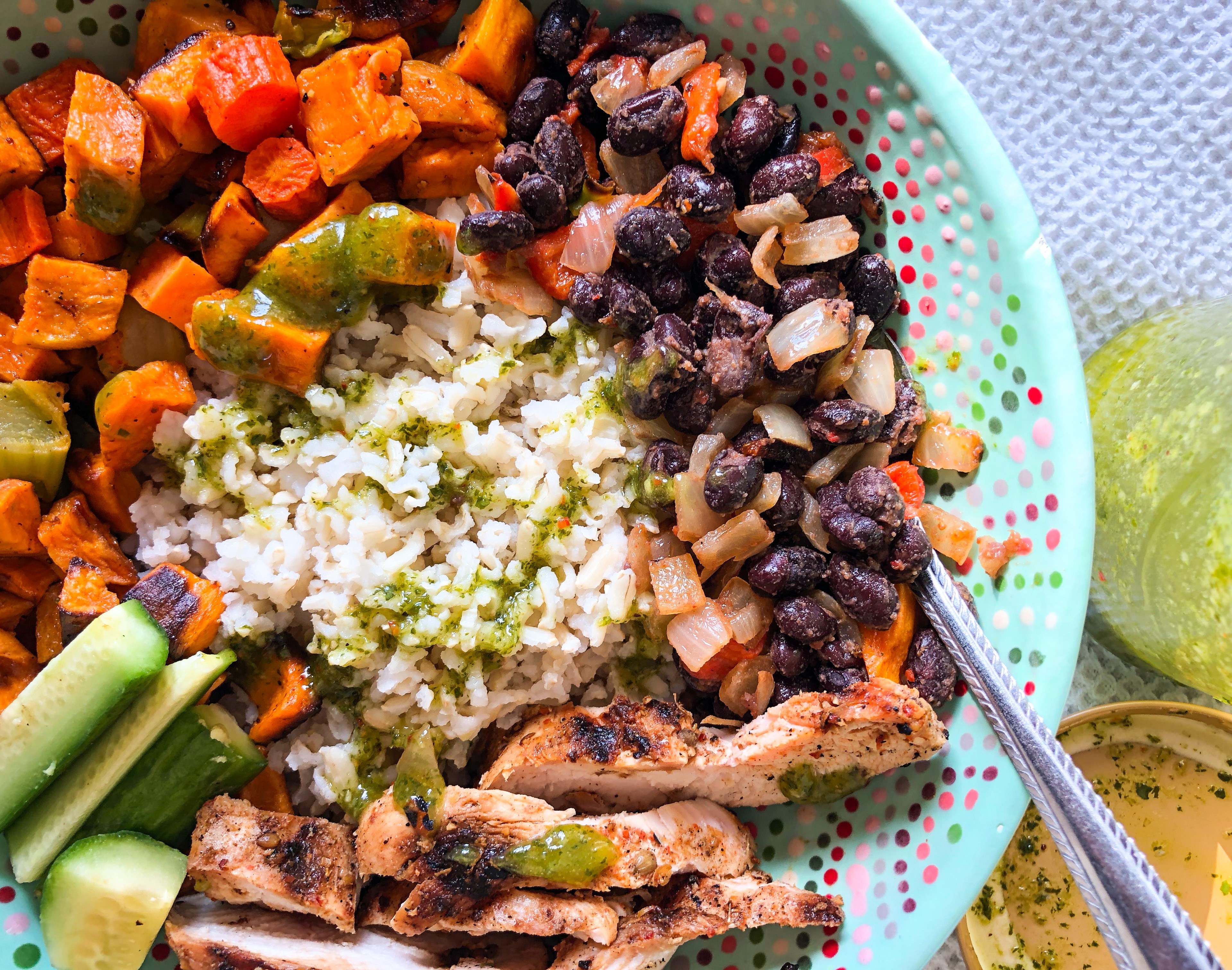 Black beans: In a small skillet on medium high heat, add the chopped onions and garlic. Cook for 2-3 minutes before adding the chopped bell peppers. Mix and cook for another minute or so and then add the drained and rinsed black beans. Add the cumin powder, salt and pepper, give it a mix and turn the heat off after about a minute.
Sauce: To make the sauce blitz everything together in a blender or food processor until smooth.
To assemble the bowl: in each bowl place a scoop of rice, a few slices of grilled chicken, a scoop of roasted vegetables, add few spoons of black beans, and sliced avocado/cucumber or any other extra toppings you like. Drizzle the sauce on top and dig in!
Love – Vaishali.
Tools used
Grill
Sauce pan
Oven
Cookie sheet
Skillet
Knife and chopping board
Measuring spoons and cups
Spatula
Thermometer