A shout out to all avocado lovers out there. I love love love avocado…I mean what's not to like about it (don't ask Ms. Little A, she might come up with at least ten reasons…ugh). Apart from the smooth texture and taste, there are many health benefits of good ole avocado. It's high in healthy fats; is loaded with fiber and antioxidants; and has almost 20 different vitamins and minerals like Vitamins K, C, B and E, Folate and Potassium (more than banana). If you are a vegetarian, take this – avocado helps you absorb nutrient from plant based foods. Above all, it's delicious and so versatile. Did I say I love avocados…? May be you get the idea (more avocado recipes here, and here).
My introduction to avocado was via a guacamole that I hated. May be it was the texture of that guacamole or maybe it was the taste of those unripe avocados. It took me a long time to try another avocado or guacamole but then I tried making it at home one time when Dr. A insisted and brought home a perfect avocado. And we have not looked back!
In this guacamole, I add red onion, tomato, cilantro, and lime juice. Tomato and onion bring texture to the otherwise smooth avocado and cilantro and lime juice bring in a big flavor punch. This recipe is simple, just a few ingredients and comes together rather quickly.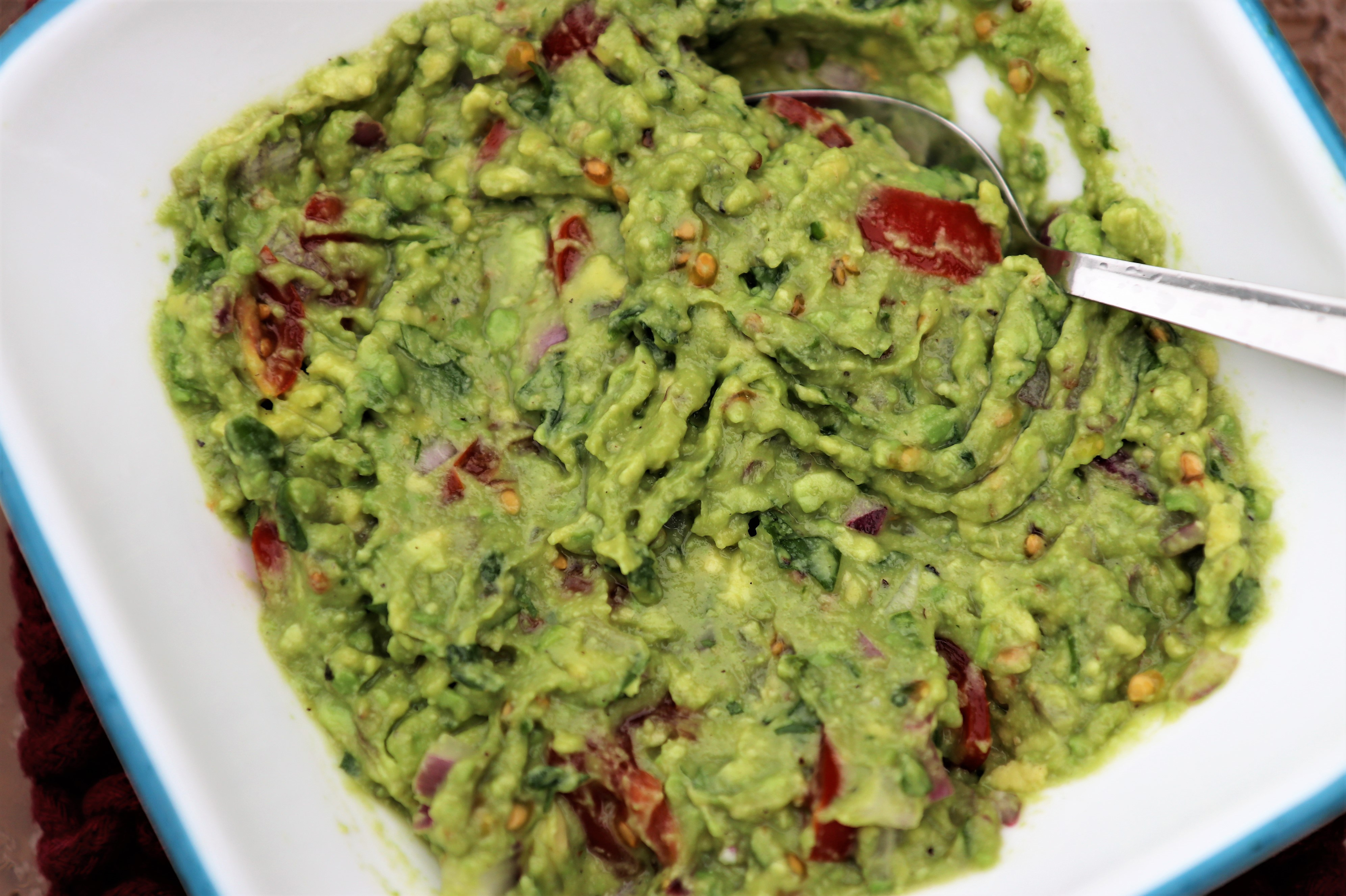 Ingredients:
Avocado – 2 big
Red onion – ½ small onion
Tomato – 1 small
Lime juice – from half a lime
Cilantro – 4 sprigs
Green chili – 1
Salt – to taste
Freshly ground black pepper – ¼ teaspoon or more
Method:
Cut the avocado in half, remove the pit and scoop out the fleshy part into a bowl. Finely dice the onion and chop the tomato and cilantro, finely chop or mince the green chili. Add all the chopped ingredients to the bowl with avocado. Squeeze the lime juice and add salt and pepper. Take a form and mash everything together. You can mash it all the way or keep it chunky. Mashing everything together instead of mashing the avocado first and then adding other ingredients, makes the guacamole more flavorful. Give it a taste check and add more lime juice, salt or pepper, if desired.
Enjoy this with tortilla chips, on toast, with hard boiled eggs…endless possibilities.
Love – Vaishali.
Tools used:
Knife and chopping board
Bowl
Fork
Measuring spoons