Does one actually need a recipe for scrambled eggs? Most likely not. But if you are like me and have always made scrambled eggs Indian egg bhurji style, you probably do. If you always end up with rubbery scrambled eggs, you probably do. If you think you cannot make a nourishing meal for yourself, you probably do. If you think you don't like eggs, you definitely need this recipe.
Over the time I have realized that there is something very delicate about making the "right" scrambled eggs. This doesn't mean that I am pulling away from my mantra of "You own your recipe", but there are some simple rules that if followed have resulted in foolproof, perfect scrambled eggs.
First and foremost – Patience, to cook the eggs slowly on low heat and not giving in to the urge of stirring them a lot. Very high heat and lot of stirring will toughen the proteins in eggs and the result will be rubbery eggs and all the beautiful creaminess of eggs will be lost.
Use fresh eggs. As fresh as you can get them. Add cream or milk to eggs when you whisk them, it adds to the creaminess.
A good non-stick pan is key. I have written time and again about my love for my Scanpan (here). A good pan that's not bad for you is the key. Do your research on pan. and do not compromise at the cost of the health of you and your loved ones. Also needed is a good quality silicone or rubber spatula….trust me please…:).
After trying different fats and combinations, I have found that these eggs require butter, life is too short to skimp on butter. Olive oil, coconut oil, or other fats are nowhere close to the results we are looking for.
Enhance the flavor of the butter you are using by adding fresh herbs. Let the butter and chopped herbs heat up together on low heat in your pan to flavor the butter and fill your kitchen with a beautiful aroma. Don't fret if you don't have access to fresh herbs, dried herbs will work too. Or just skip them all together and just make scrambled eggs with salt and pepper. Classic!
And this last one was the biggest leap of faith for me – to turn the heat off while the eggs still look a little wet. The eggs finish up cooking in the pan with the heat of the pan. So by the time you move them from the pan to your plate, you will have perfectly cooked, creamy, flavorful, herbed scrambled eggs. All you need is a toast, some fresh fruit and a cup of coffee. Bring it on Monday!!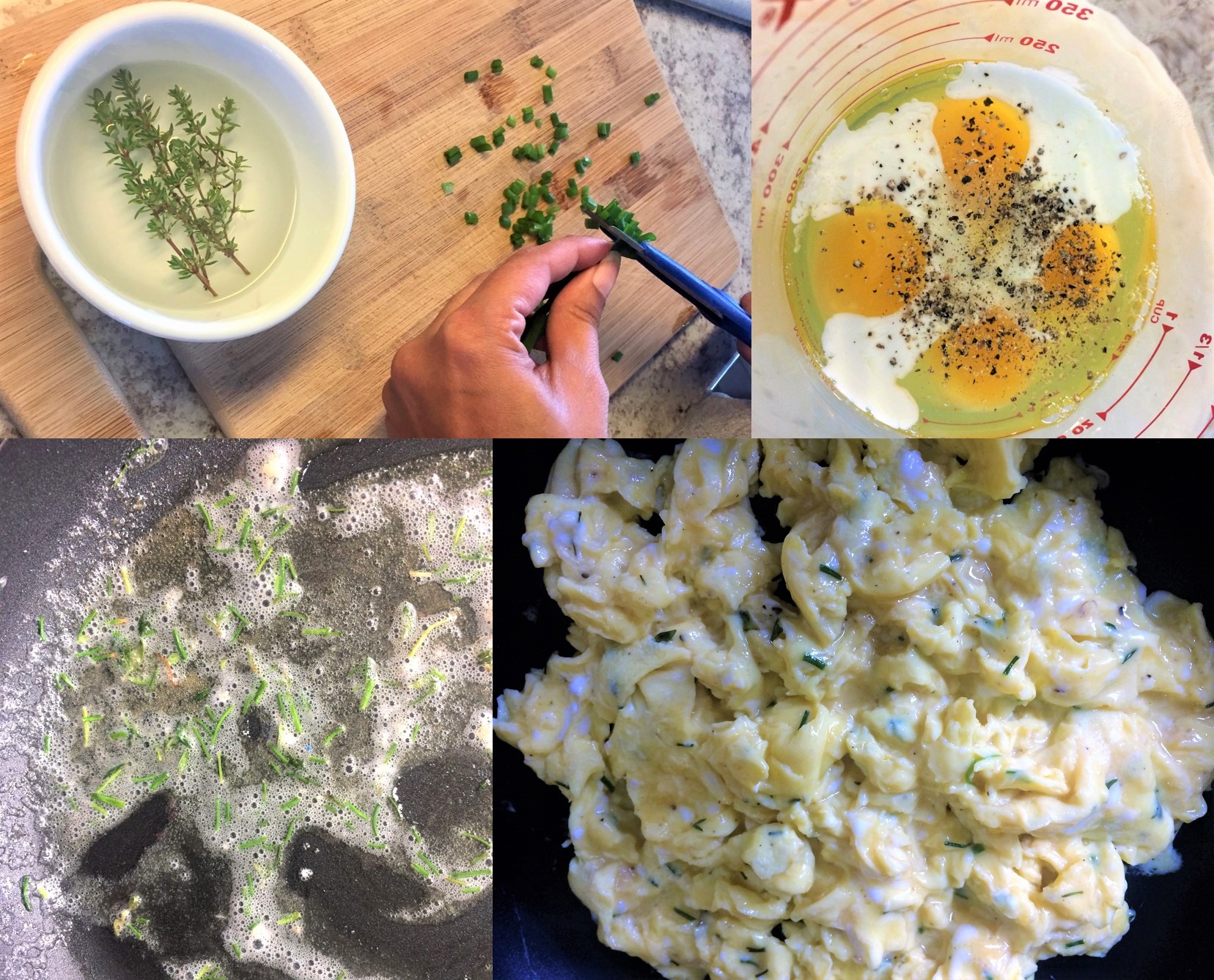 Ingredients:
Eggs – 4
Heavy cream/milk – 1 tablespoon
Mixed fresh herbs – 1 tablespoon (chives and thyme are my favorite)
Butter – ½ tablespoon
Salt and freshly ground pepper – to taste
Method:
Finely chop the herbs (kitchen shears work great for this). Set a non-stick pan on medium low heat and add butter and chopped herbs in to it. Wait for the butter to melt and the herbs to heat up. Swirl the herbed butter around the pan, so that it is coated with butter.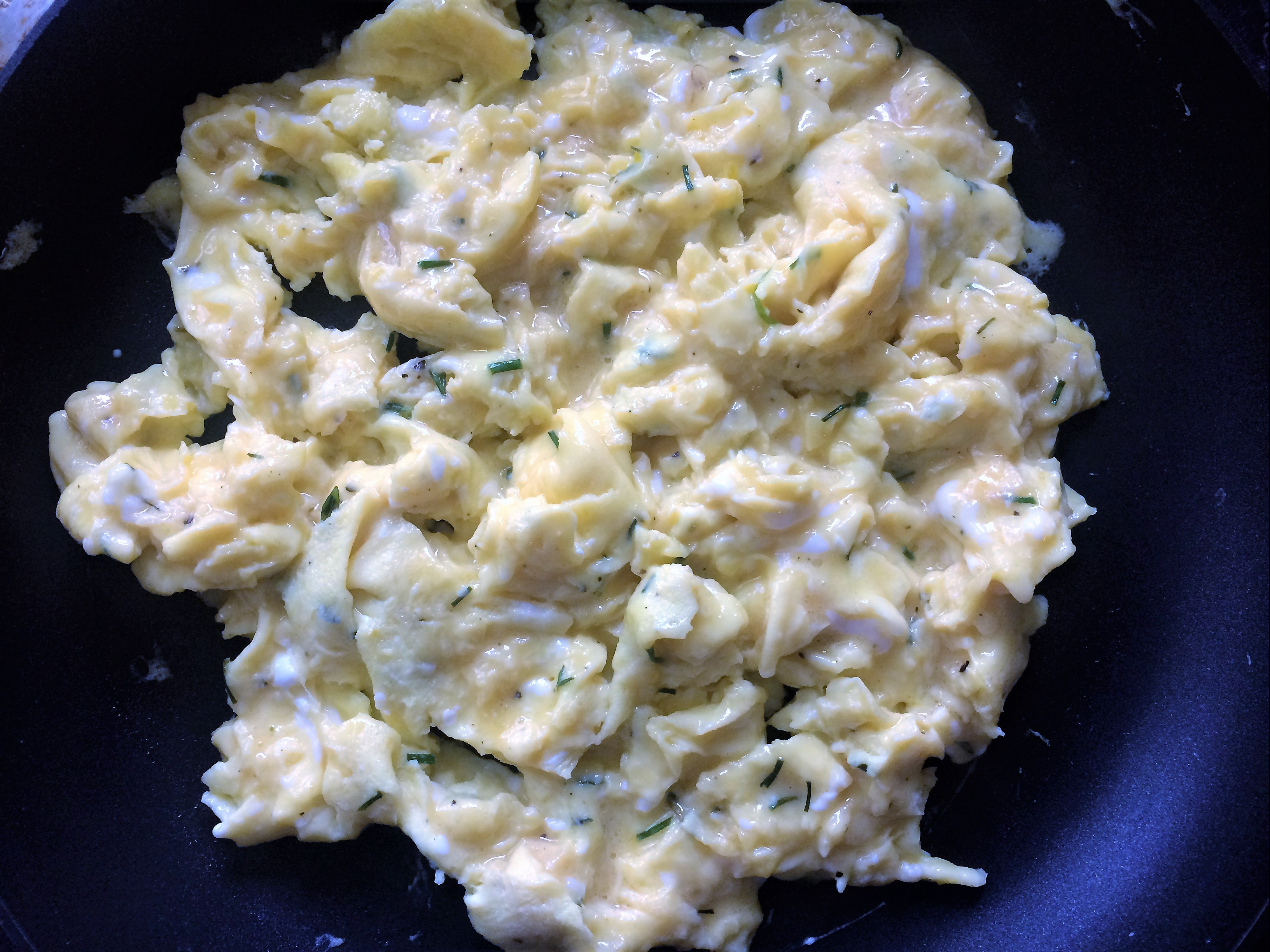 Whisk the eggs with cream, salt and pepper. Add the whisked eggs to the pan and let them sit for 15-20 seconds. After this time, gently move the eggs around once using your rubber spatula. Repeat one or two times till all the liquid is almost set. At this point, stir the eggs once more and turn the heat off. Yup. All done!
Love – Vaishali.
Tools used:
Non-stick pan
Rubber Spatula
Kitchen shears and chopping board
Whisk
Measuring cup