This black-eyed peas (known as Lobiyah or Raungi) curry is Dr. A's favorite and mine too, for the reason that it is one of the very few dry beans recipe that does not involve soaking time. Yeah black-eyed peas are nice like that. It is essentially a pantry recipe, and it comes together rather quickly if you own a pressure cooker. This is one beautiful thing about Indian cuisine, if you have a well-stocked pantry and a handful of fresh ingredients in the crisper bin of your refrigerator; you are pretty much good to go to make a three-course meal for your family. By well-stocked pantry, I mean a good collection of lentils, beans, some masalas and spices; and fresh ingredients might be a combination of onions, tomatoes, ginger and garlic. Now, you could always use ginger-garlic paste from a jar bringing down the fresh ingredients to just onions and tomatoes – not too intimidating right?  When I first started journaling my culinary journey here, I wrote a post about Indian spices (you can find it here), so if you are new to Indian cooking or feel overwhelmed by the sheer number of ingredients that a recipe might call for, I suggest you go read that post. I assure you that it will put lot of your doubts and fears about Indian cooking to rest.
Whenever Dr. A is returning home from a long work trip, I try to cook foods that he likes. Just because I am nice like that, and also because we really miss him when he is gone, and also because we really do not cook "proper" food while he is traveling, and also because he is tired of eating outside food and is ready for some humble, home cooked meals. Raajmah (red kidney beans curry, recipe here) is his absolute favorite beans dish, which I had planned to cook when he came back from an overseas trip earlier this week. I decided to soak the red kidney beans the previous night and to my total surprise the glass jar that is home to dry red kidney beans was empty – nothing, nada! And then the jar with dry black eyed peas peeked at me and said "Pick me". I said "Oh Honey – If it is you that we are cooking for tomorrow, then I do not need to pick you tonight. Sleep tight sweetheart – I'll see you in the morning". That is how I sometimes have conversations with my food. Not.Weird.At.All.
This recipe is very much soup-like. Serve it with Pita bread and it is a warm and satisfying meal in itself that is high in plant based proteins. This curry starts just like Raajmah (recipe here), so we make a paste of onions, tomatoes, ginger, garlic and green chili; add spices to it and bhoono the heck out of the masala. Then add in black-eyed peas, water salt and cook it in a pressure cooker for 30 minutes or so. And that's it. Your black-eyed peas curry is ready to enjoy with some rice (recipe here) or chapathi/whole wheat flatbread (recipe here).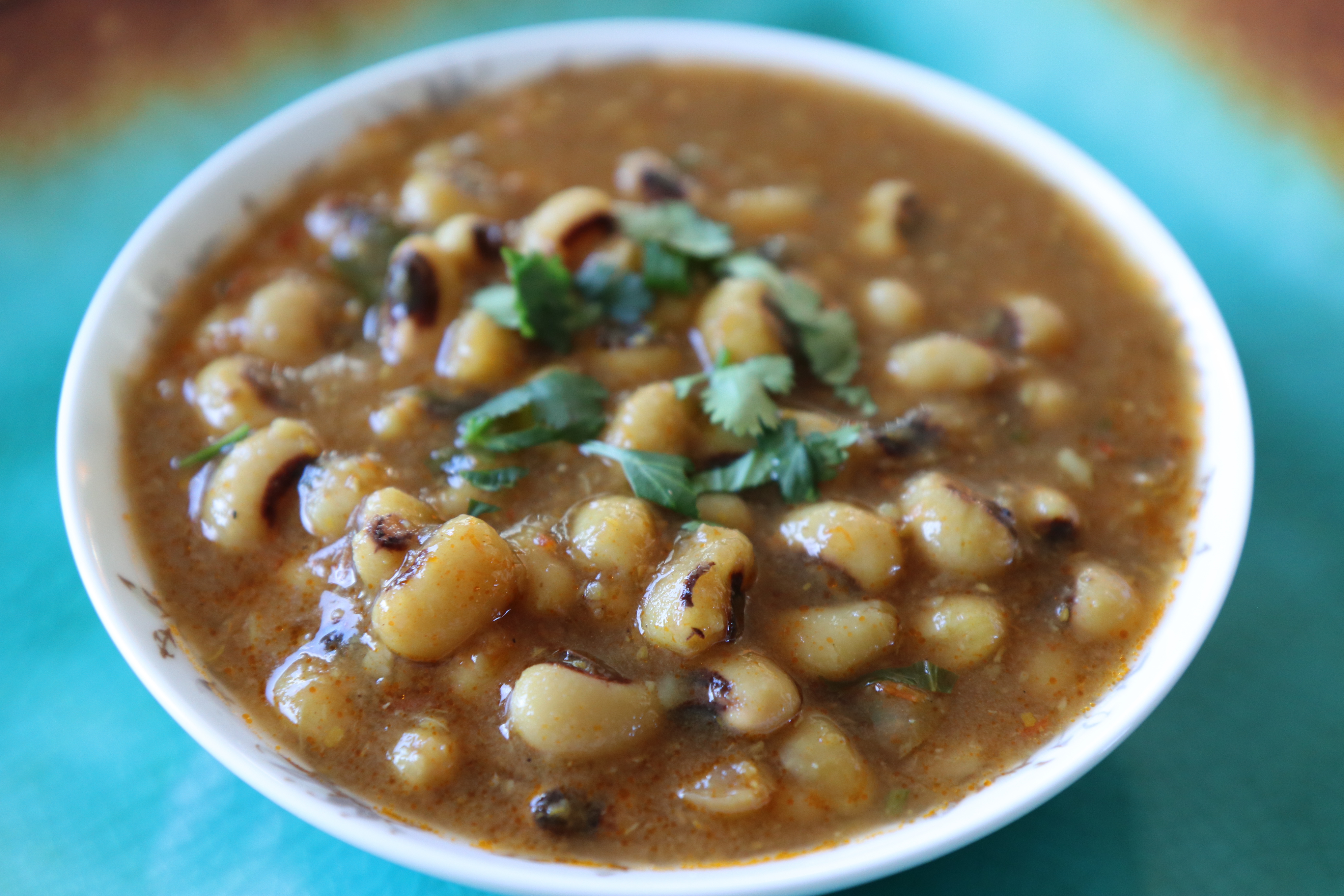 Ingredients:
Black-eyed peas – 2 cups (dry)
Onion – ½ of a large white onion, about ½ cup chopped
Ginger – 1 inch nub, peeled
Garlic – 3 cloves
Green chili – 1 (optional)
Tomatoes – 3, roughly chopped
Oil – 2 tablespoon
Heeng/Asafoetida – ¼ teaspoon (optional)
Cumin seeds – 1 teaspoon
Turmeric – ½ teaspoon
Red chili powder – ¼ teaspoon (optional)
Coriander seed powder – 2 tablespoon
Garam Masala – 1 teaspoon
Cilantro – 8-10 sprigs
Salt – to taste
Method:
Wash and rinse the dry black-eyed peas and then soak with water till you get the masala ready.
In a blender jar add ginger, garlic, green chili (if using), onion (cut into big chunks), and tomatoes. Blend until everything is crushed and smooth. Set a pressure cooker on high heat and add a swirl of oil to coat the bottom of the pan. Wait for the oil to heat up and then add heeng and cumin seeds. Once the cumin seeds begin to crackle, add the blended onion-tomato-ginger-garlic masala. Add turmeric, chilli powder, coriander powder, and a little salt. Mix and bhoono/ cook on medium heat until the masala is cooked. Bhoono the masala till all the liquid evaporates and you can see tiny oil droplets seeping out of the masala. The masala will eventually leave the side of the pan and come together. This should take between 15 to 20 minutes. Add the soaked black-eyed peas to it, along with 6 cups of water and salt. Close the lid and wait until the first whistle of the pressure cooker. At this time, lower the heat to medium low and cook for 20-25 minutes. After this time, turn the heat off and let the pressure release by itself slowly…10-15 minutes. Open the lid of the pressure cooker and add garam masala and chopped cilantro to finish the dish. Give it a taste check and adjust salt. Serve with rice or chappathi, or just enjoy a big bowlful as a hearty soup.
Love – Vaishali.
Notes:
Crock-pot – Add black-eyed peas, 8 -10 cups of water, bhoonoed masala and salt to crock pot. Cook on high for 6 hours. Finish by adding garam masala and cilantro.
Just like Raajmah, black-eyed peas also freeze very well. Once completely cooled, put in airtight containers or freezer bags, label and freeze for 3-4 months. When ready to eat, thaw and reheat in a saucepan.
Tools used:
Knife and chopping board
Blender/Food processor
Pressure cooker
Spatula
Measuring cups and spoons