Last month I got an amazing opportunity to tour the beautiful state of Kansas with a group of amazing women who are passionate about food and how and where it comes from. If you remember, sometime ago I met with Chef Alli and during this meeting she mentioned about Kansas Farm Food Tour. The tour is organized by Kansas Farm Bureau and Kansas Soybean Commission. It brings together farmers and ranchers of Kansas with food bloggers from around the country. Oh, and there is Chocolate Chip Cookie recipe involved! Plus there a re 456 pictures - you have been warned!
Jump to Recipe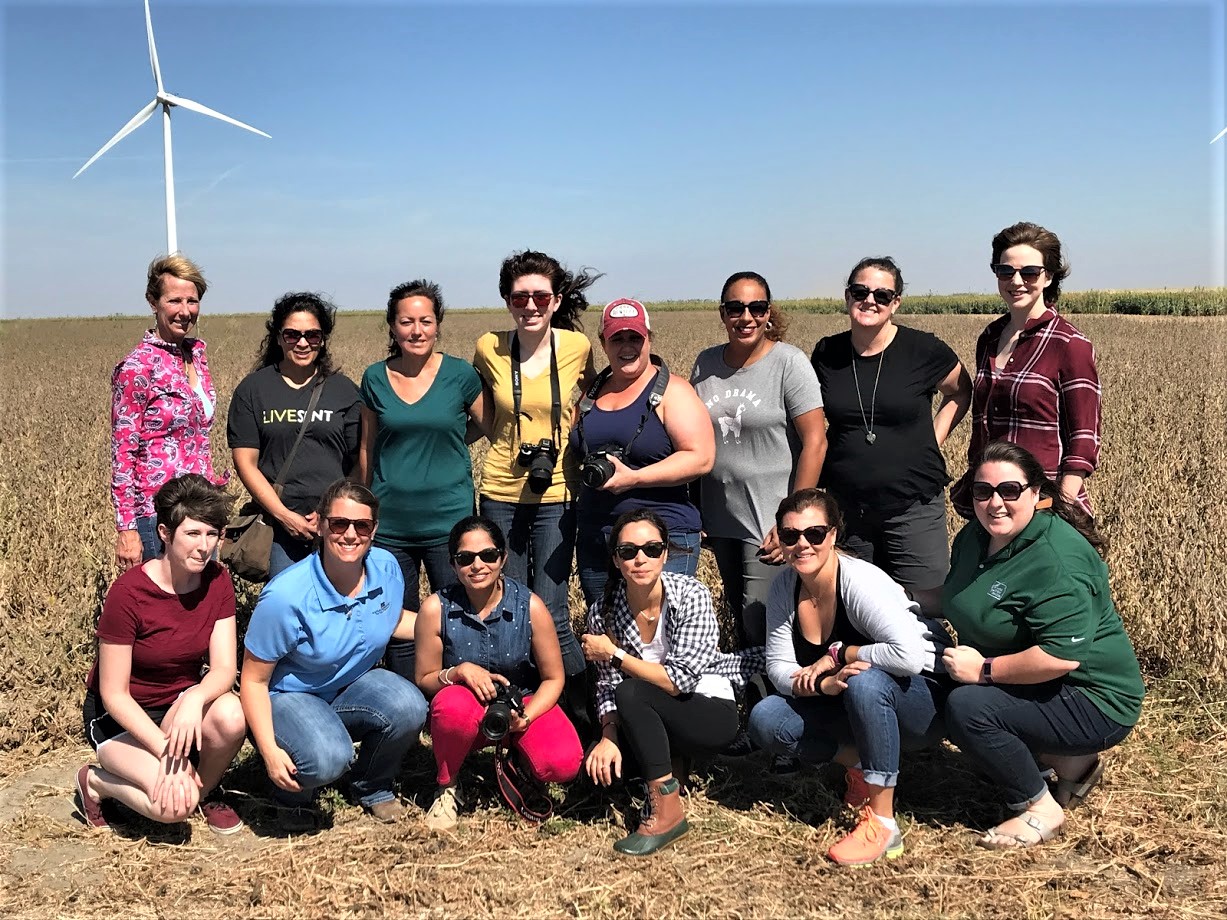 View this post on Instagram
First stop was Good Farms in Olsburg, Kansas.
What can I say about the Goods – a sweet couple Craig and Amy gaze at each other with a tender and seasoned look that only comes with years of love, understanding and care. They are the Goodest!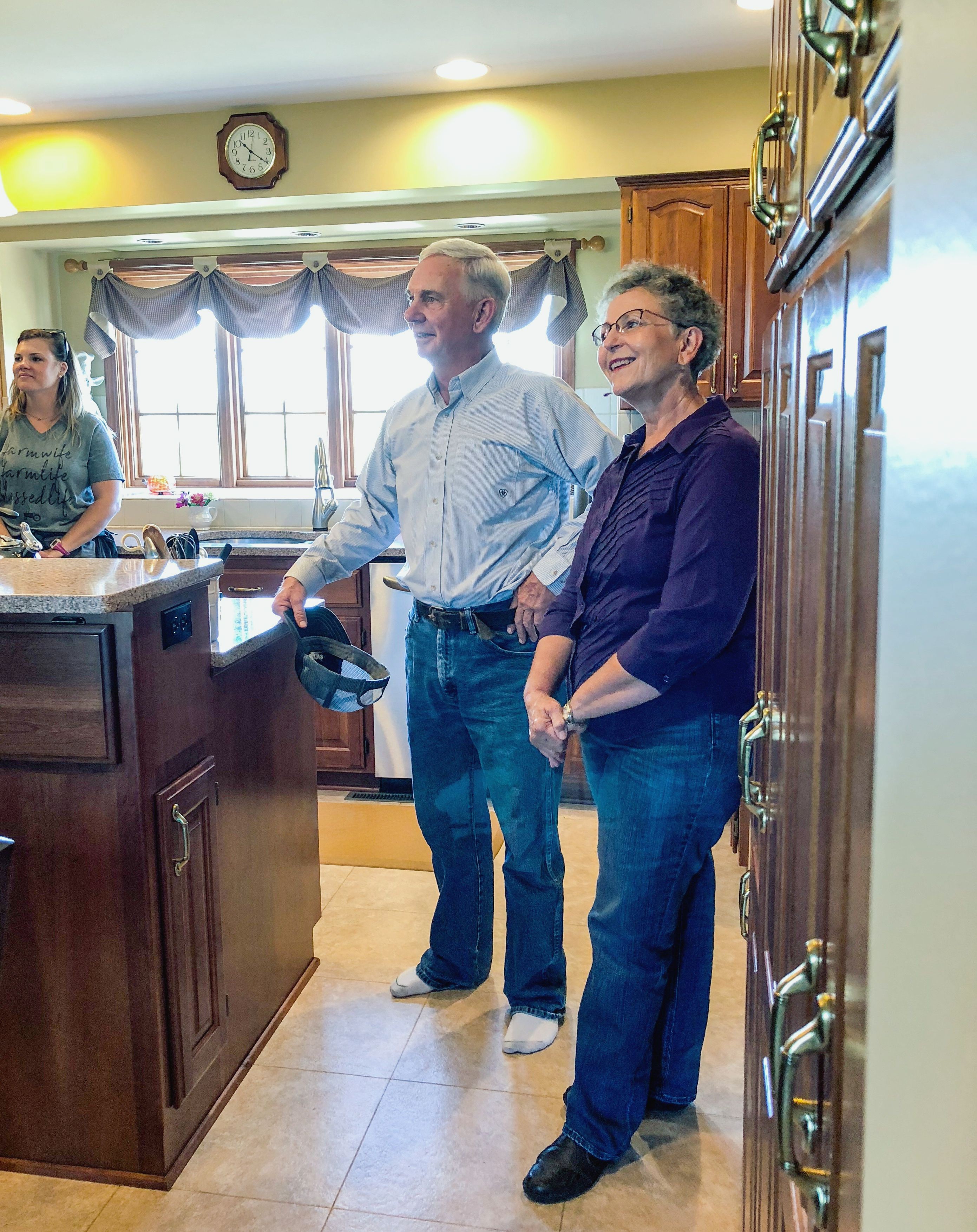 Their farm specializes in pure bred hogs along with corn, soybean and wheat. It was heartening to see the dedication, care and passion that they have towards their operation and animals. We were given special boot covers to wear since they do not want any contamination or spread of disease on their farm, very professional!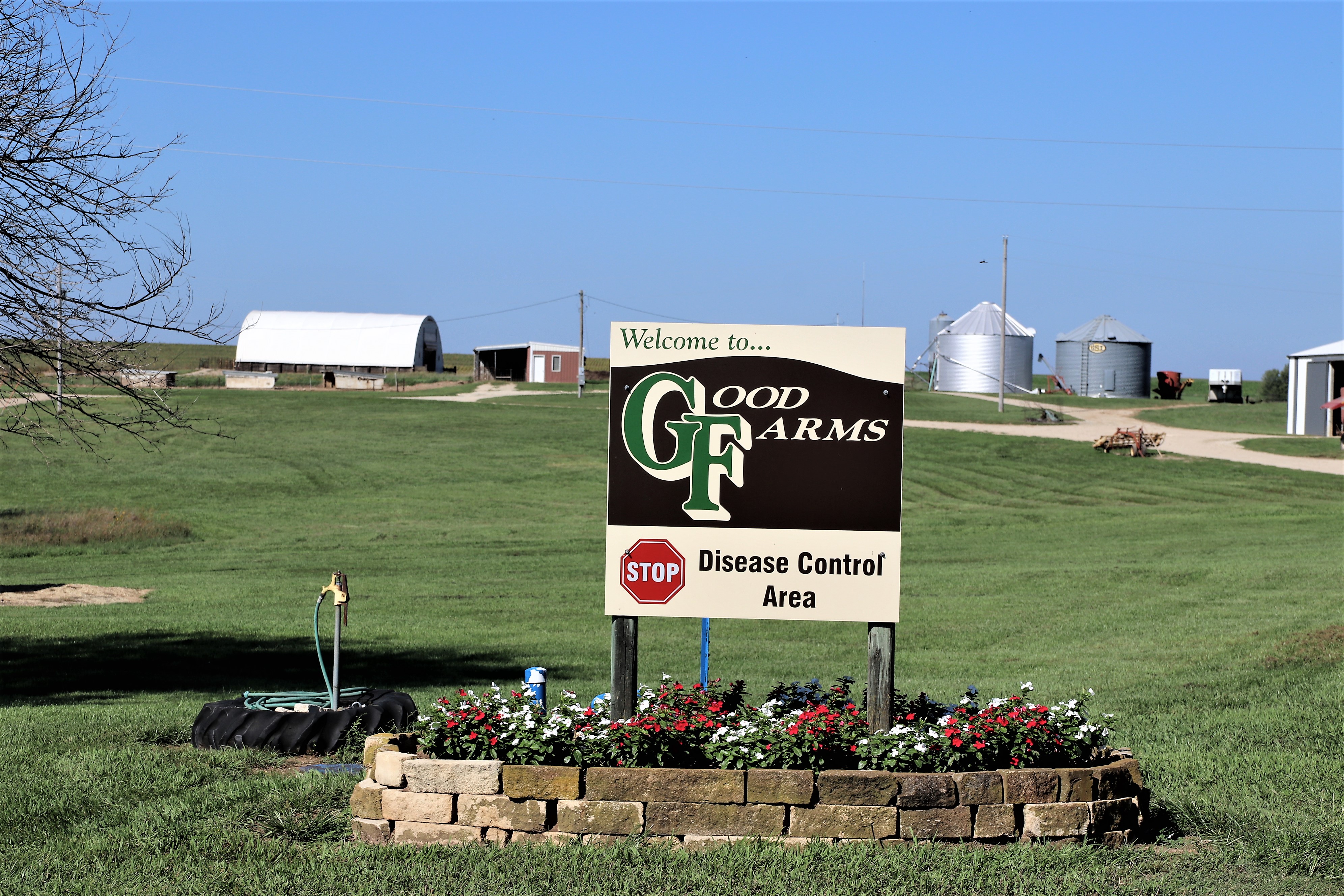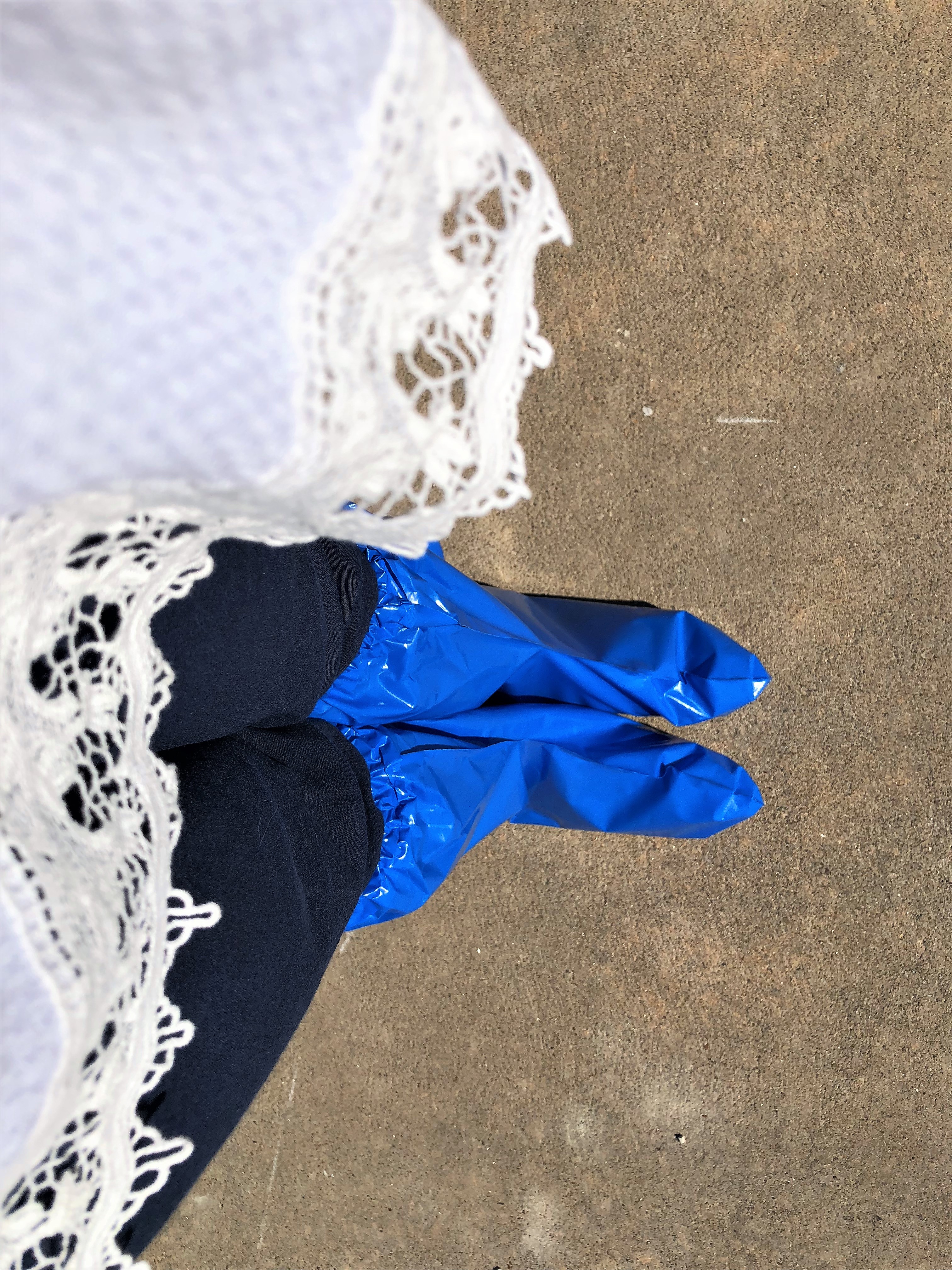 After we visited their farm and Craig explained to us (in quite a detail, uhmm) how a baby pig is created and then cared for. I learnt that it takes 6 months for hogs from birth to get to a stage when they can be harvested. Antibiotics are only given to pigs raised on Good Farms if they are sick and desperately need medication, just as we would do it for ourselves or our babies. After the medication, there is a period of time for which the pig cannot be harvested for processing so that the effect of antibiotics weans off. Other than meat products, Craig and Amy also produce compost which they utilize on their farm. I mean look at this compost - this might very well be brown gold. I might hook up with Craig to get some for my garden come spring!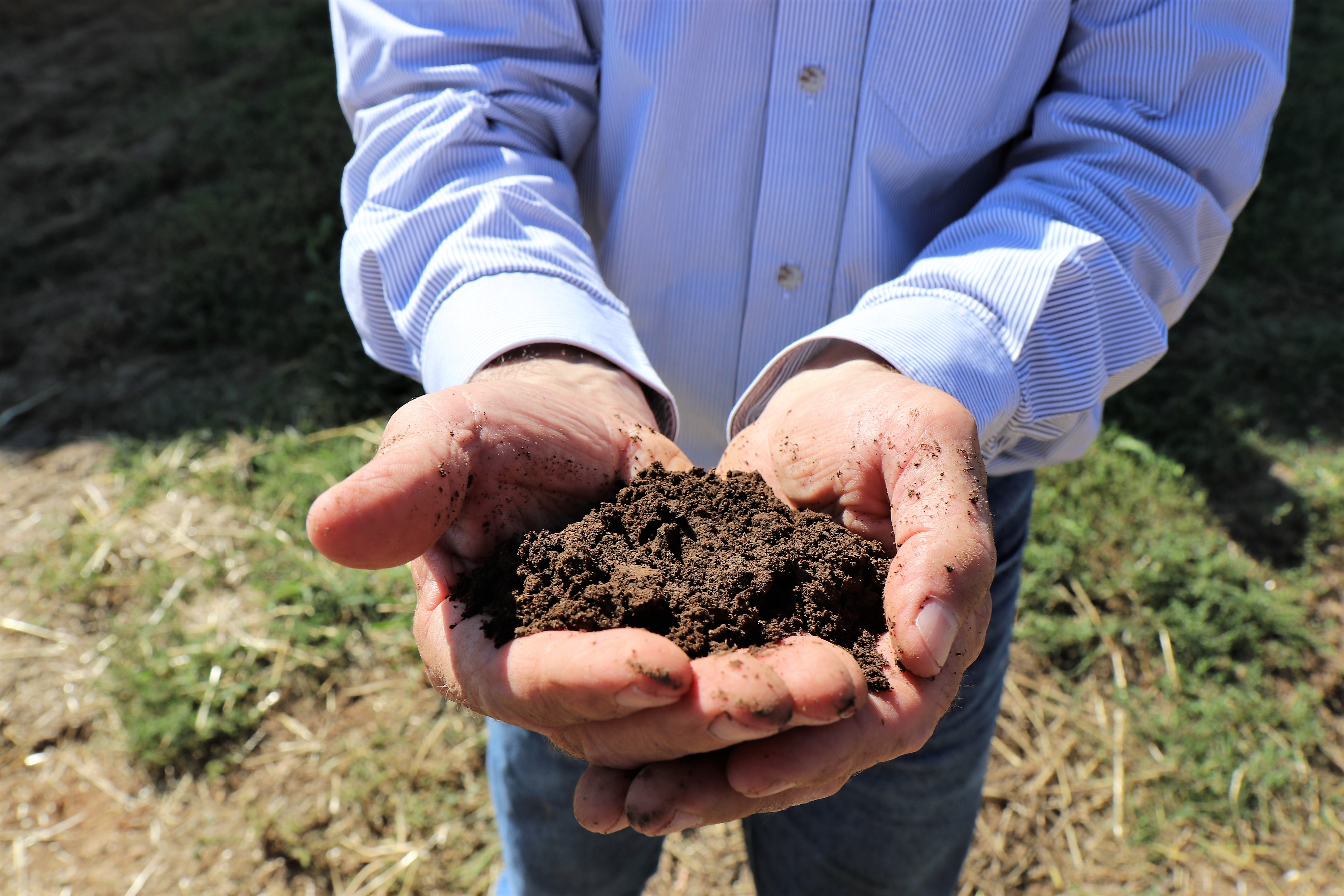 After the tour we were served lunch catered by a local Farm to Table restaurant, Little Apple Brewing Company and it was amazing. Look at the table setting. I was too busy eating (they fixed me a vegetarian plate..woo hoo) to take any pictures!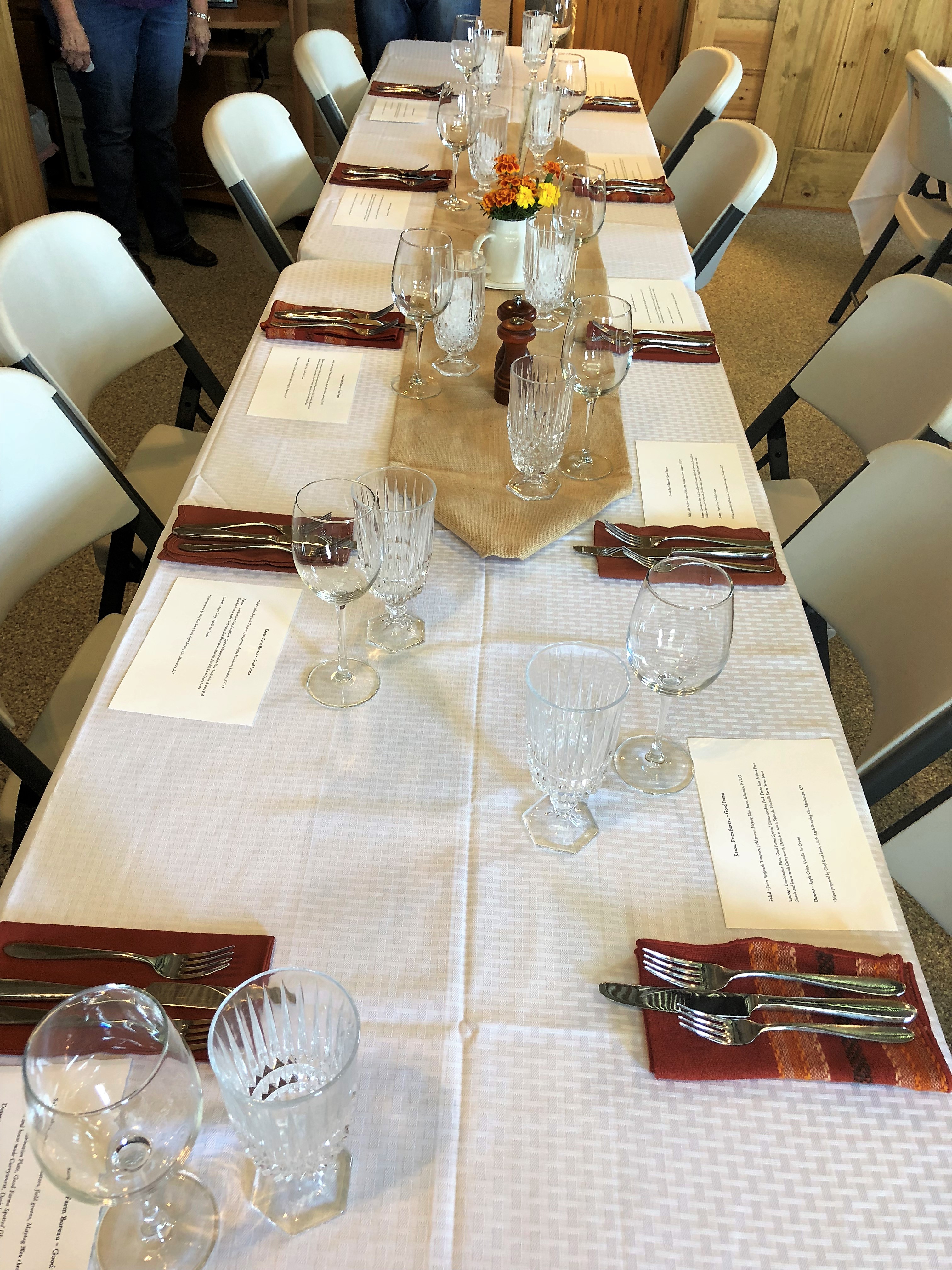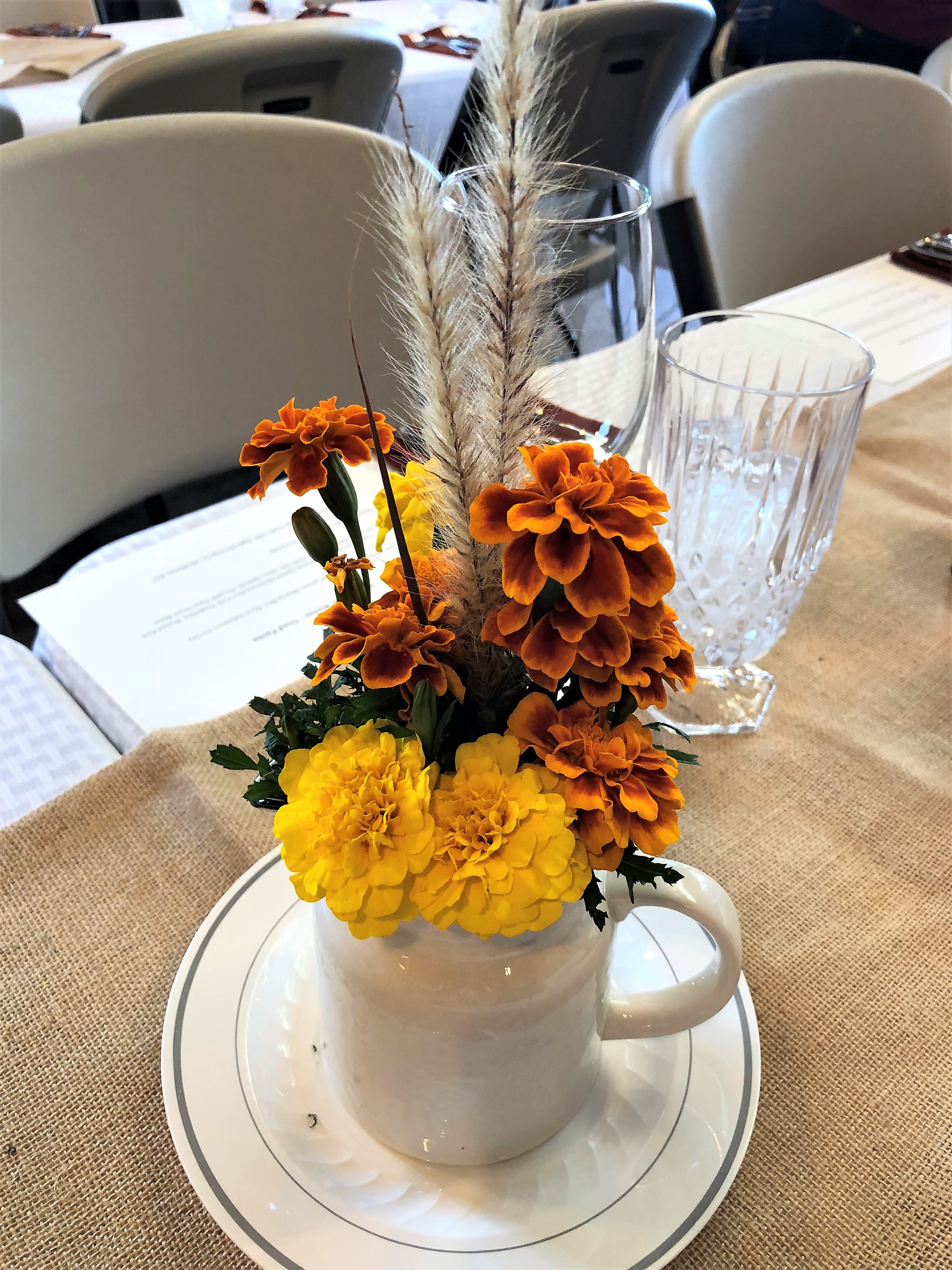 With our bellies full, we headed to Sawyer's Farm in McPherson, Kansas.
Derek and Katie Sawyer are fourth generation farmers and were knee deep in corn harvest when we reached their farm. They have two adorable boys who also came to hang out with us. Derek manages the farm and his dad helps out as well. Katie works off the farm and I am completely in awe of her. As a farmer, a female, a mom and an activist, she is very much a modern woman personified. In the picture below, she was telling us about what is going on on the farm that day. Notice the corn cob as well as the sippy cup? There - a momma talking business!
My research interest (uhmm I have a day job friends!) in water resources of the region and sustainability of our natural resources prompted me to ask the Sawyers about their irrigation practices. Derek explained to me in detail how they do it and what measures they take to ensure that they are not wasting any water. As a researcher, it is important for me to talk to the stake holder and understand how they perceive the problem and understand and use the research that we do to improve the water utilization of our crops.
We got to try Katie's yummy chocolate Chip cookies while we were on their farm and they were amazing. Katie's recipe was in our Farm Food Tour handbook, and I am sharing it below. I have tweaked the recipe just a little bit.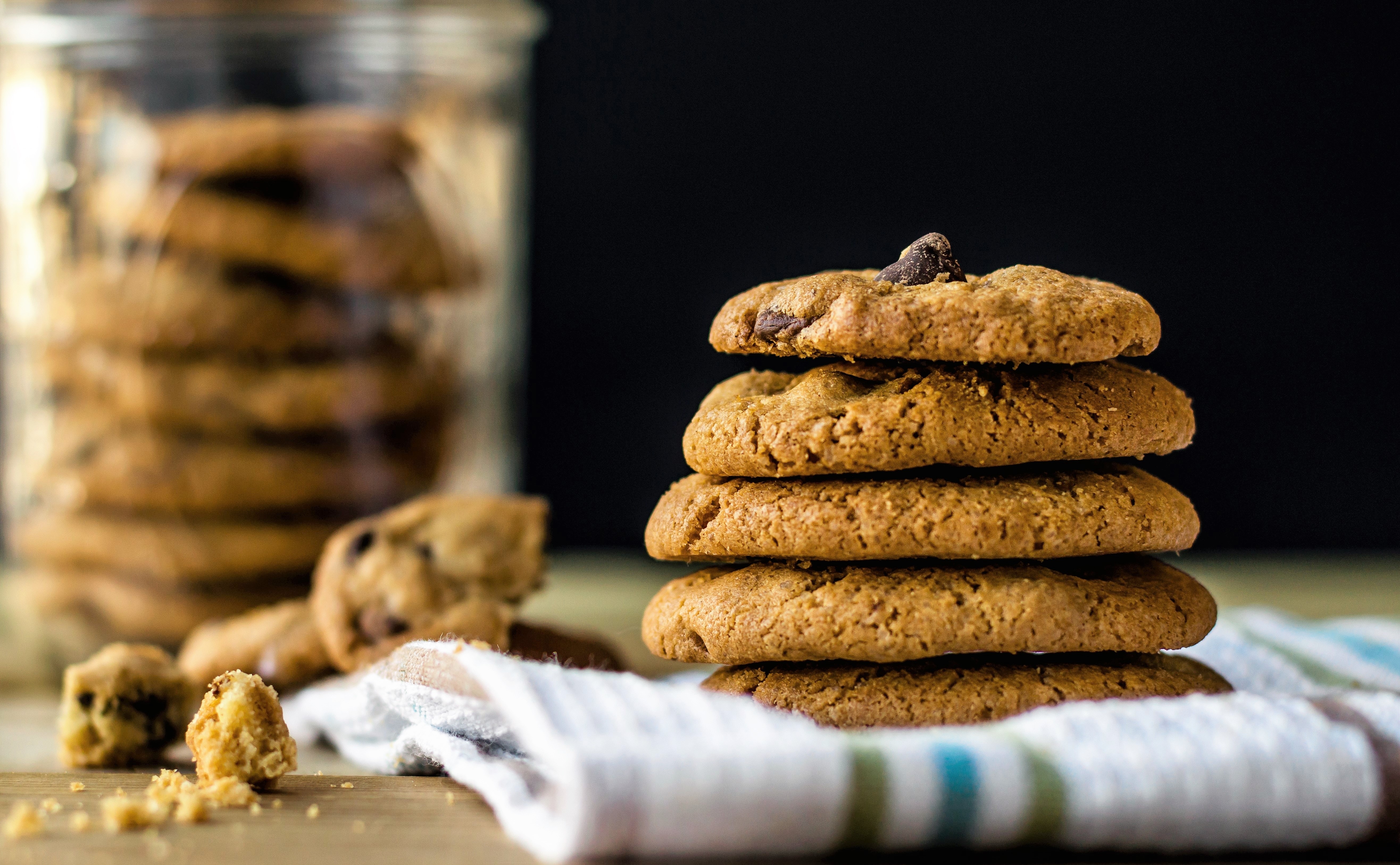 Here's a handy dandy printable for you:
Katie's Chocolate Chip Cookies
These chocolate chip cookies are from Katie Sawyer's kitchen and are their family favorite. A perfect combination of softness and chewiness, these are a must bake.

Ingredients
¾

cup

Unsalted butter

at room temperature

1

cup

Brown Sugar

½

cup

Sugar

2

teaspoon

Vanilla extract

1 and ½

cups

chocolate chips

2

cups

all purpose flour

1

teaspoon

Baking soda

½

teaspoon

salt
Instructions
Preheat the oven to 325 degrees F or 165 degrees C


Prepare a cookie sheet by lining it with parchment paper.


Cream the butter and two sugars until light and fluffy in the bowl of your stand mixer fitted with the paddle attachment.


Add the vanilla extract, then the egg, followed by the egg yolk.


Sift together the flour, baking soda, and salt and add it to the butter mixture with the mixer on low speed. Mix until just combined. (See notes)


Fold in the and chocolate chips.

Drop the dough on your prepared cookie sheet, using a 1 ¾-inch-diameter cookie dough scoop (or use a rounded tablespoon).


Wet your hands and flatten the dough slightly.

Bake for 15 minutes (See notes), remove from the oven and let cool slightly on the pan, then transfer to a wire rack to cool completely.
Notes
Overmixing the batter might alter the texture of the cookies.
The cookies might look underdone when you take them out of the oven. Don't worry - they will turn out fine after cooling down.
On Day 2 we stopped at Amy and Clint France's Farm.
France Family Farms, Marienthal, Kansas
Amy is awesome! She is our "Personal Farmer" and accompanied us on our bus for the entire tour.
We did not get a chance to meet Clint - well because he is a farmer and his days do not always go as planned. This is something I learned on this tour. Most of us, including me and Dr. A, have responsibilities associated with our jobs and we can plan out how we want to do them. Not farmers. They can have a plan but then may be mother nature throws a curve ball, may be the pump broke, the combine malfunctioned, a certain mama cow is not feeling good. So farmers have to be on top of it all. So Clint had to do what he always does and what he is - be a farmer. I completely appreciate that. Amy showed us their soybean field and explained how it is grown, harvested and processed.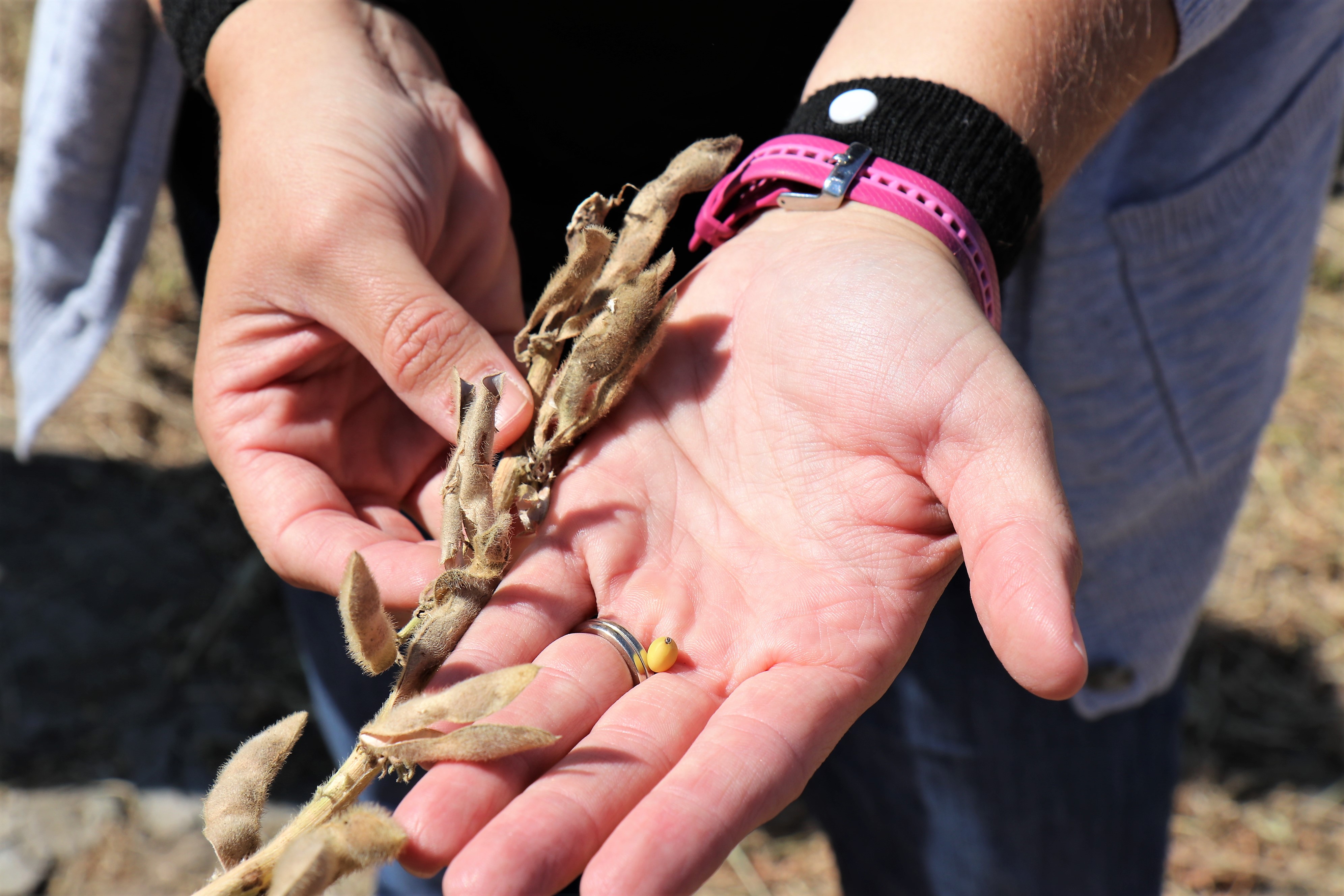 It is amazing how welcoming all the farmers are. They let us, complete strangers, on their farms, showed us how it is done, and connected with us. I did not feel, during this entire time, that they were trying to hide something from us or not telling the truth. We as bloggers can write and present anything to our readers. But the participating farmers showed complete faith in us and opened their hearts and homes to let us in.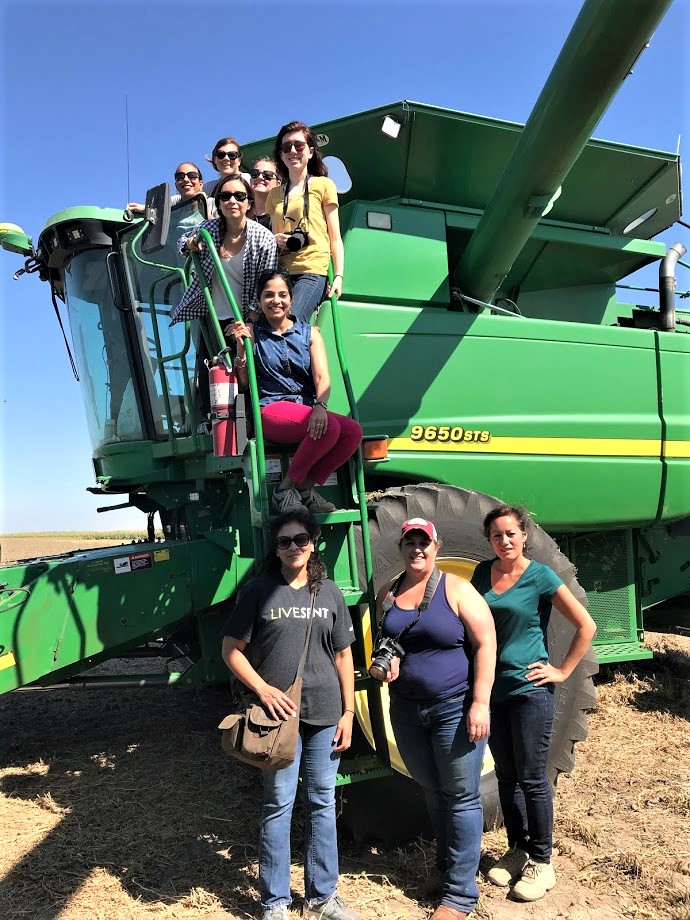 Amy has a small pumpkin patch on her farm along with chickens and Gretchen, her pink tractor. Adorbs!!
Amy belongs to a family of musicians so she is not a farm girl. She said that when Clint gifted her Gretchen, she believed that she has finally "arrived" on the farm. LOVE!!!
Kansas is a land of Wheat, corn and cattle. After visiting all the farms, we had to go to a feedlot. If you are like me you might not know what a feedlot is. Well, friends, today is your lucky day! A feedlot is a place where cattle are fed until they are ready to be processed for their meat. Lee Reeve showed us around their family feedlot operation that has been around for more than 100 years.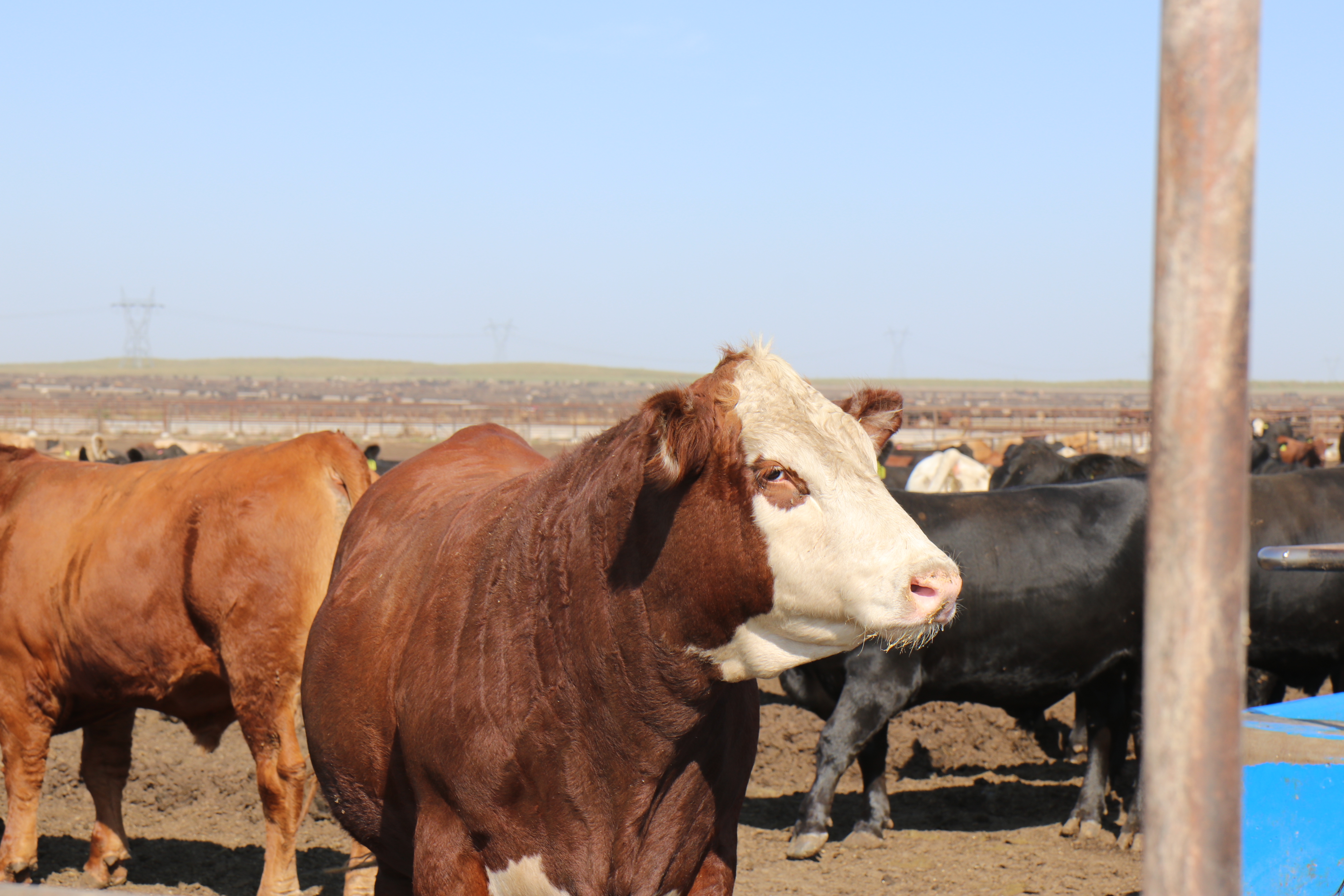 Lee is very knowledgeable about the science behind each and every step of their operation. They take a lot of pride in being sustainable and using their farm resources to the fullest. They also have an ethanol plant on the feedlot, so nothing goes to waste.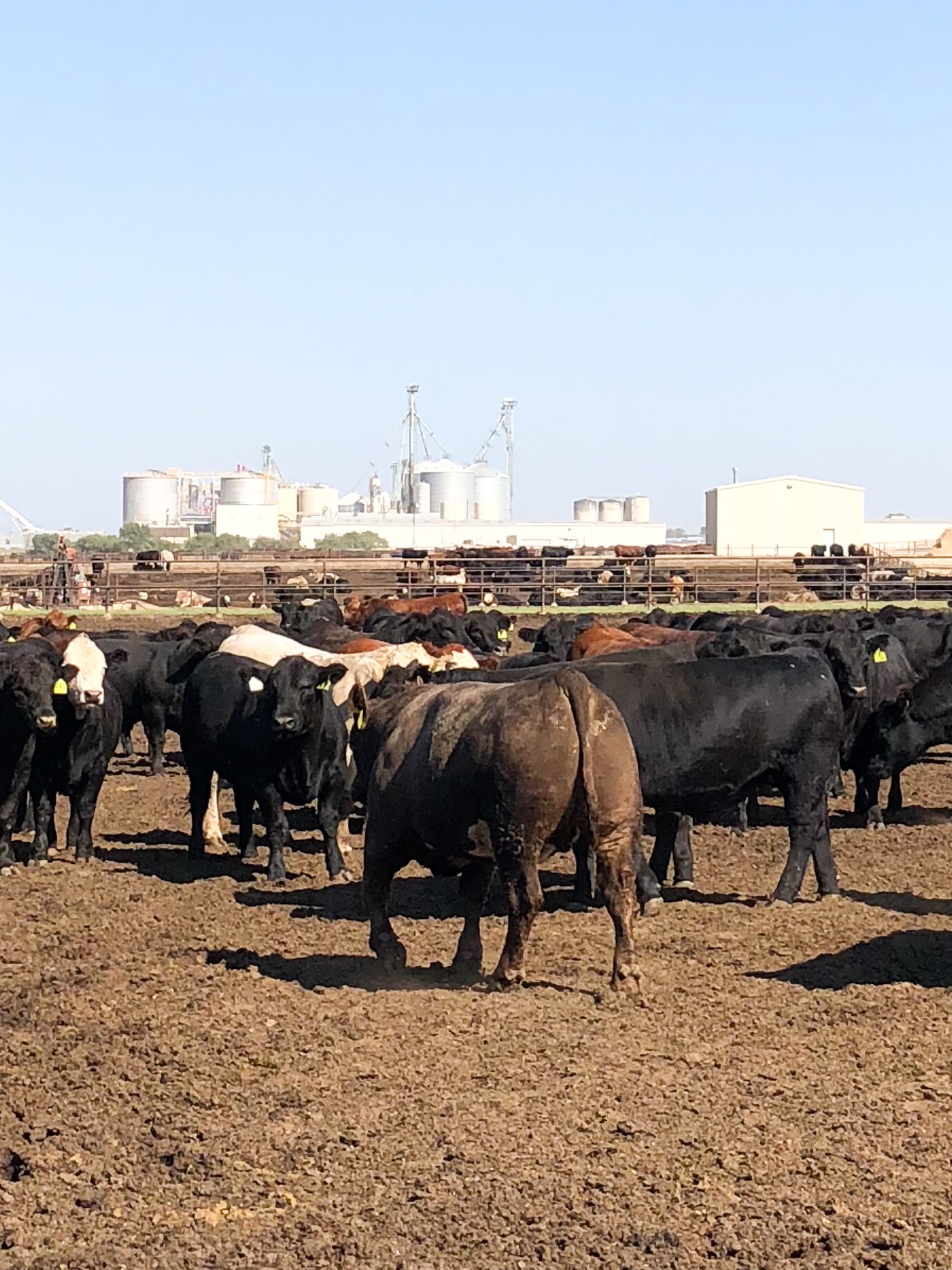 If you are a beef eater, you might have heard about grass fed beef. I came to know that all beef is grass fed, the difference lies in the fact that what the cattle were fed wight before processing - grass "finished" or grain "finished". You are welcome!! At Reeve's the cows are fed a mix of corn, milo (sorghum) and triticale.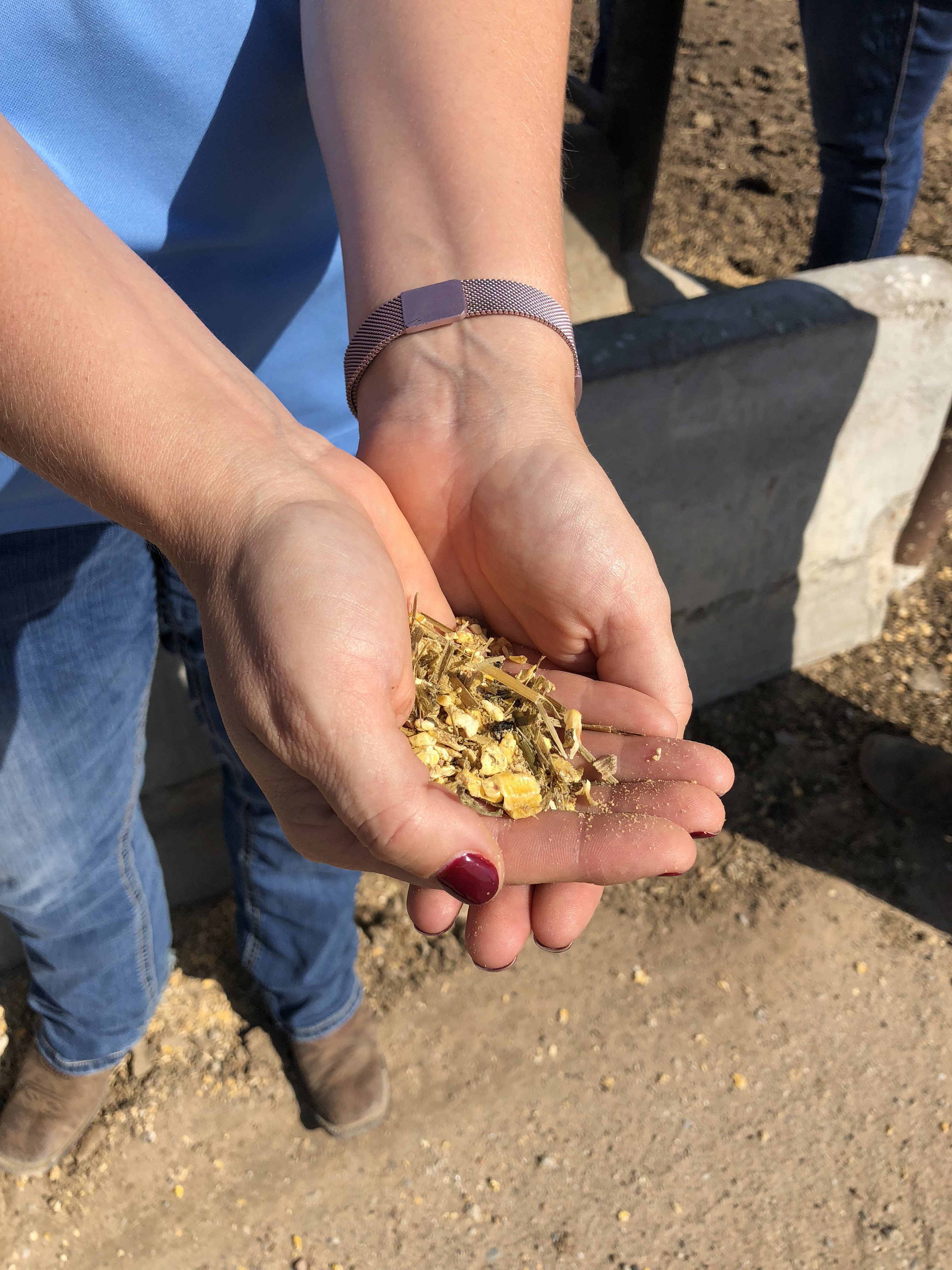 This experience was stunning. I was impressed by this dairy farm's professionalism even before I entered the gate. See the picture below - they have safety instructions in their parking lot. This shows that the facility cares deeply about their workers, professionals and visitors.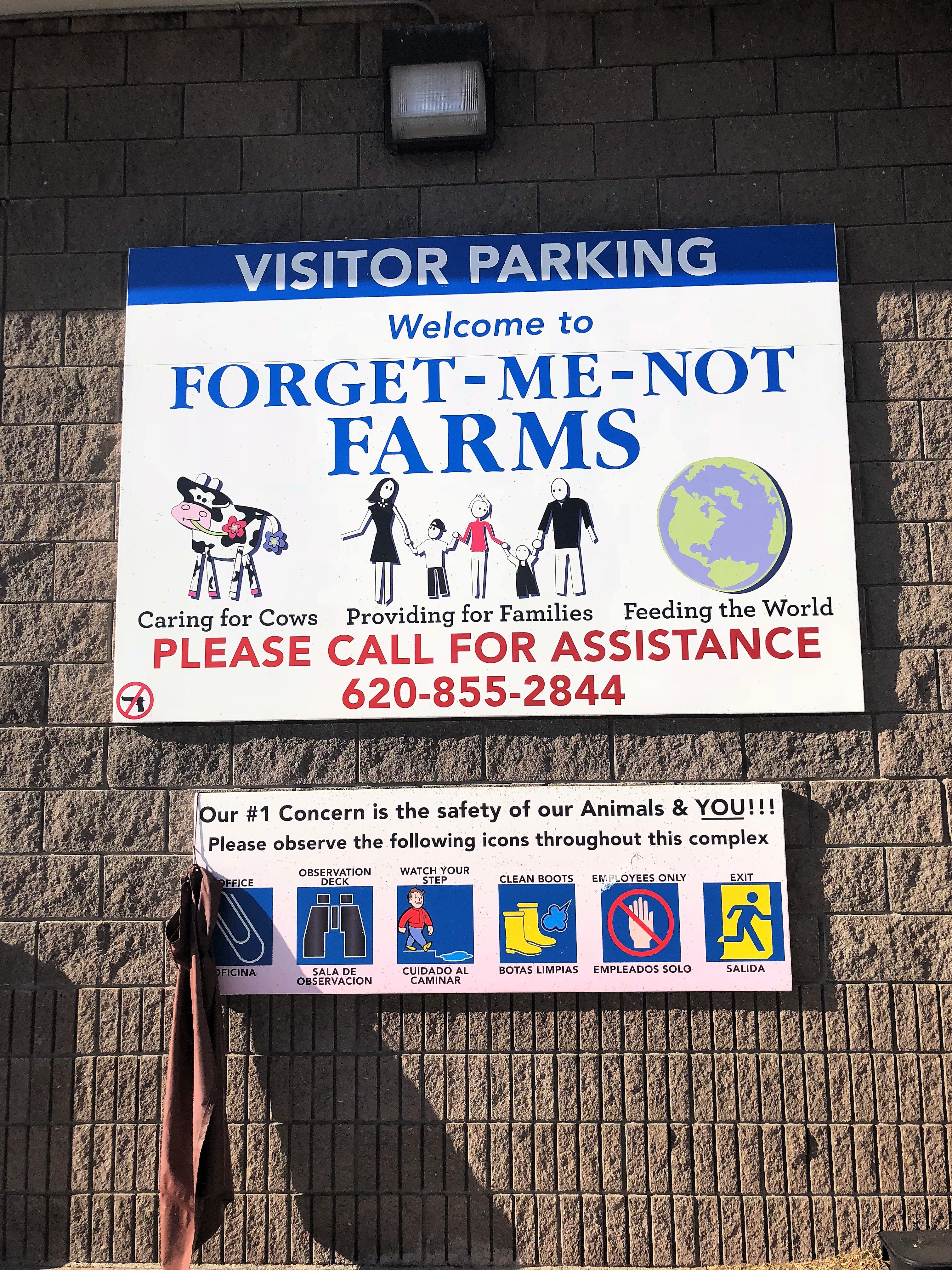 Also, "Caring for cows" - completely! This is family run operation led by Ted Boersma and his daughters. Our tour guide was one of Ted's daughter, Kelsey who was there with her 8 week old baby boy. She manages the farm alongside other members of her family and was very knowledgeable about the operations of the dairy farm. I asked her several questions about hormone and antibiotics in the milk. Without any hesitation, she said that they do not give their cows any hormones and antibiotics are only given to sick cows to nurse them back to health.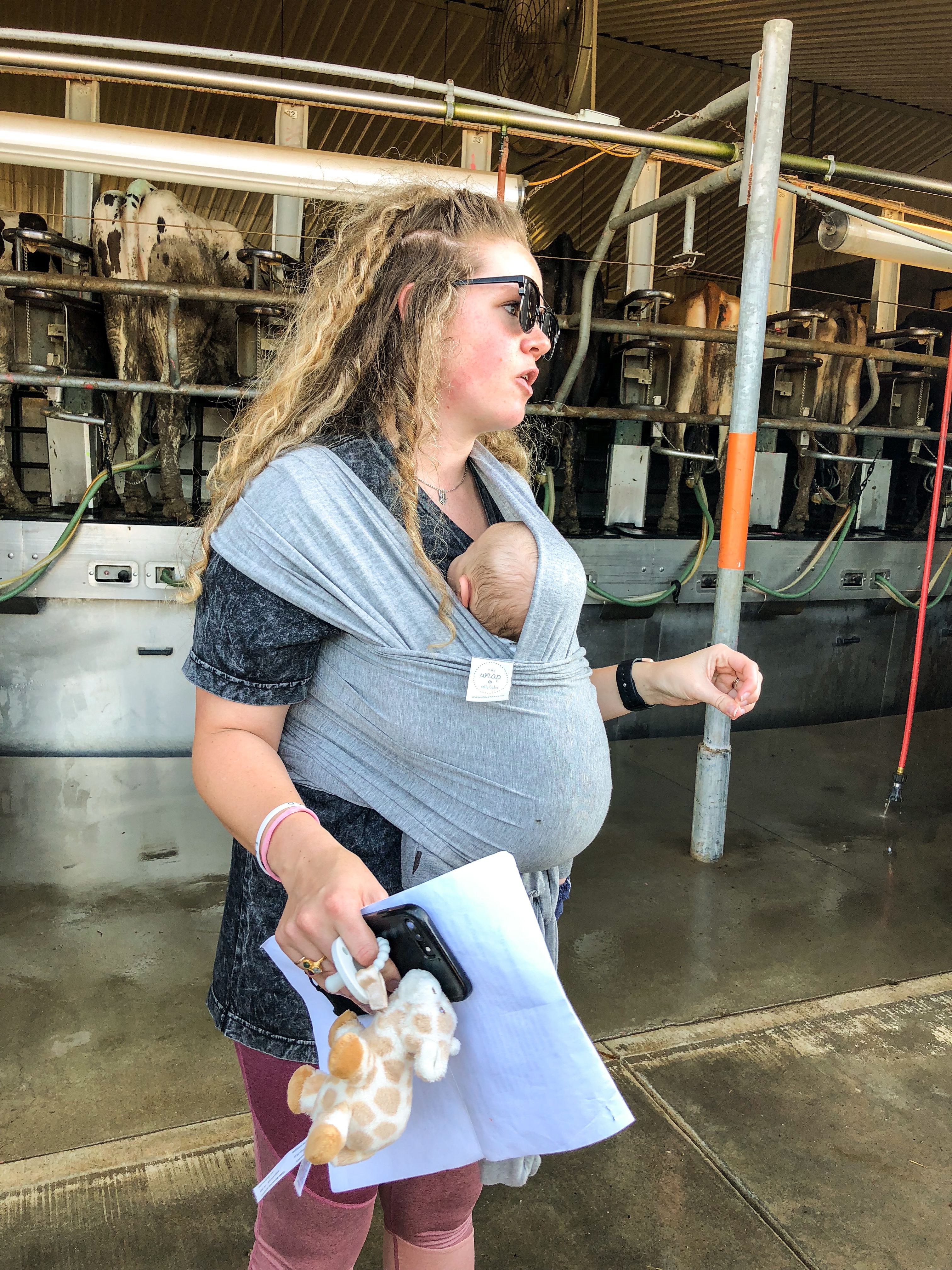 Do you see the theme here? Strong, independent, family oriented, businesswomen! Respect to all of these ladies. The men are not bad either..hah!
Their dairy farm operation is incredible in their efficiency. The have more than 6000 cows that produce close to 600,000 pounds of milk everyday which is enough to make cheese for 150,000 pizzas. Mind blowing! They are very much an employee oriented company and they all work together to improve the life of their 100 employees every single day.
Day 3 of the Kansas Farm Food Tour began with a trip to the deepest hand dug well in Greensburg, Kansas.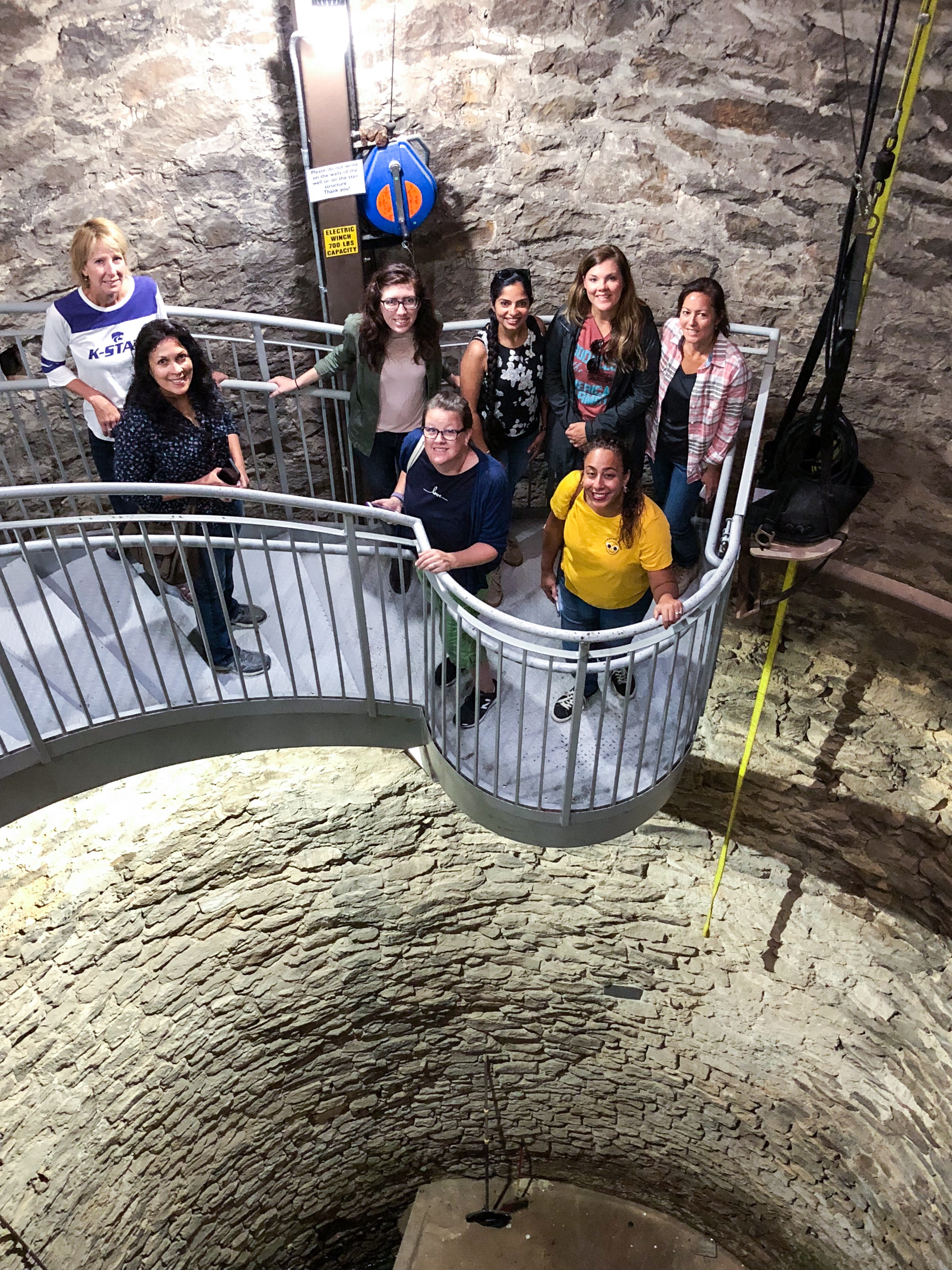 Next stop - the Flint Hills! If you have never been to Kansas, and like most people think that Kansas is flat - you need to come see us in the Flint Hills. Ladies and gentlemen, I am sure you will be very happily surprised.
Dalebank Angus is owned and run by the Perrier family and Matt Perrier showed us around the pasture and talked about the history of their operation. Matt (pictured below) is a real Kansas cowboy and talked to us about the native grasses that grow in their pastures. It is a beautiful piece of land that is grazed by free roaming cattle. I asked Matt about the importance of burning pastures and he told us why it is important and that it helps in getting rid of unwanted weeds and trees while enhancing the quality of grazable pastures every year.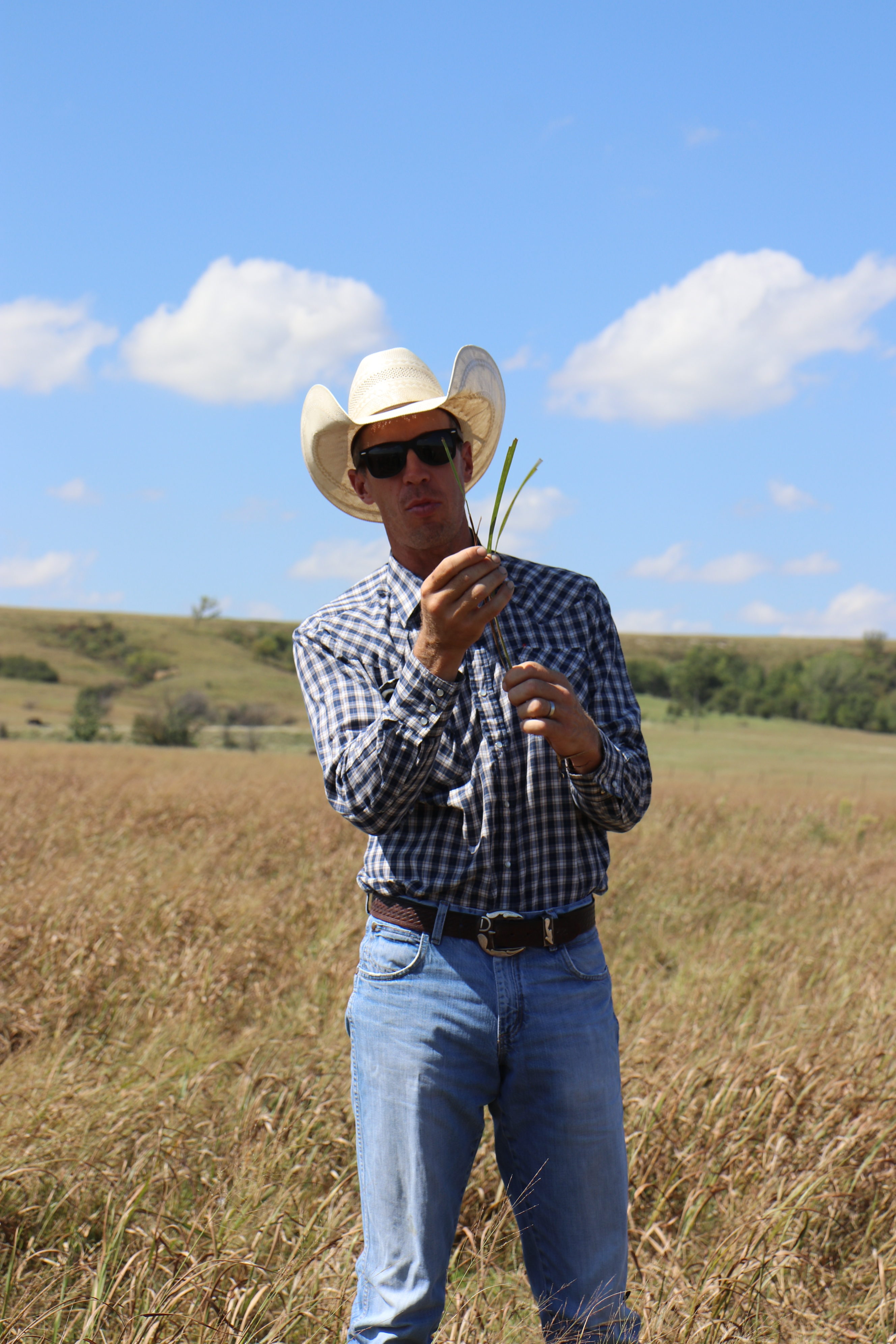 I stood at the pasture and took a moment to take in all the beauty of the Flint Hills.
And last but not the least:
Our Farm Food Tour organizers had saved the best for the last, at least for me. A vegetable farm. Yes please! Juniper Hills farm is run by Scott Thellman, who is a young, energetic, first generation farmer. I did a little poll on my Instagram that he looks like Roger Federer. What do you guys think, lol?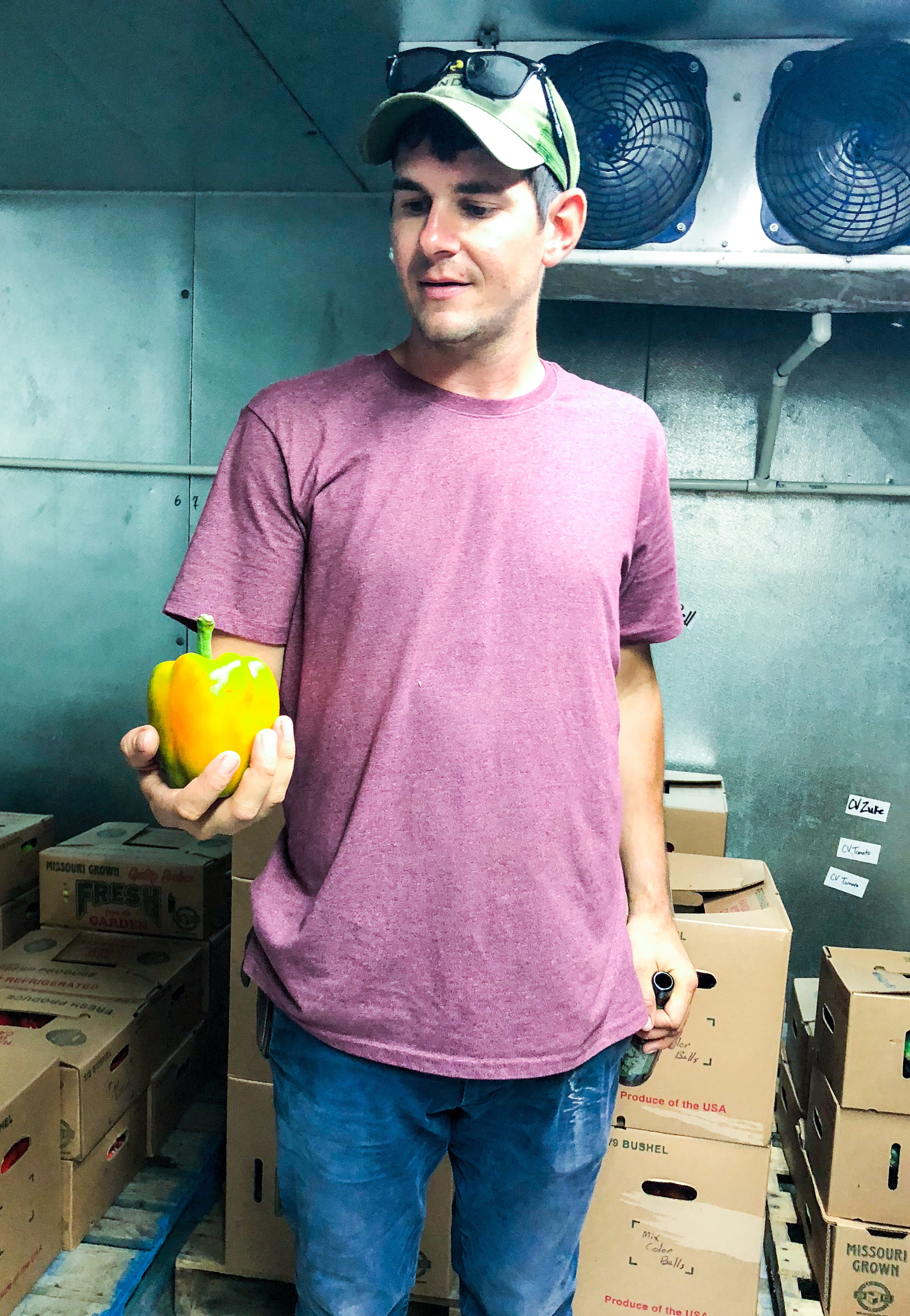 Juniper Hills is a farm after my own heart. They produce all kinds of organic vegetables that range from lettuce, greens, tomatoes, peppers to pumpkins and gourds. They also grow organic wheat.
View this post on Instagram
Scott was very upfront about the environmental and human health impact of our farming practices and advocated for organic and sustainable farming practices. He is a farmer who looks at farming as a business. His this way of thinking is different than all the other farmers that we met of the Farm Food Tour. For them farming is a lifestyle, it is what they are and what they love. Scott, on the other hand, I thought is an entrepreneur. Both kinds of farmers are INCREDIBLE!
We noshed on veggies grown on the farm and prepared by chefs from a local restaurant called 715. The food was amazing. If you are ever in the Lawrence area, go check them out.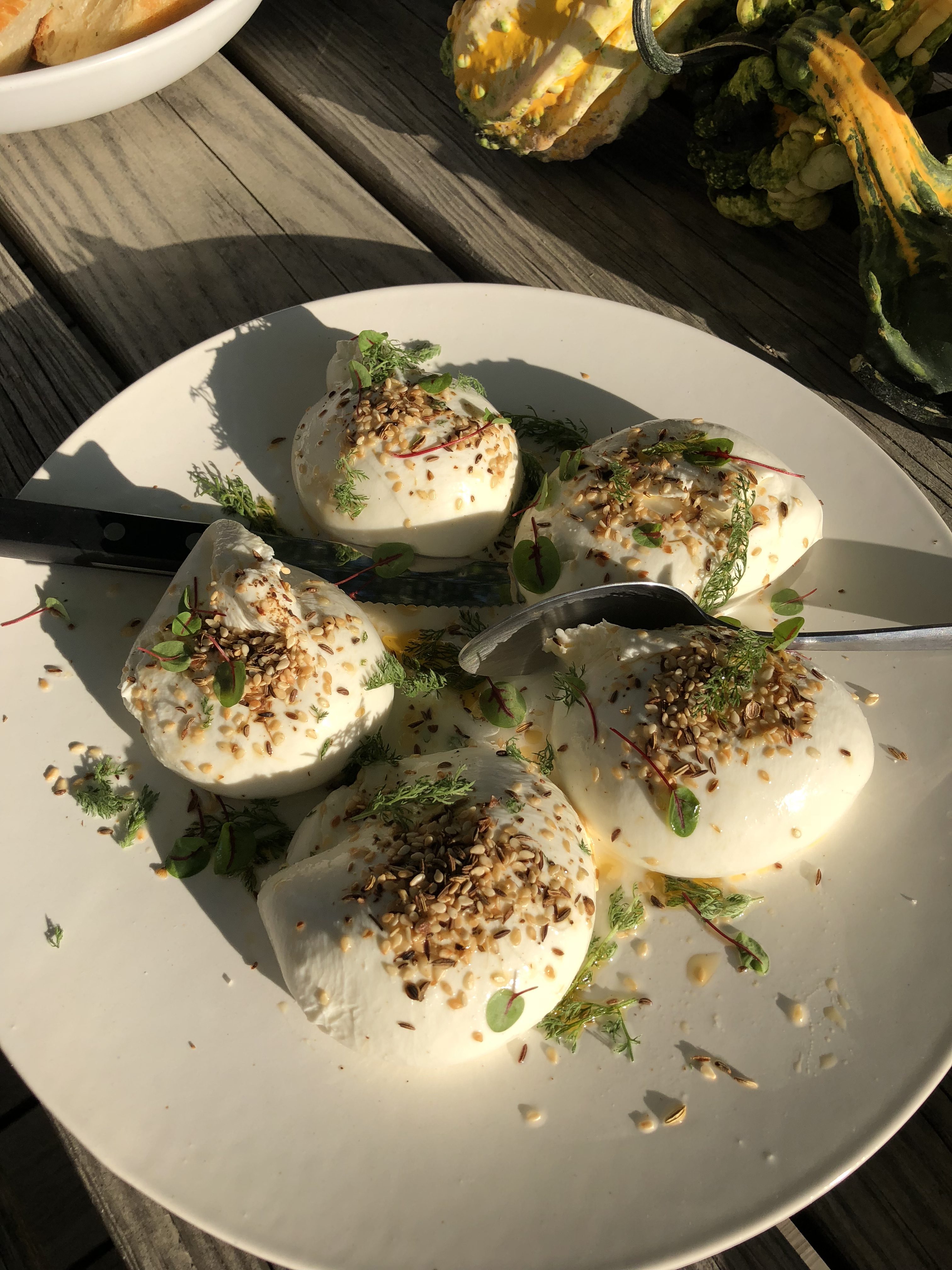 We fixed ourselves some wine, got on the "Veggie Bus" and toured the farm before sitting down for a real "Farm to Table" dinner on the porch.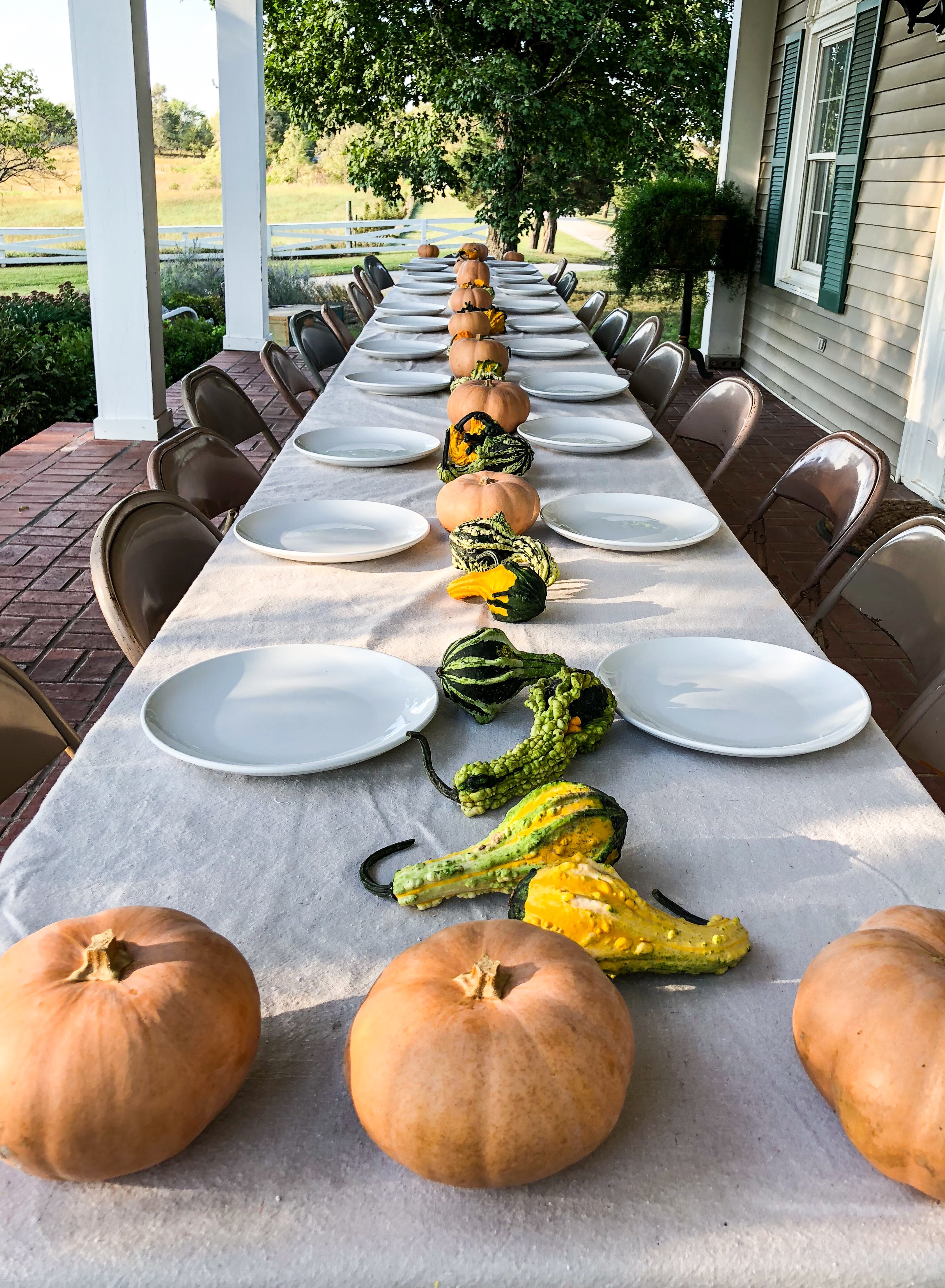 It was amazing and I plan to go back and meet Scottie sometime soon..:).
It was a great experience to be on Kansas Farm Food Tour. I am fortunate that I got to visit so many farms around this beautiful state where people are so friendly and welcoming. I learn a lot about where our food comes from and how amazing our farmers are and how hard they work. I am also very thankful that I got a chance to connect to the awesome ladies who were on the tour with me. They are all passionate about food in their own unique ways. Go check them out!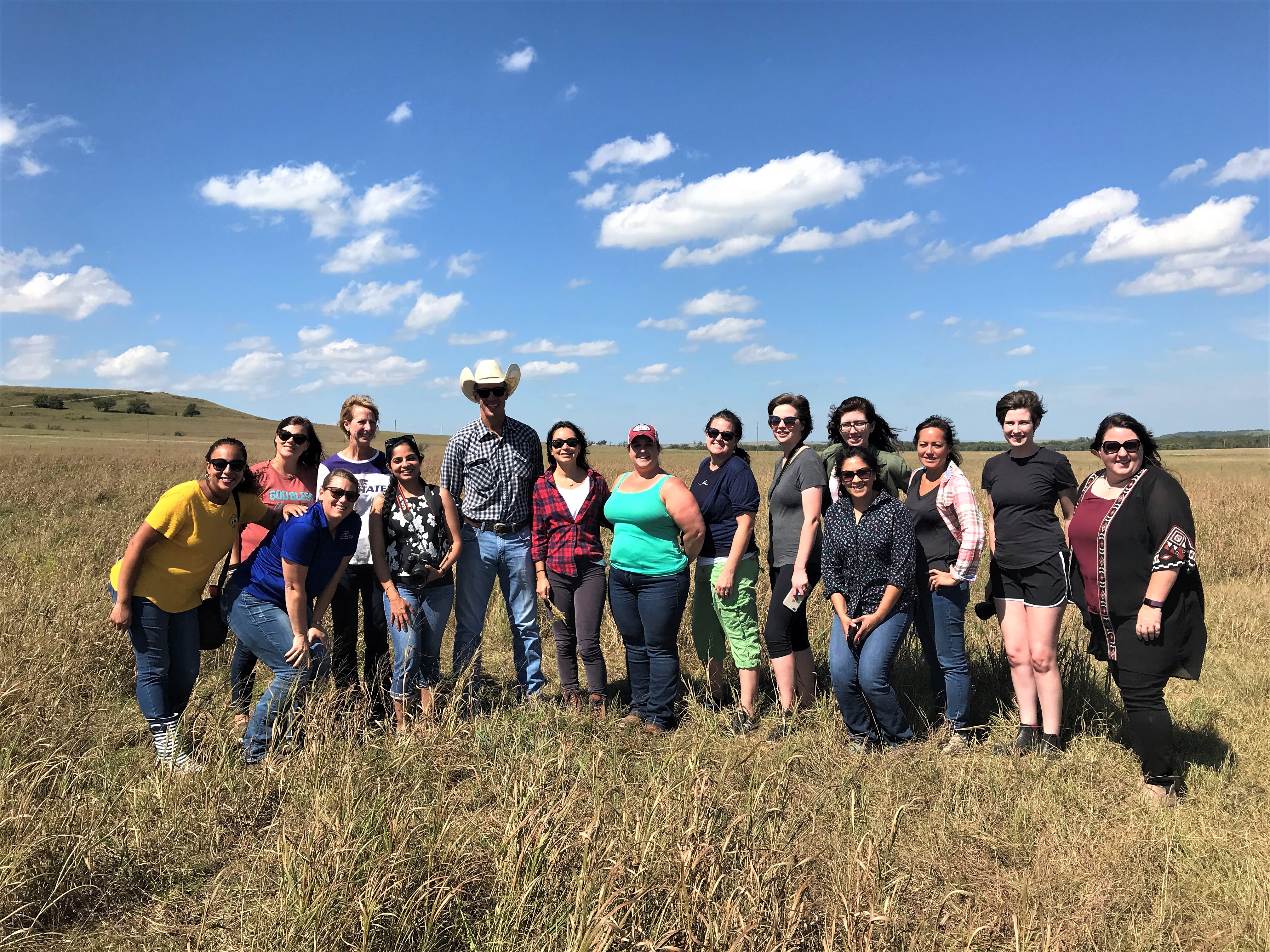 Anna-Marie at Beauty and the Beets
Jessica at A Farm Girl's Kitchen
Leanette at Funtastic Life
Lisa at Low Carb Yum
Madi at Mildly Meandering
Shashi at Savory Spin
Silvia at Garden in the Kitchen
Let me know what you think about this Farm Food Tour?
Love - Vaishali.