This Saag Paneer recipe combines the goodness of spinach and deep flavors of Indian spices with bites of luscious paneer. Made only in one pot that is Instant Pot and in a fraction of time as compared to the traditional recipe.
I know I am probably the last person on this planet to start talking about Instant Pot recipes. But, I have my reasons. First, I have grown up watching food made in Pressure Cooker, of all sizes and kinds. Second, I love my pressure cookers. I can use them to sauté, sear, and, of course, pressure cook. Thirdly, I love my Pressure Cooker..oh wait, I already listed that. But you get the point, right? I love and trust cooking with pressure cookers. So when the whole hoopla about Instant Pot started going around a few years ago, I was neither convinced nor tempted. You see, I am very very very conservative about adding unnecessary gadgets to my kitchen, where they take up precious counter and/or cabinet real estate. But this Instant Pot Saag Paneer Recipe might be a turning point in my life.
Jump to Recipe
There was a huge sale on Instant Pot on Amazon for prime day and though I am not usually keen on buying something just because it is on sale, this was an exception. One of my dear friends had bought a new house and I was looking for a present for her housewarming party. I thought getting her an Instant Pot might be a good idea. They are a young couple with busy lives, sure, they can make good use of this "world famous" kitchen appliance. And on a whim, I bought two - one for her, and one for us. You know, I thought why not? Plus, so many of you had requested Instant Pot versions of classic recipes on The Kitchen Docs. So, I bought my Instant Pot because of you…hah.
Instant Pot is here so what now?
I made Instant Pot version of my chana masala biryani the day I got it but forgot to take any pictures of the biryani, so I reckon that recipe will have to wait for another day. Today, we are going to talk about Instant Pot Saag Panner. I searched the mighty internet for some times for cooking greens in the instant pot and then armed with the information, got to work. The beauty of this recipe lies in two factors – one pot recipe and a major time saver. On a regular day, I would go back to my original Punjabi Paalak Paneer recipe but if you are in a time crunch and not wanting to compromise on deep and developed Indian flavors – you might want to try this Instant pot recipe.
This recipe takes away additional steps of blanching the spinach before blending it and then cooking the masala separately. Everything gets done in the Instant pot and that too in a fraction of time.
Recipe run down
We start with bhoonoing the masala (read about what is bhoono here)using the "saute" setting on the Instant pot. Once the masala is done, I dumped in the fresh spinach and pressure cook it for "0" minutes. The idea behind this time is just to develop pressure in the pot so the spinach steams and then release the pressure so that the greens are not overcooked and the color is not compromised. All the ingredients in the recipe are same as the original Punjabi Paalak/Saag Paneer recipe here. Then blend the spinach using a hand blender to get a consistency you like. Turn "saute" back on, dunk in the paneer (and cream if using), salt and finish with garam masala and kasuri methi. I used 1 batch of homemade paneer (recipe here) but you can also buy paneer at any Indian store or at Costco.
Here's your handy dandy printable
Instant Pot Saag Paneer
This Saag Paneer recipe combines the goodness of spinach and deep flavors of Indian spices with bites of luscious paneer. Made only in one pot that is Instant Pot and in a fraction of time as compared to the traditional recipe.
Ingredients
1

tablespoon

olive or avocado oil

2

green cardamom

2

cloves

1

teaspoon

cumin seeds

2

cloves

garlic minced or grated

1

green chili optional

1

medium onion chopped

about 1 cup

1.5

teaspoon

ginger minced or grated

1

tomato finely chopped

about ½ cup

1

tablespoon

coriander powder

½

teaspoon

cayenne powder

16

oz

fresh spinach

14

oz

paneer cubed

about 2 cups see notes

1

tablespoon

heavy cream

optional

½

teaspoon

garam masala

see notes

1

tablespoon

kasuri methi dried fenugreek leaves

Salt to taste
Instructions
Set your instant pot to saute on medium hot. Once hot, add avocado oil, cardamom, cloves and cumin seeds.

As the cumin seeds start to dance around, add garlic, green chili (if using) and chopped onions. Sprinkle a pinch of salt and mix. Adding salt pulls out the moisture from the onions and help them to cook faster.

Sauté for about 2 minutes before adding ginger, coriander powder and cayenne pepper (if using). Cook for another minute or so and add the chopped tomatoes.

Mix and cook until the tomatoes are cooked and oil separates from the masala. This will take around 2 minutes.

Add the spinach and lock the lid into position until you hear the jingle..:P

Turn the Instant Pot to "Pressure Cook" setting and set the timer to "0" minutes. Add about a cup of water and lock the lid in with the pressure valve set to "sealing" position.

It will take around 7-8 minutes for the pressure to build and the pressure disc to rise up. At this point turn the instant pot off and manually release the pressure by moving the pressure valve to "venting" position. Be careful while doing this as the steam coming out is very hot.

Open the lid and stir around the spinach and masala. Add salt and using a hand blender, blend it to a desired consistency. I like to keep my saag/spinach a little chunky so that some leafy texture remains, but if you like it more like a smooth paste, go for it. Be very CAUTIOUS while using the hand blender since the spinach is very hot (see notes).

Turn the instant pot to Sauté on medium heat. Add paneer and cream (if using) mix and cook for a minute.

Finish your Instant Pot Saag Paneer with garam masala and kasoori methi. Turn the instant pot to "Keep Warm" setting.

Give it a taste check and adjust salt, if needed.
Notes
Find the recipe of fresh, homemade paneer here.
I use homemade garam masala. You can buy it at all Indian store as well as regular grocery stores like Target, Walmart, Dillons etc. If you are buying it a regular grocery store, I would recommend buyiong only the McCormick brand.
I cannot stress it enough that you have to be very careful while using the immersion blender to blend the spinach masala. If you are not cautious the hot bubbling spinach can hurt you. You can also wait for the spinach to cool down a bit and then blend it in a regular blender or with a hand blender. This would, of course, change the total time of the recipe.
Find the stove top recipe of this saag paneer/Punjabi paalak paneer here.
Make this recipe vegan!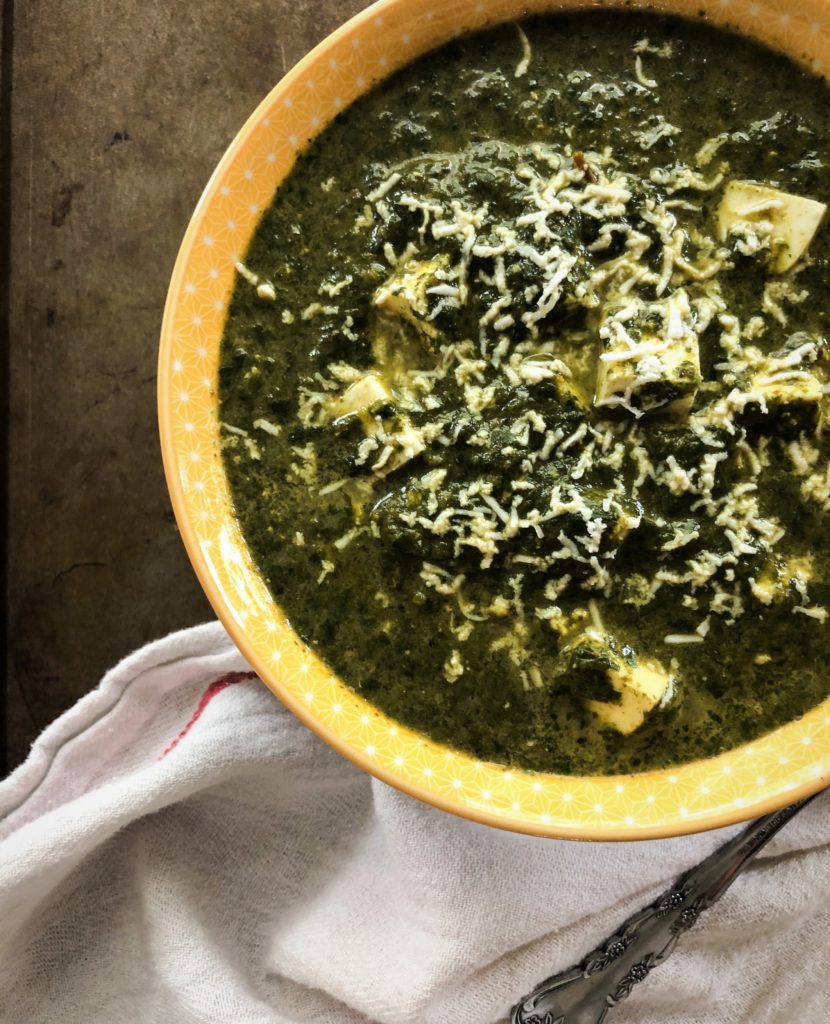 You can easily make this recipe vegan by skipping the heavy cream and using tofu instead of paneer. Easy Peasy!
Three other recipes with similar ingredients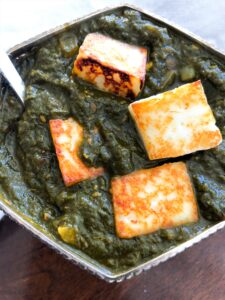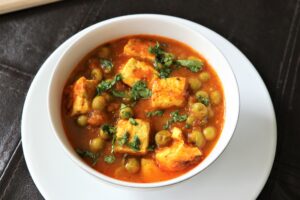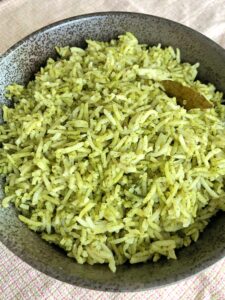 Tools used:
Did you make a recipe from TKD? Tag @thekitchendocs on Instagram. I WANT TO SEE!
Love - Vaishali