Happy new week everyone. This chana masala biryani recipe is a post that I planned for Meatless Monday and I am determined to post it while it is still Monday in some part of the world. Can we quickly talk about Meatless Monday, please? It is a global movement that started in 2003 that comes with a message to cut meat from your diet for one day in a week. Meatless Monday has become a phenomenon worldwide with more than three dozen countries supporting the idea. The idea is, essentially to cut your carbon footprint while improving your health. Yours truly became a Meatless Monday contributor few weeks ago. Some of TKD's Meatless Monday recipes include Quinoa Lentil Salad (recipe here), Asparagus Tart (recipe here) and Roasted Red Pepper Gouda Soup (recipe here).
Jump to Recipe
You all know how much I love rice. Mostly, because it's a quick, easy side dish and takes up the taste of whatever you are eating with it. Add a bunch of healthy ingredients and you have revamped rice in a healthy way. While most rice dishes are quick, biryani is a whole different story. A traditional biryani (as I have explained in this post) is an elaborate dish with a long list of super flavorful ingredients. I have shared with you vegetable biryani inspired pulao recipe here. To amp up the protein value of vegetable biryani, I thought of doing a vegetarian version of biryani with chickpeas or chane instead of vegetables.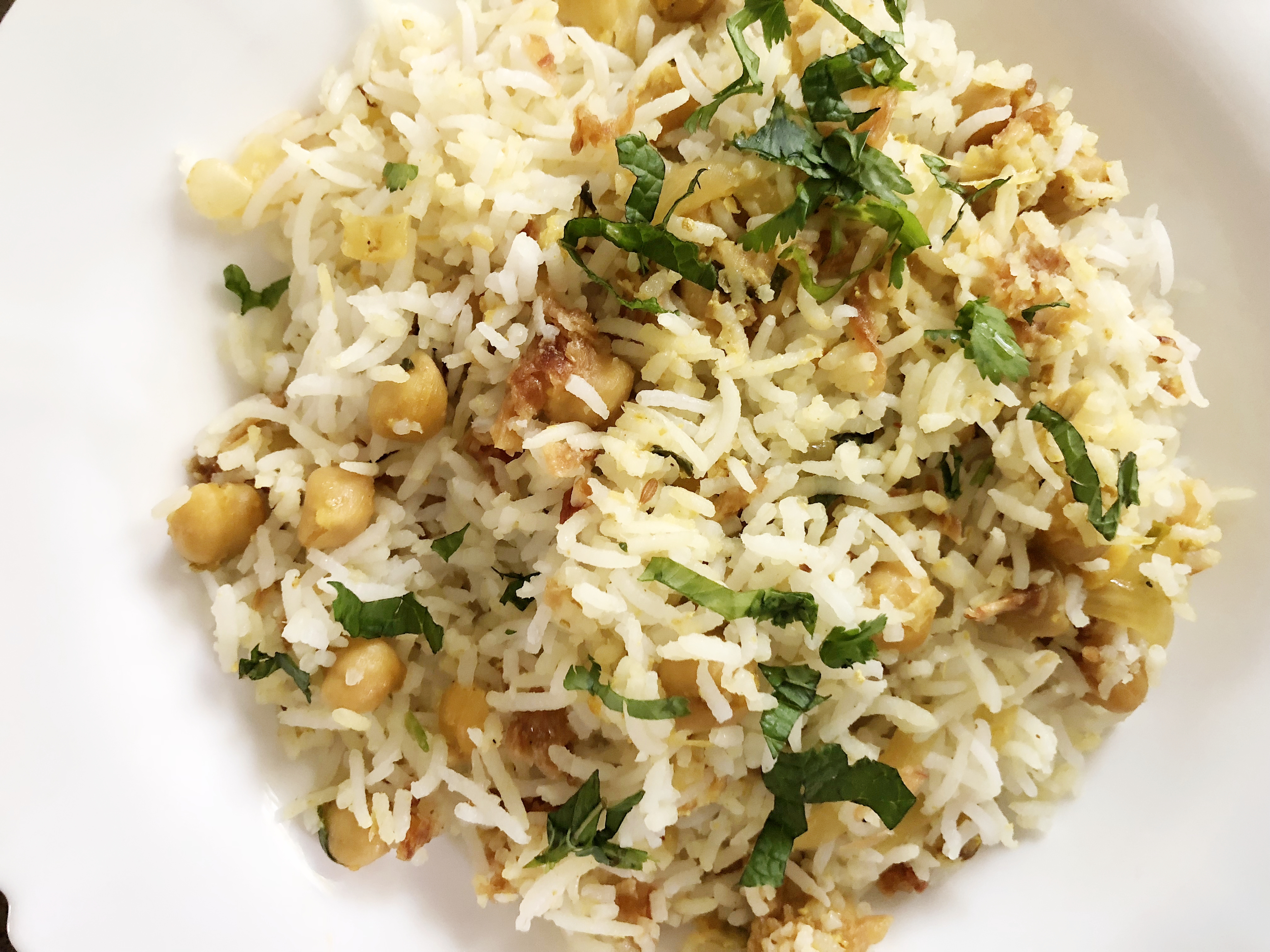 With the addition of chickpeas into this rice dish, I'm happy to sit down with a bowl of chana biryani with some cucumber and tomato raita drizzled over it and call dinner done. You can consider this recipe almost semi-homemade. Two major time consuming steps in this recipe would be to fry the sliced onions till crisp, and to cook the chickpeas or chana. I have taken shortcuts to both these. Use of canned chickpeas in this chana biryani recipe along with using store bought fried onions is a big time saver. Most Indian/Asian stores carry fried onions or you could also use the french style fried onions that you can buy in a regular grocery store.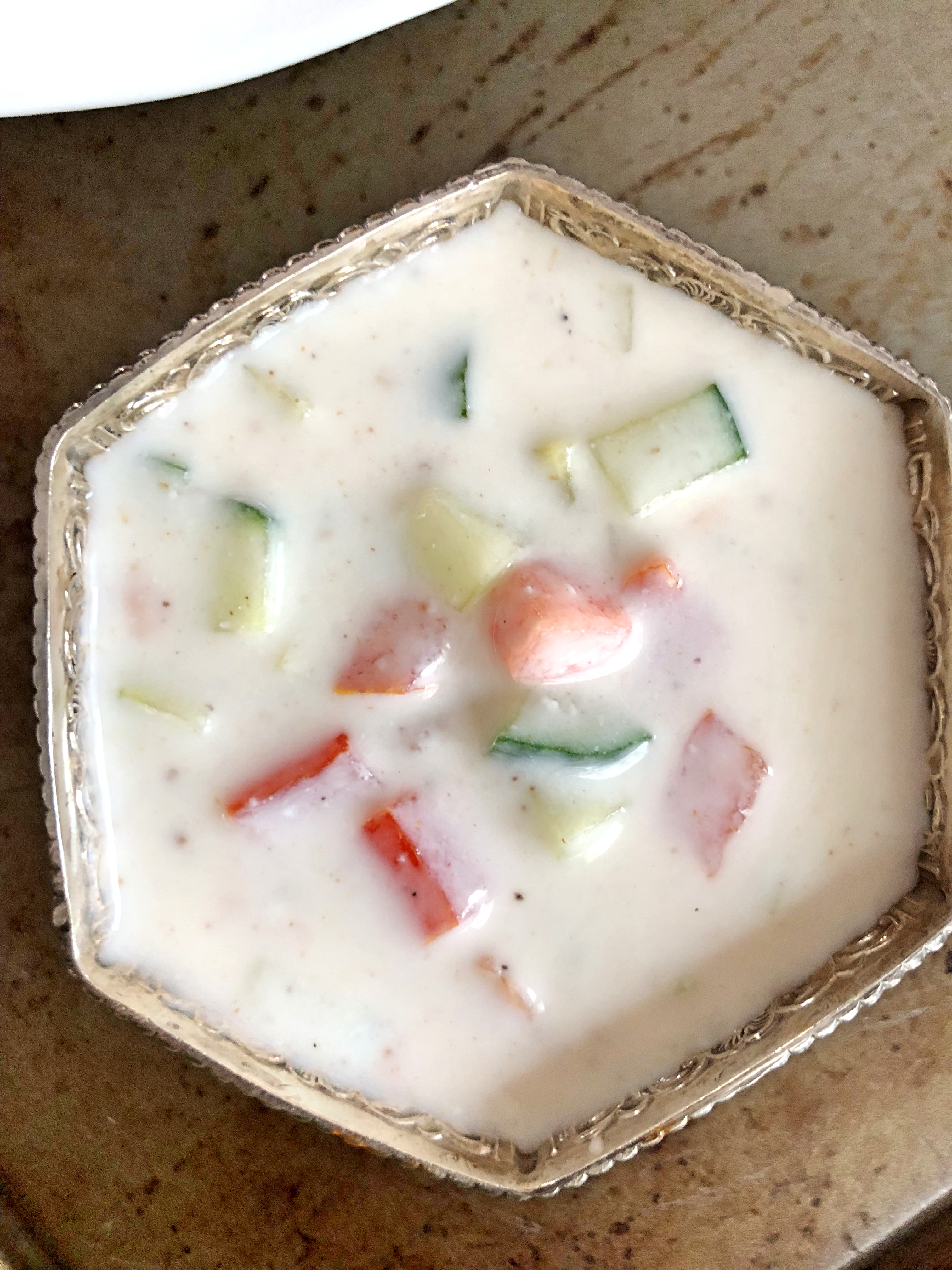 Major steps of the recipe involve soaking the rice and then partially cooking them, making the chana masala and then layering the two and cooking on dum (very low heat) for 15-20 minutes to let the flavors deepen. This chana masala biryani definitely requires some labor but the results are out of this world. Drizzle with ghee (recipe here) and serve with raita (yogurt with vegetables). One bite and you will be transported to a warm, spicy, and earthy food heaven.
Here is a handy printable: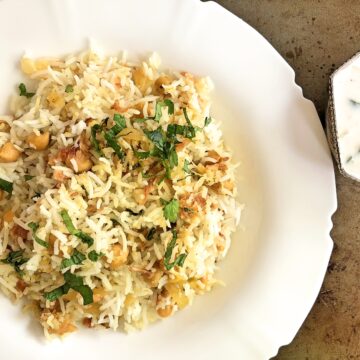 Chana Masala Biryani with Cucumber Tomato Raita
Chana masala biryani is an unusual flavor combination of chana masala layered with aromatic basmati rice along with warm and earthy spices. A dance party for your taste buds!

Ingredients
1.5

cup

Basmati Rice

rinse and soak for 30 mins

2.5

cup

Cooked Chickpeas

(Garbanzo beans/ Safeid Chane), See Notes

3

tablespoon

Ghee/Olive oil

divided (2+1)

3

Green cardamoms (hari elaichi)

divided (2+1)

3

Cloves (laung)

divided (2 +1)

½

inch piece

cinnamon (daalchini)

2

teaspoon

cumin seeds

divided (1+1)

2

Bay leaves

1

tablespoon

minced or grated ginger

1

tablespoon

minced or grated garlic

1.5

cup

Sliced onion

about 1 big onion

2

green chilis

slit lengthwise (optional)

½

teaspoon

turmeric powder

¼

teaspoon

red chili powder

optional

2

tablespoon

coriander powder

1

teaspoon

cumin powder

1

teaspoon

garam masala powder

½

cup

chopped cilantro

½

cup

chopped mint leaves

1

cup

yogurt

See Notes

2

tablespoon

raisins

optional

2

tablespoon

cahews or almonds

optional

Salt to taste

A

pinch

saffron

2

cups

Fried Onions

See Notes
For Cucumber and Tomato Raita
1

cup

yogurt

¼

cup

milk

or as needed

1

cup

diced cucumber

½

cup

chopped tomato

1

teaspoon

sugar

¼

teaspoon

roasted cumin powder

¼

teaspoon

garam masala

Salt

to taste

Fresh crushed black pepper

to taste
Instructions
Rinse and soak the rice for 30 minutes

To make Chana Masala Biryani
Set a heavy bottomed wide pan/skillet on medium high heat. Add ghee/oil and heat till shiny. Now add 1 teaspoon cumin seeds, 2 cardamoms, 2 cloves, bay leaves and cinnamon stick. Add ginger, garlic and cook till the raw smell goes away, about a minute.


Add the sliced onions and slit green chili (if using). Add a pinch of salt and let the onions sweat down for a minute or two.


In the meanwhile, set a big pot of water to boil on high heat, about 6-7 cups. Drizzle some oil into the water along with salt, 1 teaspoon cumin seeds, 1 cardamom and clove. *See Notes


Soak saffron in ¼ cup of warm water in a small bowl.


Add all the dry spice powders to the onions, mix and cook for a minute. Now add half a cup of yogurt and cook for 2-3 minutes.


After cooking down the yogurt, add raisins and nuts (if using) along with half the cilantro (¼ cup) and mint (¼ cup). Mix everything and add cooked (or canned) chickpeas along with salt. Cover and let cook for 5-10 minutes. Turn the heat off and set aside. Your chana masala is ready.


Drain the soaked rice and add to the boiling water. We want to cook the rice to 60-70% doneness, almost al-dente. Since the rice have already been soaked, it should not take more than 3-4 minutes to cook the rice to that level. You do not want to overcook the rice. After 3-4 minutes, check a grain of rice. It should still have a bite to it and not be mushy. Drain the cooked rice and set aside. (Fish out the whole spices if you can).


Take a deep pot (think dutch oven). Add remaining one tablespoon ghee/oil and swirl around. Take half of the prepared chana masala and add to the pan. Add remaining half cup of yogurt, more salt if needed and cook for a minute. Turn the heat to lowest setting of your stove, a very mild simmer. Spread the mixture to cover the bottom of the pan and sprinkle half the fried onions.


Layer the chana masala mixture with half of the cooked rice and remaining chana masala mixture. Sprinkle remaining half of the fried onions and cover with remaining rice.


Now sprinkle remaining cilantro and mint followed by a drizzle of saffron water. Cover the pot with a tight fitting lid and let the biryani cook for 15 minutes. (See Notes)


After 15 minutes, use a long stemmed soon and gently fluff through biryani layers to mix them. Serve hot with raita (recipe below).

To make Raita
Whisk the yogurt with milk to desired consistency.


Add sugar, cumin powder, garam masala, salt and pepper. Give a taste check to adjust seasonings if needed.


Add the cucumber and tomato and serve cold with biryani.

Notes
Find ghee recipe here.
If using canned chickpeas, make sure to drain and rinse them well.
To make this recipe vegan, use olive oil instead of ghee and dairy free yogurt/coconut cream.
Use store bought fried onions from Indian/Asian grocery store or french fried onions available in a regular grocery store (the ones you would use with green bean casserole). To make them at home, fry three-four cups of sliced onions in hot oil till crisp.
Make sure to season the water for boiling rice adequately with salt. You do not want to work so hard and end up with an under seasoned biryani.
The layered biryani can also be put in the oven to give it "dum". Use an oven proof pan, layer the biryani and set in 325 degree F oven for 15 minutes.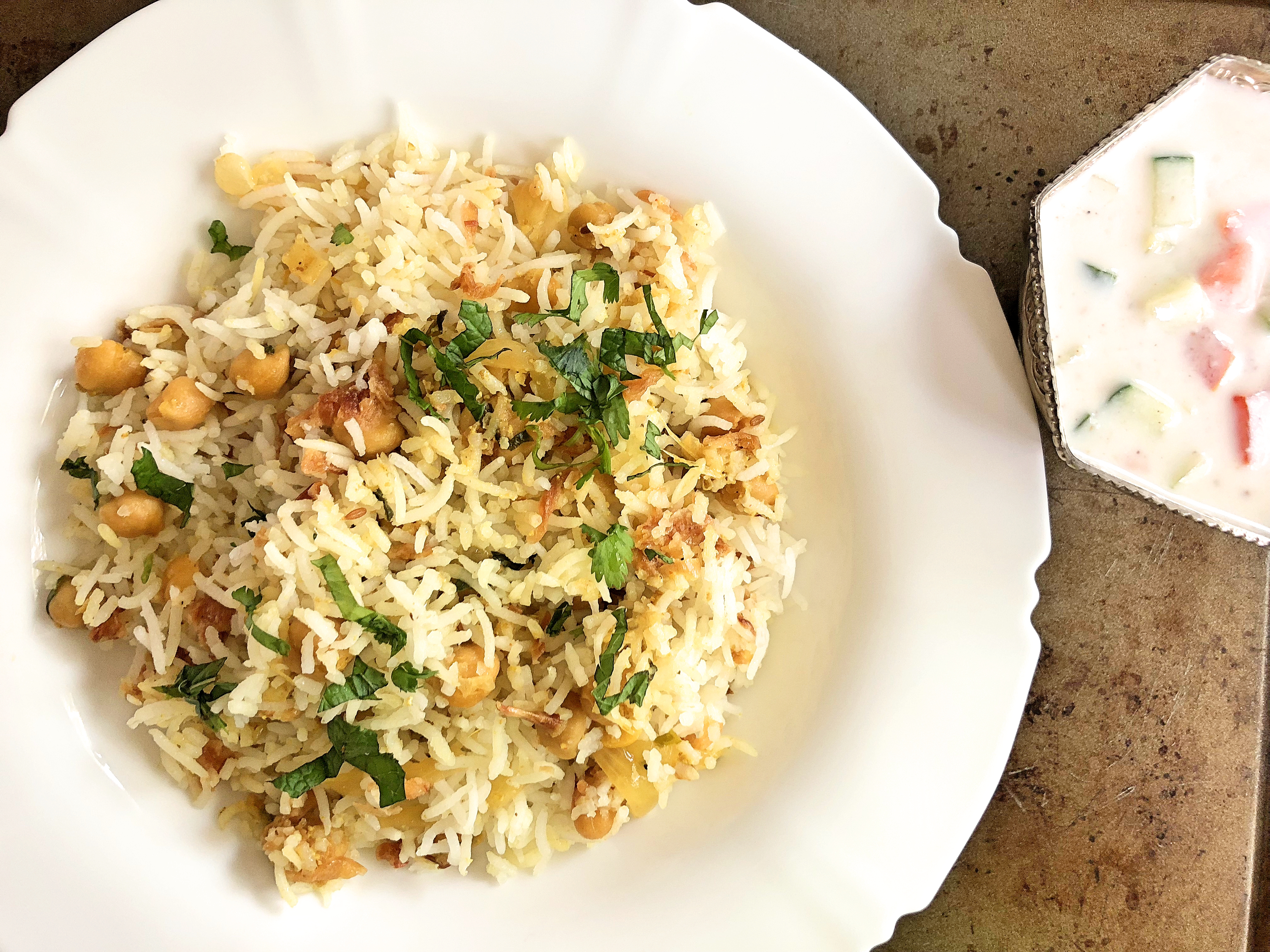 Meatless Monday or not, this recipe is sure to vow. Make it for yourself or for company and Enjoy!
Love - Vaishali.
Other Biryani recipe:
Vegetable Biryani Inspired Pulao
Tools Used:
Measuring Cups:
Measuring Spoons:
Colander:
and Spatula