In our family, we love ourselves some tacos – veggie, chicken or fish. What's not to love about a taco? Every bite is perfect, with deliciousness that lingers in your mouth. We normally do a taco bar at home and everyone gets to pick what and how much to add to their corn tortillas that are warmed on a direct flame. Yumminess.
I had never tried making tostadas at home before. So one evening when tacos were on menu and chicken was already cooking away in the crock-pot, I realized that we were out of corn tortillas. Now, I normally plan our weekly menu and grocery list over Saturday night or Sunday morning and then go grocery shopping sometime Sunday afternoon. Somehow those sneaky corn tortillas slipped out of my grocery list. Or maybe the tostadas were planning to intrude our household. Who knows…but I rushed to the grocery store to buy some corn tortillas. And I spotted these crisp corn tostadas sitting right by the corn tortillas. Something on the tostada package caught my eye – it said "Caution – Fragile, handle with care". I was so amused by it, that I picked the tostadas instead of our regular corn tortillas. I must say that the tostadas are a keeper. All the delicious taco fix-ins on crunchy tortillas. It is like having a big nacho for dinner. We are definitely keeping this recipe in our weekly menu binder on rotation. I certainly hope you will enjoy it too.
Ingredients (What it took for our family of four):
Chicken breasts – 2 large
Black beans – 1 can, drained and rinsed
Corn – 1.5 cup (I used frozen)
Tomatoes with chilies – 1 Can (I used RoTel, use fresh – 1 big tomato + 1 serrano pepper)
Cumin powder – 1 tablespoon
Chili powder – 1 teaspoon
Taco seasoning – 1 tablespoon
Salt – 1 teaspoon
Lime juice – from half a lime
Tostada shells -8
Monterey jack cheese – 1 cup, grated
Guacamole – 1 batch (recipe here)
Pico de gallo – 1 batch (recipe here)
Other fresh toppings (optional) – chopped tomato, chopped red onion, avocado, jalapeño pepper, chopped cilantro, lime wedges.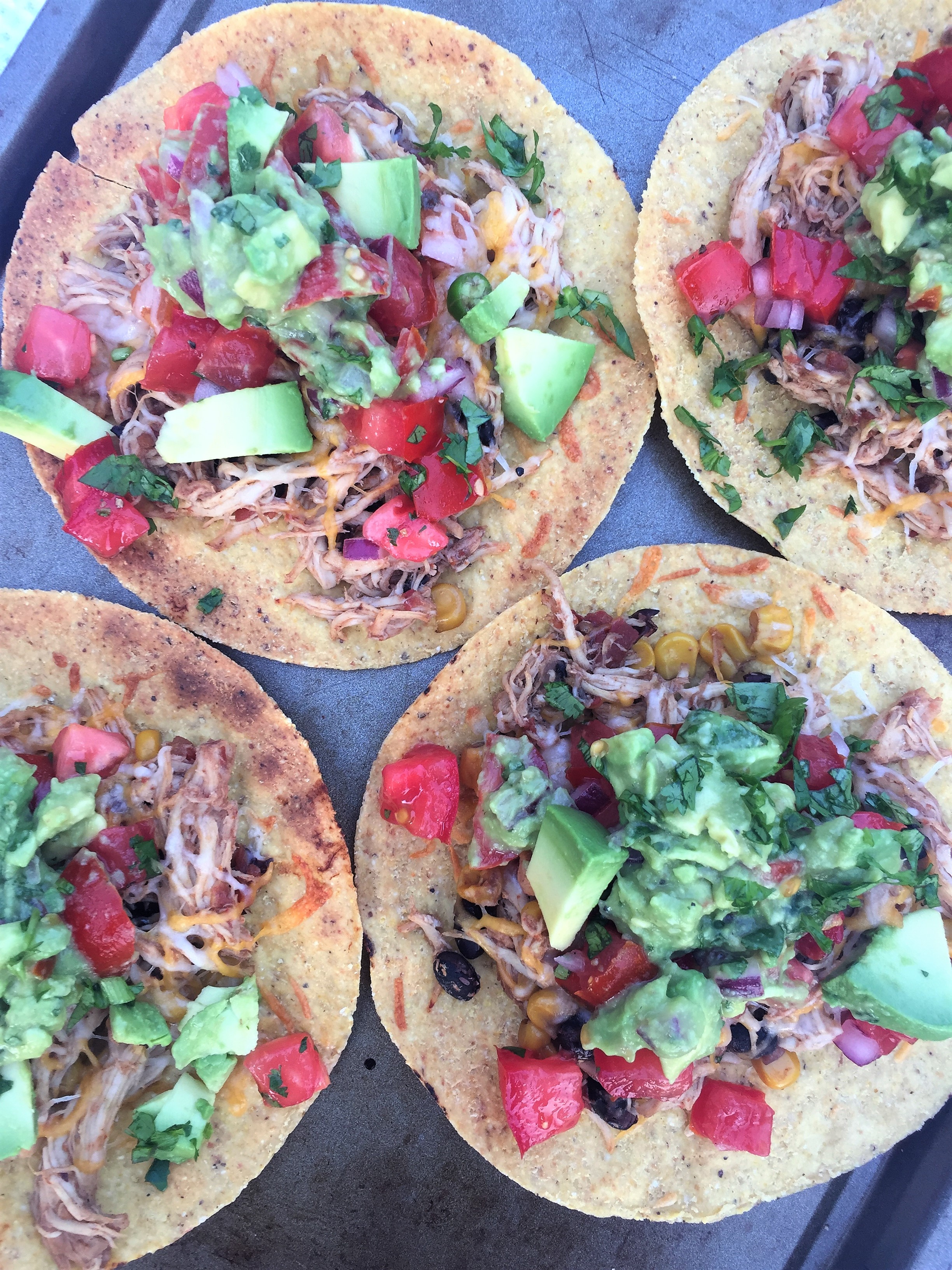 Method:
In a slow cooker, combine the chicken, beans, corn, tomatoes, spices, salt, and lime juice. Cover and cook on low for 6 hours, or high for 4. Once it's cooked, shred the chicken with a fork and keep warm in the slow cooker.
If you do not have a slow cooker, you can use cooked (grilled, pan roasted, rotisserie, poached, or pressure cooked) and shredded chicken, toss with all other ingredients that we put in the slow cooker and warm on medium low heat in a skillet on your stove. Will work in a pinch.
Make guacamole and pico while your chicken is keeping warm. Preheat the oven to broil. Lay four tostada shells on a cookie sheet and using tongs, place as much chicken on each tostada shell as your heart desires. Top with cheese and place the cookie sheet into the oven and broil until the cheese is melted, just a minute or two.
Once out of the oven, layer with guac, pico and other toppings of your choice. Serve and Repeat!!
Love – Vaishali.
Tools used:
Slow cooker/Crockpot
Tongs
Fork
Can opener
Knife and chopping board
Cookie sheet + Oven
Measuring cups and spoons