Turmeric Keto Cauliflower Rice, almost keto that is! Easy, low carb side that goes well with any meal. A one pot 15 min recipe. Vegan, Glutenfree, Grainfree and Nutfree Recipe
Cauliflower's versatility is often talked about. In Indian cooking it is usually consumed as dry side dish preparation, mostly Aloo Gobhi (recipe here) for me. In Punjab, the state I am from, gobhi ke paranthe or whole wheat flatbread stuffed with cauliflower is another popular way to enjoy cauliflower. Punjabi version of Keto Cauliflower rice is popularly called gobhi kutra, which literally translates into grated cauliflower. So much before the West's love affair with this low carb, cruciferous beauty, cauliflower rice was a thing in India..ha ha.
Jump to Recipe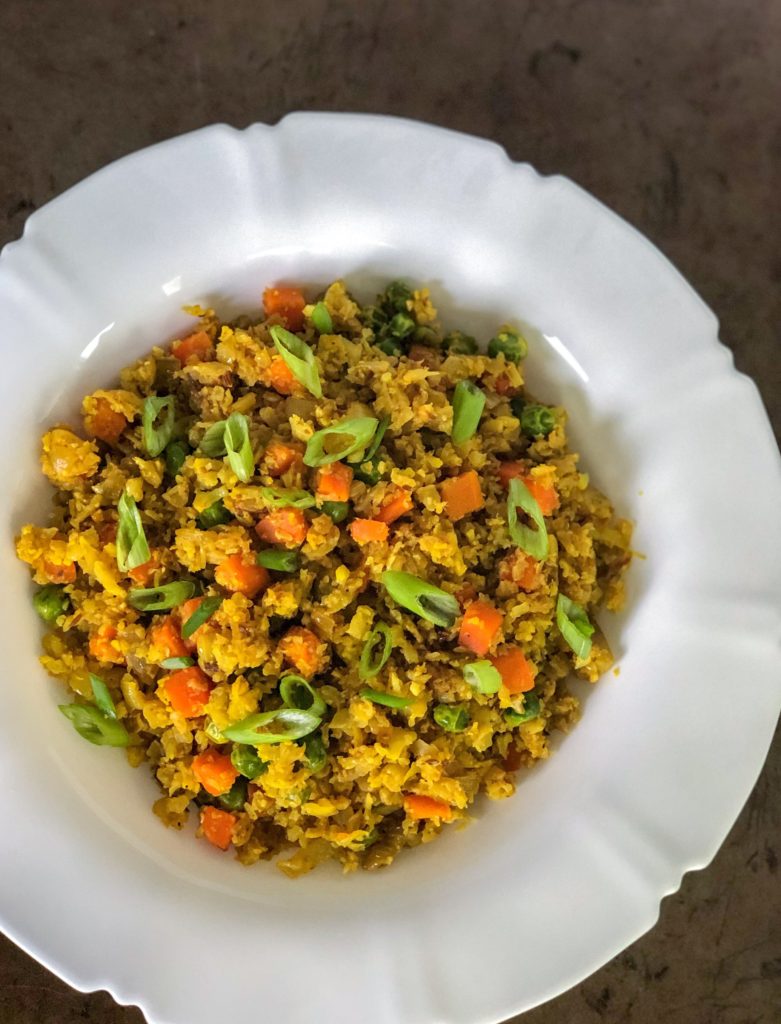 Using cauliflower is a great way to get more vegetables into your diet. Even if you're not following a keto diet or avoiding carbs or grains. Cauliflower is mostly water and is very low in carbs and fats and has a negligible protein value. So it is overall a great vegetarian option to serve with some sort of protein.
Turmeric Keto Cauliflower Rice or Gobhi Kutra
If I tell my mom about my recipe of these keto cauliflower rice, she will give me her "look" and say that it is gobhi kutra and that I am complicating things…lol. I have written about how eating seasonal is deeply rooted in Indian cuisine (read about it here and here) and cauliflower is a cold or winter season crop. So, in those cold, winter months whenever we would get tired of eating aloo gobhi and gobhi paranthas, my mom would make gobhi kutra. Usually, gobhi kutra is served as a vegetable side dish with lentils and chapati. You must be thinking – CARB OVERLOAD..lol. Yup, that's how we roll in Punjab…ha ha.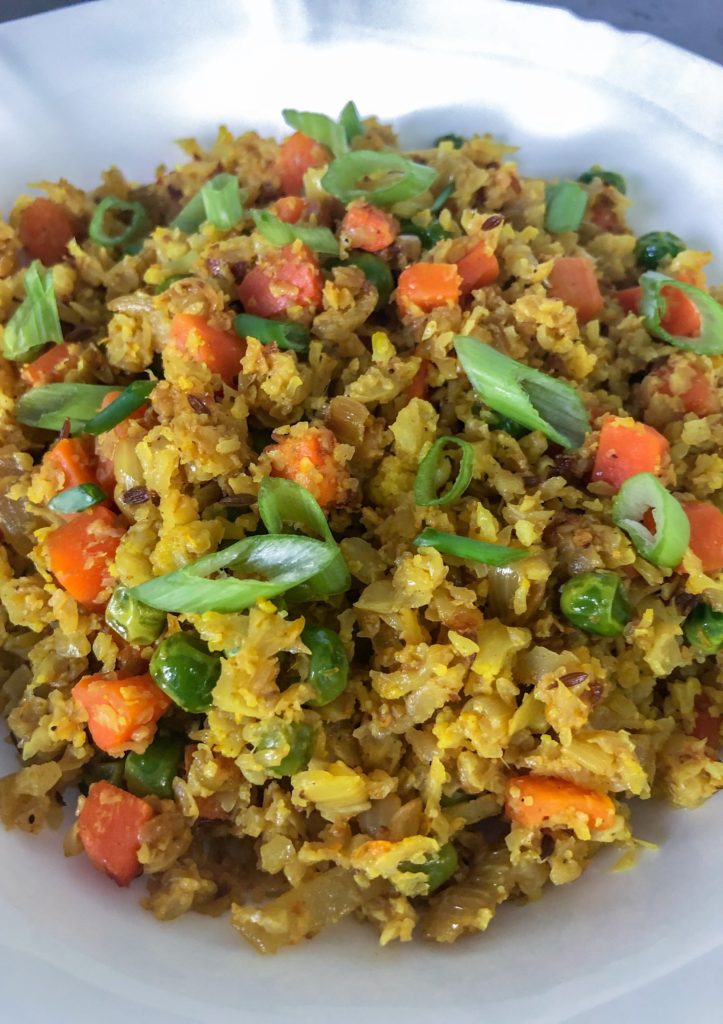 Gobhi Kutra usually has ginger garlic and onion masala with turmeric and other Indian spices (read all about Indian spices here). My mom adds green peas to it to add some color and freshness. I have added my own little touches and twists to her recipe and I am calling it Turmeric Keto cauliflower rice but in all truthfulness it is Gobhi Kutra…:P
Recipe Run Down
You can start with making your own cauliflower rice by using a food processor or a box grater. Grocery stores also carry riced cauliflower in the frozen section and it is a great time saver. I "rice" my cauliflower using the biggest grate size on my box grater because I am old fashioned that way..hah! I use a large skillet for making cauliflower rice. It does not have to be non-stick but I recommend a heavy bottomed skillet nevertheless (I use my trusted Scanpan). A wide skillet ensures a large surface area so that the "rice" can cook in a single layer and not end up being mushy. If you are making this recipe keto, I recommend using avocado oil or extra virgin olive oil. The amount of fat used will also depend on your choice of skillet.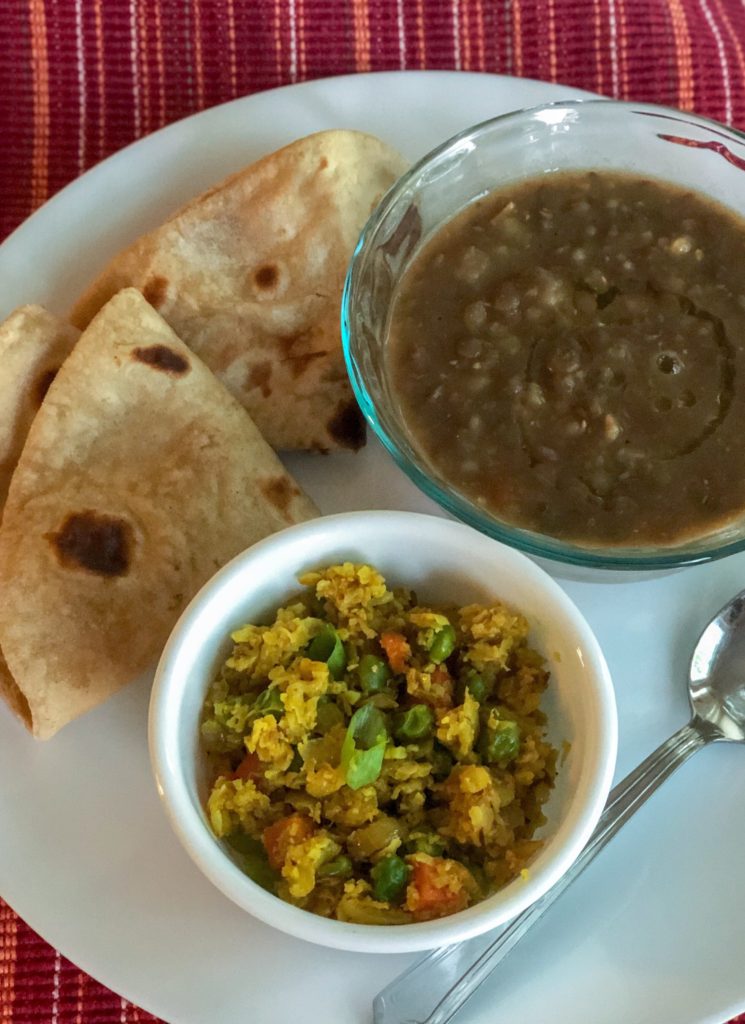 Heat the oil to medium high heat and add the ingredients as given in the recipe below. Cook on medium high heat, uncovered for 7-8 minutes and your rice will be ready. It is important not to cover the pan because this will make the rice cook faster and it will get mushy. And no one likes mushy rice! If you are following a strictly keto diet, you might want to skip carrots and peas as these are relatively higher in carbs.
It is optional to use green chilies if you want to serve this as "rice" and not a side dish. Same is true for garam masala. I finish my Turmeric Keto Cauliflower Rice with a squeeze of lime, some chopped cilantro and scallions. As always, these recipes are guidelines and I want you to feel free to play with ingredients (in a safe zone..:)) and make them your own.
Here's your handy dandy printable:
Turmeric Cauliflower Rice or Gobhi Kutra
Turmeric keto cauliflower rice is an easy side dish to go with any of your meals, a low carb, gluten free, grain free and delicious alternative to rice. A one pot, 15 minute recipe.
Ingredients
1

tablespoon

avocado or extra virgin olive oil

1

teaspoon

cumin seeds

1

clove

garlic minced

½

teaspoon

green chili optional

½

cup

onions chopped

1

teaspoon

ginger minced

½

teaspoon

ground turmeric

½

tablespoon

coriander powder

1

cup

carrots and peas frozen optional

3

cups

riced cauliflower

¼

teaspoon

garam masala optional

½

lime juiced

4-5

sprigs cilantro leaves stripped and chopped

2

scallions green parts chopped
Instructions
Set a heavy bottomed skillet on medium high heat, add the oil and wait until it is nice and shimmery.

Add the cumin seeds and wait for them to splutter. Now add garlic and green chili (if using). Add the turmeric powder and mix.

Add the chopped onions and a pinch of salt. Salt pulls out the moisture from the onions and they cook faster. Cook for 30 seconds.

Now add the ginger and cook until the raw smell of ginger goes away, about 30 seconds to a minute.

Add the coriander powder, give it a stir and add frozen carrots and peas. Cook for a minute or two. If not using carrots and peas move to next step.

Add the riced cauliflower followed by salt and pepper to taste and cook, uncovered for 7-8 minutes, stirring occasionally. See notes.

Finish your turmeric keto cauliflower rice with garam masala, a squeeze of lime and chopped cilantro and scallions.

Serve immediately with curry, in a buddha bowl, as a side or with pretty much anything that you serve rice with.
Notes
Don't cover the pan. This will make the rice cook faster and it will get mushy.
If you are on a strict keto diet, you might want to skip carrots and peas.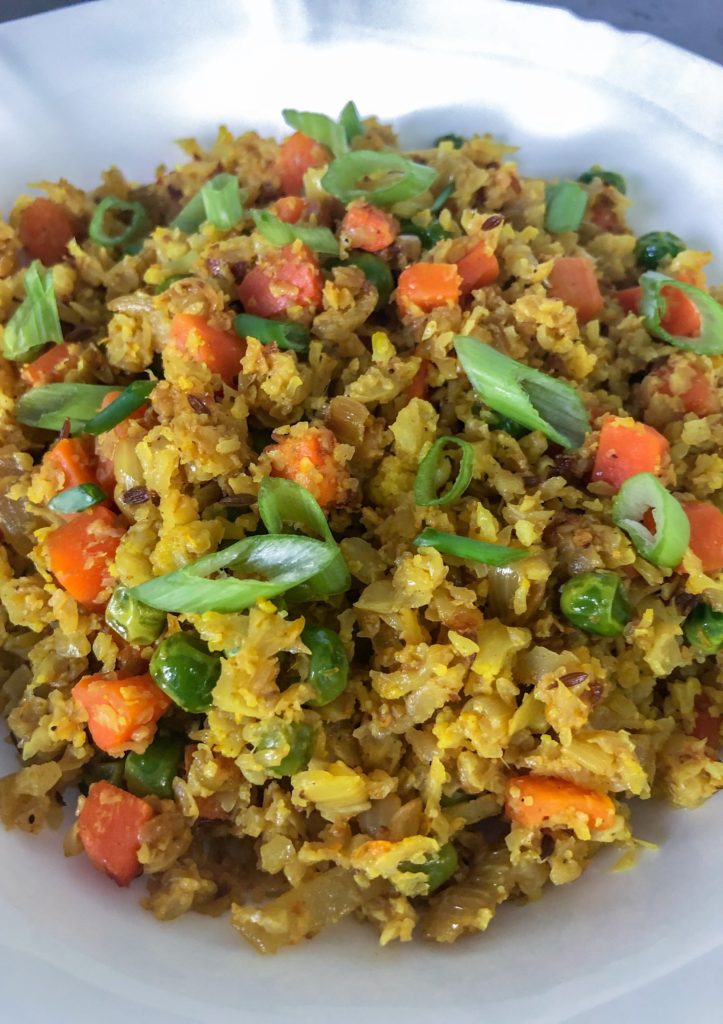 I hope you give these Turmeric Keto Cauliflower Rice a try and if you do, please consider rating the recipe using stars in comments. I love hearing from you and your ratings help more people discover these recipes. Thank You.
Love - Vaishali.