These savory vegetable aebleskivers aka appe are a perfect bite size, almost pancake like, little balls of healthy snack goodness that are vegan and gluten-free.
Jump to Recipe
This post may contain affiliate links.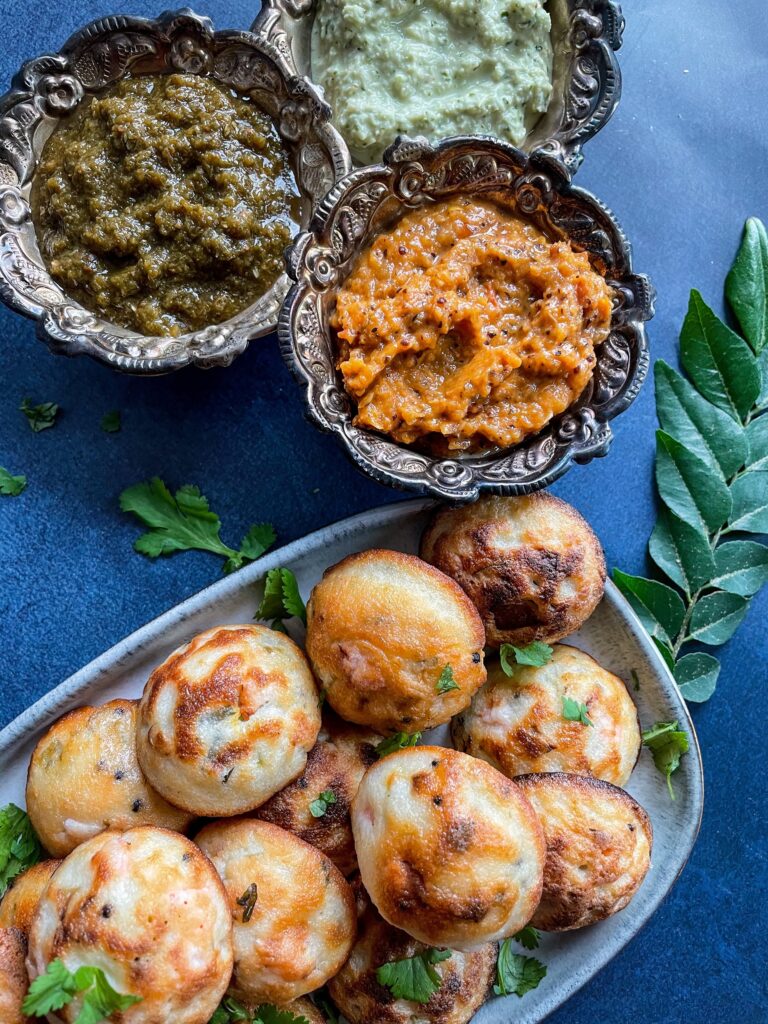 Howdy friends. It's been a while, hasn't it? After taking a much needed (and deserved) break during last week of Dec and few days of January, I knew Jan. 25th was coming at me like a fast moving train. I had a big deadline and I am so glad that it's behind me. As I settle back in the rhythm of teaching, doing research, being a remote schooling mama, cooking, and trying new things in the kitchen, I wanted to come here and say hi. And bring you this delicious recipe of Savory Vegetable Aebleskivers also known as appe or paniyaram in India.
One failed attempt leads to another success!
These Savory Vegetable Aebleskivers happened on a simple, slow Sunday morning. My failed attempt at fluffy idlis had left me some idli/dosa batter after making a batch of dosas with it. The batter is a mix of rice and lentils that are soaked and the ground into a thick paste. The oven light was no match for a cold midwestern night and my batter did not ferment, which means no soft and fluffy idlis happened. However, the entire family had their fill of delicious and crispy dosas made with the not-so-fermented batter. I still had some of the leftover batter that I wanted to use. So here we are!
Why make these?
Well, why not? If you are an idli fan, these Savory Vegetable Aebleskivers might come very close to change your heart from idli to these babies! Soft and fluffy within like idli and crisp on the outside like fried vadas (savory doughnuts made of lentil batter). So let me list the positives here: not deep fried, vegan, gluten free, lentils for protein, mixed veggies (your choice), finger food. Oh wait there's more: use up leftover dosa batter (or make fresh batch!), perfect for breakfast or snack, kids love it, and aren't these super duper cute? Wait until you hear the crunch of this perfect aebleskiver and then sink into the soft pillowy, idli-like center.  A dunk in your favorite chutney (mine is this coconut chutney) and a cup of this coffee is all you need.
If you don't have leftover idli-dosa batter, worry not. You can either buy it or make your own. The recipe is to use 3:1 ratio of rice to Urad daal (lentils). Soak it overnight or 6-8 hours and then grind the rice and daal separately with very little water. You then mix the two batters and let it ferment for another 12 hours or so.
Recipe run down
To make this healthy, vegan, gluten free and super fun appetizer you start with leftover dosa idli batter. Finely dice mixed vegetables of your choice - I used carrots, bell pepper and onion. Saute these in very little oil along with mustard seeds, curry leaves, and some salt and pepper. Mix the sauteed veggies with the batter. Heat a little bit of oil in each cavity of your Aebleskiver Pan. Drop spoonfuls of batter, cover and cook on medium low heat. Invert the aebleskivers and cook for a few more minutes until nice and crispy on the outside. Check the doneness by inserting a toothpick in one of the balls. Serve warm or at room temp with chutney of your choice (this coconut chutney is highly recommended).
Here's your handy dandy printable:
Savory Vegetable Aebleskivers (Appe)
These savory vegetable aebleskivers aka appe are a perfect bite size, almost pancake like, little balls of healthy snack goodness that are vegan and glutenfree.
Ingredients
2

cups

Idli Dosa Batter

homemade or store bought

½

cup

finely diced or grated carrots

½

finely diced green bell pepper

½

cup

finely chopped onion

1

tablespoon

olive oil

1

teaspoon

Mustard seeds

1

Green Chilli finely chopped

optional

1

sprig

curry leaves

leaves stripped and chopped

2

tablespoon

chopped cilantro

Olive oil for shallow frying

Salt and black pepper to taste
Instructions
Set a heavy bottom saute pan on medium high heat and add a tablespoon of olive oil to it. Once the oil is shiny, add the mustard seed and wait for them to start popping.

Now add the chopped carrots, green chili (if using) and onions. Cook for two minutes and then add bell pepper and curry leaves. Add salt, mix and turn off the heat.

Set an aebleskiver/appe pan on medium high heat and add ½ teaspoon of oil to each cavity. While the pan is heating up, add the veggie mixture to your dosa batter and mix.

Add salt to taste. Once the pan is hot, add about a tablespoon of prepared mixture to each cavity.

Cover with a lid and steam until the top gets cooked and the bottoms are brown and crisp, about 3-4 minutes. Once the top is steamed, open the lid and flip the balls using a chopstick. Cover and cook on the other side for another two minutes.

Take the aebleskivers out and put in a covered container. Repeat until all the batter is used up.

Transfer these savory vegetable aebleskivers/appe to a serving bowl and serve it along with chutney and this coffee for a hearty breakfast or snack.
If you make these Savory Vegetable Aebleskivers, please leave a comment and/or give this recipe a rating! I love to hear from you guys. And if you do make this recipe, don't forget to tag me on Instagram and Facebook! I love to look through your creations!!
Love – Vaishali
Key Recipe Tools:
Pan: