A delicious and refreshing twist on a classic, this rose coconut ladoo recipe is so easy that you will be tempted to make it for every special occasion.
Jump to Recipe
From Navratri to Karvachauth to Halloween to Diwali...it's all a blur. This festival season began with a bang and is passing by like a bullet train. As much as I love celebrating each and every festival, it does get crazy during this time of the year. Especially when Diwali rolls around. It is my favorite (though Holi is equally dear to me) time of the year and I love to create all the desserts that remind us of home. I was looking at my 3-ingredient coconut ladoo recipe the other day and started playing around with flavors in my head to give it a new twist. Hence this Rose Coconut Ladoo.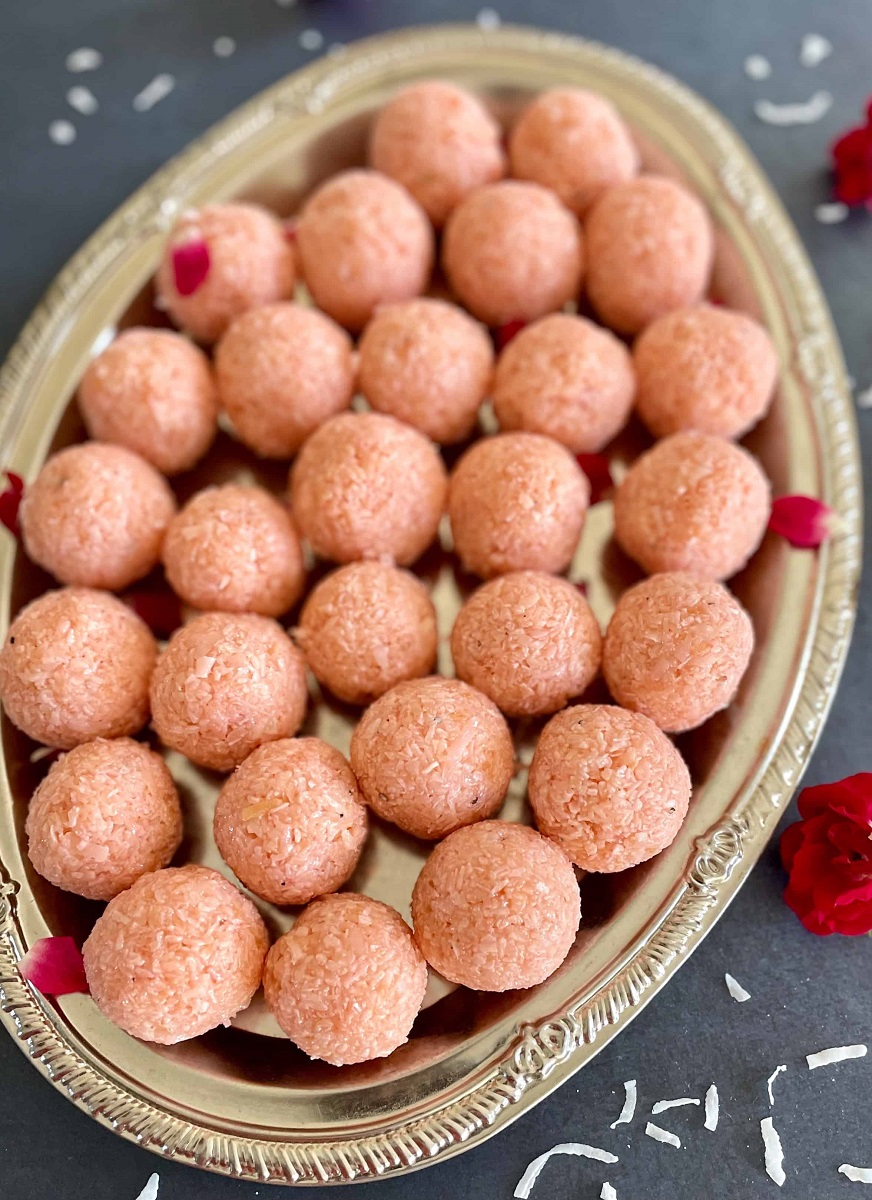 You know how they say that it's hard to improve perfection. And the 3-ingredient coconut ladoo recipe is just that - perfect! Super easy, very quick and absolutely delicious. But I wanted to upgrade the recipe to create something new and more fun. These rose coconut ladoos are pinkish in hue (Mr. Little V said they look like salmon balls…imagination of a 7 year old!!!) and have subtle notes of rose flavor that is iconically connected to beauty, freshness and sweetness. Nothing major changes as far as the ingredient list is concerned, addition of rose syrup and some rose water is all you need for this Rose Coconut Ladoo recipe.
Condensed Milk
Condensed milk is definitely the best kept secret (or is it really?) of the Indian Mithai/sweets world. There are several desserts that I make that use this handy dandy shortcut (like this saffron fudge and this instant rabdee). I hope to share all of them here eventually but for now please enjoy this Rose coconut Ladoo Recipe.
Rose Syrup
Needless to say, rose syrup is the key ingredient here. I used Roohafza that is sold in most Indian stores and is great in milk and lemonade as well. You can also find rose syrup in most liquor stores by the cocktail mixers. If you cannot find rose syrup, grenadine would be a half hearted replacement but then rose water becomes an essential in this recipe.
These Rose Coconut Ladoo
Are gorgeous for your Diwali Mithai Platter
That pink color though…
Are super easy to make
Only 5-ingredients (5th ingredient is actually optional but highly recommended)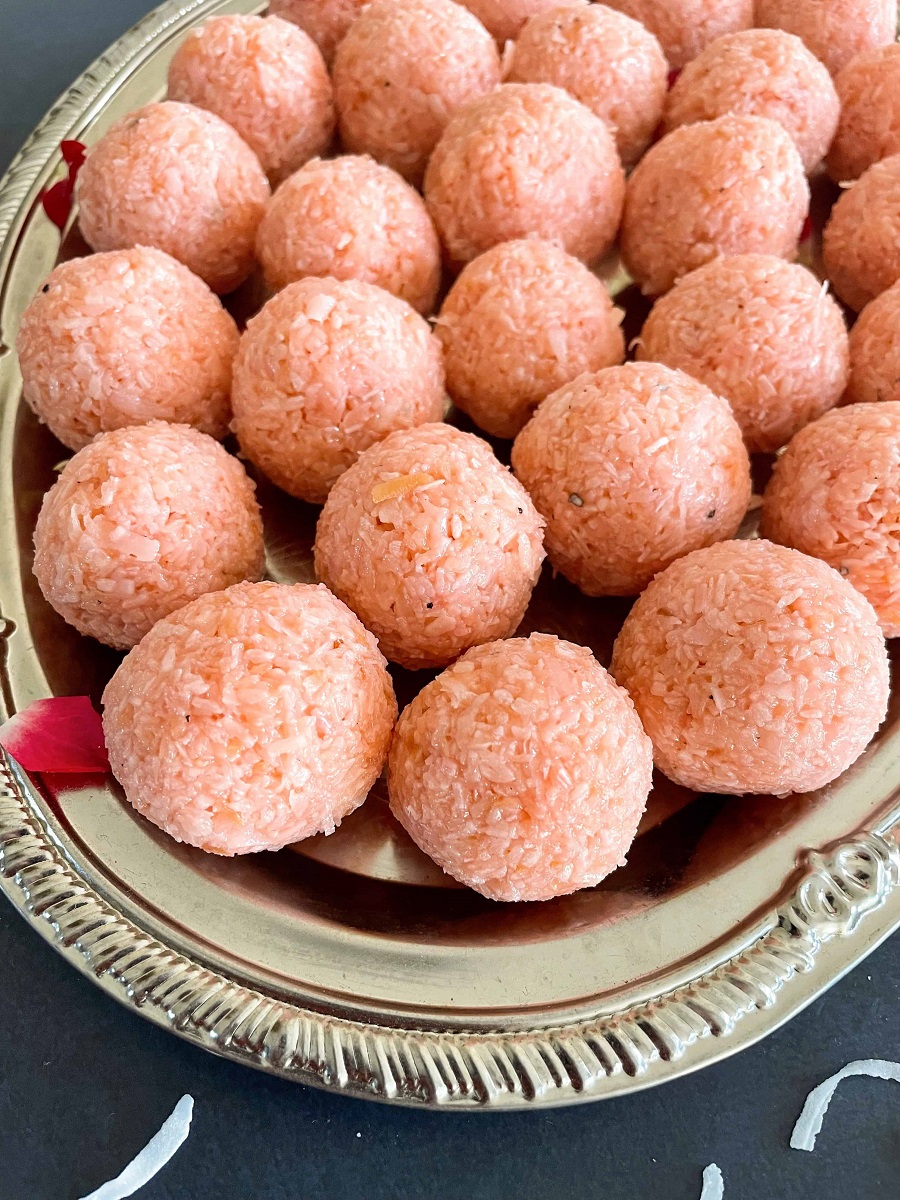 Recipe run-down
Start with a heavy bottom pan. If non-stick is your thing, use that. You want a pan that evenly distributes heat and does not burn food. Crack open the pods of green cardamoms, remove seeds and powder the seeds. Dry roast the coconut until fragrant (not browned), add condensed milk, cardamom powder, rose syrup and rose water. Mix together, cook, cool and form ladoos and enjoy. I dare you to eat only one!
Here's your handy dandy printable: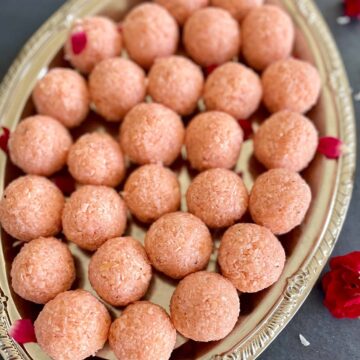 Rose Coconut Ladoo | Quick Indian Dessert
A delicious and refreshing twist on a classic, this rose coconut ladoo recipe is so easy that you will be tempted to make it for every special occasion.
Ingredients
4

c

unsweetened shredded coconut

1lb/400g bag, see notes

1

can condensed milk

14 oz can

2

green cardamoms

seeds removed from pods and crushed/powdered

2

tablespoon

rose syrup

for e.g Roohafza or Cortas

1

teaspoon

rose water

optional but recommended
Instructions
Line a cookie sheet with parchment or silicon mat and take some room temperature water in a bowl.

Set a heavy bottomed or non-stick pan on medium low heat. Add the coconut and dry roast it till fragrant but not browned.

While the coconut is roasting, break apart the cardamom pods, take the seeds out and grind the seeds into a powder.

Add the sweetened condensed milk and cardamom powder to the coconut and mix well. Add the rose syrup and rose water. Keep stirring and mixing till the mixture comes together, approximately 2 to 3 minutes.

Turn the heat off and let the mixture cool for 5 minutes or so.

To form the ladoos, rub your hands with water, take about a tablespoon of coconut mixture and form it into a ball, and lay it on the cookie sheet.

Repeat till all the coconut mixture is used up. This recipe should make close to 50 bite-size ladoos.
Notes
You can use dessicated coconut from Indian store or unsweetened shredded coconut (baking aisle) from a regular grocery store.
You have to form the ladoos while the coconut mixture is still warm. As the mixture gets cooler it will get harder to form it into ladoos. Refrigerate the ladoos for about an hour and then store in an air tight container in the refrigerator. Best if served at room temperature.
You can also form the mixture into burfee by pouring the coconut mixture onto a greased baking sheet, spreading it in an even layer. Refrigerate for an hour and then cut into squares. Enjoy!
f you make these Rose Coconut Ladoos, please leave a comment and/or give this recipe a rating! I love to hear from you guys. And don't forget to tag me on Instagram and Facebook! I love to look through your creations!!
Love – Vaishali
Shop this post:
Affiliate Links