A sip of this Indian Whipped Coffee and you will be transported to your favorite fancy coffee shop drinking the most delicious cappuccino. Only that this rich, smooth, and frothy coffee is made with instant coffee and can be enjoyed from the comfort of your home!
Jump to Recipe
What exactly is Indian Whipped Coffee?
If you are somewhat active on social media you might have heard of Indian whipped coffee or "beaten" coffee that is popularly being called dalgona coffee right now. But if you grew up in India around the time I was growing up, this might be the first coffee recipe that you were to. Much before Nescafe coffee shops or Café Coffee Day was a thing, this was the only way households enjoyed "fancy coffee". That's some of the nostalgia associated with this recipe of Indian whipped coffee recipe.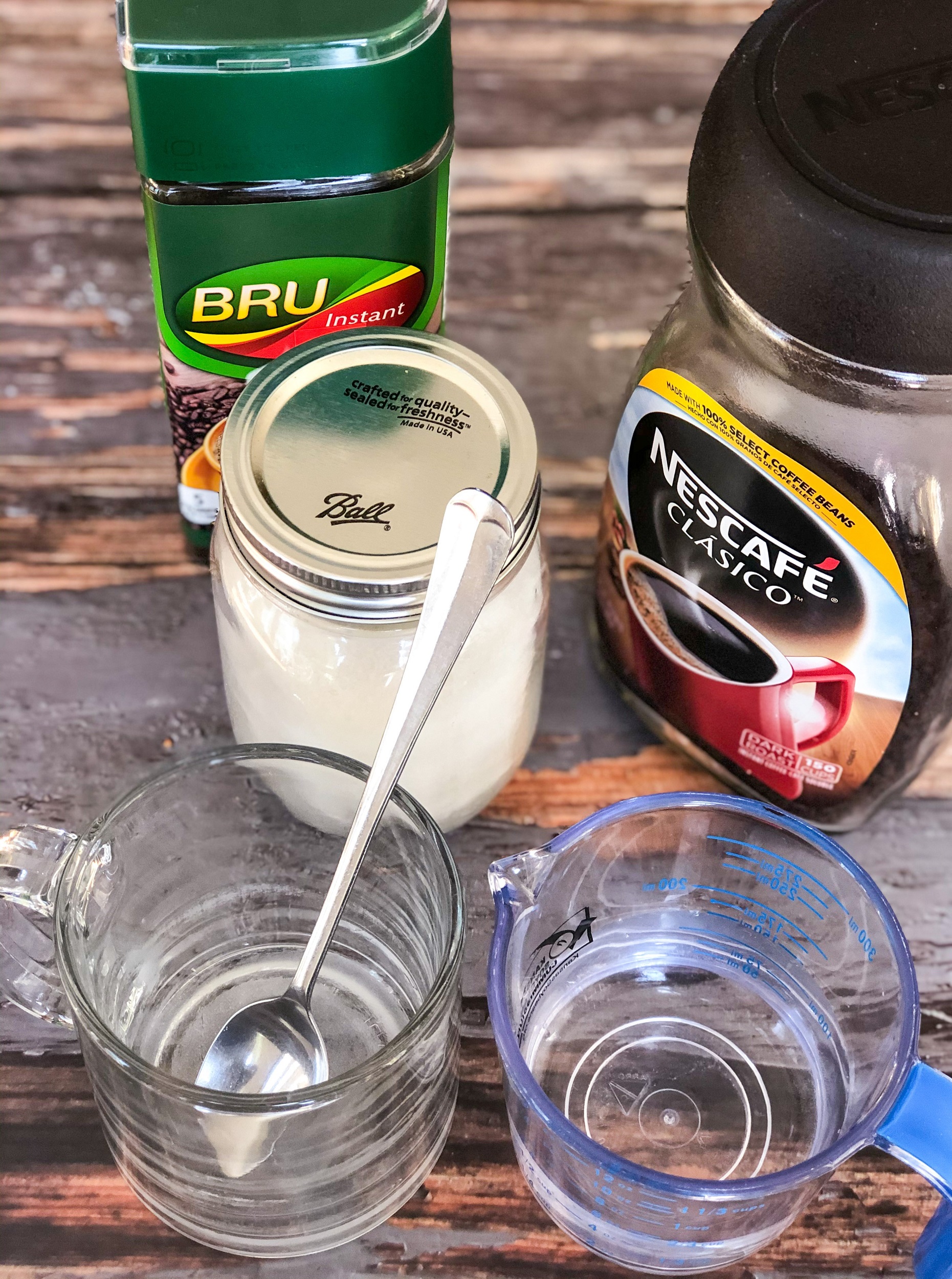 This Indian whipped coffee recipe starts by "beating" or whipping your humble instant coffee with some sugar and water until it turns creamy and light and then adding steamed milk to get a creamy coffee almost like a light cappuccino or a latte. Simple.
What does it look and taste like?
I recently taught a Indian tea/coffee cooking class where everybody learnt how to make this Indian whipped coffee and everybody was amazed at how the process works and how delicious the coffee is. Every single non-Indian friend that we have served this coffee to at our house has loved it. Now, this is not a strong, Columbian or Ethiopian category coffee but more like a milder, sweeter concoction.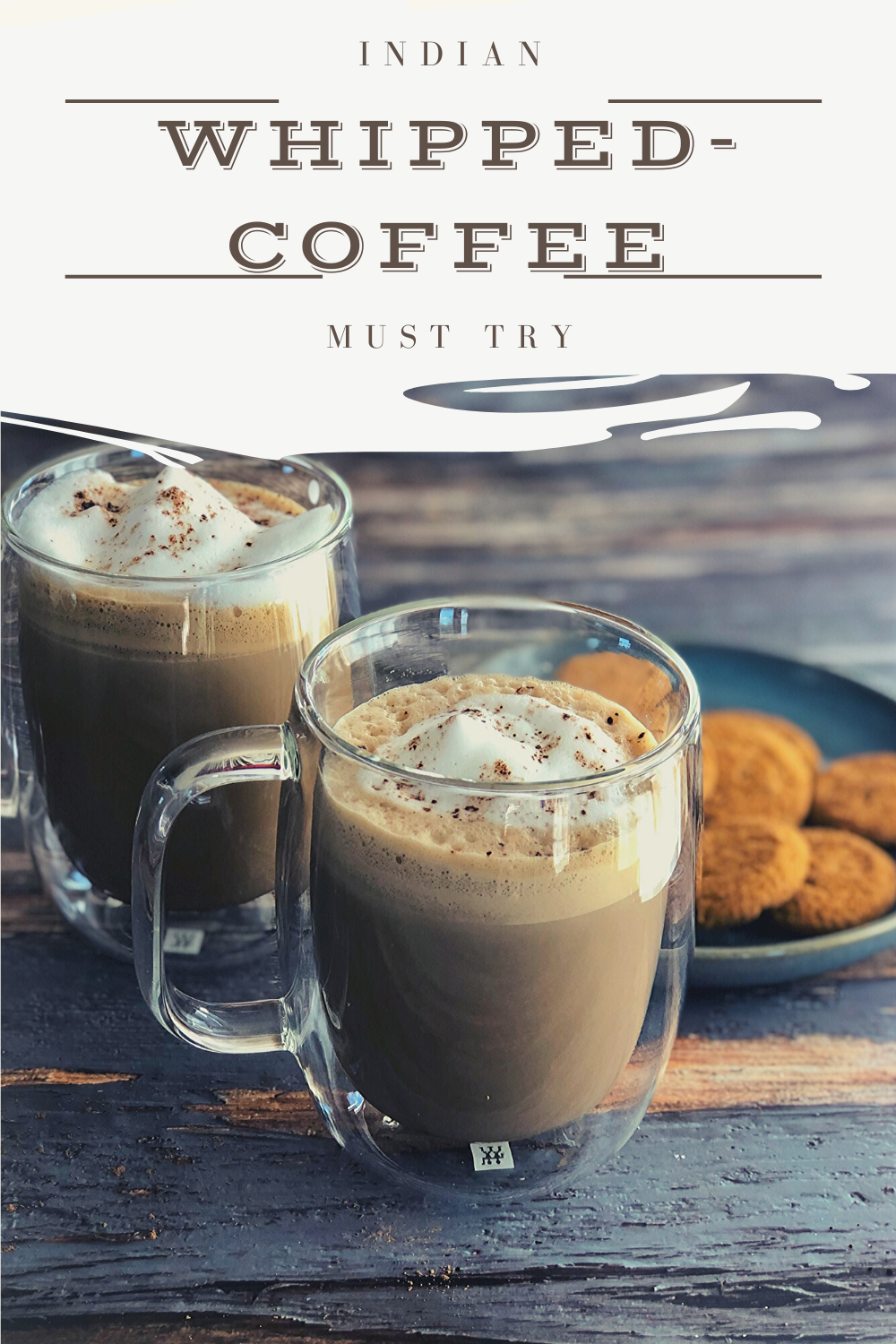 One of the attendees of my cooking class commented that once the Indian whipped coffee mixture is ready, it looks just like creamy peanut butter and I cannot agree more. Once you have your instant coffee measured out and sugar added to taste, you add a little bit of water and mix or beat it with a spoon until it smoothens, gets creamy, lightens in color and almost looks like creamy peanut butter, you know your whipped coffee is ready for the milk to be added.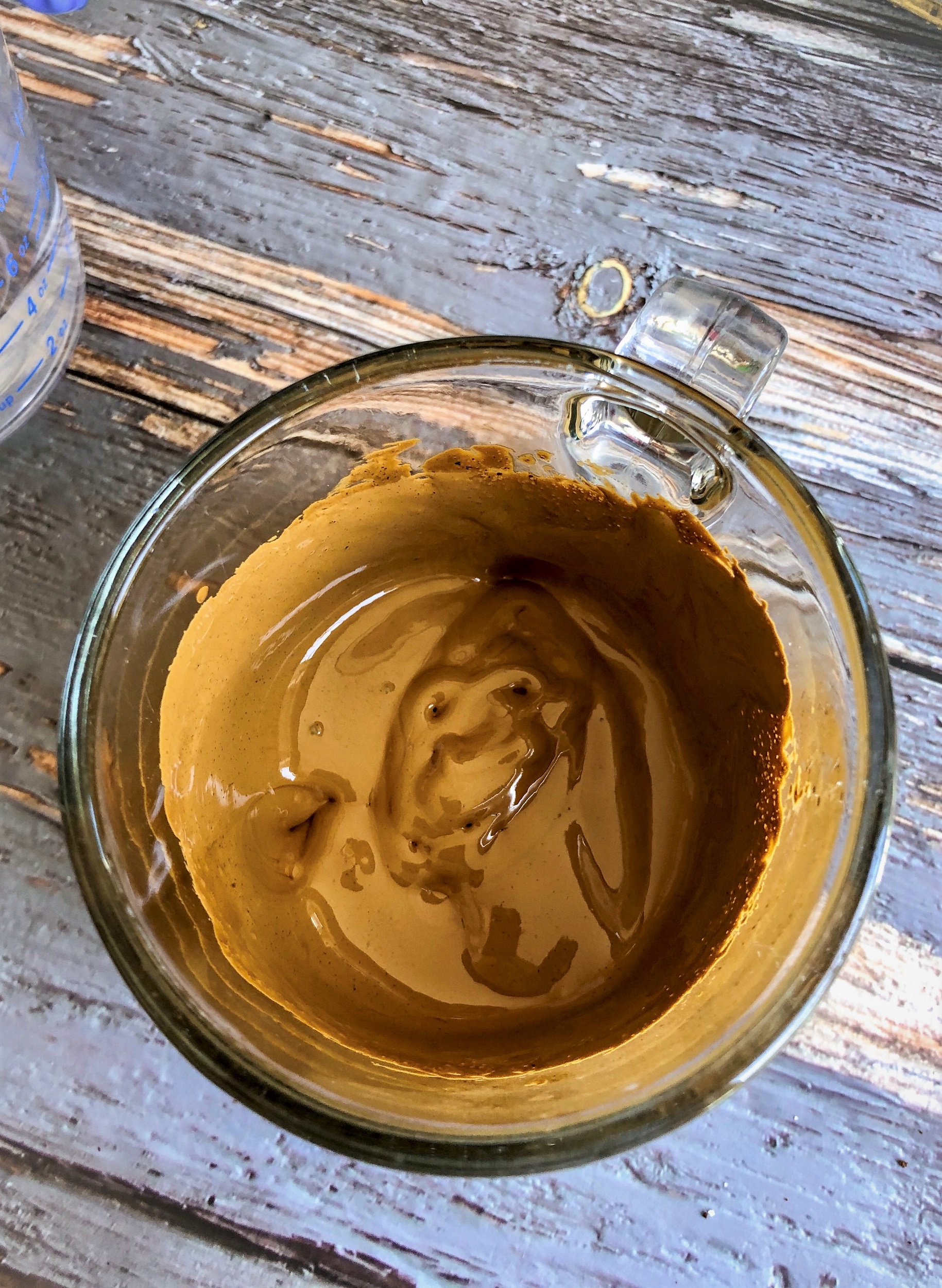 How do you beat the coffee?
Dr. A is the designated coffee beater in our house and he uses a mug and a long stemmed spoon to beat the Indian whipped coffee. This is by far my favorite method as it uses the least amount of water and you get a thick coffee mixture which in turn makes a creamier coffee. If you are making a bigger batch you can use a hand held double beater or small immersion blender to make the coffee mixture. A milk frother can work too but you will have to add more water. You can also add instant coffee, sugar and water to a small mason jar, put the lid on and shake it like crazy. Your choice!
So, Indian whipped coffee or desi cappuccino recipe – three ingredients, two minutes and there you have it! Enjoy it with your favorite cookie (like this), cake (this mocha loaf and coffee is a match made in heaven) or a desi snack (onion pakode anyone?). If you consider yourself a coffee aficionado, I would urge you to give this a try. Trust me when I say that everyone who has tried it, raves about it. I have a friend who now always travels with a small bottle of her favorite instant coffee so that she can whip up a cup of Indian whipped coffee in her hotel room. Its that easy and that good!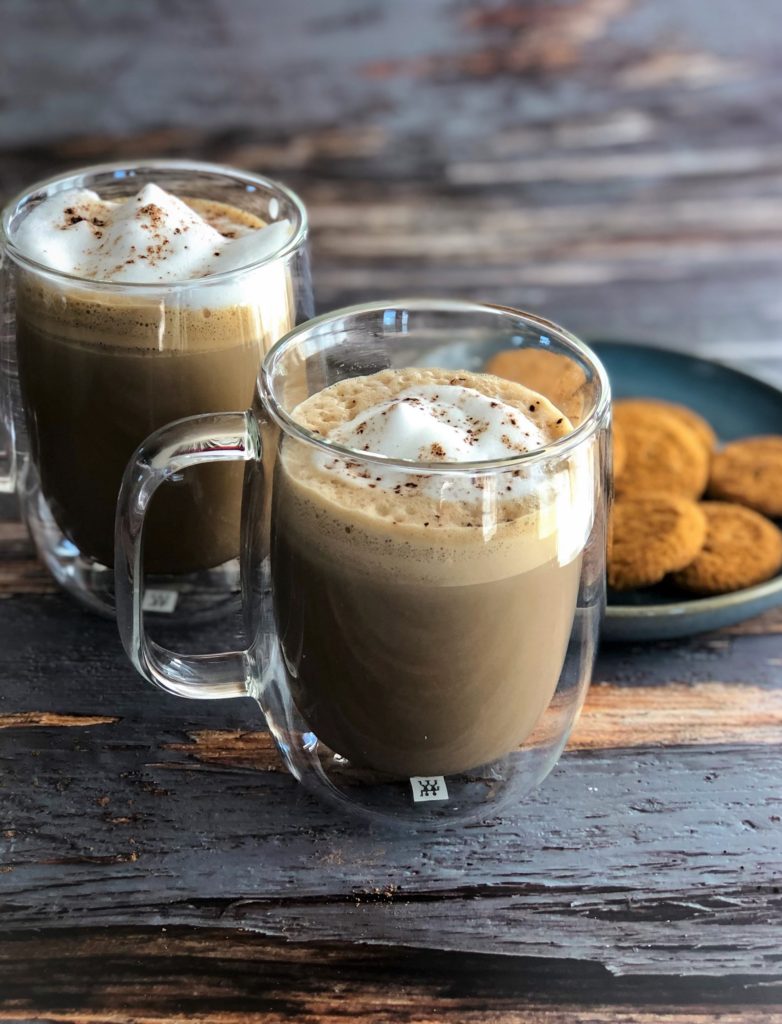 Is it really that good?
I might be biased but it is completely delicious, the only shortfall being that it cannot be made without sugar. You can try making it with a sugar substitute but I have not tried it so cannot speak for it. You can make it with milk (your choice – regular or dairy free) or even with part water and part milk. Irrespective of what you choose, you will end up with a great cup of coffee.
Recipe run down:
Use your favorite instant coffee (I like a combination of Bru and Nescafe Clasico) along with some sugar, few drops of water and whip it vigorously for a few minutes. You will notice that the coffee starts to loose its dark brown color and turns a pale brown and is soft, creamy and light – just like peanut butter. You might have to keep adding a few drops of water here and there if the whipping gets hard. But be careful not to add too much water. Add a spoonful of Indian whipped coffee mix your coffee mug, top it with some steamed milk, mix and voila – there you have it!
Here's your handy dandy printable: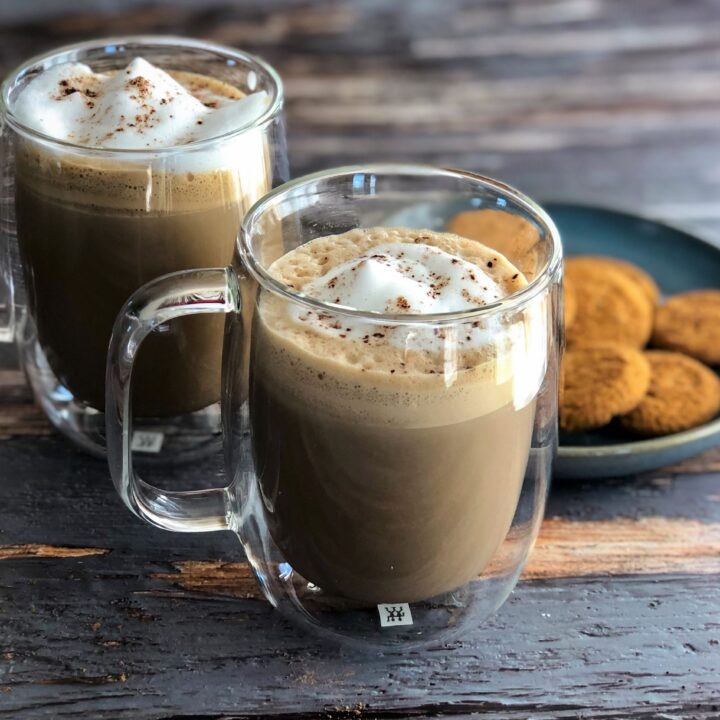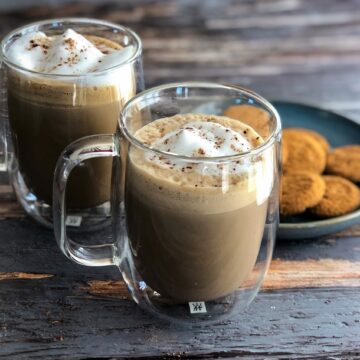 Indian Whipped Coffee – Desi Cappuccino
A sip of this Indian Whipped Coffee and you will be transported to your favorite fancy coffee shop drinking the most delicious cappuccino. Only that this rich, smooth, and frothy coffee is made with instant coffee and can be enjoyed from the comfort of your home!
Ingredients
2

tablespoon

Instant coffee

1

tablespoon

sugar

1-2

tablespoon

water

Milk to serve
Instructions
In a mug, add the instant coffee and sugar

Add about a half tablespoon of water and slowly add more until the ingredients are just wet so that you can beat the mixture.

Add more water if needed, about ½ teaspoon at a time, whipping it vigorously with the spoon.

Once the mixture in nicely thickened, smooth, and almost shiny, your Indian whipped coffee is mixture is ready.

Heat some milk in the microwave or in a pan until it is steaming.

Use a frother or whisk to froth it (optional).

Add a spoonful of the whipped coffee mixture into your coffee mug and top it with steamed milk. Mix and enjoy!
Notes
If you are heating milk in a pan (instead of a microwave), start by putting milk to heat up in a saucepan over medium high heat while you beat/whip the coffee. This will save you some time.
Do not add too much water to beat/whip the coffee.If the mixture gets too liquidy, it's a point of no return and you will not be able to attain that peanut butter like creaminess.
If you make a bigger batch, the whipped coffee mix can be stored in the refrigerator for up to a week. Give it a good mix before using.
I highly recommend frothing the milk.
In India, this coffee is usually sprinkled with some chocolate or cocoa powder. Use milk of your choice.
Can be made into iced coffee
For videos visit my Instagram page @thekitchendocs
Make it vegan:
Use your favorite plant-based milk instead of regular milk. Tastes just as great!!
Tools Used:
Coffee Mugs:
Love - Vaishali!