Happy Monday friends! How is it the last day of April already? As much as I am always amazed how fast time keeps passing, I am not so secretly happy that the colder days are behind us (fingers and toes crossed). We had a productive weekend, getting our small vegetable patch ready (see this video I posted on my Instagram) and got some new flowering plants and bushes to get in the ground. It was a beautiful weekend with sunny skies, comfortably warm and an occasional cool breeze blowing. If you live in Kansas, you learn to appreciate a breeze, since it is always crazy windy here. There were some beautiful tomatoes in the store so we decided to go with tomato mozzarella and pesto paninis for dinner to welcome warmer days. And a roasted red pepper soup to go with it (balance people!).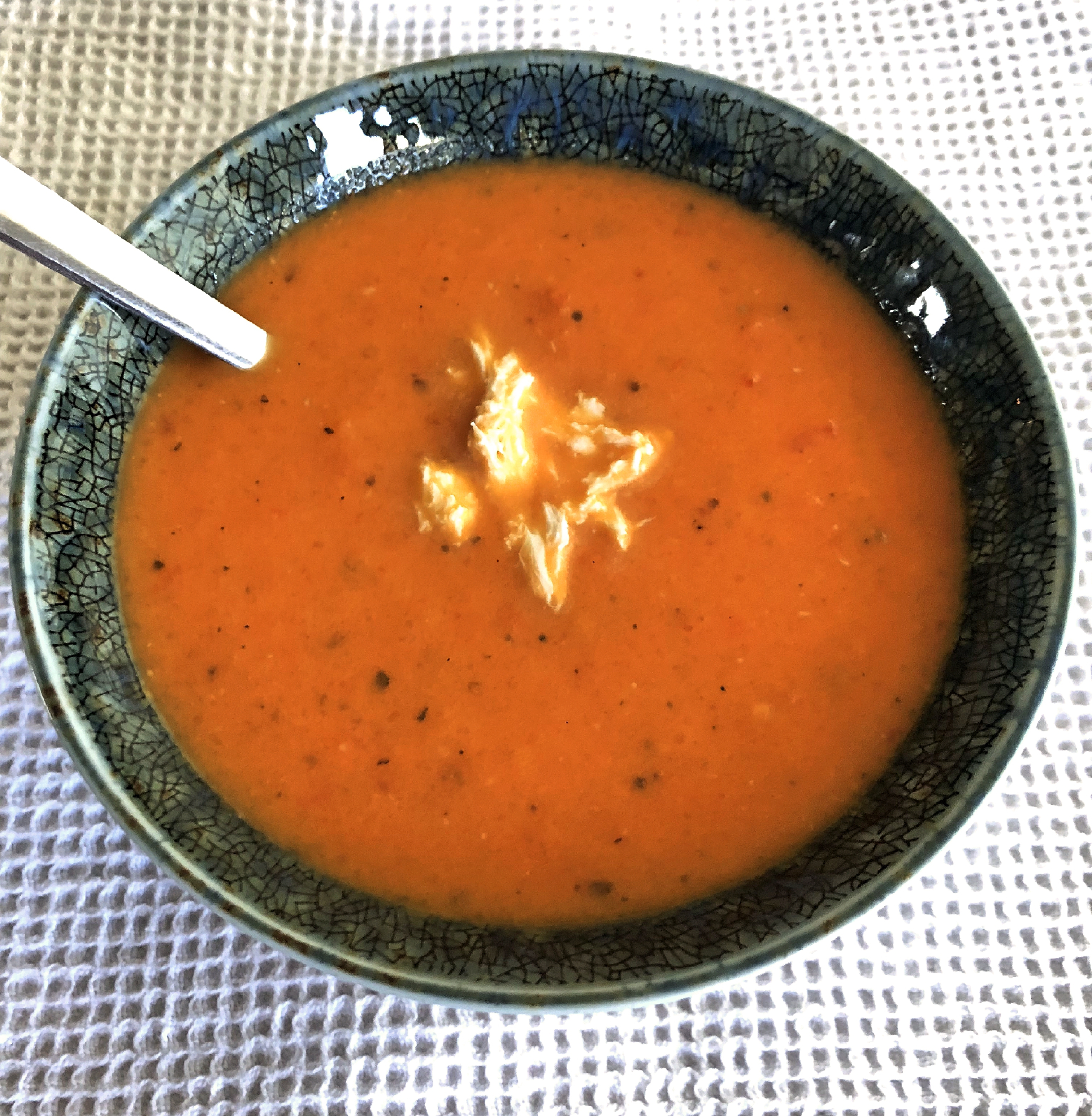 A local coffee shop in our town serves this roasted red pepper gouda soup and it is one of our favorites. The chef at the cafe was kind enough to tell me what all goes in the soup. I have learnt this over time that all you need to do is ask. Most of the times, people are kind enough to share their recipes or give you a broad outline. If you never ask, you never even had a chance. So ask! Worse that can happen is that the person will say no. And in that case too, nothing is lost! Now she only told me what was in the soup and that too pretty vaguely. But you guys know me, I let the imagination and memory of my taste buds take charge and developed this soup recipe.
Few iterations later, I think that this red pepper gouda soup is ready to be shared with you. Addition of onion and carrot in the soup was not in the original recipe, the carrots bring out a nice sweetness. The tomatoes that I used were a combination of Roma, on the vine and Campari. I fire roasted the Roma tomatoes because I wanted to enhance the roasted flavor. You can certainly use canned tomatoes, if that's your thing. This soup recipe is super easy and on point. And dare I say – one pot recipe..yayy for not washing 348 dishes to cook something. It is a great meatless recipe, which when paired with bread (this homemade focaccia works great) or a sandwich makes a perfect summer (or fall) meal. So here it goes: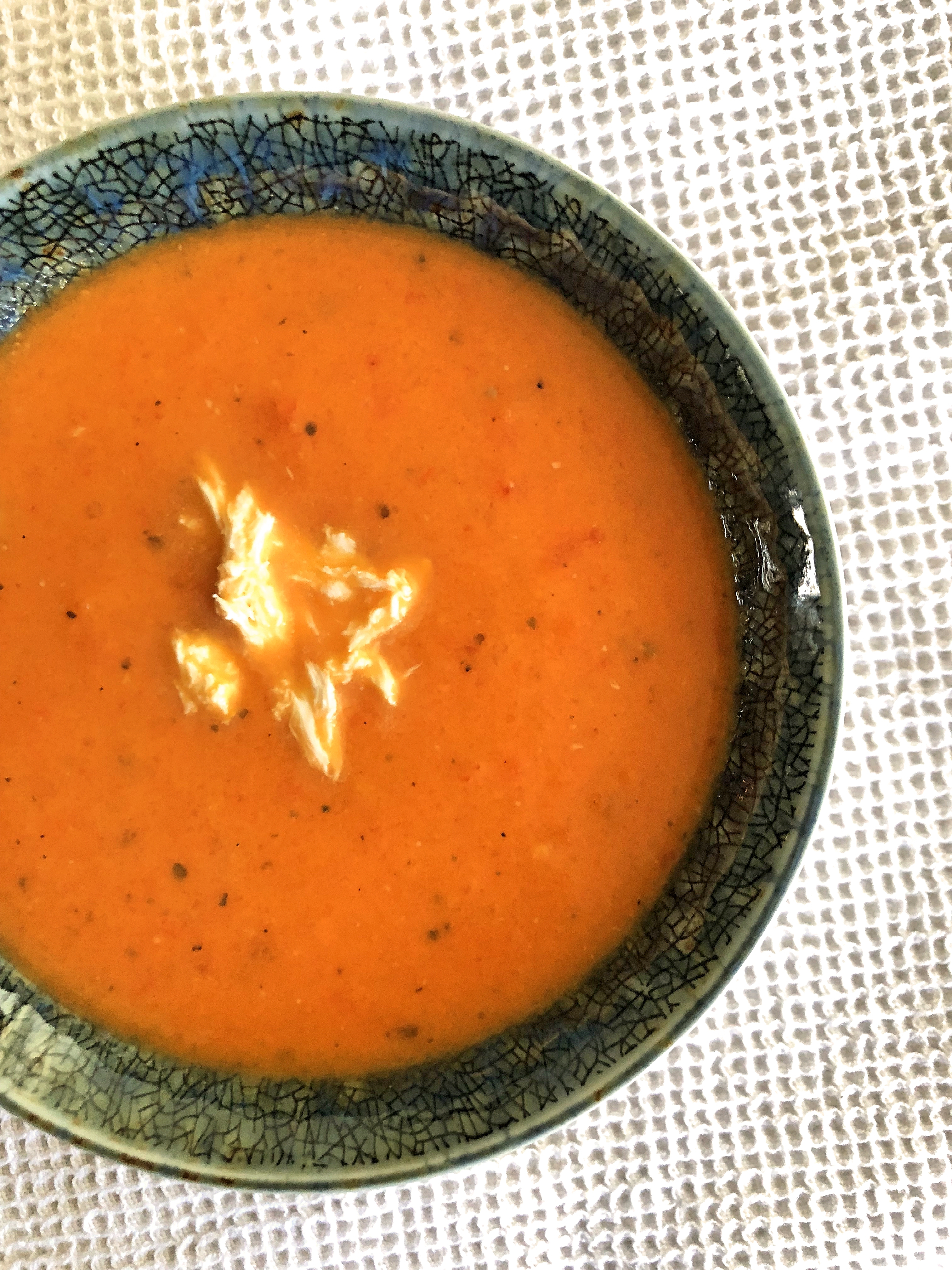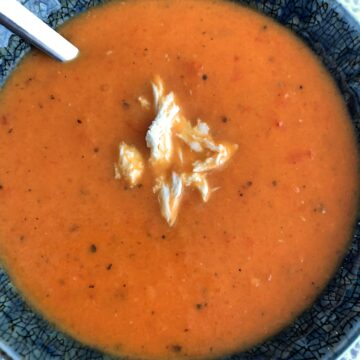 Roasted Red Pepper Gouda Soup
Intensely flavorful Roasted Red Pepper Gouda soup that is velvety smooth in texture. A great meatless Monday recipe that comes together in one pot. Gouda cheese adds richness a depth of flavor and carrots a hint of sweetness.
Ingredients
1.5

tablespoon

olive oil

2

cloves

garlic

smashed

½

cup

chopped white onion

1

cup

chopped carrots

2

roasted red bell peppers, chopped

See Notes

4

cups

chopped tomatoes

See Notes

4

cups

vegetable broth

1

teaspoon

dried basil leaves

1

teaspoon

Italian seasoning

Salt and black pepper to taste

1

teaspoon

sugar

2

tablespoon

cream

optional

¼

cup

shredded smoked gouda cheese

See Notes
Instructions
Set a heavy bottomed sauce pan or Dutch oven on medium high heat and add olive oil to it. Add the garlic cloves, onions and carrots and sauté till slightly tender, about 2-3 minutes.

Add the roasted red bell peppers and tomatoes and cook for two more minutes.

Add the vegetable stock, basil, Italian seasoning, salt, pepper and sugar. Increase the heat to high and bring to a boil.

Once boiling, reduce the heat to medium low, cover the pot with a lid and cook for 15-20 minutes.

Take the lid off, stir and turn the heat off. With an immersion hand blender or in a blender (See Notes), carefully blend the soup till smooth.

Give the soup a taste check and adjust seasoning if need be.

Return the soup to low heat, add cream (if using) and gouda cheese. Stir and let heat till the cheese melts.

Serve warm with bread and additional gouda for topping (optional).
Notes
You can fire roast the bell peppers yourself, remove the skin and chop. OR use 1, 12 oz jar of roasted bell peppers, drain and chop the bell peppers. You can use 2 cans of diced or fire-roasted tomatoes if not using fresh. Use regular gouda cheese if you cannot find smoked gouda. Cream adds a nice silkiness, but is it optional. If not making this meatless, feel free to use chicken broth instead of vegetable broth. If using a blender, be very careful and blend the soup in small batches.
Enjoy the soup with bread (this works great) or a sandwich. Hope you give this ONE POT soup a try and if you do, let me know – leave a comment here, on my Facebook, Instagram or Twitter!
P.S - The bowl that you see in the icture is the one I got from Japan pavilion on our recent trip to Epcot (read about it here).
Love- Vaishali.
Tools used:
Sauce pan and Spatula
Knife and chopping board