Hello you lovely people! You must have read the title of this post and thought quick and risotto in the same sentence. Does not sound right, right? Cooking risotto in a traditional way is a labor of love. Add broth to the rice, patiently stir it until most of the liquid is soaked up, add more and repeat until the rice get tender. The result is super flavorful, slow cooked and cheesy risotto that melts in your mouth. Well this quick spring risotto is a complete stroke of genius. Tooting my own horn here but I think this recipe is super.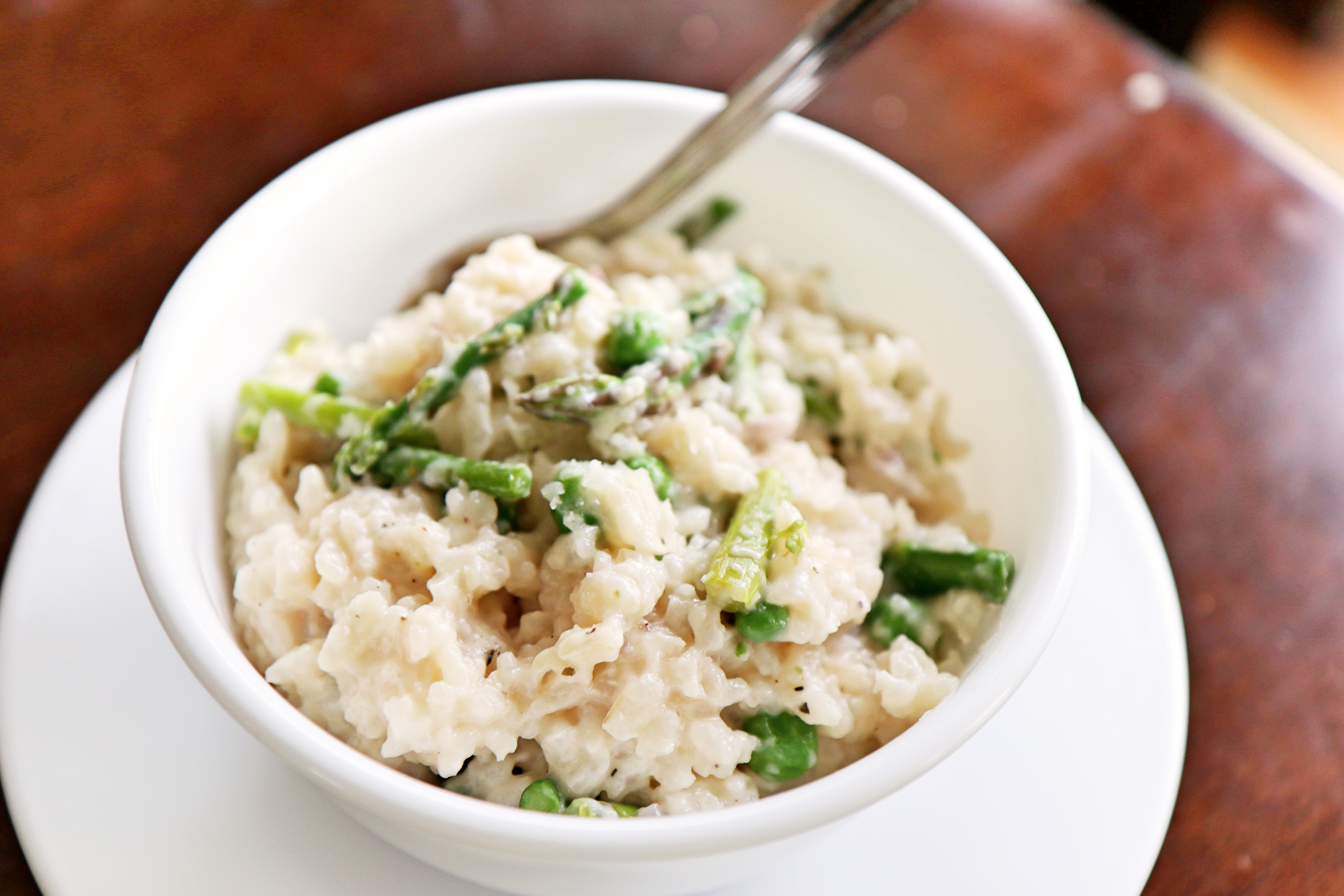 You still get the same texture, same flavor, and same lusciousness – just without the painstakingly long process of cooking risotto. To the purists – I say sorry. To all the busy bodies out there, I say, "this is life changing". After trying the pressure cooker quinoa (recipe here), I was tempted to try risotto in a pressure cooker. I started with sautéing some garlic and red onion (did not have shallots on hand) in olive oil, added Arborio rice, wine and reduced the wine. Then added asparagus, peas, broth I used homemade chicken broth), seasonings and cooked in the pressure cooker for 10 minutes. I then proceeded to add the cheeses and other flavorings – and the result is simply amazing. I can bet you that no one can figure out that this risotto was made in pressure cooker and not in traditional way. It is just that good!
Quick Spring Risotto with Asparagus and Peas
A no stir risotto recipe ready in fifteen minutes in a pressure cooker. An easy, quick and no fuss recipe for all risotto lovers.
Ingredients
1

tablespoon

olive oil

2

cloves

garlic

minced

¼

cup

onion

or shallots, chopped

1

cup

Arborio rice

⅓

cup

white wine

2 ¾

cup

broth chicken or vegetable

⅓

cup

peas thawed

10 -12

spears of asparagus

tough ends removed and cut into 1 inch pieces

¼

cup

heavy cream

¼

cup

freshly grated parmesan

2

tablespoon

cream cheese

1

teaspoon

Italian seasoning or your choice of dried herbs

or your choice of dried herbs

Salt and freshly ground black pepper to taste
Instructions
Set your pressure cooker on medium high heat, add olive oil. Add the onion (shallot) and garlic and cook, stirring occasionally, until translucent, about 2 minutes. Add the rice and stir until it looks slightly translucent and has a nutty aroma, about 3 minutes. Pour in the wine and stir until the wine is reduced to half, another 2 minutes and then add the broth.

Cover the cooker with the lid and lock into place. Increase the heat to high and wait till the pressure reaches high or the cooker "whistles", lower the heat to low and cook at high pressure for 10 minutes (I use a timer).

While the rice cooks, cut the asparagus and thaw the peas in the microwave or in warm water.

When the ten minutes of cooking time are over, carefully release or vent the pressure and release the steam completely. When the steam stops, carefully remove the lid of the pressure cooker. At this point, turn the heat back on to lowest setting. Gently mix in seasoning, asparagus pieces, peas and stir in the heavy cream, cream cheese, and add the Parmesan. Stir to combine and season with salt and pepper.

Spoon the risotto onto a serving bowl, garnish with some more Parmesan, and serve immediately.
Notes
The color of the broth you use will add a tinge to the risotto so choose accordingly. Chicken broth adds a nice flavor but vegetable broth works great too to make this dish vegetarian.
Hope you will try this quick and easy pressure cooker risotto.
Love – Vaishali.
Tools used:
Pressure Cooker (I use this one)
Measuring cups (these are the ones I use)
Measuring spoons (Cuisinart)
Knife and chopping board
Spatula
Box grater (I have this one)