Nut free avocado pesto tossed with pasta and topped with sweet balsamic roasted cherry tomatoes. Avocado makes a rich and creamy pesto and the cherry tomatoes are a burst of flavor in this easy pasta recipe
Jump to Recipe
Talk about a comforting recipe that is healthy, nut-free and can easily be made gluten-free. I have been experimenting with incorporating healthy fats to our diet without compromising on flavor and appeal of standard dishes like pesto pasta. It is a very simple recipe that involves throwing the avocado pesto ingredients in a blender, cooking the pasta and blistering the cherry tomatoes with balsamic vinegar. Put it all together and you have this healthy, flavorful and summerish Avocado Pesto Pasta with Balsamic Cherry Tomatoes.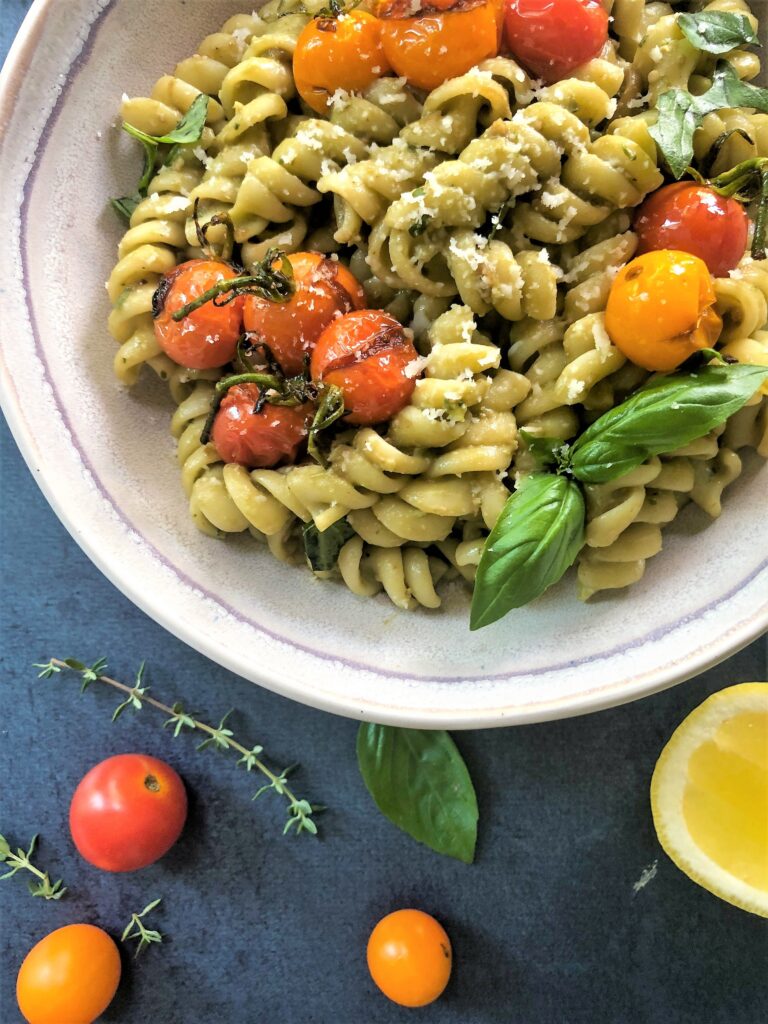 Quality Ingredients
You know I always say that when making a simple dish, the quality of ingredients really matter (remember this pasta or this recipe). So is the case here too. Pick fresh ingredients - good ripe avocado, fresh fragrant basil, good quality extra virgin olive oil (I used Primal Kitchen), nice, deep balsamic and of course, super plump and juicy cherry tomatoes (from our garden). I have found that rotini is the best pasta shape for this avocado pesto. The spiral grooves in the rotini become perfect conduits to hold the creamy, thick pesto.
Avocado Pesto
Avocado is the star of the dish here. Other ingredients are basil, sunflower kernels (hellllo - nut-free!!), garlic, evoo, lemon juice (a lot of it), salt and pepper. Lemon juice is crucial here. I have found that lemon juice prevents browning of the pesto which is an inherent property of avocados. Keeping this in mind, I would strongly suggest against making a big batch of this pasta. If you don't care about how your food looks, all the power to you. But somehow when the bright green, gorgeous pasta turns into a garbage green brown color, it seems a little less appetizing to me.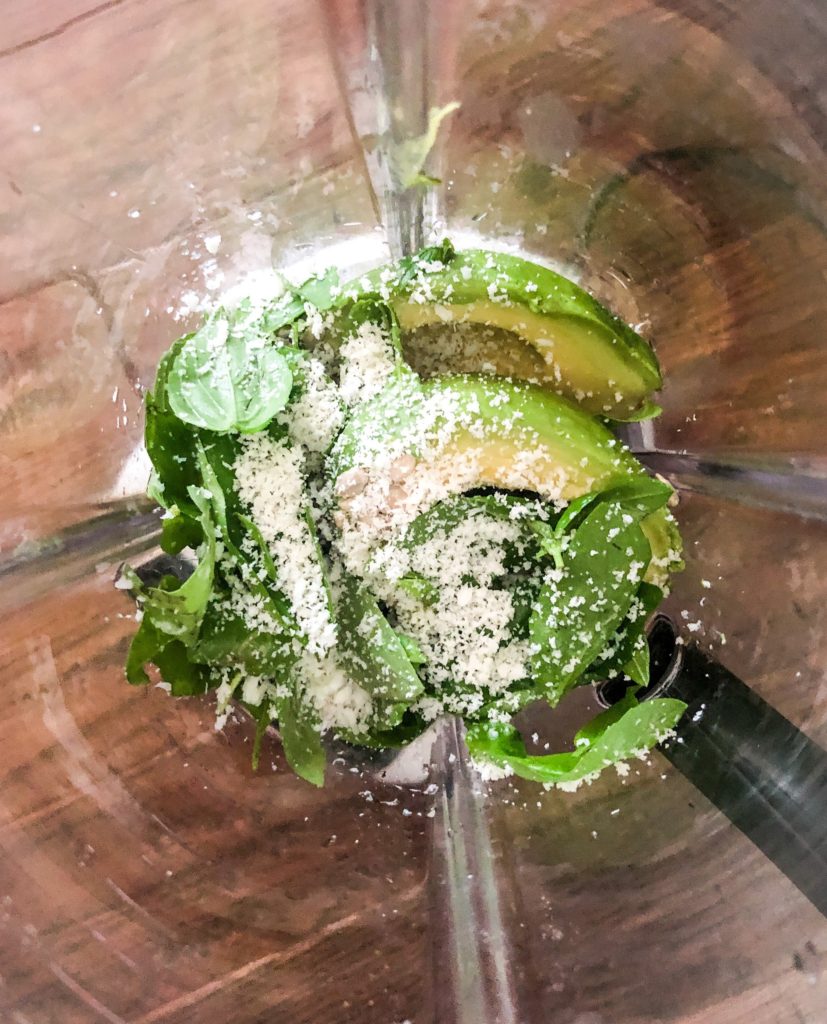 Balsamic Cherry Tomatoes
If you have never combined balsamic and tomatoes together, you are in for a real treat here. Start with fresh thyme and sliced garlic heating up together with olive oil. Letting them heat together beautifully perfumes the oil and lends a beautiful flavor. Add the tomatoes and hear them sizzle, blister and pop. Once the tomatoes have popped, add the balsamic and let it reduce for sometime. The reduced balsamic deepens in flavor, caramelizes and the tomatoes become almost jam-like. So good!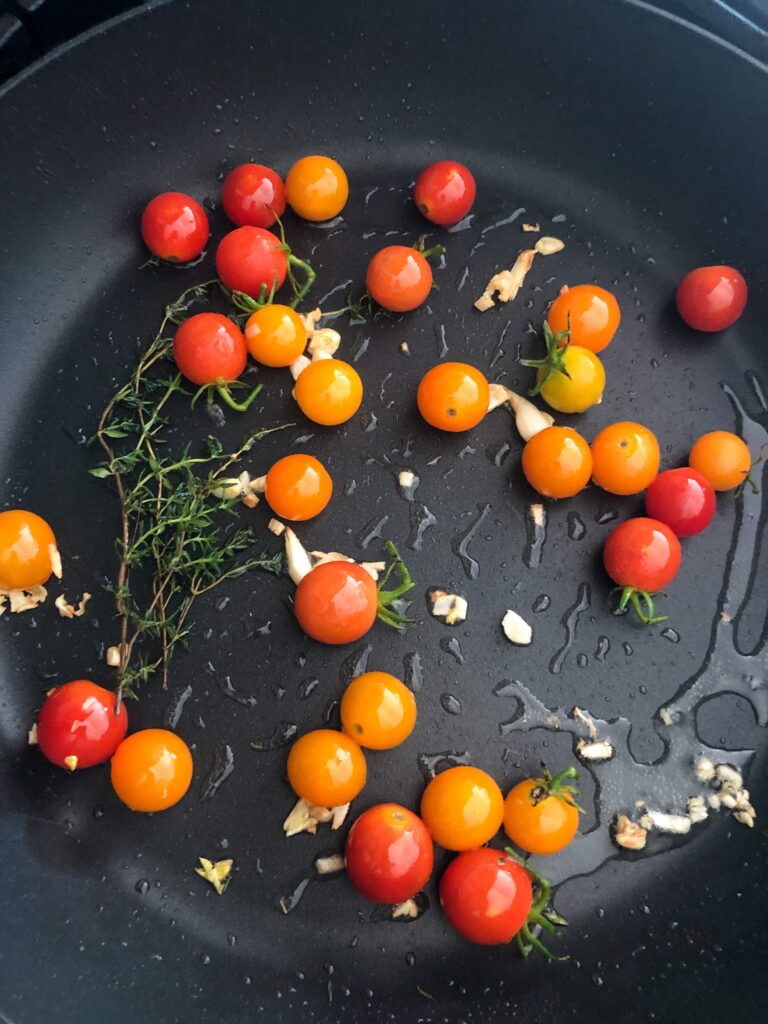 Vegan Pesto Pasta?
Trust me when I say that you will not miss the cheese in this rich, creamy pesto, if you choose to make it vegan. If you want to add cheese, I would just recommend using freshly grated parmesan (as shown in the picture) according to your liking as a garnish after plating the pasta. If you want that cheesy taste and texture but still want to keep the recipe vegan, you can use nutritional yeast or make your own vegan parmesan using this recipe from In Jennie's Kitchen.
So without further ado,
Here's your handy dandy printable:
Avocado Pesto Pasta with Balsamic Cherry Tomatoes | Nut-free
Nut free avocado pesto tossed with pasta and topped with sweet balsamic roasted cherry tomatoes. Avocado makes a rich and creamy pesto and the cherry tomatoes are a burst of flavor in this easy pasta recipe
Ingredients
For the Nut Free Avocado Pesto:
1

cup

packed basil leaves

1

large avocado

2

cloves

garlic

¼

cup

toasted sunflower kernels

1

tablespoon

fresh lemon juice

2

tablespoon

freshly grated paresan cheese

2

tablespoons

olive oil

Kosher salt and freshly ground black pepper

to taste
For the Balsamic Cherry Tomatoes:
1

tablespoon

olive oil

2

cloves

garlic

thinly sliced or minced

2

sprigs of thyme

1

pint

cherry or grape tomatoes

2

tablespoon

balsamic vinegar

Kosher salt and freshly ground black pepper

to taste

Crushed red pepper flakes

for garnish, optional

Basil and thyme leaves

for garnish, optional

Parmesan cheese/nutritional yeast or vegan parmesan

for garnish, optional
For the pasta:
12

oz

pasta 350 gm

Water

Salt
Instructions
First, set a large pot of salted water to boil. Once the water starts boiling, add the pasta and cook until al dente according to package directions. Reserve ½ cup of the pasta water. Drain the pasta into a large mixing bowl.

While the water is coming to a boil, make your avocado pesto. To make the pesto, add the basil, avocado, garlic, lemon juice, parmesan cheese and sunflower kernels to your food processor or blender. Pulse a few times and then start adding the olive oil. Blend until smooth. Season with salt and pepper, to taste. Set aside.

While the pasta is cooking, cook the tomatoes. In a large skillet, heat the olive oil over medium heat. Add the thyme sprigs and garlic. Once the garlic sizzles, add the tomatoes and season lightly with salt and pepper. Once the tomatoes start popping (about 5 minutes), add the balsamic and cook on medium high heat for about five minutes or until the balsamic is reduced and caramelized. Turn the heat off and discard the thyme sprigs.

Add the avocado pesto to the bowl that has the drained pasta. Stir, adding the reserved pasta water as necessary. Stir gently until the pasta is well coated in pesto. Top with balsamic cherry. Garnish with crushed red pepper flakes, basil, thyme and parmesan cheese, if using. Serve immediately.
Notes
This recipe is not great for leftovers as it will lose its bright green color. If you don't mind eating discolored brownish looking pesto pasta, you can ignore this note..:).
You can use a chickpea or lentil pasta to make this dish gluten free. You can also use zucchini noodles instead of pasta.
If you cannot find sunflower kernels/seeds, the same amount or pepitas or pumpkin seeds will work as well.
Make the recipe vegan by skipping the parmesan cheese in the pesto and garnish or use vegan cheese or nutritional yeast.
This recipe is perfect for Meatless Monday or any other day of the week! If you make this Avocado Pesto Pasta with Balsamic Cherry Tomatoes be sure to leave a comment and let me know how you liked it! Snap a photo and share it on Instagram with the hashtag #thekitchendocs or share on Facebook, too.
Love - Vaishali.
Key Recipe Tools and Ingredients: