Hi everyone! Just dropping in with a superfast and life-saver recipe that I often throw together in a cinch. I have written about Punjabis love for potatoes in the past and how potatoes pretty much show up with any vegetable and you would think…wow, this match was made in heaven. This stir-fry of potatoes, carrots and peas is like a holy trinity, a perfect combination of starchy potatoes, hearty carrots and sweet peas.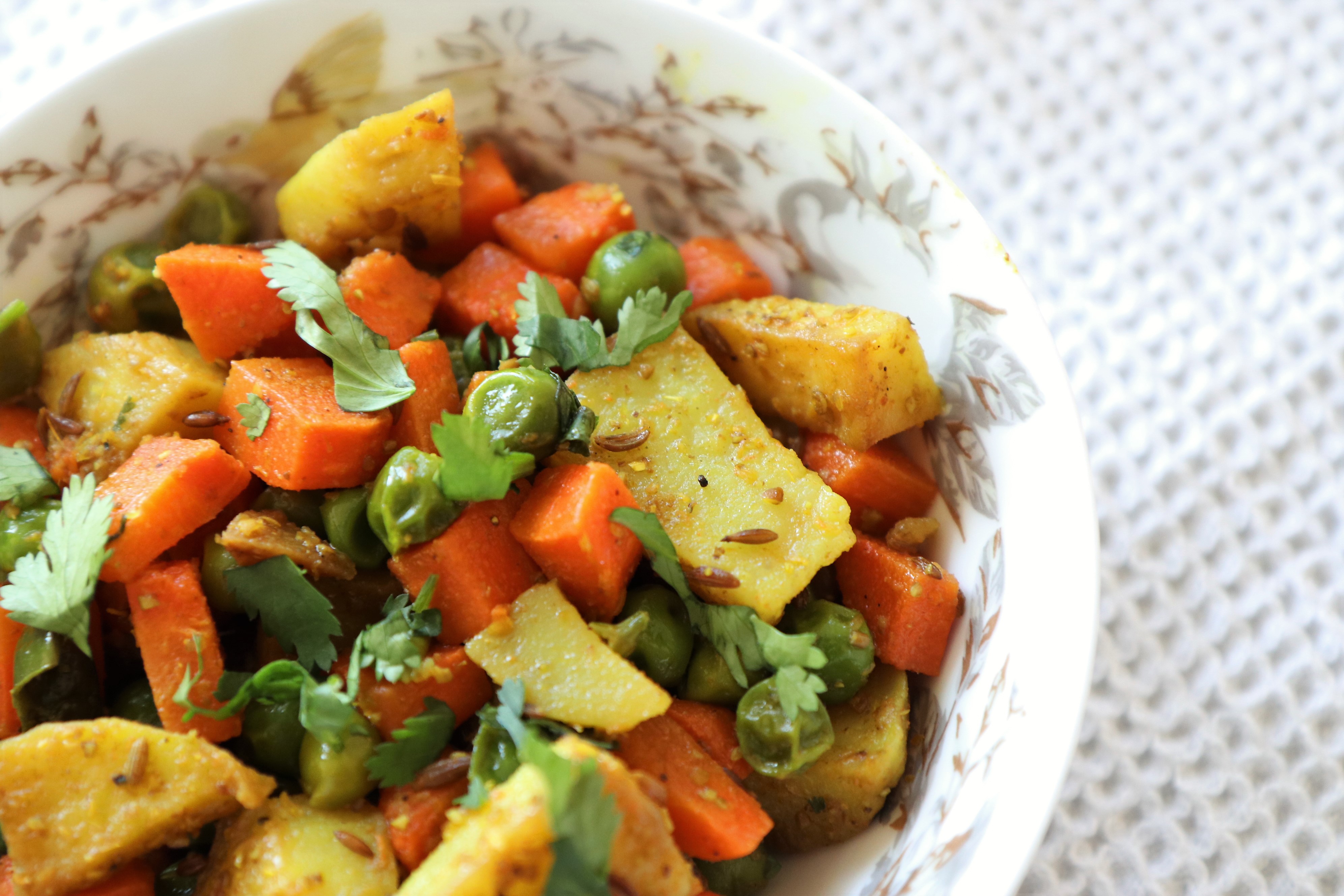 In Punjab, as the weather cools down, the farmers markets or the carts of vegetable street vendors are flooded with fresh, deep red carrots and sweet, tender and juicy green peas. Potatoes are a different story – they are available all year round. Shapes, color and texture of potato might change throughout the year but you never go without a potato because they are never not in season. Carrots that we get in Punjab are this gorgeous, deep pink – almost red color; unlike the orangish shade of carrots that we get here. There is actually a color named after the carrot color in Punjab. It is called 'Gaajari' that literally translates into 'Carrotish'.
Gajar aloo matar sabzi can be made two ways. One way is to cook a masala of ginger, garlic, onions and tomatoes and then add the trio in it. The other way is the simpler, super easy weeknight version that you will find below. Recipe run down is simple – aromatic dry spice powders lend a depth of flavor to the humble veggie blend. You can cook the veggies to a crunchy texture, which is the quickest to almost mushy – which would take longer. We like this recipe at almost an "al-dente" carrots stage so I do not cook it too long. Aloo gajar mutter sabzi (dry curry) is a perfect companion to daal (recipes here, here, and here) or when served by itself. Aloo, gajar mutter can be enjoyed with roti/chapatti (recipe here) or rice (recipes here and here).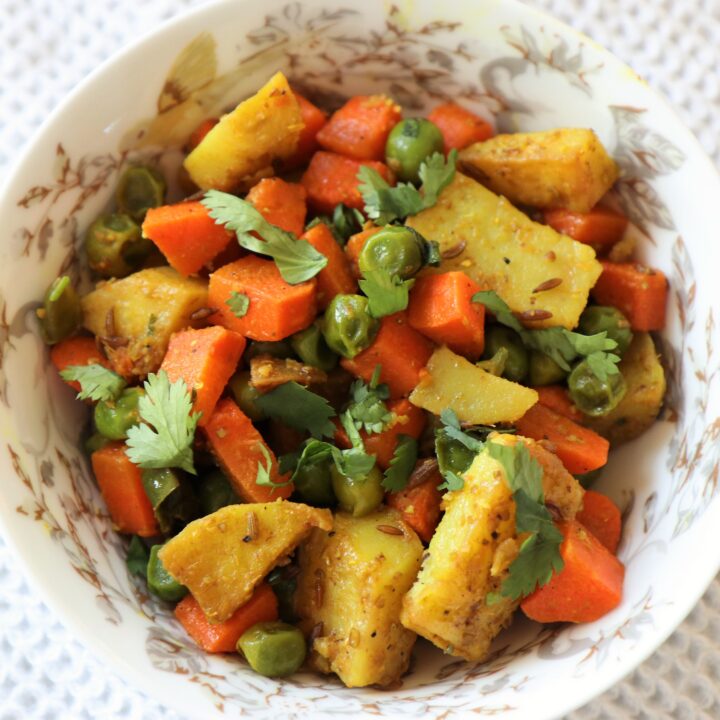 Aloo Gajar Matar – Quick stir-fry of Potatoes, Carrots and Peas with Indian spices
An easy and enjoyable North Indian style dry curry of potatoes, carrot and peas. A perfect accompaniment of daal or when served as vegetable side. Enjoy with chapati or rice.
Ingredients
2

cups

cubed potatoes

1.5

cups

diced carrots

1

cup

green peas

thawed

2

tablespoon

olive oil

divided

1

pinch

asafoetida

1

teaspoon

cumin seeds

1

green chili chopped fine optional

1

teaspoon

minced ginger

½

teaspoon

turmeric powder

¼

teaspoon

red chili powder

optional

1.5

tablespoon

coriander powder

Salt to taste

½

teaspoon

garam masala powder

5

sprigs

coriander leaves

stripped and chopped

Juice from half lime

optional
Instructions
Take the peas out of the freezer and set out to thaw while you get everything else done.

Set a heavy bottomed skillet or non-stick pan on medium high heat. Add 1 tablespoon of oil and heat it until shimmering. Now add the cubed potatoes and sauté them until nicely browned and almost cooked, about 8-10 minutes.

I normally use this time to peel and chop the carrots, and get ginger, green chili and cilantro all prepped up and ready to go.

Check the potatoes, they should be fork tender. Take the potatoes out of the pan into a bowl and set aside.

Add remaining one tablespoon of oil and let it heat up. Once the oil is hot and shiny, add asafoetida, cumin seeds and chopped green chili, stir around till the cumin seeds start to dance around. Add all the spice powders (except garam masala and salt) and mix. Add ginger.

Add in the chopped carrots and thawed peas and let these saute for a minute or two. Now add in the potatoes, season with salt to taste and give a big mix.

Turn the heat to medium low, and continue cooking for 10 minutes. After 10 minutes, try a piece of carrot for crunchiness and decide if you want to cook it any further. For me, the sabzi is ready right about at this point.

Add garam masala, mix and call it a day.

Oh, do not forget to add the chopped cilantro leaves and a squeeze of lime if you want.
Notes
You can certainly use frozen carrots and peas mix. Let them thaw before adding to the spice oil mix. Frozen carrots cook faster (since they are already blanched), so reduce the cooking time to 7-8 minutes.

Serve warm with roti/chapatti (recipe here), dal/lentils (recipes here, here and here) or rice (recipes here and here)
Hope you try this quick, weeknight dish. Leave me a comment below to let me know what you think of this recipe. Your comments make me smile.
Love – Vaishali.
Tools used:
Knife, peeler and chopping board
Skillet or non-stick pan (my favorite is this one)
Spatula
Measuring Cups and Measuring Spoons