Helloooooooooo Daylight Savings! I have to admit it, the Monday after daylight saving begins is rough. Not being a morning person at all, every morning I do not wake up until I absolutely have to. Dr. A is absolutely a morning person and he is a morning tea drinker. Morning tea, or more popularly "bed tea", is a ritual that he has been following for almost five years now. He has many times suggested the "romantic" idea of waking up together early in the morning, which doesn't work for me, and enjoying our cups of bed tea together, which doesn't work either because I do not drink tea. So there goes Dr. A's idea of a romantic morning.
However, I feel that I can wake up and get functioning just in time to save the day, or for relevance, breakfast. Both me and Dr. A share responsibilities to get the kids ready and get the day started. More often than not, we make it to bus stops, meetings, conference calls etc. on time, albeit after some struggles. But one thing that we make sure not to compromise with is our breakfast. All four of us have to have our combinations of dairy, proteins, fruits (and veggies), and carbs. Sometimes it is difficult to get all the food groups in but I am continuously amazed by the old fashioned, traditional Indian breakfasts and how balanced in nutrition these breakfasts are. One such breakfast dish that I constantly find myself falling back on is savory daliya or cracked wheat (think wheat grits).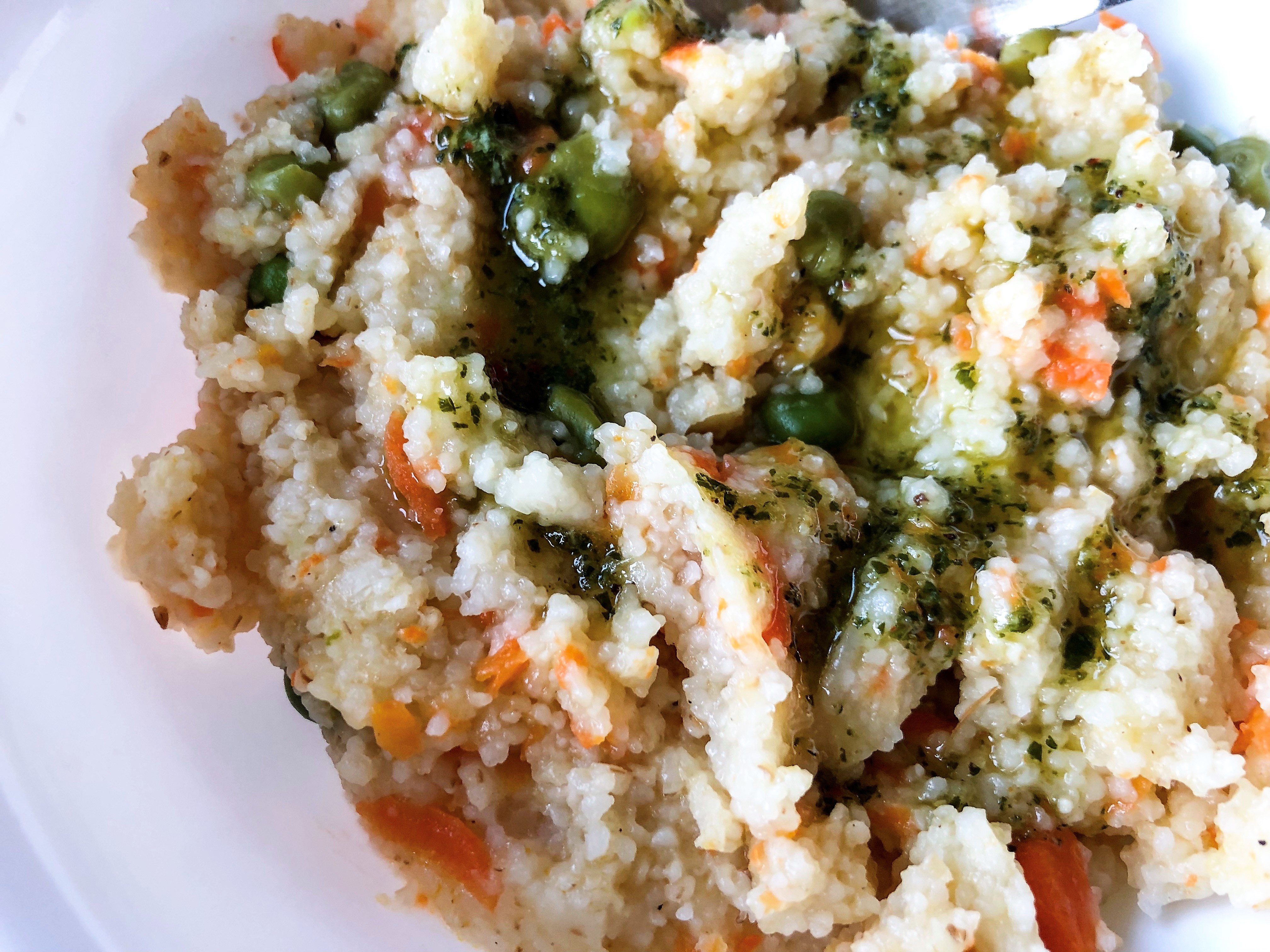 The sweet preparation of daliya in milk is more common than the savory daliya version, but we, as a family, are more fans of this savory version. I make it in a pressure cooker and it comes together rather quickly for a busy morning. It can be made in an open pot too but it will take substantially longer to soften and cook the cracked wheat.
Recently, I discovered that you could buy cracked wheat (bulgur) in different "sizes" from the Middle Eastern section in grocery stores. The finest size has less texture but cooks rather quickly. So, if you do not own a pressure cooker, I would suggest to but the "finer" version of daliya.Normally, I buy a number 2, which is medium sized cracked wheat. Bob's red mill also sells bulgur that you can find in your regular grocery store; however, I am not sure about the size of bulgur they sell.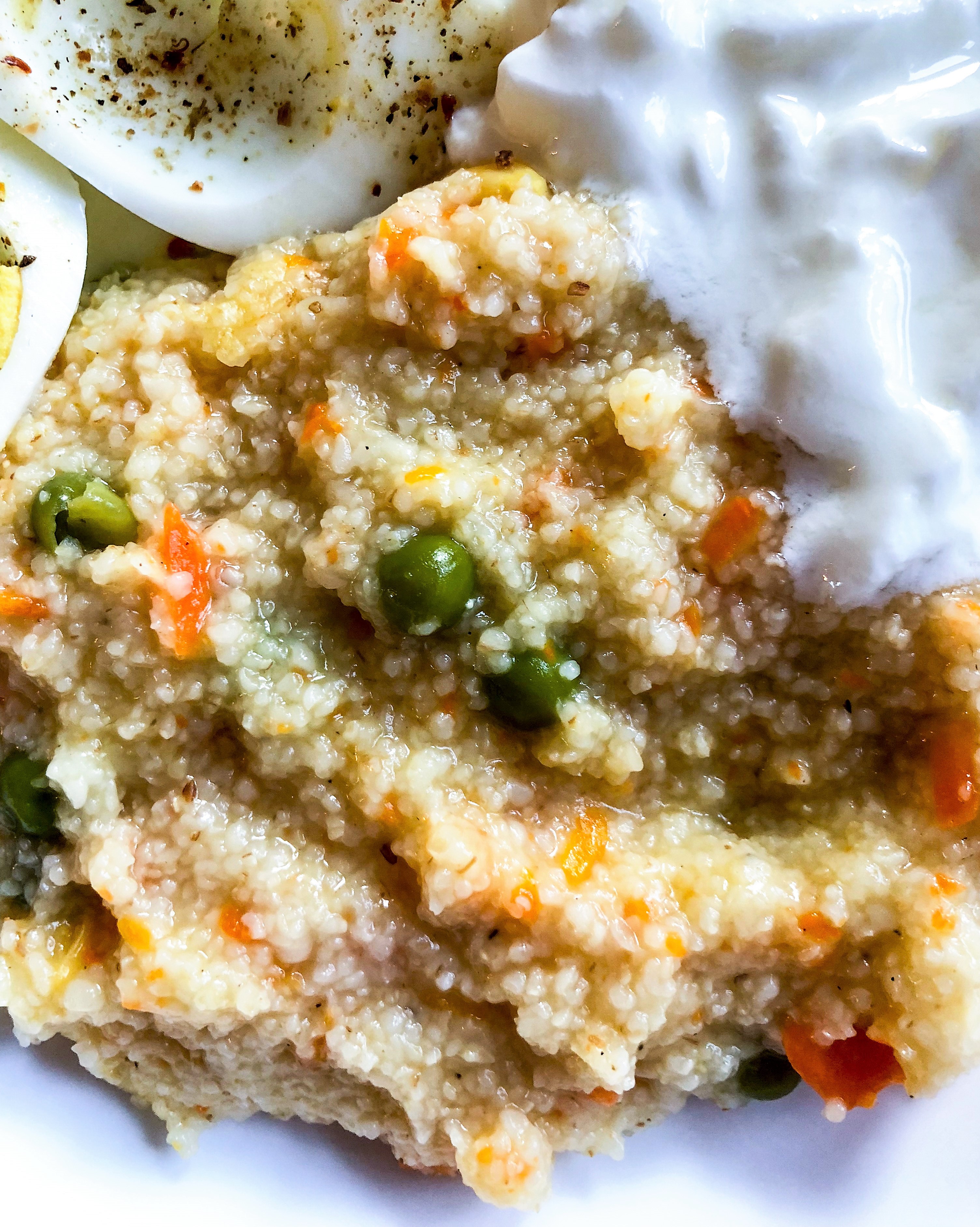 A quick toast on the daliya in ghee (recipe here) or oil followed by veggies of your choice and double the amount of water; one whistle on full pressure in the pressure cooker and that's it! Savory daliya is ready, serve warm with yogurt or this sauce! Whole grains, veggies, healthy fats, and protein for your breakfast! Here is the handy dandy printable of the recipe.
Quick Savory Daliya or Cracked Wheat (Bulgur) with Carrots and Peas
A popular North Indian breakfast cereal made with cracked wheat and vegetables. Best served hot with yogurt.
Ingredients
1

cup

Daliya

Cracked Wheat or Bulgur

1

tablespoon

Ghee

or Oil

½

cup

frozen carrots and peas

you can use fresh too

1

teaspoon

cumin seeds

2

cups

water

Salt and freshly ground black pepper to taste
Instructions
Rinse the daliya in fresh water. Set a pressure cooker on medium high heat and add ghee or oil to it.

Once the ghee is melted add the cumin seeds and wait for them to splutter. Add the daliya and toast it for about a minute. Add the carrots and peas and give everything a mix.

Add the water along with salt and pepper to taste. Put the lid on the pressure cooker and turn the heat to high. Wait for the pressure cooker to reach full pressure (or "whistle"), about 5-7 minutes. Turn the heat off and let the pressure release by itself (it takes another 7-10 minutes) for this.

Serve the daliya hot with a bowl of plain yogurt. A hard boiled egg on the side makes it more exciting! Healthy and fulfilling breakfast.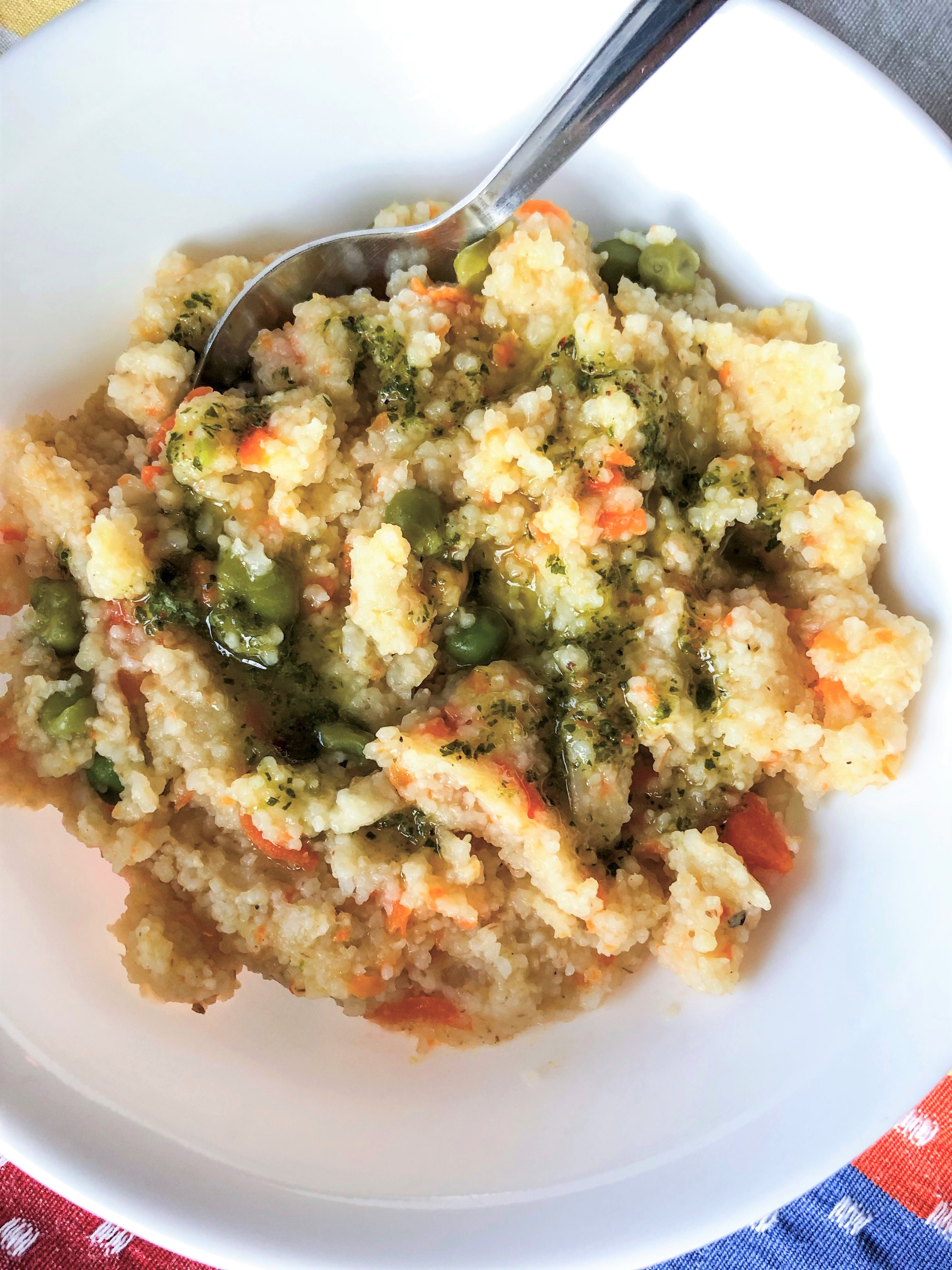 Therefore friends, give this quick and healthy breakfast a try and let me know!
Love- Vaishali.
Notes:
Make the recipe vegan by using oil of your choice instead of ghee.
This sauce drizzled on daliya takes it to a new high.
If making in an open pan, add more water and cook till the wheat is soft. It would take between 30-40 minutes for medium size cracked wheat.
Tools used:
Pressure Cooker (I use this one)
Measuring Cups and Measuring Spoons
Spatula