Paldah is one of the most popular Himachali dishes that are out there. Himachali means from the state of Himachal Pradesh in India…just like Punjabi means from Punjab! Himachal Pradesh is geographically situated north of Punjab and is a beautiful mountainous region whose name literally translates into "Land of Snow". If you have not been to Himachal, I strongly suggest you to plan a trip if you ever find yourself in Northern India. The beauty of the state is breathtaking – snow-capped mountains, lush green valleys, and clouds dancing around you.
I am a part Himachali from my mom's side so I have grown up eating many Himachali dishes along with our regular Punjabi fare. Paldah and another variation of this yogurt-based dish called "rehdoo" are regulars in my mom's kitchen. And it used to be the same way in my Jhai Ji's (my mom's mom) kitchen too. It is a humble dish that requires no fancy ingredients or anything that you might even need to make a trip to the grocery store for. Most times, it is an accompaniment to a main lentil or vegetable dish, but I can enjoy a bowl of Paldah with rice (find the recipe here) just as it is. Yum!!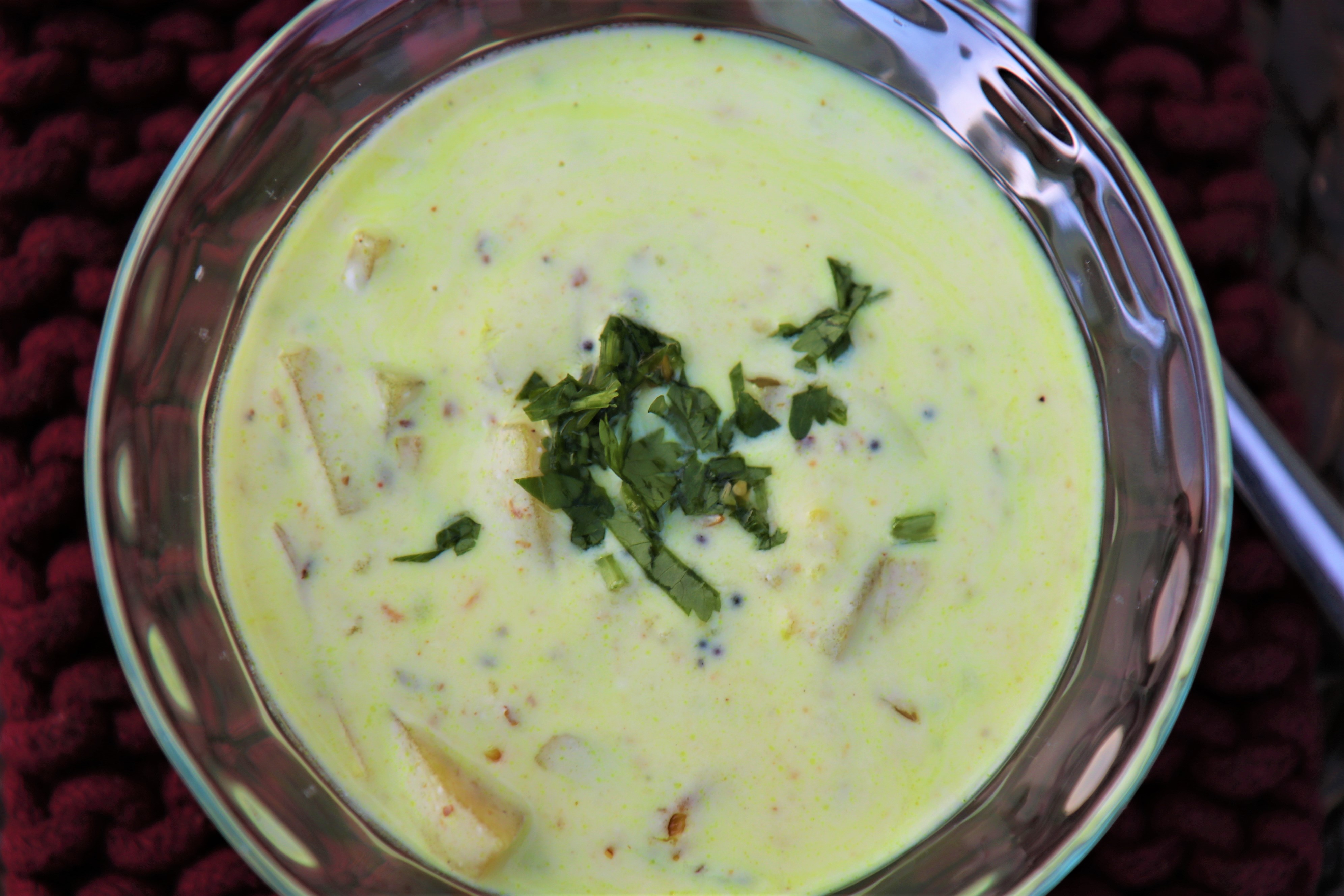 Ingredients:
Plain Yogurt – 2 cups (I used homemade)
Potato – 1, big
Ghee/Oil – 1 tablespoon
Cumin seeds – ½ teaspoon (Please see note)
Black mustard seeds – ½ teaspoon (optional)
Curry leaves – 10-12, or from 1 sprig (optional)
Turmeric powder – ½ teaspoon
Salt – to taste
Garam masala – ¼ teaspoon
Water/milk – to dilute the yogurt
Cilantro – 4 sprigs
Method:
Take out the yogurt from the refrigerator and whisk it by adding water or milk to get a consistency you like. I like to keep it somewhere between buttermilk and heavy cream consistency. It is important to let the yogurt come to room temperature before we add to the potato masala that we will make, so that the yogurt does not curdle or "break apart" due to a sudden temperature change.
Dice the potato into small, uniform pieces. This will help the potatoes cooking faster and at the same time. Wash and strip the curry leaves from the stem (if using). Wash and chop cilantro.
Set a heavy bottomed saucepan over medium high heat. Add ghee (find the recipe here) to it (Paldah derives some of its flavor from the ghee used for tempering, but feel free to use any mild flavored oil if you don't have ghee). Once ghee melts, add cumin and mustard seeds. Mustard seeds and curry leaves are not used in traditional Himachali cuisine and are more prominent in South Indian cooking, however, I love the flavors so I add them to my Paldah. Again, your call! Add turmeric powder and then the diced potatoes. Add salt to taste and mix. Cover the pan, lower the heat and let the potatoes cook for 10 minutes, while stirring once in between.
While the potatoes are cooking, add some salt and garam masala to your yogurt and mix. After 10 minutes, check a piece of potato for doneness, it should be fork tender. Cook for a few more minutes, if needed. Switch of the flame and wait for 5-10 minutes so that the potato masala cools down a little bit. Add the yogurt to potato masala whiling stirring/whisking constantly, till incorporated well. Check for salt, sprinkle cilantro and serve at room temperature with roti (recipe here) or rice (recipe here). Enjoy!
Love – Vaishali.
Tools used
Measuring cups and spoons
Knife and chopping board
Saucepan and spatula
Mixing bowl
Note: If you do not use mustard seeds, increase the quantity of cumin seeds to 1 teaspoon.