A long time ago I saw a recipe of Harissa and orange rice. And I could not, for the love of my life, recall where I saw it – was it online or in a real magazine (you know the actual paper and ink types). Was it Saveur or Williams Sonoma or some other? I had a vague memory of the ingredients and a beautiful picture in a dark setting in my mind. A deep black bowl with beautiful orangish rice. That's it.
I was struggling to decide what to make for dinner. That is what happens when I do not plan my weekly meals ahead of time. I am sure you hear me on this one. Anywho, rice is always a good go to option for me. Everyone in the family loves it (well, almost – Dr. A says he never feels "full" after eating just rice, and I do not blame him). Rice dishes typically come together rather quickly (other recipes here, here, and here), are versatile, and you can throw in pretty much anything with rice.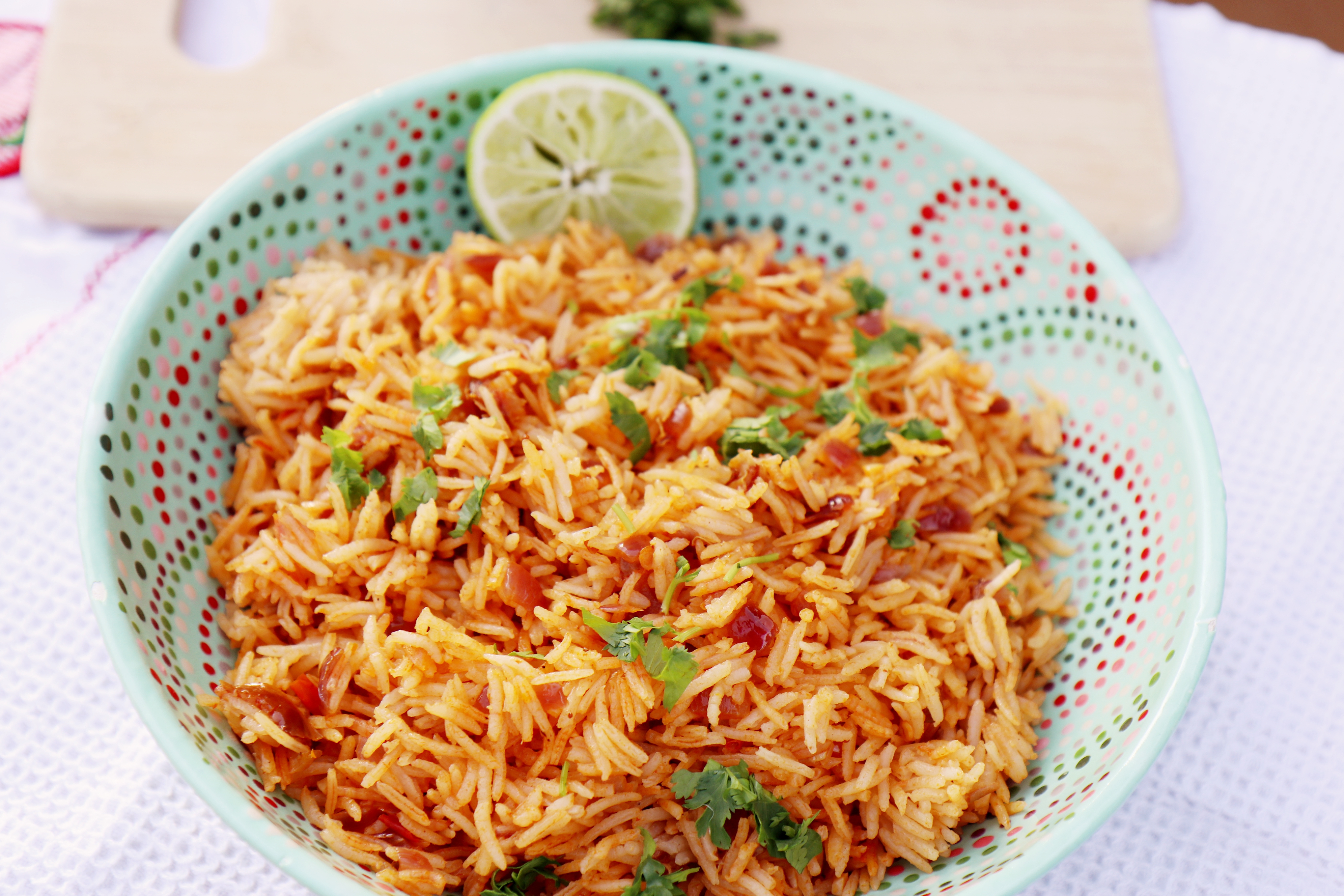 I had a bottle of harissa in my refrigerator from some time ago. It was bought to make a Tunisian chicken dish and didn't use it much after that. I know it is spicy and a little goes a long way so the thought of adding some citrus and sweet flavor notes along with it started playing in my mind. The harissa adds a good bit of spice so use it sparingly depending on the heat level you can handle. Dates are such a flavorful addition to this dish and add the much needed sweetness along with the citrus notes of orange zest and juice. So armed with a vague memory or the magazine's recipe, the picture and ingredients on hand, I embarked on this pulav making journey.
Pulav or Pilaf, for some of you who might not know, is a rice dish cooked in a seasoned broth with vegetables, meat or other additions in it. Super flavorful – Always!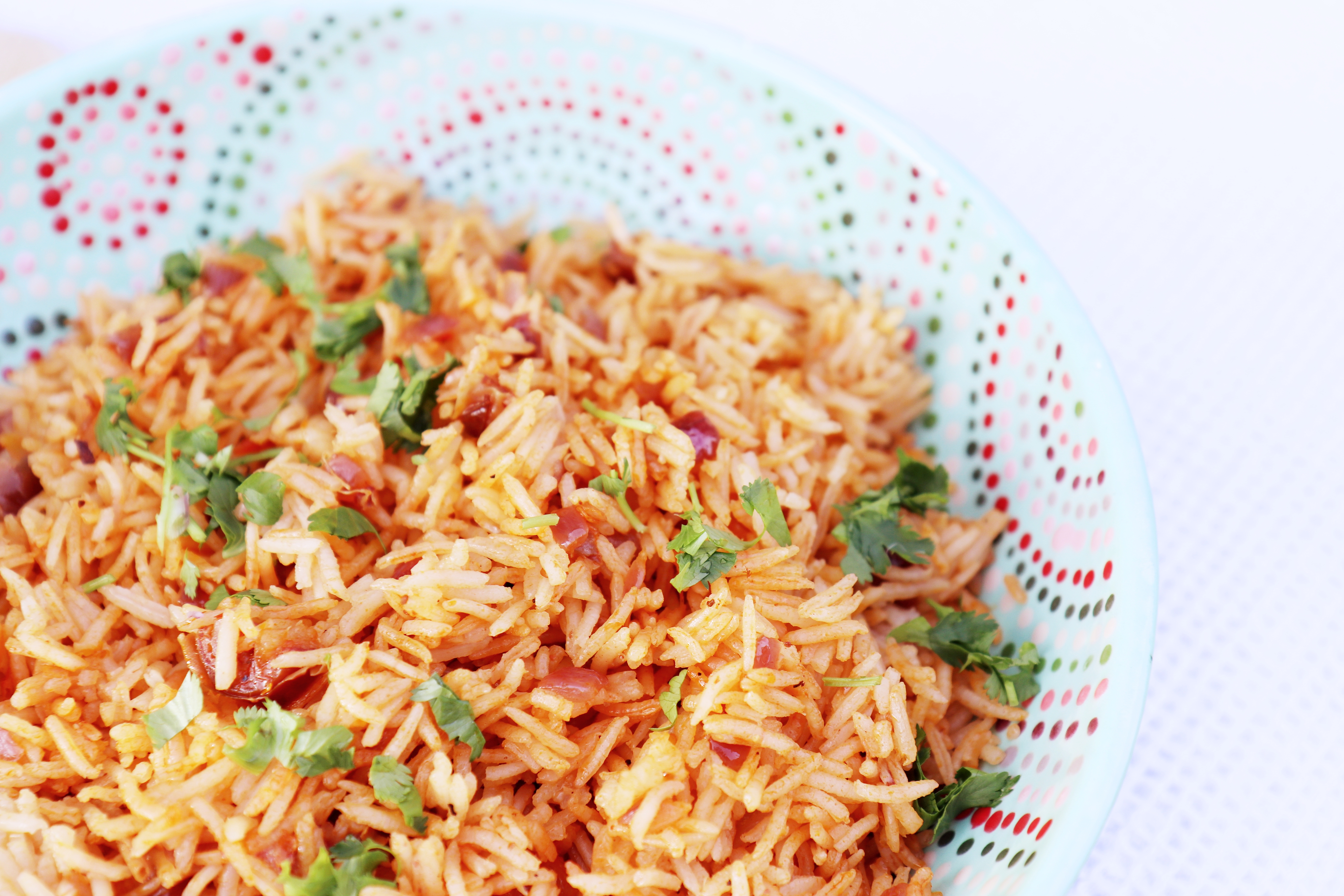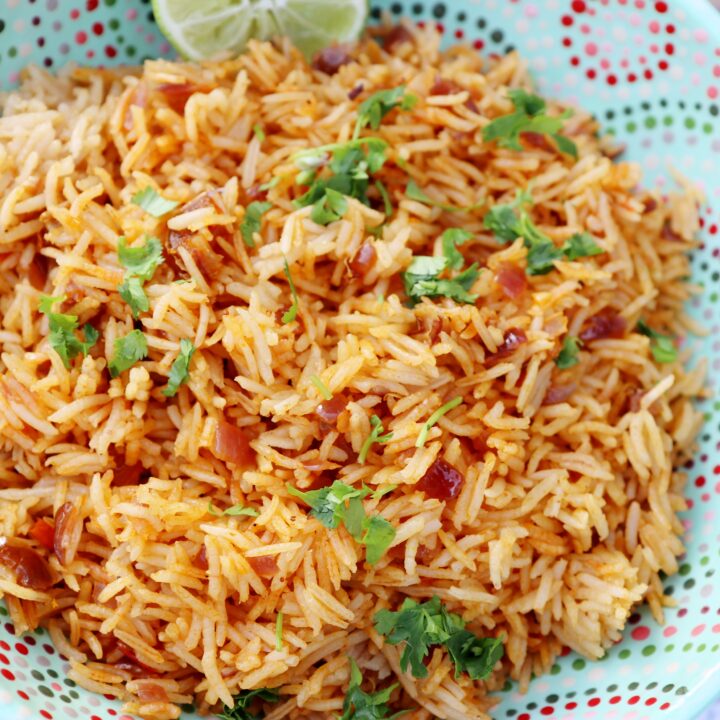 Harissa and Orange Scented Rice with Dates
A flavorful rice dish with spice and kick from harissa, beautiful and aromatic citrus notes from orange juice and zest along with sweetness from dates. A homerun!
Ingredients
1

tablespoon

olive oil

1

cup

red onion finely chopped about half of a big onion

2

cloves

garlic minced

1

teaspoon

harissa paste OR to taste

*See Notes

1

orange,zested and then juiced

1

cup

long grain rice preferably white basmati

6

mejdool dates diced small

1 to 1.5

cup

broth vegetable or chicken

* See Notes

Salt and freshly cracked black pepper to taste

5

sprigs of parsley leaves stripped and roughly chopped *See Notes

Lime juice

optional
Instructions
Zest the orange and juice it in a measuring cup. Add broth to make the liquid 2 cups. So, for example, if you have ¼ cup orange juice add 1 ¾ cup broth.

Rinse and soak the rice in water while you get other things done.

Set a heavy bottomed skillet (choose one with a lid) on medium high heat. Add oil and wait for it to get nice and shiny. Add the chopped onions and minced garlic.

Reduce the heat to medium, add a pinch of salt and sauté till onions have softened, about 5 minutes.

Add the harissa and mix to combine with onions and garlic. Drain the rice and add the rice to the skillet. Mix to coat the rice with harissa and onions. Add the diced dates and let the rice toast for about a minute or two.

Add the orange juice and both mixture, salt and black pepper and mix. Turn the heat to high and cover the skillet with a lid.

Wait for the liquid to come to a full boil and then lower the heat to low and cook for 15-20 minutes. after 15 minutes, check a spoonful of rice for doneness. Caution – HOT!

Turn the heat off and let the rice stand for another 10 minutes before adding parsley and lime juice (if using). Gently fluff with a fork and serve warm as such or with yogurt.
Notes
Harissa is spicy so use according the level of heat you would like. 1 teaspoon of harissa added a good spice punch to this rice dish.
I used chicken broth to add more flavor to the rice. Use vegetable broth to make the dish vegan. And of course, you can use water.
You can use cilantro if that is what you have on hand. Or skip it. Your call!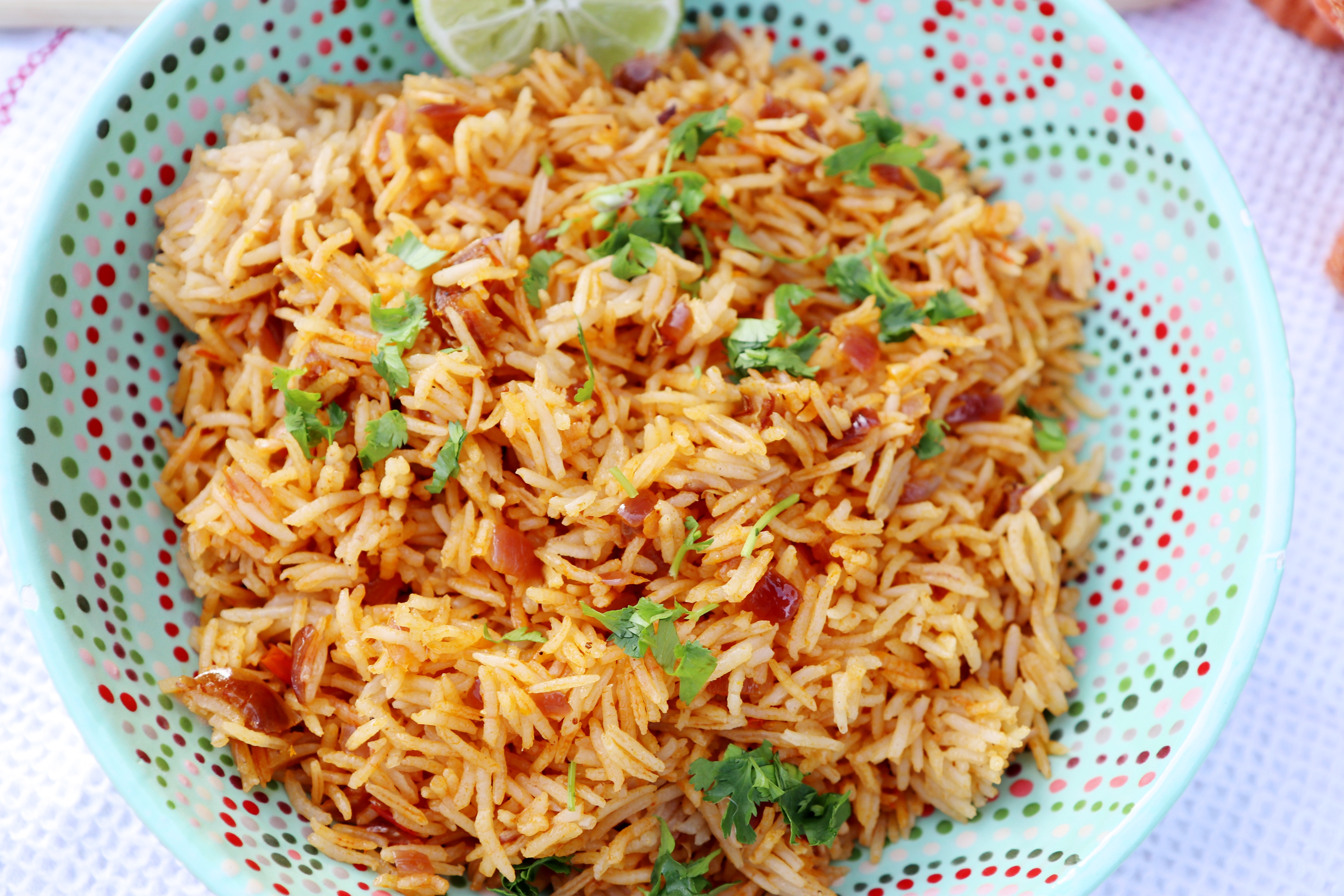 Hope you will enjoy this simple yet very flavorful dish.
Love – Vaishali.
Tools used:
Knife and chopping board
Measuring Cups and Measuring Spoons
Skillet with a lid (I love this one)
Spatula
A bowl to rinse and soak rice (optional)