India celebrated her 71st Independence day on August 15. Such a young nation, with such beauty and diversity. So many cultures, colors, languages, climates, land-forms, religions, and flavors.  We are beyond blessed to be living a town in the United States where the community is very welcoming and encouraging; and we together celebrate holidays and occasions from around the world and love it!
The Indian Student Association of our small college town, along with the members of the local community, celebrates Indian Independence day every year in a local park by hoisting both the U.S. and Indian flags and singing both the national anthems followed by lip smacking Indian food lovingly cooked by everyone. This year I signed up for cooking vegetable biryani for the group. Now if you do not know about biryani or have not tried it, my friends, let me introduce to a rice dish so delicious that you can almost say that Biryani represents the acme of Indian cooking. Though this last statement can easily be challenged. But you get the point right?
Traditionally, biryani is a dish of rice and some sort of meat flavored with aromatic spices, ghee, and "dum" cooked. "Dum" is a method of slow cooking in which a pot is covered with a lid that is sealed with a layer of dough and heated for a long time so that trapped steam inside the pot cooks everything low and slow. Meat and rice are partially cooked, then layered alternatively before "dum" cooking. The result is out of this world. Though biryani is traditionally a meat dish, made with goat, lamb or chicken; the vegetarians have adapted it to their preference. Though I'm saving the recipe for vegetarian biryani for another day, I thought of coming up a rice dish similar to flavor of biryani but cooked like a pulao. Biryani police – please forgive me. I am trying to strike a compromise between time consumption and flavor here. Sorry…:P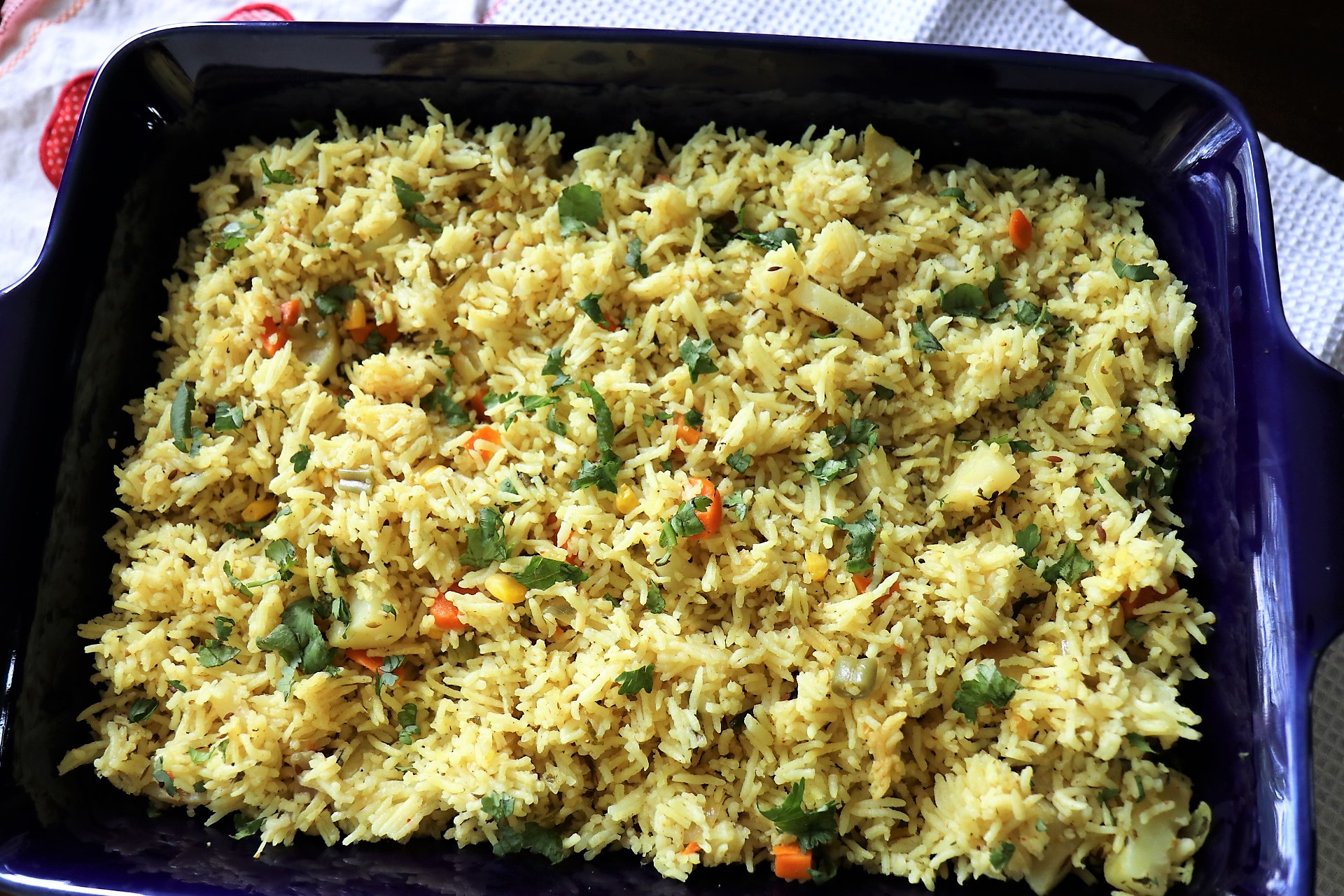 Ingredients:
Basmati rice – 1 ½ cup
Onion – 1 big
Potato – 1 big
Carrots – 2
Cauliflower – florets, 1 cup
Peas – ½ cup
Green beans – ¼ cup
Ginger – 1 tablespoon (about 1 inch piece)
Garlic – 1 tablespoon (from 3 cloves)
Cumin seeds – 1 teaspoon
Cloves – 2
Green cardamom – 2
Bay leaves – 2
Cinnamon – ½ inch piece
Turmeric – ½ teaspoon
Red chili powder – ¼ teaspoon
Coriander powder – 2 tablespoon
Curd/yoghurt – 4 tablespoon
Mint leaves – ¼ cup, packed
Cilantro – ¼ cup, packed
Water – 3 cups
Salt – to taste
Oil – 2 tablespoon
Ghee – 1 tablespoon (recipe here)
Method:
Rinse and soak the rice in water. Cut onions into slices, and chop potatoes, carrots, green beans and cauliflower into ½ inch pieces. Mince ginger and garlic. Finely chop mint and cilantro.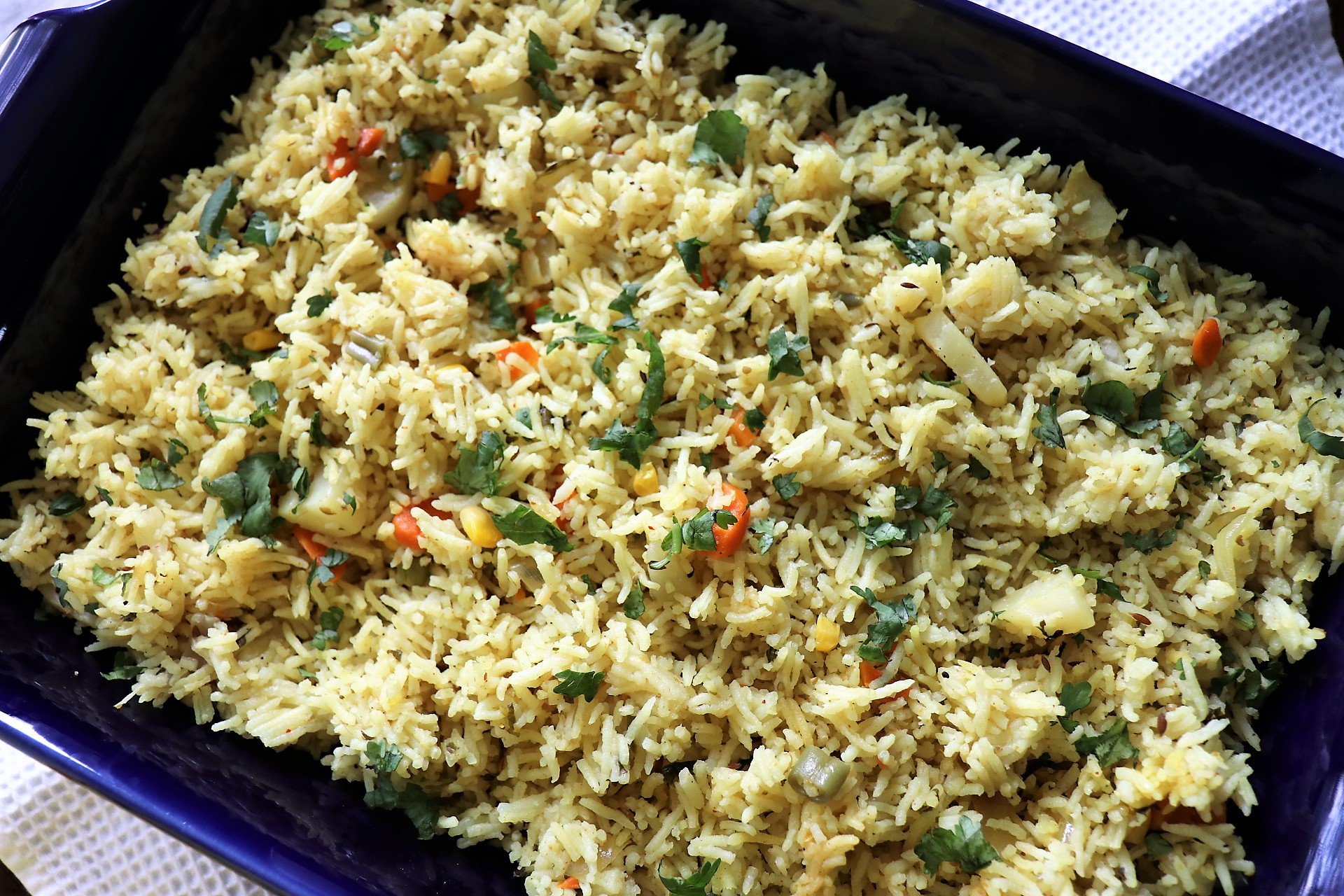 Set a heavy bottom pan on medium heat and add oil. Once the oil is hot and shimmering, add the cumin seeds and wait for them to crackle. Now add cloves, green cardamoms, cinnamon and bay leaves. Cook for 30 seconds and then add sliced onions. Add ginger and garlic and cook till the raw smell goes away, about a minute. Now add all the vegetables and mix. Cook for 4-5 minutes. Add turmeric, chili and coriander powders and cook for another minute or so before adding yogurt. Add yogurt, mix and let cook for 4-5 minutes. Then add chopped cilantro and mint.
In a measuring cup, microwave 3 cups of water for 2 minutes. Drain the soaked rice and add to the vegetable mixture. Add the hot water and salt to taste. Give everything a mix and increase the heat to high. Cover the pan and let everything come to a boil. Once boiling, lower the heat to a simmer and cook covered for 20 minutes. After that time, turn the heat off and drizzle the pulao with 1 tablespoon of melted ghee. Leave covered and undisturbed for another 15 minutes, after which fluff the pulao with a fork or back of a spoon and enjoy with yogurt/raita.
Love – Vaishali.