Some weeknights are such a whirlwind. Yesterday was Ms. Little A's back to school parent teacher night. 5:30 - 7:30 PM - a whopping two hours taken out of the already crazy weekday evening schedule. Planning our week's menu ahead on the weekend is a life saver in situations like this. We knew that back to school night would bring dinner challenges with it since mommy and daddy go to school and kids cannot come along. So there goes the option of going to eat out after the event. Since carry out was not an option (everyone voted against it), I jotted down pasta and garlic bread on the menu planner for this night. In my mind - "we shall see". On the day of, I had some gorgeous fresh corn and zucchini from the farmer's market sitting on the counter. And that is when the idea of this super easy weeknight alfredo pasta was born.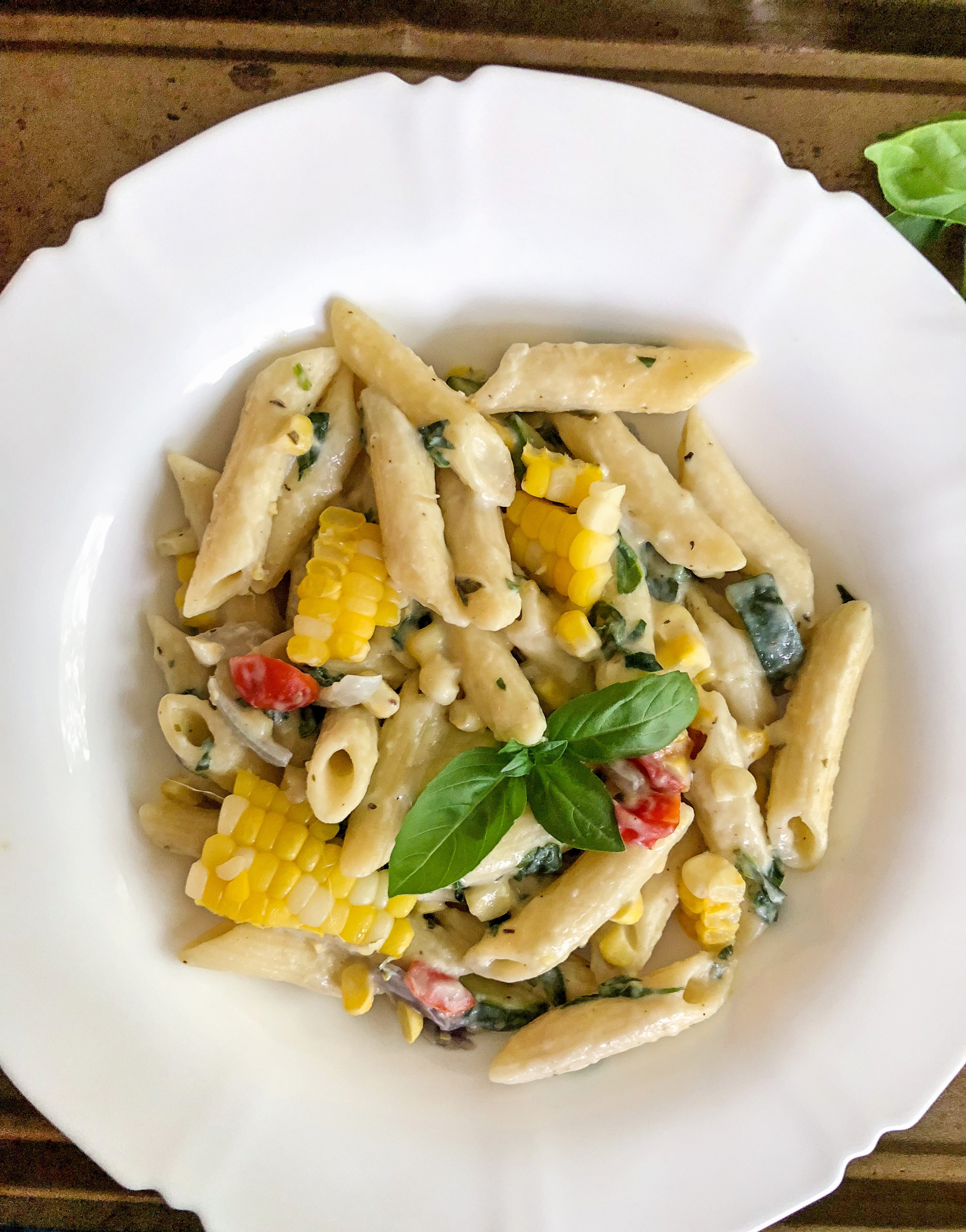 Jump to Recipe
Fall has started knocking on our doors here in the Midwest. We have had lot of rains and the temps have started cooling down. I love love love fall but then I am not ready to bid goodbye to all the fresh vegetable (and corn) bounty that the hot and humid weather of summer brings with it. There is still abundant corn, zucchini, tomatoes, and herbs on the farm stands. Guess what? Each one of these made it to this easy weeknight Alfredo pasta dish.
Between coming home from work and leaving for the back to school night, I was able to talk Ms. A through some steps for getting dinner ready. I walked her through what she needed to do boil and keep the pasta and corn ready by the time we got home later. That would save me so much time later.
What Ms. Little A did:
So she was able to set a big pot ¾ full of water on stove, salt it and wait for it to boil. After the water reached a "roaring boil", carefully she added the whole wheat penne pasta to the pan and set the timer to 12 minutes. While she waited for the pasta to cook, she dehusked and silked two cobs of corn. At 12 minute mark she added the corn to boiling pasta and set the timer to 3 minutes. At which point, she was supposed to turn the heat off, carefully remove the corn with tongs and drain the pasta. I told her to return the pasta to same pot, add cold water to cover the pasta and drizzle some olive oil. Then she waited for me.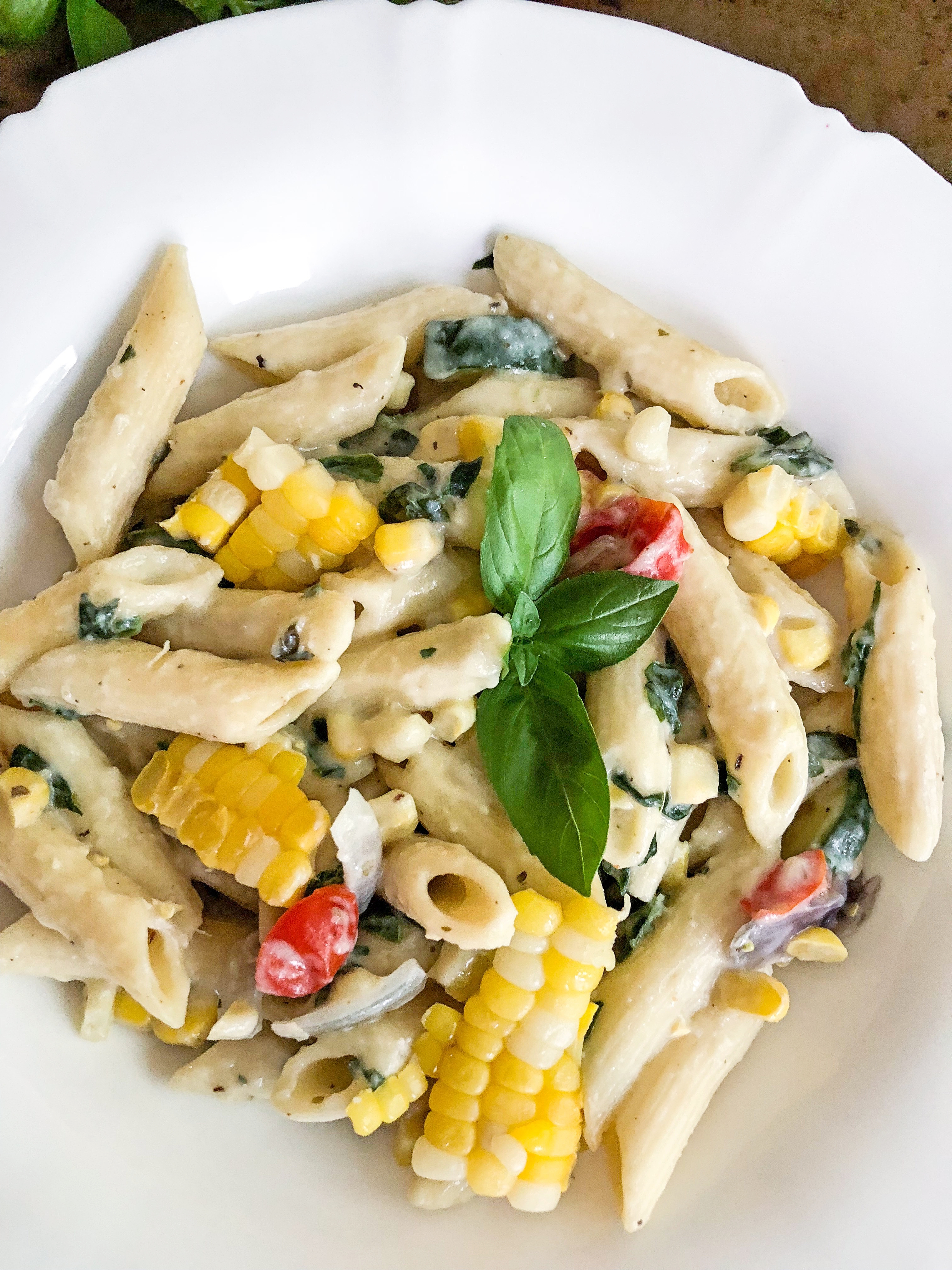 See, if a middle schooler can do this, so can you. Confidence!!
Use of whole wheat pasta and whole wheat flour while making the roux for the pasta makes this recipe healthier as it does not involve any all purpose flour. Use whatever veggie you have on hand. I kept it summer produce focused s used zucchini, cherry tomatoes, corn along with onions and spinach. Freshly grated parmesan is a must. I request you to not use the already grated powdered stuff that is full of unnecessary additives. Buy a block of Parmesan - it is economical, free of harmful chemicals and grating is oddly satisfying.
Recipe Run Down
Onions, garlic and zucchini get a saute in butter and olive oil. I then added the flour, roasted it fr a bit, followed by adding milk/cream, cream cheese to make a sauce. Then added the spinach and corn followed b halved cherry tomatoes. Seasonings go in next, followed b boiled pasta. Parmesan and lot of fresh basil finish the dish. Serve this up with garlic bread or this foccacia (recipe here) Find the recipe details below.
Easy Weeknight Alfredo Pasta with summer vegetables
This easy weeknight alfredo pasta is made with a healthier version of classic alfredo sauce and is full of summer vegetable goodness.

Ingredients
1

lb

Whole wheat penne pasta

2

ears

corn

see notes

1

tablespoon

olive oil

1

tablespoon

butter

1

cup

chopped red onion

2

cloves

garlic

minced

1

zucchini

small cubed

2

tablespoon

whole wheat flour

¼

cup

heavy cream

see notes

¾

cup

whole milk

see notes

1

tablespoon

herbed cream cheese

2

cups

chopped spinach

packed

1

cup

cherry tomatoes

halved, see notes

A

pinch

nutmeg

optional

⅓

cup

freshly grated parmesan cheese

¼

cup

fresh basil

cut into ribbons

Salt and freshly ground black pepper

to taste
Instructions
Set a big pot ¾ full of water on high heat to boil. Liberally salt this water


Once the water comes to a boil, add pasta and cook according to package directions

3 minutes before the pasta gets cooked, add the two ears of corn(husks and silks removed) into the pot too.


While the pasta is cooking, set a wide, heavy bottomed pan on medium high heat. Add olive oil and butter to it and wait for the butter to melt.


Now add the minced garlic, chopped onions and cubed zucchini to the melted butter+olive oil


Cook for a minute or two and then sprinkle the two tablespoon of whole wheat flour. Cook the flour for two minutes or until it is lightly browned and the raw flour smell goes away. If the flour and veggies look too dry you can add some more butter/olive oil


Now add the heavy cream and milk. Using a wooden spoon or a whisk, mix the liquid vigorously with the veggies and flour mixture until uniform.


Once the sauce starts to thicken (after a couple minutes) add chopped spinach and tomatoes. Cook for two minutes or until the spinach is wilted. Turn the heat to low.


If the pasta is cooked by now, take the corn out, save a cup of pasta water and then drain the pasta.


Use a very sharp knife to carefully cut the kernels off of the corn cob. Add it to the sauce.


Add nutmeg, salt and pepper to sauce along with Parmesan cheese. Add drained pasta to the sauce and veggies mixture.


Turn the heat up to medium high, add basil and toss everything around. If the sauce is too thick, adjust the consistency with pasta water.


Adjust seasning if needed and serve the pasta hot with extra parmesan for garnish. This focaccia bread is an excellent accompaniment to this pasta.

Notes
1. You can also use frozen corn. About 2 cups.
2. If you do not want to use heavy cream, use 1 cup whole milk. The sauce might not turn out as thick and creamy.
3. If you do not have cherry tomatoes, use 1 cup chopped tomatoes.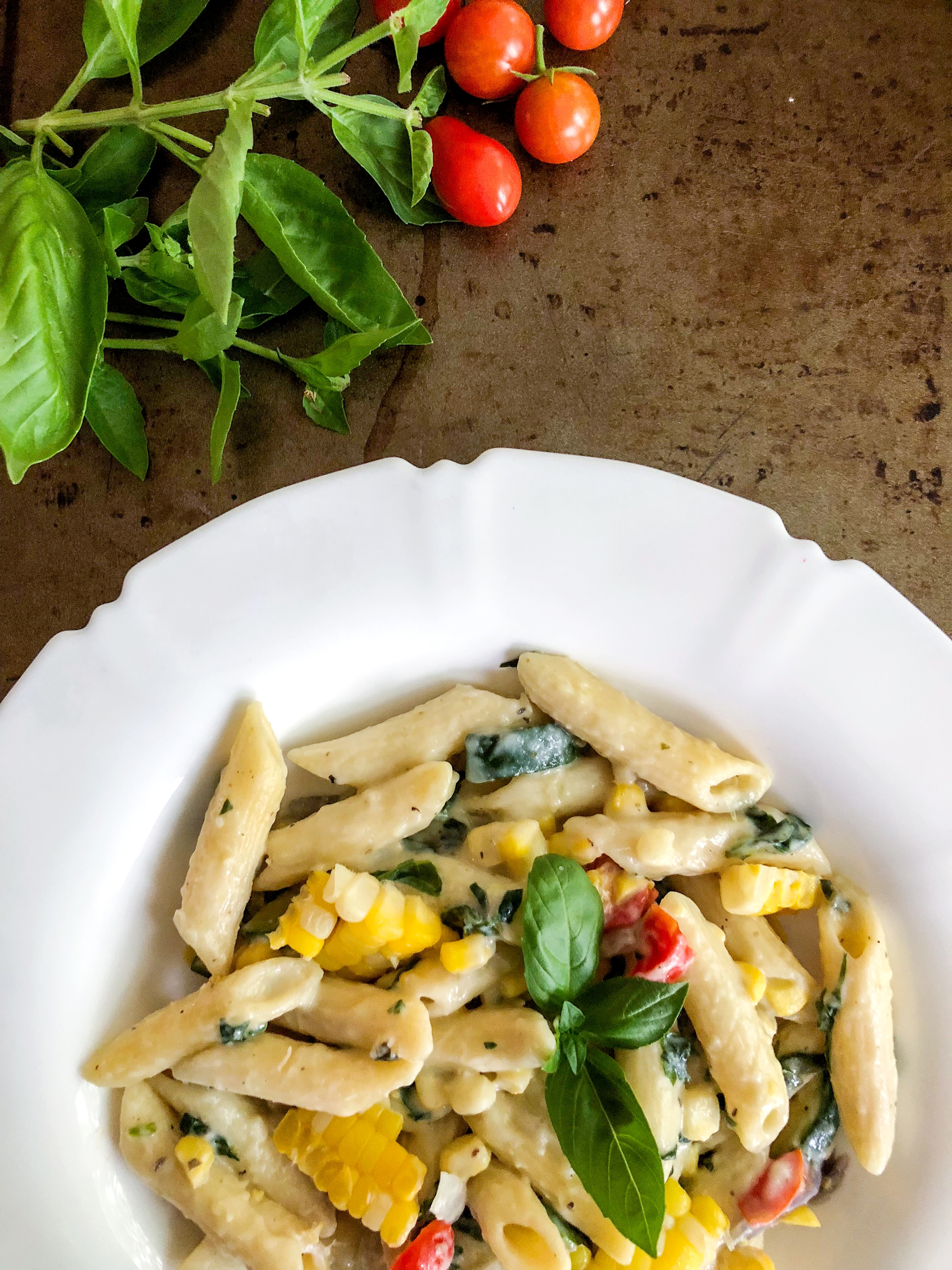 I always like to add some more freshly cracked black pepper on the pasta. I hope you will give this pasta a try while all these summer veggies are still in season. If you do, please tag The Kitchen Docs and share on Twitter, Instagram, Pinterest or Facebook.
Love - Vaishali.
Tools Used:
Measuring Cups:
Measuring Spoons:
Spatula: