Hope you all had a good Thanksgiving and the weekend after. We had a great time with friends on Thanksgiving. A huge meal was made – fusion food – turkey with all the trimmings plus desi dishes that ranged from lamb roganjosh to kheer. It is always fun to have great conversations over yummy food. Some shopping on Black Friday and some AUsome college football on Saturday followed Thanksgiving. Then I got sick…some throat infection so I could not share much with you people here. I am still not a 100% but I missed my virtual blog family so I am back at it again.
Aah…butter chicken! Irrespective of whichever part of the world you are from or whatever your food likings/dislikings are, I am sure you have heard of butter chicken (also known as chicken makhani). It is one of the most iconic North Indian (Punjabi) Chicken Dishes that has soft, melt in your mouth, chicken pieces cooked in a creamy tomato based sauce. The chicken is marinated in yogurt along with spices and ginger-garlic paste and then cooked in a velvety sauce made of butter, tomatoes, onions, ginger, garlic, and aromatic Indian spices.
Nobody in our home is a fan of bone-in chicken and for the longest time I have struggled with boneless white chicken meat drying out while cooking. However tasty and flavorful the saucy or gravy is, nothing can save a chicken dish that has dry meat in it. After trying several methods and ways of making butter chicken, this slow cooker recipe has become my go to recipe for butter chicken. I would recommend using boneless skinless chicken thighs (dark meat) for this recipe, but if boneless skinless chicken breasts are your thing, go for it. The chicken would still be tender and falling apart by the time you are done cooking it in the slow cooker. So get ready to make this fuss-free recipe and have a party in your mouth with the very first bite.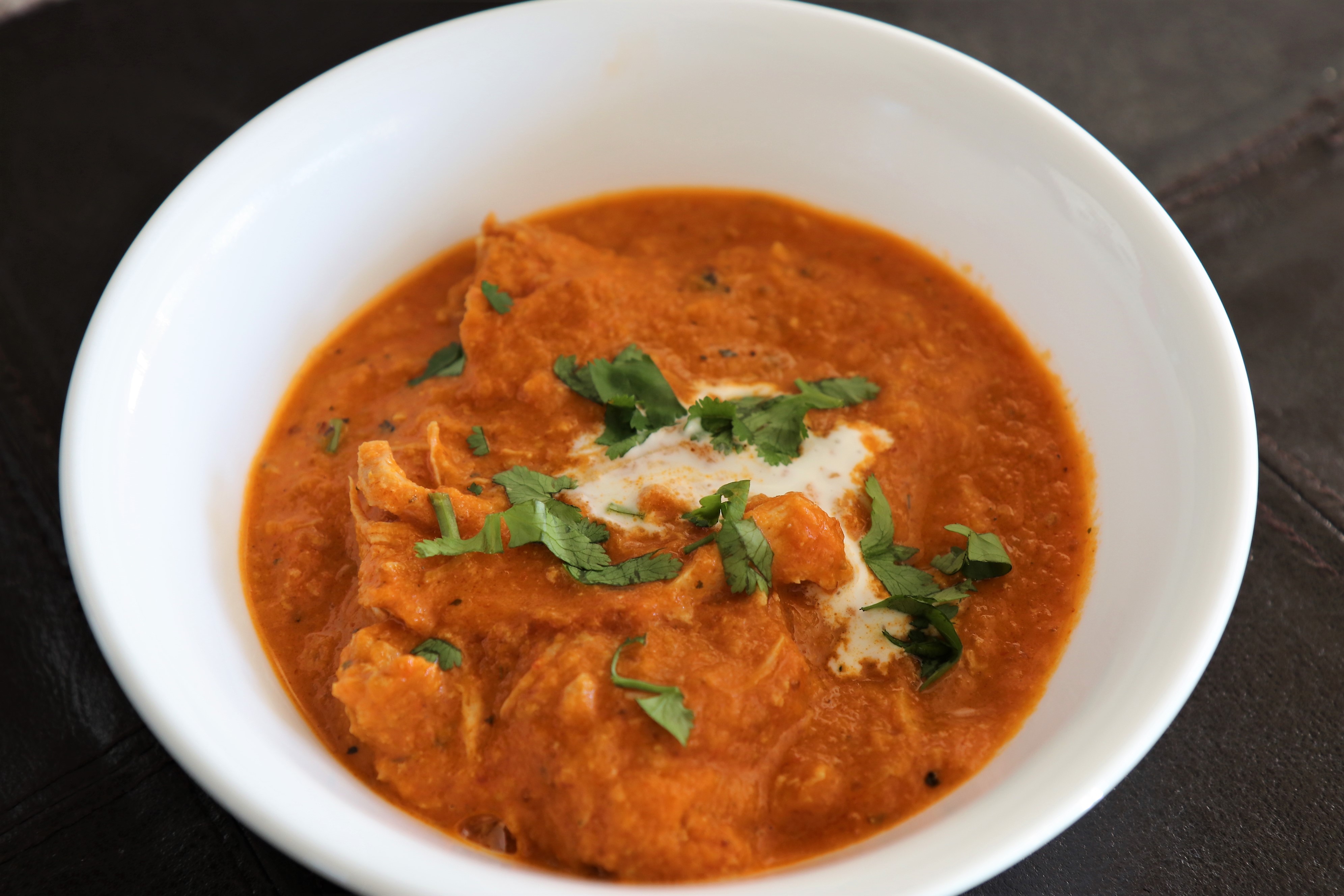 Ingredients:
Boneless skinless chicken thighs (or breasts) – 2lbs/ 1 kg
For marinade:
Garlic – 1 clove, grated
Ginger – ½ inch piece, grated
Thick yogurt – 2 tablespoon
Lime juice – from ½ a lime
Mustard/olive oil – 1 teaspoon
Salt – 1 teaspoon
Red chili powder/Paprika – ½ teaspoon
Garam masala – ½ teaspoon
For sauce:
Butter – 1 tablespoon
Cumin seeds – 1 teaspoon
Green cardamom – 2
Cloves – 2
Cinnamon stick – 1 inch piece
White Onion – ½ big, cut into chunks
Garlic – 3 cloves, smashed
Ginger – 1-inch piece, cut into chunks
Green chili – 1 (optional), cut into fourths
Turmeric powder – ¼ teaspoon
Red chili powder/Parika – ¼ teaspoon
Coriander powder – 2 teaspoons
Tomatoes – 2 cups crushed/pureed (about 4 big tomatoes)
Sugar/honey – 1 tablespoon
Tomato ketchup – 1 tablespoon (trust me – you need this)
Kasuri methi/dried fenugreek leaves – 1 tablespoon
Heavy cream – ¼ cup
Salt – to taste
Cilantro – 4-5 sprigs, chopped
Method:
Mix all the marinade ingredients together and marinate chicken for at least 2 hours.
In a wide, heavy bottomed pan, heat some butter on medium heat. Add the marinated chicken pieces and sear them 3-4 minutes per side. Make sure that the chicken thighs are spread out in the pan in one layer. After the chicken has seared, take it out and put in the slow cooker.
In the same pan, add cumin, green cardamoms, cloves and cinnamon. After about 30 seconds, add the chopped onion and smashed garlic cloves. If there were any chicken bits stuck to the pan, do not let them burn, add a drop or two of water and cook that deliciousness along with your masala. Cook the onions until translucent, about 2 minutes and then add ginger and green chili. Mix in and all the spice powders followed by the crushed tomatoes. Add a pinch of salt and cook till the sauce is bubbly, about 5 minutes.
Turn the heat off and blend the sauce to a smooth paste. I use my hand blender for this. If you are using a regular blender, be very careful, as the sauce is hot.
Add the blended sauce to the slow cooker (that already has the chicken in it), making sure it covers the seared chicken thighs. Add salt, sugar/honey and tomato ketchup, mix and cook on low for 6 hours or high for 4 hours. After that time, finish with kasuri methi and heavy cream. Turn the slow cooker to warm and stir everything. The heat in the cooker will cook the heavy cream. If you want, you could take a fork to shred the chicken at this point. I normally just break it apart a little bit with a wooden spoon. The chicken is so soft that it shreds as you mix. Your call!
Garnish with cilantro and serve hot with naan, chapathi (recipe here) or rice (recipe here). Your taste buds will be forever grateful!
Love – Vaishali.
Tools used:
Slow cooker/crockpot
Hand blender/blender
Mixing bowl
Measuring cups and spoons
Knife and chopping board
Heavy bottomed skillet
Spatula