Do you have a snack in your life that takes you back to the days of your childhood? These aloo patties are that snack for me and much more. In some of my past posts (read them in my "About me" page and in the basmati rice recipe) I have shared with you how I grew up in Punjab but what I have not written about is that I grew up in a very small town on the border of India and Pakistan. Our little town did not have many options to go eat out but there were two great bakeries that were famous for all kinds of cakes, cookies and breads. The bakeries in India, back in the day, were a little bit different from the bakeries we have here. Not very fancy and serving the locals with simple cookies, fruitcakes, fresh baked breads, pastries and cream rolls (cream horns). And one of the two bakeries, called Saini bakery, made these aloo patties. The stuffing of spicy potatoes and peas, almost like you would have in a samosa but instead of the deep fried dough covering, these patties are made with soft, butter and flaky puff pastry. A dunk in tomato ketchup and you have got yourself a perfect bite.
As I moved to the "city" to study towards my engineering degree, I discovered another local bakery, which was much bigger, fancier, very popular and made 1483 more things than Saini bakery. I had to try their aloo patties to make up my mind about how good or bad they were or if all the hype about this big city bakery was for nothing. And Kitty Bakery did not disappoint. Everything that I craved in an aloo patty and more – their iced-coffee was to die for. Dr. A and me would often go to Kitty bakery to grab a snack while we were dating and after we got married, the tradition continued. When I was pregnant with Ms. Little A, I would sometimes ask Dr. A to go grab me my late night snack from Kitty bakery. Those were the days!
Now I am left to fend aloo patties for my family and myself. The best thing though, is that you can buy ready-made puff pastry – so just like the samosa appetizer pinwheel recipe this recipe is semi-homemade. Do not even ask about how to make puff pastry dough at home. It is definitely doable but is very labor intensive. Sometimes, when you have a choice, a trip to the freezer section of your grocery store, saves the day. You can find puff pastry sheets right where piecrusts and whipped topping are. And while you are at it grab a packet of frozen peas from the freezer sections. Some potatoes from the produce section along with few trusted spices (read about my spices 101 here) and you are all set to make this snack from my childhood, and youth, and adolescence, and every age afterwards…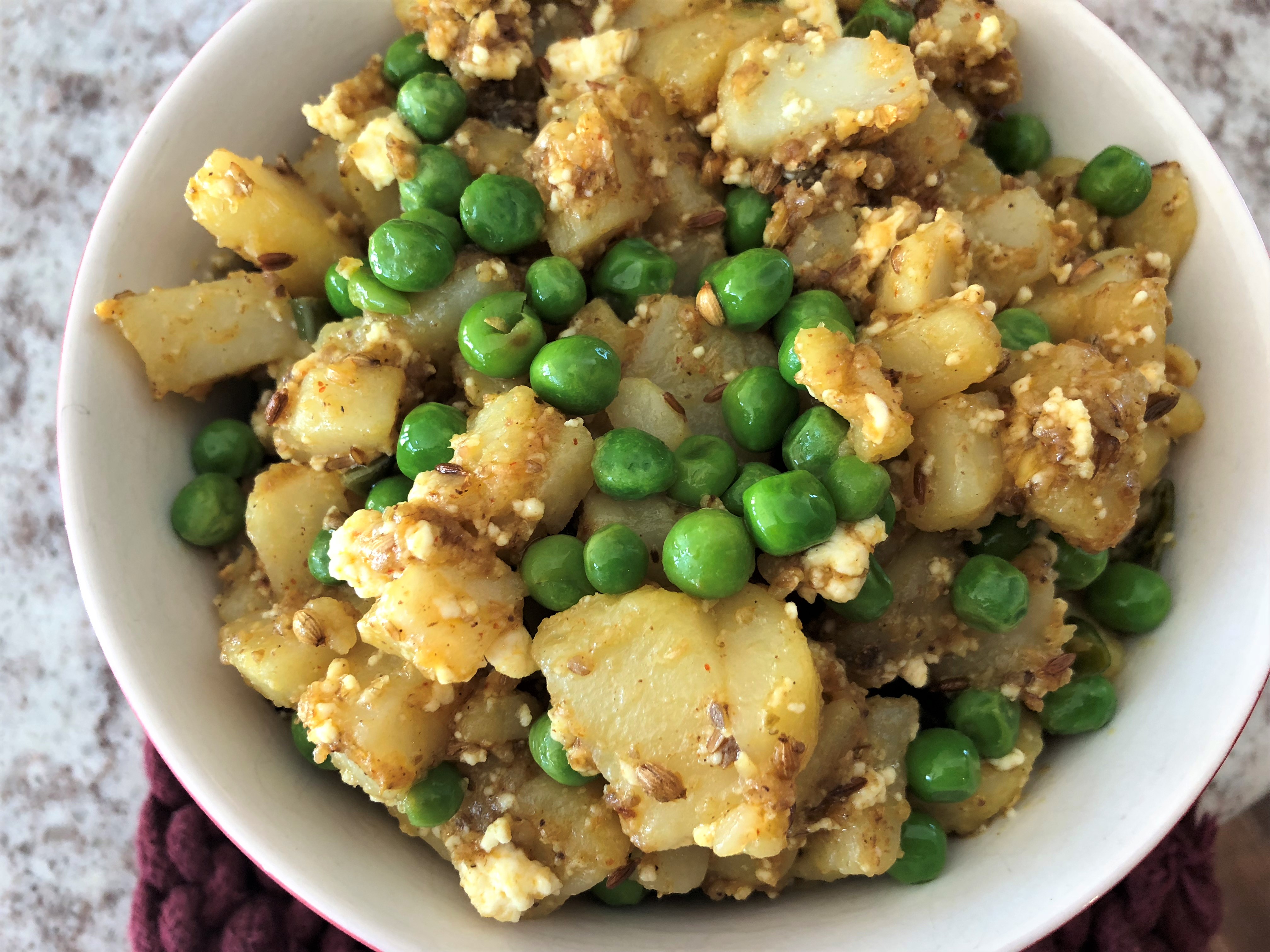 Ingredients
Frozen puff pastry – 2 boxes (each box has 2 sheets, we will use 3 sheets)
Potatoes – 3
Frozen peas – ¾ cup
Paneer – ¼ cup (optional), Recipe here
Coriander seeds – 2 tablespoon
Cumin seeds – 1 tablespoon
Olive oil – 1.5 tablespoon
Green chili – 1, chopped (optional)
Turmeric powder – a pinch
Garam masala – ½ teaspoon
Chaat masala – 1 teaspoon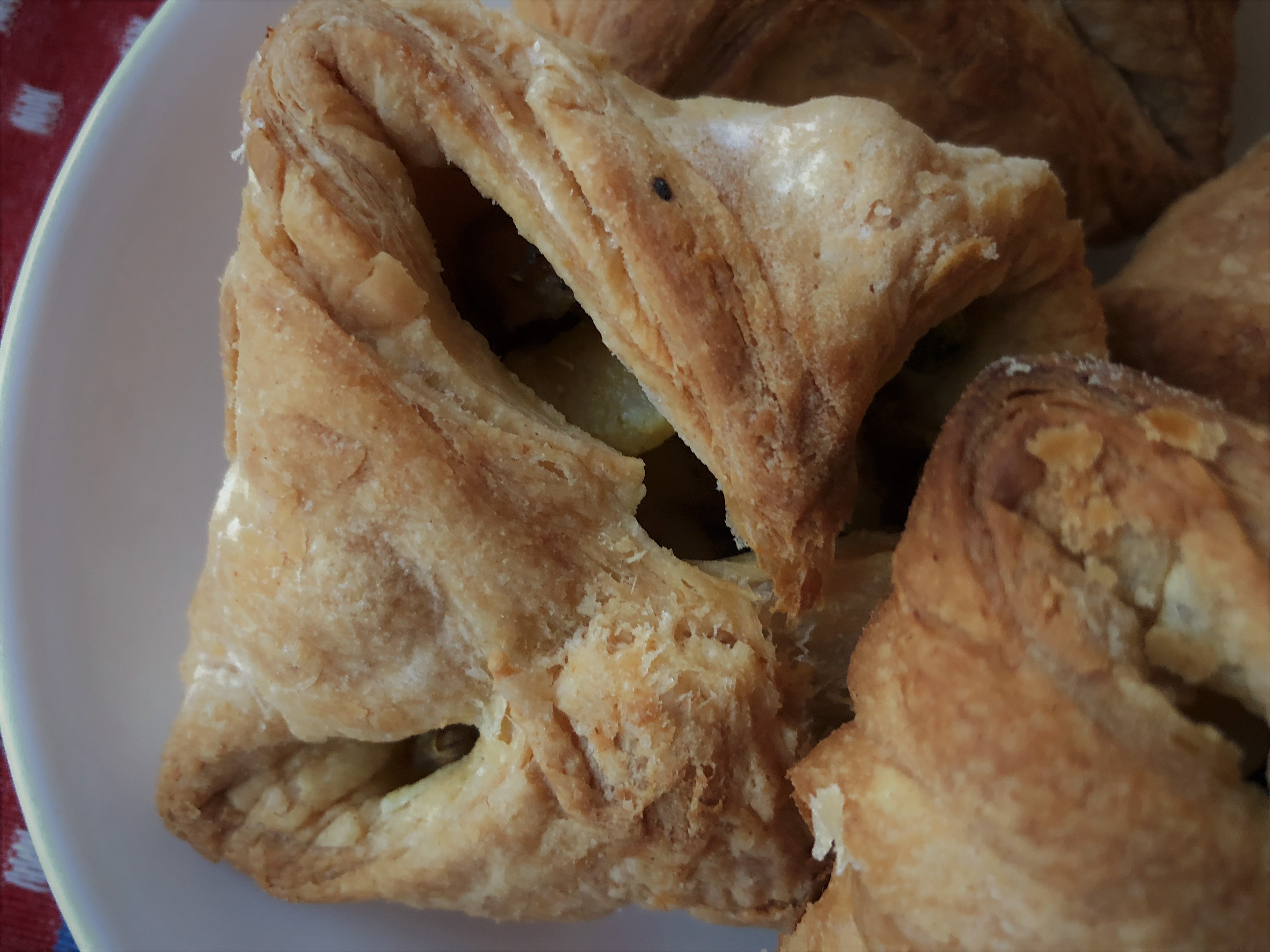 Method:
Boil the potatoes until tender but not mushy. Cool, peel, and dice into small cubes.
Take the puff pastry out of the freezer and set on your counter to thaw.
Set a heavy bottomed skillet on medium high heat. Add the coriander and cumin seeds and dry toast them till fragrant, about 5 minutes, stirring in between. Turn the heat off and grind the coriander and cumin seeds coarsely using a mortar-pestle. Heat the same skillet again and add olive oil along with the coarsely ground spices followed by green chili. Once heated, add turmeric powder and mix. Add the potatoes and peas, crumble in paneer (if using), followed by salt, garam masala and chaat masala. Mix everything well and give a taste check. Adjust seasonings if needed. Set aside.
Preheat the oven to 400 degree F or 205 degrees C. Line two cookie sheets with parchment paper.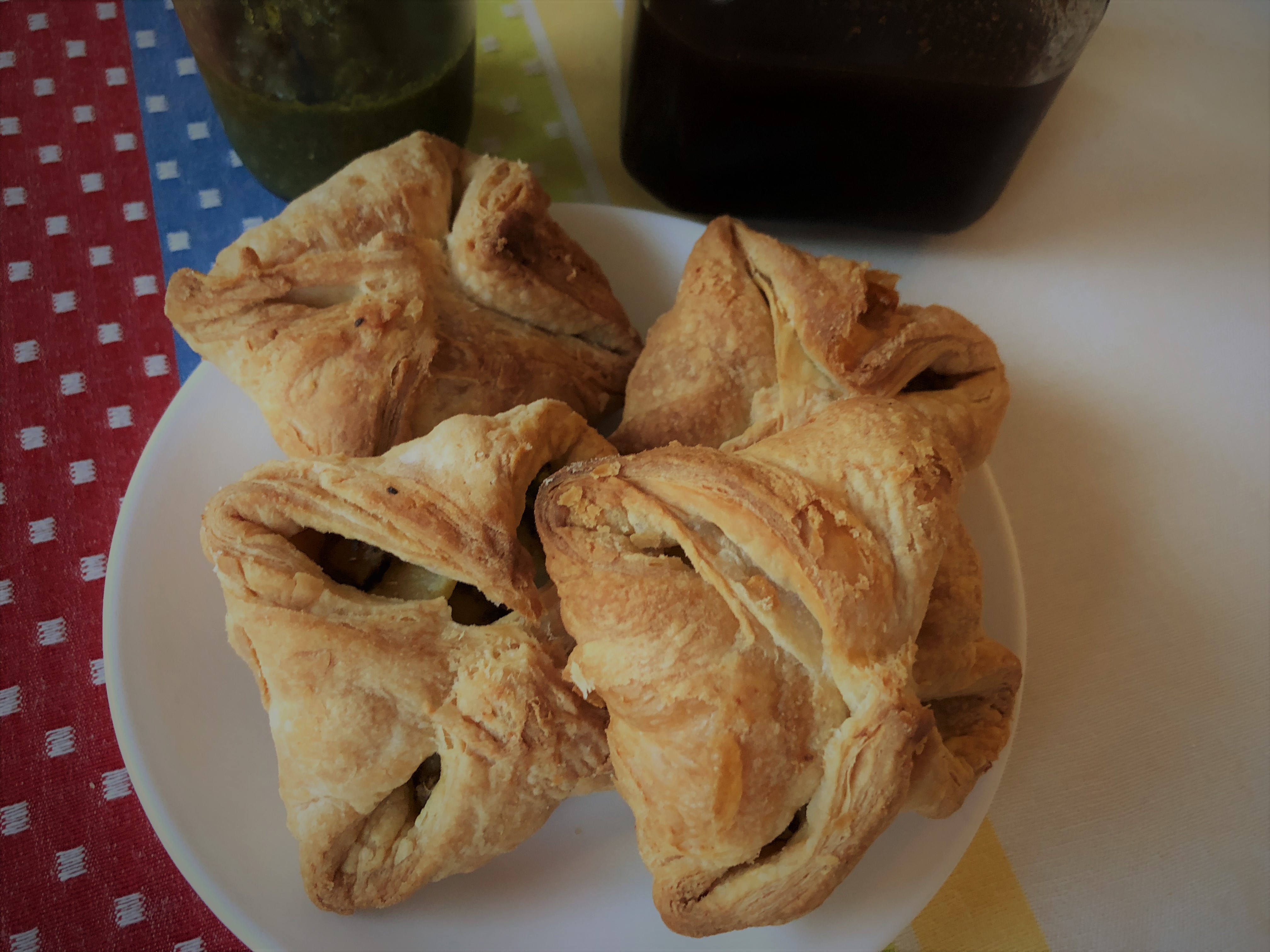 Take the puff pastry sheets out from the box and roll them out on a counter dusted with flour. Roll the puff pastry out a bit to thin it out to about ⅛th of an inch. Cut the pastry into 9 squares. To each piece, add about a tablespoon of the potatoes and peas filling. Bring the opposite corners of the puff pastry in the middle above the masala and use a drop of water to stick them together. Then bring in the other two corners and stick them to the other two corners. Therefore, in the end you will have a square again, this time the potatoes are trapped inside the puff pastry. You need to do this. Do not feel bad. Repeat for other 8 squares. Then do it for two more sheets of puff pastry, so basically make 27 patties. That should use up the entire masala filling.
Lay the patties on the prepared cookie sheets and bake for 15-18 minutes until the patties are nice and golden brown. Take out of the oven and resist the temptation to eat one right away. Serve warm or at room temperature with ketchup or tamarind chutney (recipe coming soon).
Love – Vaishali.
Tools used:
Oven
Cookie sheet
Measuring spoons and cups
Knife and chopping board
Mortar and pestle
Spatula
Skillet