Garam masala is the potent, piquant spice blend that is very characteristic of every North Indian savory dish. Ten minutes and a perfect blend of therapeutic and aromatic spices that can take any dish from blah to fab is ready for you.
This post may contain affiliate links.
Jump to Recipe
First time in sixteen years that we lived in the United States, I found myself without my mom's garam masala. If you know me and a little bit about my cooking, you might know its a BIG problem. You see every year my mom makes sure that my stash of homemade garam masala is stocked up. Either one of us visits India or someone from home comes and visits us. So in the past decade and a half I have never run out of garam masala.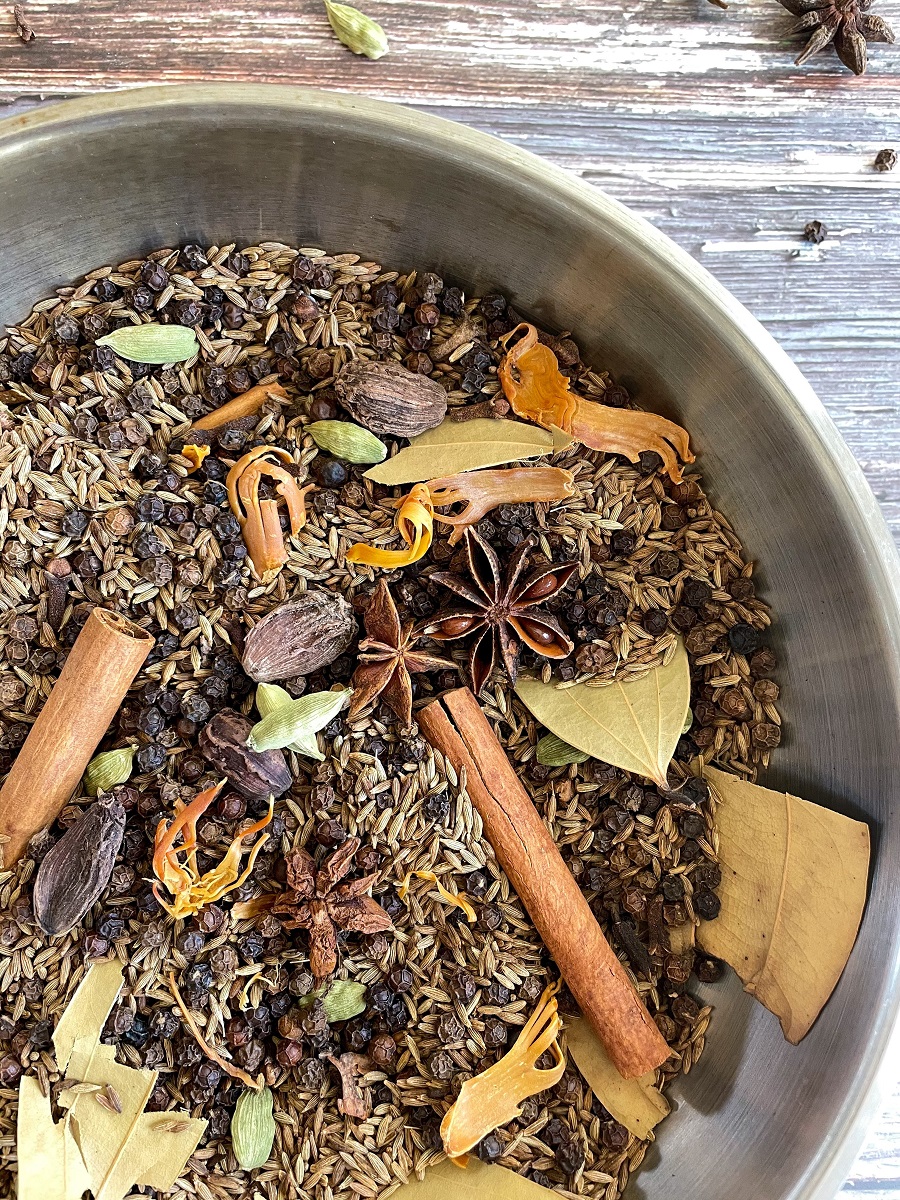 Then 2020 showed up and brought Covid 19 with it and all travels stalled. And along with broken channels of family get togethers, hugs, long talks and other important things in life, my avenue to restock garam masala was disrupted as well. Mommy and I might have discussed garam masala recipe several times in the years gone by but it has always been a little bit of this and a little bit of that kind of discussion. That obviously changed once my supply started running dangerously low. So I sat down with my mommy (over a phone call, sadly) and noted down a "proper" recipe.
What is Garam Masala?
Garam Masala is an elixir of life for North Indian recipes. A gentle touch of this magical spice elevates a dish to levels that you might consider it incapable of achieving. A potent blend of healing spices that have their roots in the ancient science of Ayurveda. The name itself literally translates into warm (garam) spice mix (masala) and that's exactly what it is. Think of it not as hot spicy but a warm spice that adds a depth of flavor to your Indian dishes.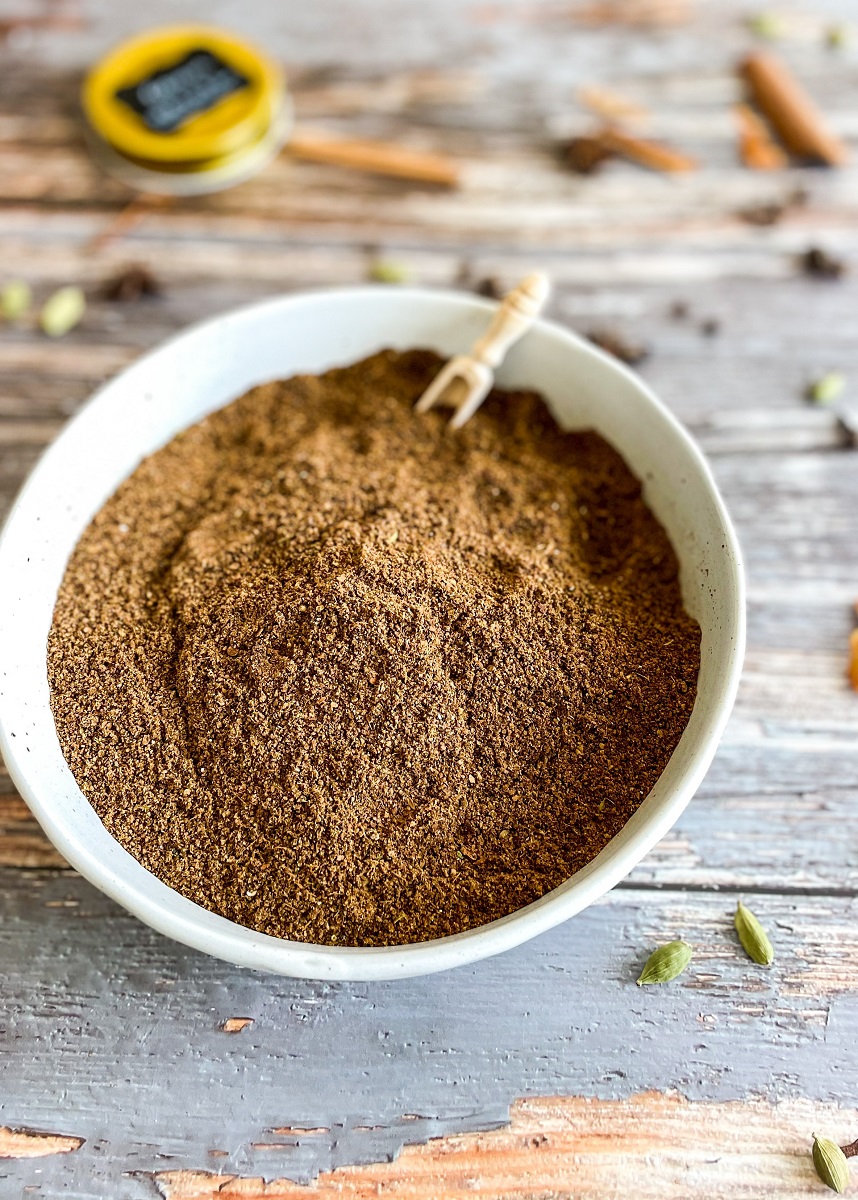 As is with many other Indian recipes that I have shared on the blog (like this one), every family probably has their own version of garam masala. This recipe is a simpler version of my mom's version since some of the whole spices that she adds are hard to find here. I have used all the whole spices that are easy to find in the Indian grocery stores and include cumin seeds, black peppercorns, green and black cardamoms, cloves, cinnamon sticks, mace, bay leaves and star anise. But, according to my mom, if you cannot find all of these spices, you can make pretty kicka** garam masala with just five of these spices. These would be cumin seeds, black peppercorns, green cardamom, cloves, and cinnamon sticks (more on spices here). And trust me these five are available at pretty much every regular grocery store.
Why make your own?
I hear you. But I promise you, once you make your own you will never go back to a store bought one. Indian grocery stores are flooded with box after box of different brands of garam masala but they lack something - the freshness and the potency. It's just not the same thing as a homemade one. I love the homemade chana masala and all other spices that I have shared about, but this one, undoubtedly, takes the crown.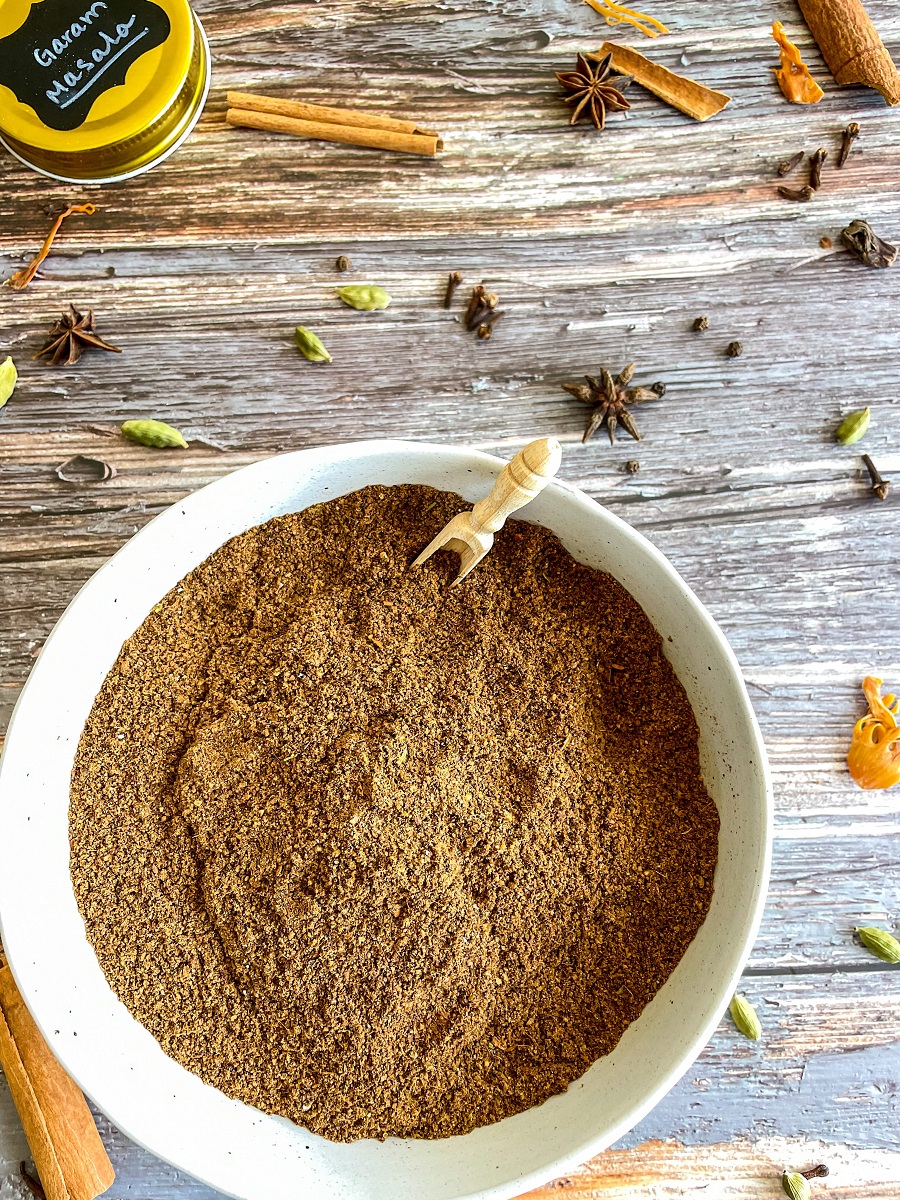 Recipe run down
It's the simplest of the recipes. Basically get all your ingredients together, dry roast them in a pan on medium heat. Let cool for a little bit. And then grind in a spice/coffee grinder. That's it. You have the most divine spice concoction on your hands. And YOU made it!
Here's your handy dandy printable:
Garam Masala | My Mom's Recipe
Garam masala is the potent, piquant spice blend that is very characteristic of every North Indian savory dish. Ten minutes and a perfect blend of therapeutic and aromatic spices that can take any dish from blah to fab is ready for you.
Ingredients
100

g

Cumin seeds scant 1 cup

50

g

Black peppercorns scant ½ cup

5-6

Black cardamom

1

tablespoon

Cloves

10-12

Green cardamoms

3

bay leaves

3

cinnamon sticks

3-4

Star anise

3-4

pieces

Mace
Instructions
Set a heavy bottomed pan on medium high heat.

Add all the spices to the pan one by one and toast until fragrant, about 3 minutes.

Transfer the cooled whole spices to a spice/coffee grinder and grind to a fine powder. Depending on the size of your grinder you might have to do this in batches.

Store in an airtight container in your spice cabinet. If you have some extra, you can store it in the freezer to retain freshness.
Notes
If you cannot find all the spices, you can use just five that are given in the write-up.
I peeled the black cardamom after toasting. Its shell is very fibrous and small spice grinders cannot grind it to a fine powder. So peel the pods and use just the seeds.
Your favorite recipes using homemade Garam Masala:
Aloo Parantha: Aloo Parantha is a classic Indian breakfast. A spiced potato mixture stuffed inside a whole wheat flatbread and pan fried. Delicious!!
Tandoori Chicken Wings: If you love and yearn for that classic tandoori chicken, you have to try these easy baked tandoori chicken wings. Delicious, crispy on the outside and bursting with flavorful tandoori spice juices in every bite.
Daal Pakwaan/Lentil Tostadas: Daal Pakwaan is a traditional Sindhi Breakfast given a modern twist to make Lentil Tostadas that are vegan and gluten free. Enjoy this spicy (or not) meal with bold flavors of Indian spices.
Chicken Biryani: This aromatic and super flavorful Chicken Biryani Recipe will become your favorite rice recipe of all times. Follow this step by step recipe to make perfect, restaurant style biryani at home every single time.
Saag Paneer: This Saag Paneer recipe combines the goodness of spinach and deep flavors of Indian spices with bites of luscious paneer. Made only in one pot that is Instant Pot and in a fraction of time as compared to the traditional recipe.
Did you make this recipe? Don't forget to give it a star rating! I love to hear from you guys. And if you do make this recipe, please tag me on Instagram and Facebook! I love to look through your creations!!
Love - Vaishali!
Key Tools and Ingredients: