Whole moong dal or green moong (also called mung) lentils is not very frequently made in our home. Everyone in the family loves it and it has great flavor. this moong dal recipe is very earthy and homey (just like daal makhani – recipe here), and tastes great with either rice (recipe here and here) or roti (recipe here). It still is not on regular rotation in our dinner ideas. And this is where the memory associated with this daal plays an important role.
Whole moong daal is one of the go to daals in my in laws family. Whenever there is an occasion or offering to the Gods that calls for cooking "whole" lentils, moong daal it is. But a thought stuck in my mind would tell me "no Moong daal". A thought that became a memory of a sweet person who was taken too soon.
This goes back to the summer of year 2000. For our junior year in engineering college, we had to do a three weeklong training. My awesome friend, Shilpa, and I signed up for a tractor-manufacturing unit in foothills of Shivalik Mountains. Shilpa's family home was not too far from the facility so she most graciously invited me to spend the duration of the summer training with her. Everything was perfect! Her parents and brother welcomed me into their home and the days of the training began to roll. We would ride a local bus back from the facility and would come home to her parents enjoying a cup of tea. While her mom, Mrs. Anand was the nicest, warmest, and welcoming woman; her dad, Anand Uncle was a lot of fun.
One such evening, when we got home in the evening, we joined Shilpa's parents in their balcony that overlooked their neighbors' backyard. There were few monkeys digging something from the grass and greedily stuffing their mouths. Uncle commented that the neighbor had set out whole moong lentils in the sun to dry. Some of those lentils might have spilled on to the grass and now those silly monkeys were feasting on them. He said that the monkeys are ignorant and they do not know what moong lentils are going to do their brains.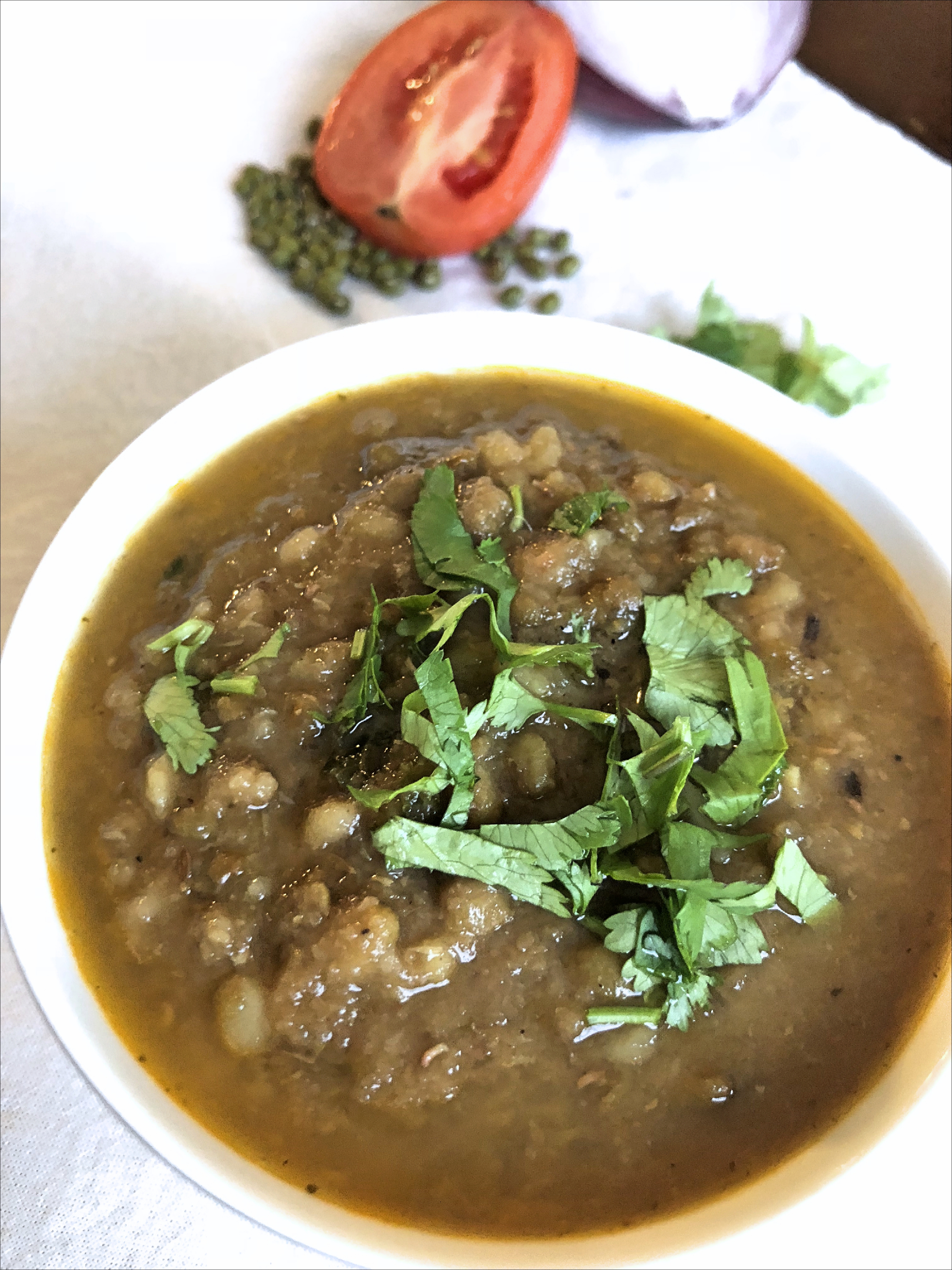 He went on to explain that moong daal causes "dimmag ki khushki" or that it dries out your brain leaving you unable to think properly. How funny is that? Which, is of course, not true. Moong lentils are packed with nutrition – it is one of the few lentils that are low in carbs while packing a good protein punch and dietary fiber. This thought, somehow, struck with me. And as if I needed an excuse to not like whole moong lentils any further, this did it.
Few years ago, Anand uncle suddenly passed away leaving us all in a state of shock and disbelief. When I called Shilpa after uncle's passing, we talked at length about how unfair life was, I checked how her mom was doing, some tears were shed and then I told her this story about moong daal and we laughed. What strikes me is that this is a very happy memory of Anand uncle, and it always brings a smile on my face. This is a testament to the kind of person he was, or as I always knew him – fun, always witty and with a heartwarming smile. I miss you uncle and moong dal or not, I will always remember you!
Here is the "Punjabi" version of this dal recipe for you. Very similar to daal makhani recipe (find it here), just simpler and different flavor profile that is inherent to these lentils.
Whole Moong Daal (Green Mung Lentils)
An earthy and homey recipe for sabut moong dal or whole green lentils, prepared with a flavorful masala of ginger garlic tomatoes, onion, and whole spices.
Ingredients
For cooking the lentils:
1

cup

whole moong lentils

rinsed and soaked for 30 minutes

6

cups

water

1

tablespoon

mustard oil /ghee

See Notes

2

green cardamoms

1

clove

1

dried red chili

optional

1

white onion, chopped

about ½ cup

2

large tomatoes, chopped

about 1 cup

2

cloves

garlic, minced

OR 1 teaspoon garlic paste

1

inch

piece of ginger, minced

OR 1 teaspoon ginger paste

1

green chili, chopped

See Notes

¼

teaspoon

turmeric powder

Salt

to taste
For Tadka or tempering the cooked lentils:
1

tablespoon

ghee or olive oil

See Notes

A

pinch

of asafetida

½

teaspoon

cumin seeds

2

tablespoon

coriander powder

¼

teaspoon

red chili powder

½

teaspoon

garam masala

1

teaspoon

kasuri methi leaves

5

sprigs

of cilantro

stems removed and chopped
Instructions
To cook the lentils:
Set a pressure cooker on high heat and add all the ingredients under "For cooking the lentils" into it. Close the lid and let it come to full pressure or 1 whistle (about 10 minutes).


Lower the heat to medium low and let cook for 30 minutes. After 30 minutes, turn the heat off and let the pressure release by itself (this will take 7-8 minutes).

Open the lid and stir around to check the consistency. If you would like to add more water, boil some in a microwave and add to the cooker. Set it on low heat and let come to a simmer.

If you think that the lentils are too watery, set the cooker on low heat and let come to a simmer. However, take note that the lentils will soak up some water as they sit so it's better to have a thinner consistency to begin with.
To prepare the tempering or tadka
Set a small, heavy bottomed skillet on medium high heat and add ghee/oil to it.

Once the ghee is hot, add asafetida and cumin seeds.Let the seeds splutter before adding coriander powder and chili powder.

Let the masala cook for about 30 seconds and carefully pour this spiced ghee to the pressure cooker with the cooked lentils.

Let the lentils and tadka simmer gently for another 10 minutes. Add garam masala and kasuri methi and stir. Turn the heat off, cover and let rest for a few minutes.

Sprinkle cilantro leaves before serving.
Notes
Make the recipe vegan by skipping ghee and using oil.
Use green chili according to the heat level you desire – jalapeno, serrano or thai chili.
Serve with steaming hot rice or roti.
Love- Vaishali.
Tools used:
Pressure Cooker (I use this one)
Measuring Cups and Measuring Spoons
Knife and Chopping board
Spatula
Small heavy bottomed skillet (I use this one)