Close to the beginning of March, I shared this picture on my Facebook and Instagram pages. And all the fresh produce in this picture has been hovering over my mind while grocery shopping. Our day-to-day lives get crazy and it is so easy to get carried away by the stress and business of it all. So something like eating seasonal or eating local doesn't even seem to hang on the horizon. However, the key to avoiding processed food and going down the rabbit hole of "I don't know what to cook" is "Planning Ahead".
I have shared with you earlier how I try to make a list on the weekend what we plan to eat during the week and do grocery shopping accordingly on Sunday. But the weekend that I am unable to do so, for whatever reason, those weeknight become a constant struggle of thinking what to cook and it ends up delaying dinner, cranky kids, hangry daddy and a very unhappy mama. So yes, not very pleasant.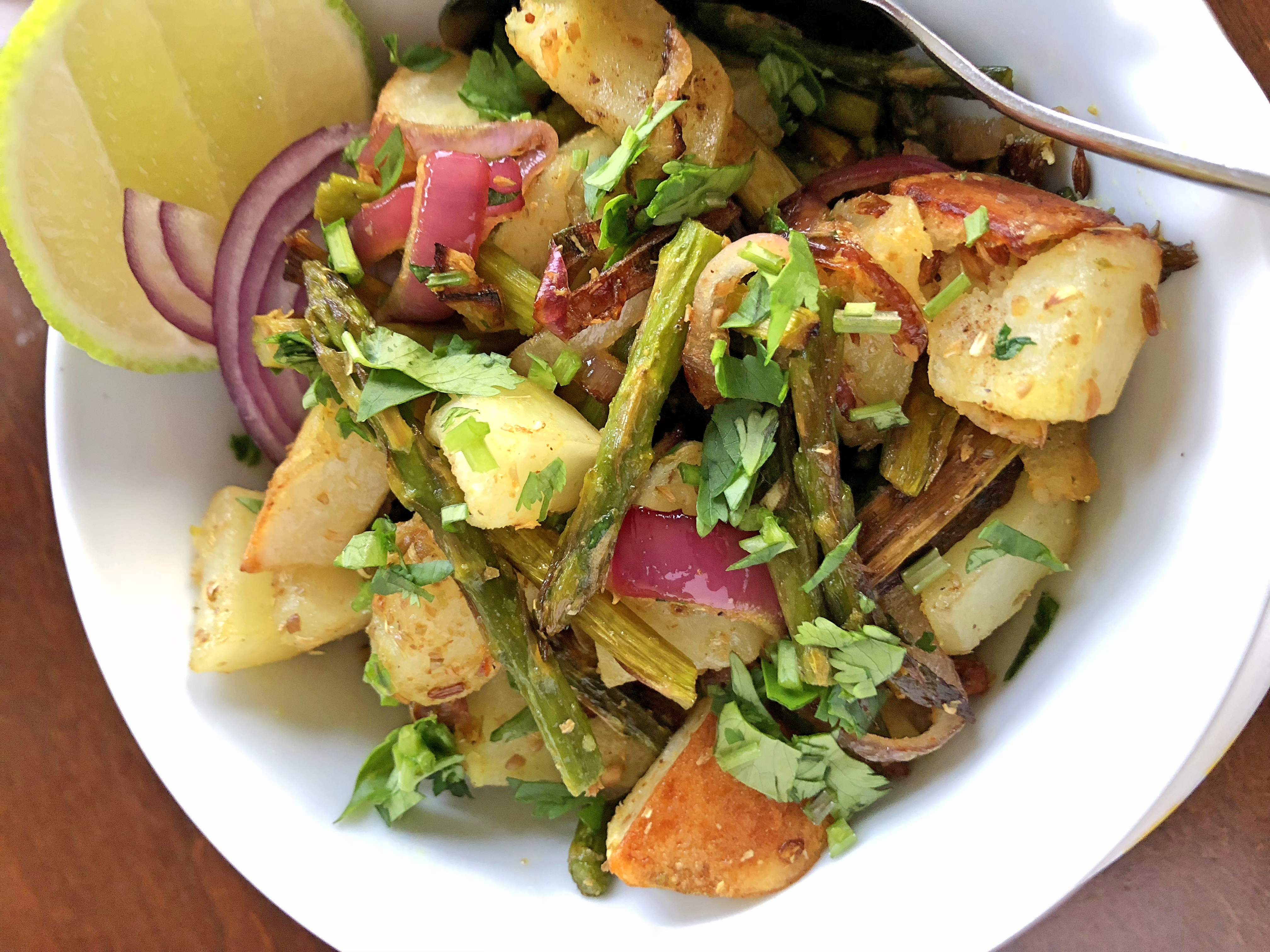 I bought some beautiful tender asparagus and thought of roasting it and serve with some creamy pasta. Mr. Little V loves roasted asparagus – this boy doesn't seize to amaze me – as far as his love for vegetables and salads is concerned! He's pretty awesome otherwise also and has this mama's heart…<3. Anyways, the whole roast the asparagus didn't happen as Dr. A was in India and my like was going crazy back here. So that beautiful asparagus decided to play hide and I totally forgot about it – out of sight out of mind is a true thing people.
Then one evening scrambling to find what to cook, I stumbled upon a bag of potatoes in my onion – potatoes bin and the potatoes seemed to have come alive. PYou know when they start sprouting those creepy shoots from the "eyes" – yes that happened. How could have I let that happen - punjabis have a love affair with aloo (for e.g. my aloo gobhi and this samosa appetizer pinwheel recipes). So I wanted to salvage whatever good ones were there. And that made me think of the asparagus that I had bought!
That's when the aloo asparagus or asparagus stir-fry experiment started. I roasted the potatoes and asparagus with some olive oil, garlic, salt and pepper. While these two were getting nice and cosy in the oven, I started stir frying some gorgeous red onion in my trusty skillet (you know this one). Ahhh…my skillet…I might have secret love affairs with some of them. WEIRD!!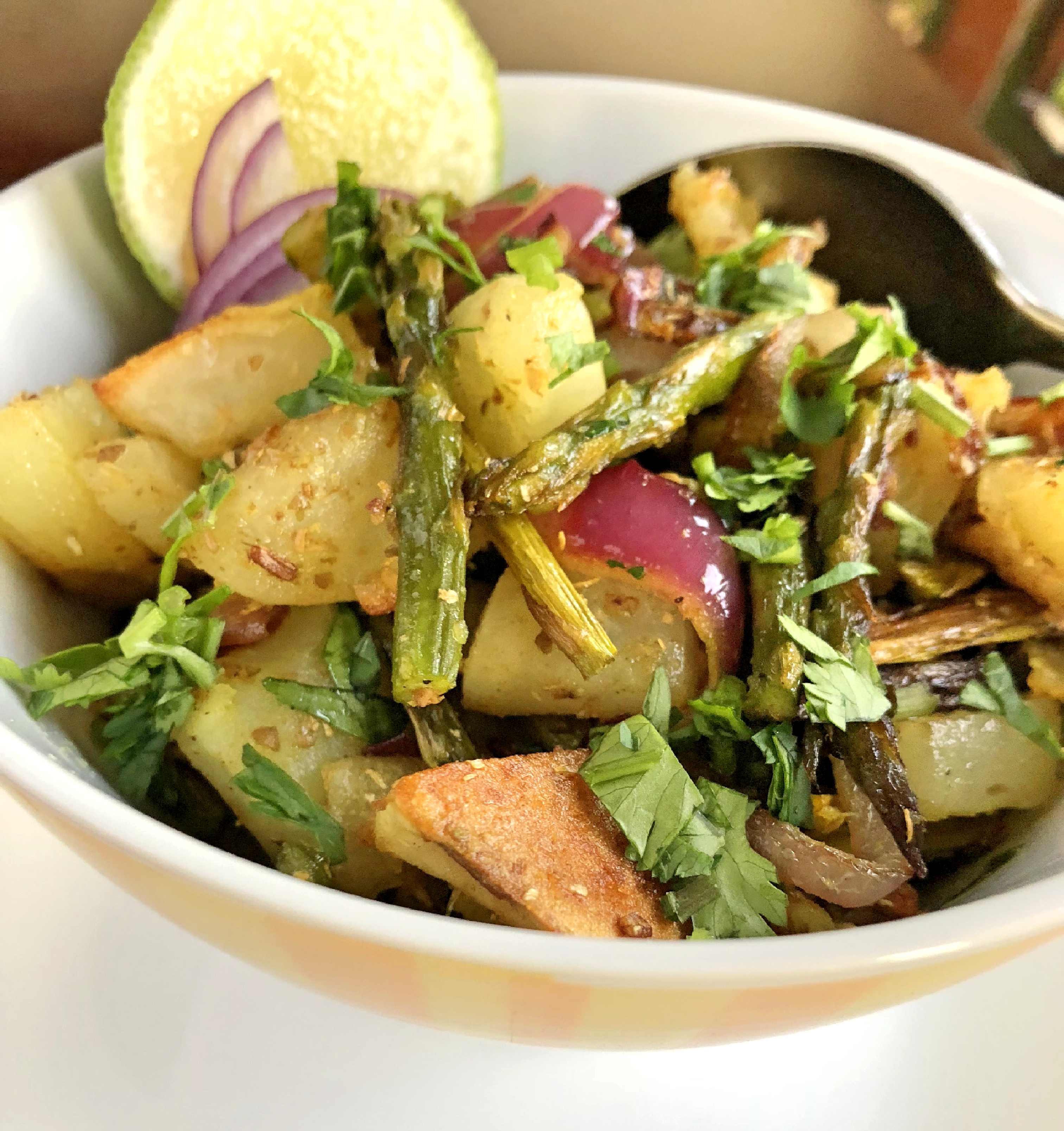 So back to the onion – added some spices, ginger (I think) and then added the roasted potatoes (aloo) and asparagus. A big mix, sprinkling salt, cilantro, lime juice and YUMMM! Here are the details.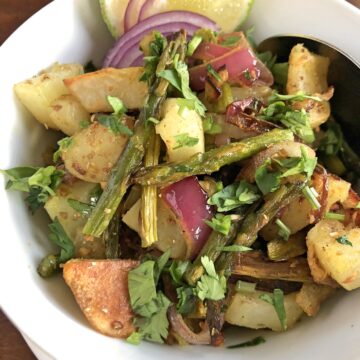 Aloo Asparagus – A quick stir-fry of potatoes and asparagus with Indian flavors
A quick Indian style stir fry of the always humble potato and the ever nutritious asparagus. Flavored with cumin, garlic and ginger.
Ingredients
2

potatoes – peeled and cubed

– about 2 cups

1

bunch

asparagus

tough ends removed and cut into 1 inch pieces

2

tablespoon

olive oil

divided

Salt and Pepper

to taste

½

red onion

sliced thick – about 1 cup

1

green chili

finely chopped, optional

2

cloves

garlic

minced (see notes)

½

inch

piece of ginger

minced (see notes)

1

teaspoon

cumin seeds

¼

teaspoon

turmeric powder

1

tablespoon

coriander powder

¼

teaspoon

garam masala

5-6

sprigs

cilantro

leaves stripped and chopped

½

lime

juiced
Instructions
To Roast the veggies
Preheat the oven to 425 degrees F/220 degrees C.

In a mixing bowl, add the potatoes, about ½ tablespoon olive oil, salt and pepper and give a mix. Spread on a cookie sheet (see notes) and put in the oven. Set the timer to 10 minutes.

In the same mixing, bowl now add the chopped asparagus and add ½ tablespoon olive oil, salt and pepper and give a mix. Spread on a cookie sheet and wait till the 10 minute timer goes off.

At this point, slide the cookie sheet with the asparagus into the oven too. Set the timer to 15 minutes and let both potatoes and asparagus roast in the glory.

So potatoes roast for 10+15 = 25 minutes and asparagus for 15 minutes. My math is solid!
To make stir-fry
While the veggies are roasting, set a heavy bottomed skillet on medium high heat. Add remaining 1 tablespoon olive oil and let it get nice and shiny.

Add cumin seeds and once they begin to splutter, add turmeric. Stir around and then add the garlic, green chili, sliced onions and ginger. Mix and let sear for almost five minutes. Add coriander powder and mix.

Take the roasted potatoes and asparagus out from the oven and scrape them out of the cookie sheets and add to the pan. Add salt, freshly ground black pepper, garam masala and mix. Cook for another five minutes, sprinkle chopped cilantro and lime juice. Give a taste check, adjust seasonings and enjoy.
Notes
NOTES:
Feel free to use ginger garlic paste from a jar if you do not have fresh ginger and garlic. Use 1 teaspoon.
I do not use a parchment or liner on my cookie sheet. I like to scrape off any charred bits of my roasted veggies for extra flavor. If this is not your cup of tea, use a liner or parchment paper on your cookie sheet.
Serve with roti (recipe here) or rice (recipe here).
Love- Vaishali!
Tools used:
Oven
Cookie Sheets
Skillet (I use this one)
Knife and chopping board
Grater