Few days ago, I made these namkeen sewiyan – also popularly known as Bambino sewiyan, Bambino being the brand that sells this vermicelli in India. You can see the post on Facebook and Instagram. A simple and homey dish that I made to remember someone very close to my heart – Shana. Shana loved this namkeen sewiyan dish and repeatedly, we would make this to satisfy a snack attack or as a laid back breakfast. Some days, after both of us would get back home from our respective jobs and then it would be either namkeen sewiyan or a bowl of Maggi noodles (think of it as Indian version of Ramen noodles) for a quick and healthy snack till we got ready to even start cooking dinner.
Jump to Recipe
So other than just being a recipe, namkeen sewiyan is about thinking of a life and love that was gone in an instant, too soon. Grief works in confusing ways. Grief is what it is - extreme sadness for the one who have passed and endless time of mourning and bereavement. During the time of grief, we somehow forget to celebrate the life the person lived. The happy memories. She loved to this; he would always say that or other funny and happy things about the person. Something that does not necessarily make you sad but rather brings a smile to your face.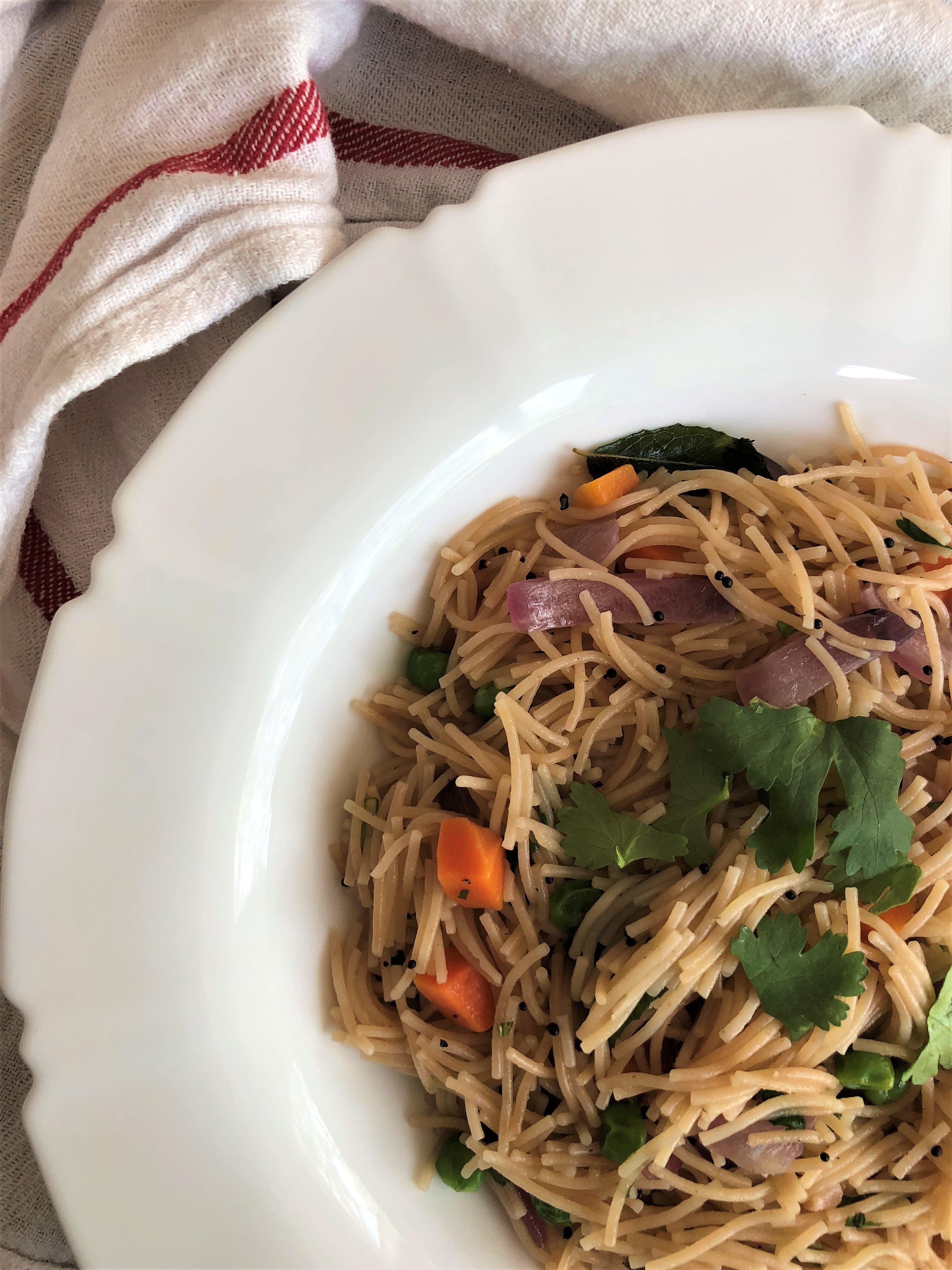 When Shana passed away – every day was challenge. All the family members were distraught, to say the least. The house was always full of visitors. Even if you tried your best to go about your day and pretend to be oblivious about the heavy rock of grief chained to your angle, the visitors would constantly remind you of that. Very few people, other than immediate family and some close relatives and cousins would talk about happy memories. However, her personality was such that every now and then a conversation pops up that makes us laugh and smile.
There are some people in life that you can never forget. Irrespective of how long you knew them, how close you were during that time, or what your relationship was like. Shana is that person for me. I cannot say that I knew her all my life because I did not. For almost seven years, she held a special spot in my day-to-day life. Shana was in high school when I first met her and was wise beyond her years. She could comfort me and come with her witty explanations and reasoning for anything that was not going as planned. Shana was my 'person' in a very new and intimidating environment at a certain point in my life.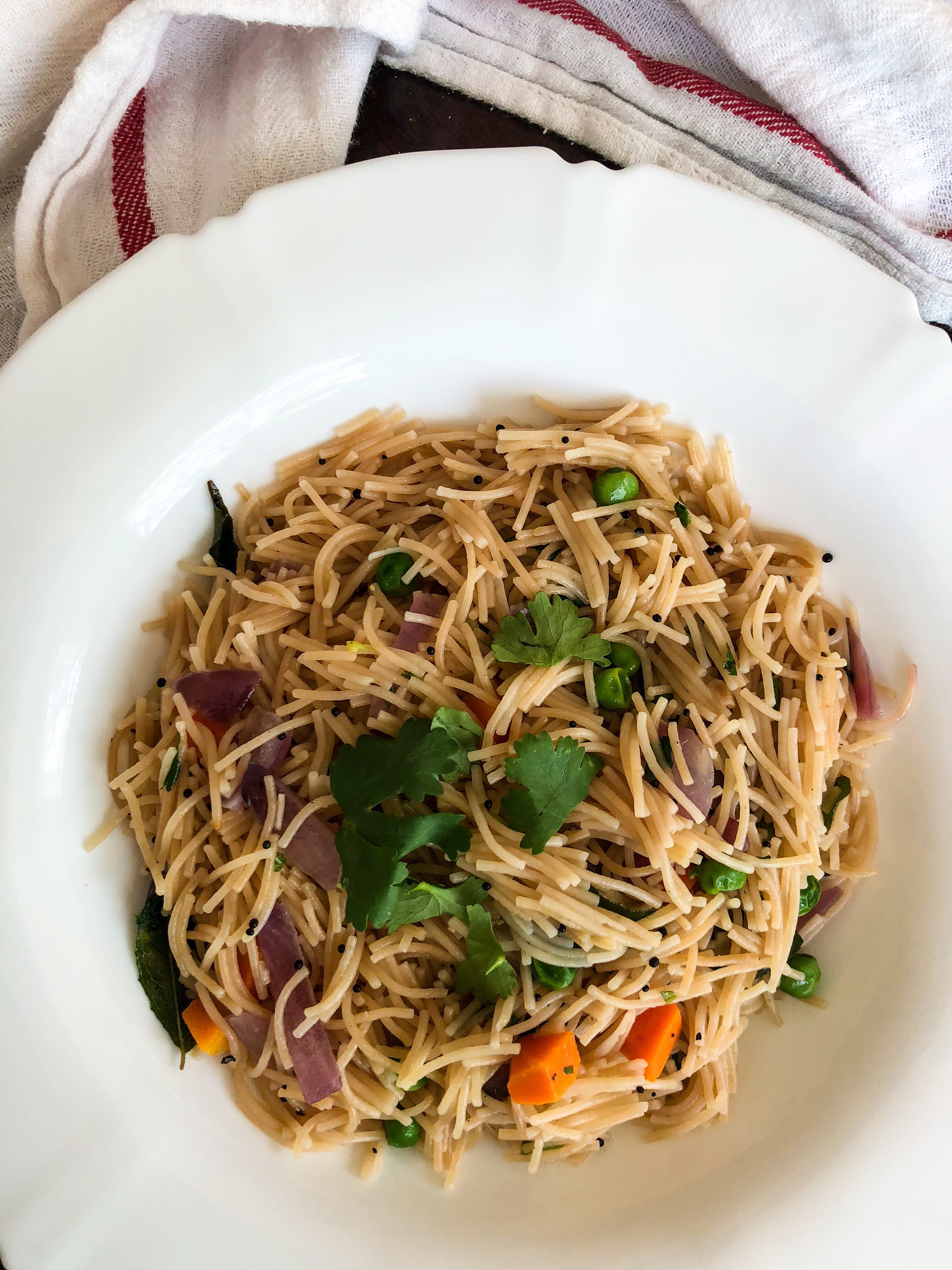 There are numerous stories that I can share about our times together. All the great as well as some not so good times that we shared. Nevertheless, I would leave you here today with the recipe of this namkeen sewiyan which she loved and which I loved to make for her. Every time I make this dish (which is not very often, I admit), I cannot help but think of her and it always brings a smile on my face and warms my heart in a way that only a fond, happy memory can.
Recipe run down:
You can buy toasted whole-wheat vermicelli (Bambino sewiyan) in most Indian stores. If you cannot find the toasted kind, the regular kind will work in a heartbeat too. The vermicelli are boiled in hot water (just like pasta) for about five minutes and then tempered in ghee (recipe here) or oil with a mix of curry leaves, mustard seeds and you can add whatever chopped veggies you like. Finish the dish with a generous sprinkle of chopped cilantro leaves and a squeeze of lime. Dr. A enjoys it with hot and sweet ketchup (I did not just tell you that).
Here is a handy dandy printable.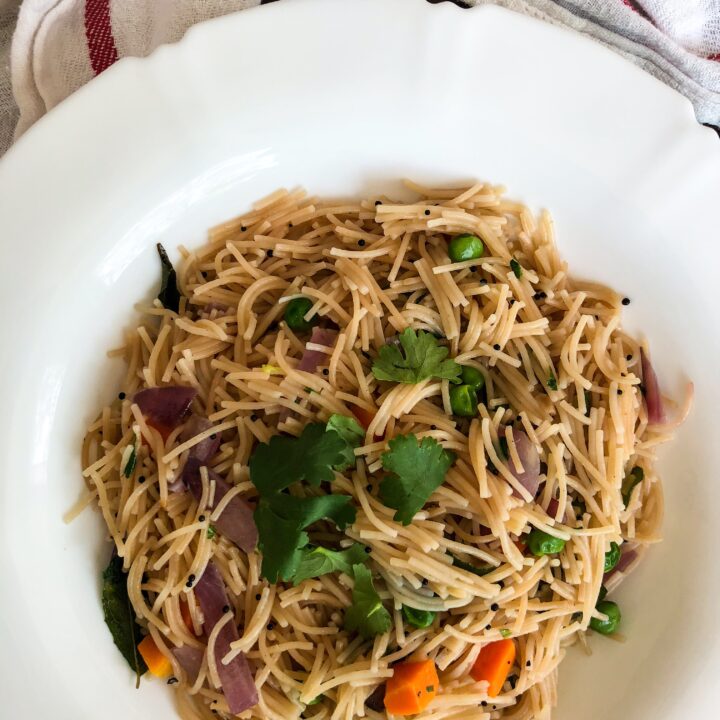 Namkeen Sewiyan
Namkeen sewiyan made with whole wheat vermicelli is a low calorie, kid approved Indian snack or breakfast dish that is yummy and healthy!
Ingredients
1

cup

Dried whole wheat vermicelli

1

tablespoon

ghee or olive oil

1

teaspoon

mustard seeds

10-12

curry leaves

1

cup

sliced onion

½

cup

frozen carrots and peas

10

sprigs of cilantro leaves stripped and chopped

½

a lime juiced
Instructions
Set a big saucepan with 5-6 cups of water on high heat to boil. Salt the water.


Once the water comes to a boil, add the dried vermicelli and set the timer to five minutes (or cook according to package directions).

While the vermicelli are cooking, set a skillet on medium high heat and add oil/ghee.

When the ghee is nice and shimmery, add the mustard seeds, stand back and watch them pop and dance, about 30 seconds.

Carefully add the curry leaves as these might splutter. After about 10 seconds add the sliced onions and carrots plus peas. Cook for a minute and two.

Drain the vermicelli in a colander and add to the skillet with onions, carrots and peas.

Add salt and pepper to taste and mix.

Wait for a minute before adding chopped cilantro and lime juice. Enjoy warm!
Notes
If you want to add cashews or peanuts, you can fry them in some extra ghee or oil before adding mustard seeds to the skillet and set aside. You can add any veggies you like – corn, finely diced bell peppers, tomatoes etc.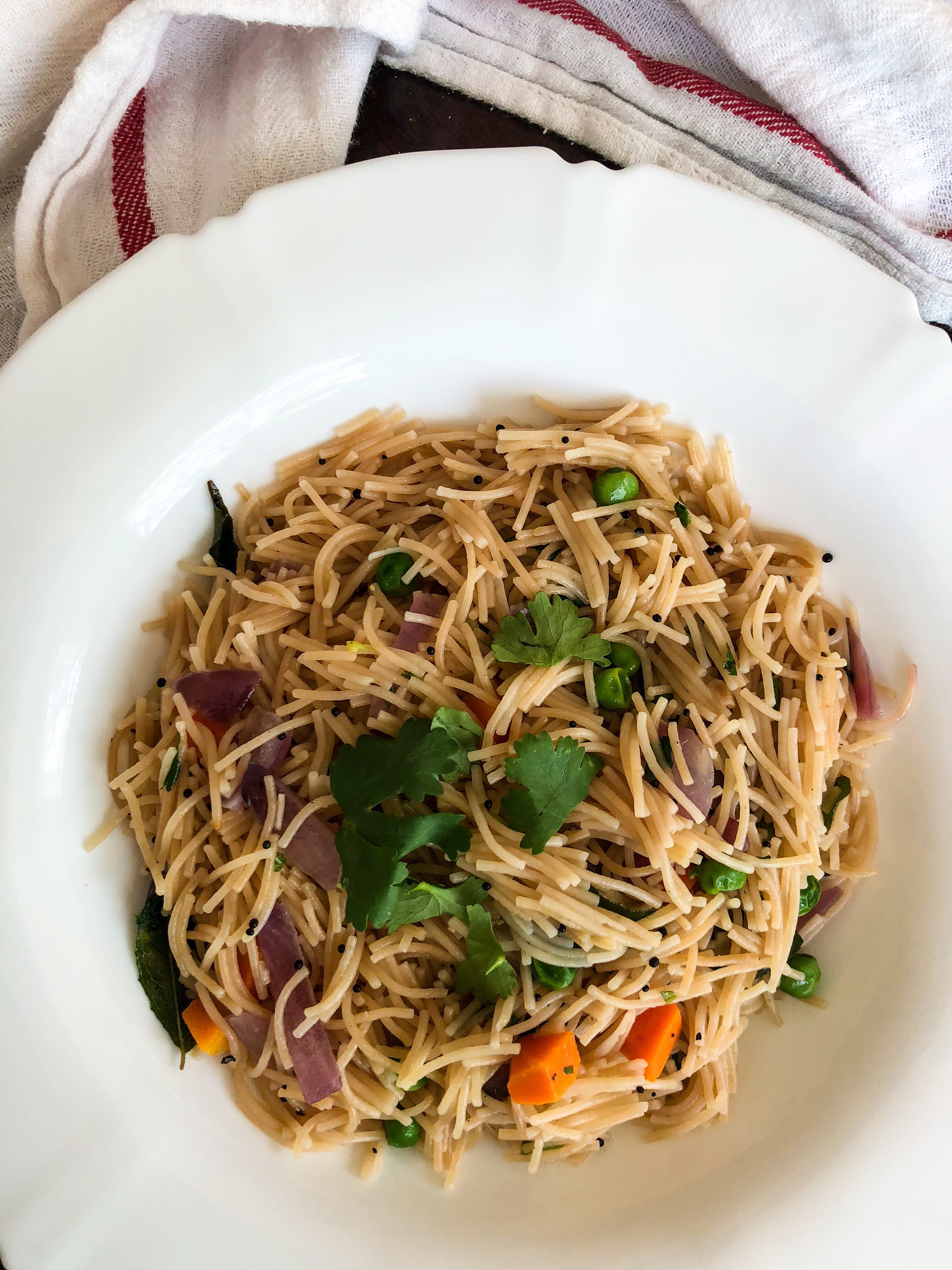 This is all I want in my life right now! Happy weekend friends!
Love - Vaishali.
Tools Used:
Measuring Cups:
Measuring Spoons:
Colander:
Skillet: