This Citrus Scented Carrot Cranberry Loaf Cake is dotted with dried cranberries, grated carrots everywhere and has a subtle tanginess and fresh flavors from orange juice and zest.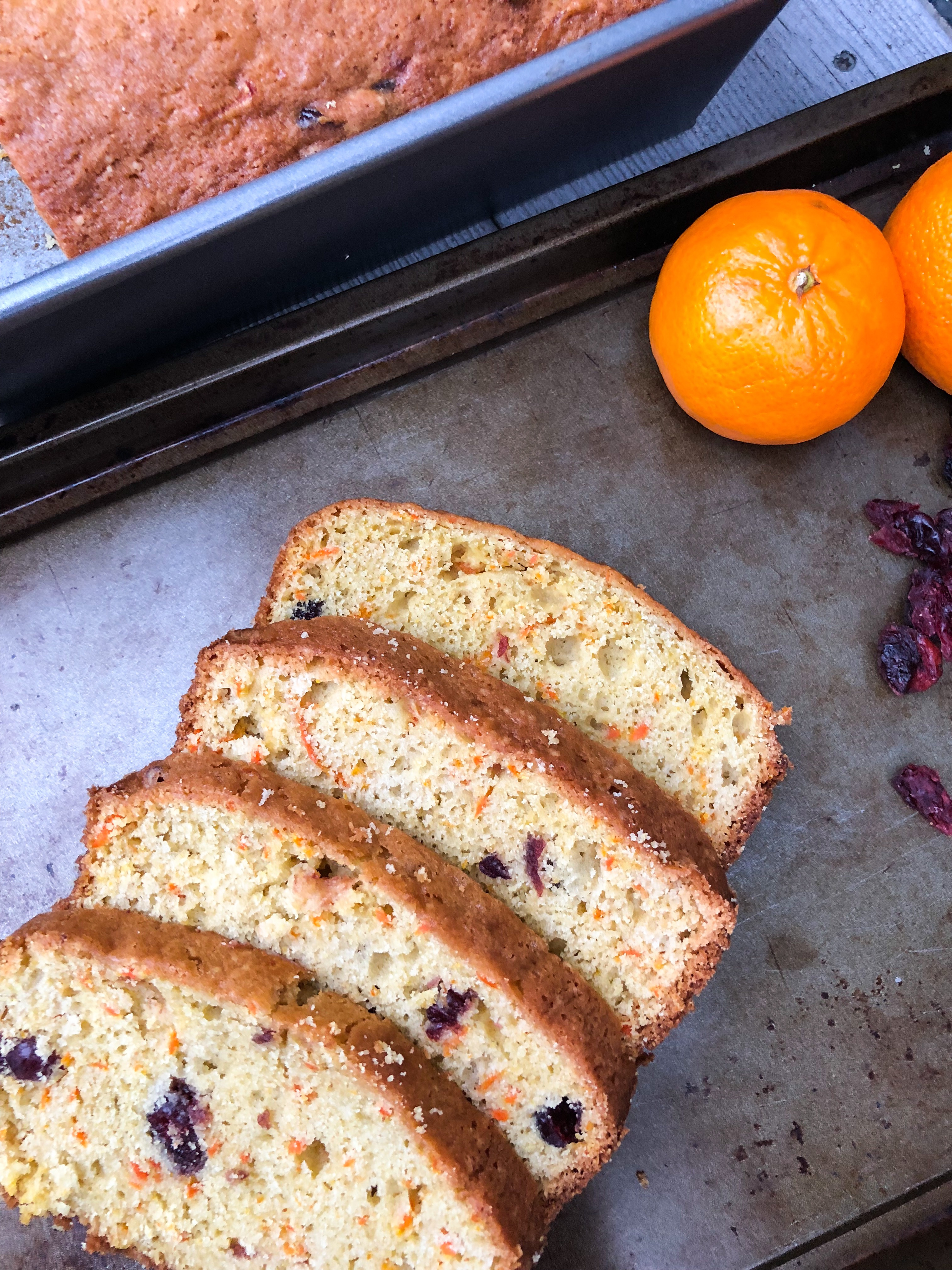 How is the weather in your neck of woods? We are quickly saying goodbye to fall and entering in to the winter phase. We have already had two snowfalls…even before thanksgiving. This is what changing climate looks like people. Anywho, I love all four seasons and enjoy the transition (if there is). We are almost saying goodbye to citrus right now but have plenty of pomegranates (recipes here and here), winter squash (recipes here and here), sweet potatoes (recipe here), Brussel sprouts (here) etc. Though I love all (mostly) seasonal produce, all kinds of citrus and pomegranates top my list. The recipe that I am sharing today was a happy accident. "Citrus scented cranberry and carrot loaf cake". Sounds pretty fancy, right? Ha ha.
Jump to Recipe
Actually, I fiddled with the idea of calling it orange, carrot and cranberry loaf, or citrified carrot cranberry bread etc…Are you not relieved that I chose Citrus scented cranberry and carrot loaf? I am. The name actually fits perfectly. The bread is lightly scented with citrus notes from orange and lime adding a delicate tanginess and moisture to the bread. Cranberries add a surprising freshness that is scattered throughout the loaf. And carrots add nutrition and robustness. The color is beautiful. This citrus scented carrot cranberry loaf is a perfect snack to go with tea or a slice for breakfast serves just right.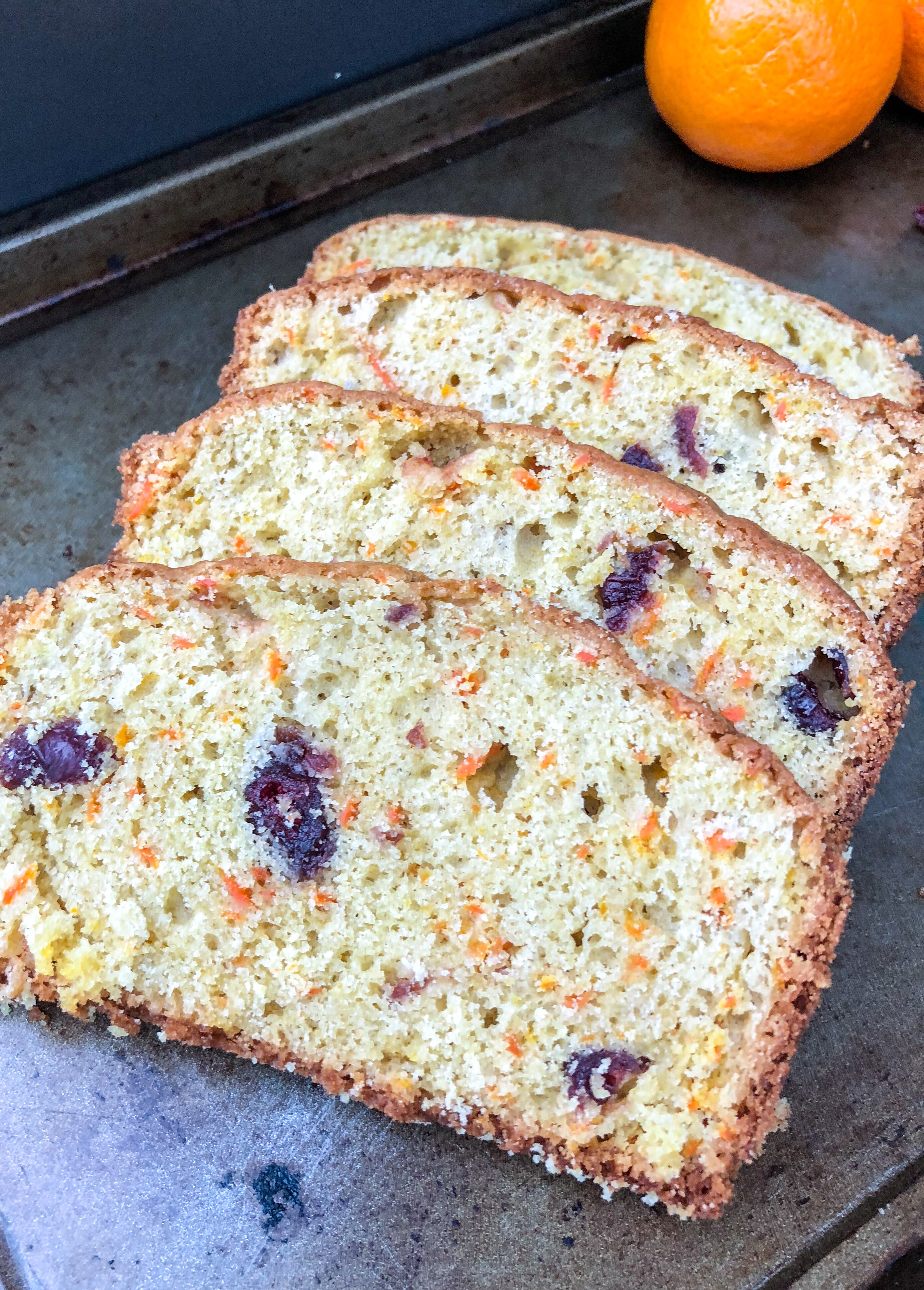 Can we please talk about nutrition of this "dessert" please? Vitamin C and thiamine are plentiful in oranges along with folate and some potassium as well. Cranberries add fiber and are also a great source of Vitamin C along with manganese and Vitamins K and E. They are loaded with bioactives, antioxidants and have anti-inflammatory properties. What can I say about carrots – my kids love to munch on carrots, such a great snack. Carrots are a great source of beta-carotene (adds that beautiful color), Vitamin K, potassium, fiber and antioxidants. They have been linked to better eye health and are a weight loss friendly food. So, I told you – this is a recipe of a nutritionally dense dessert.
Few important notes first.
Use sweeter oranges for this recipe. I have used mandarins and tangerines in the past. As always, I highly recommend using room temperature unsalted butter and eggs. Do not over-mix the batter, otherwise your bread will not turn out the same. This is not a very sweet cake/loaf.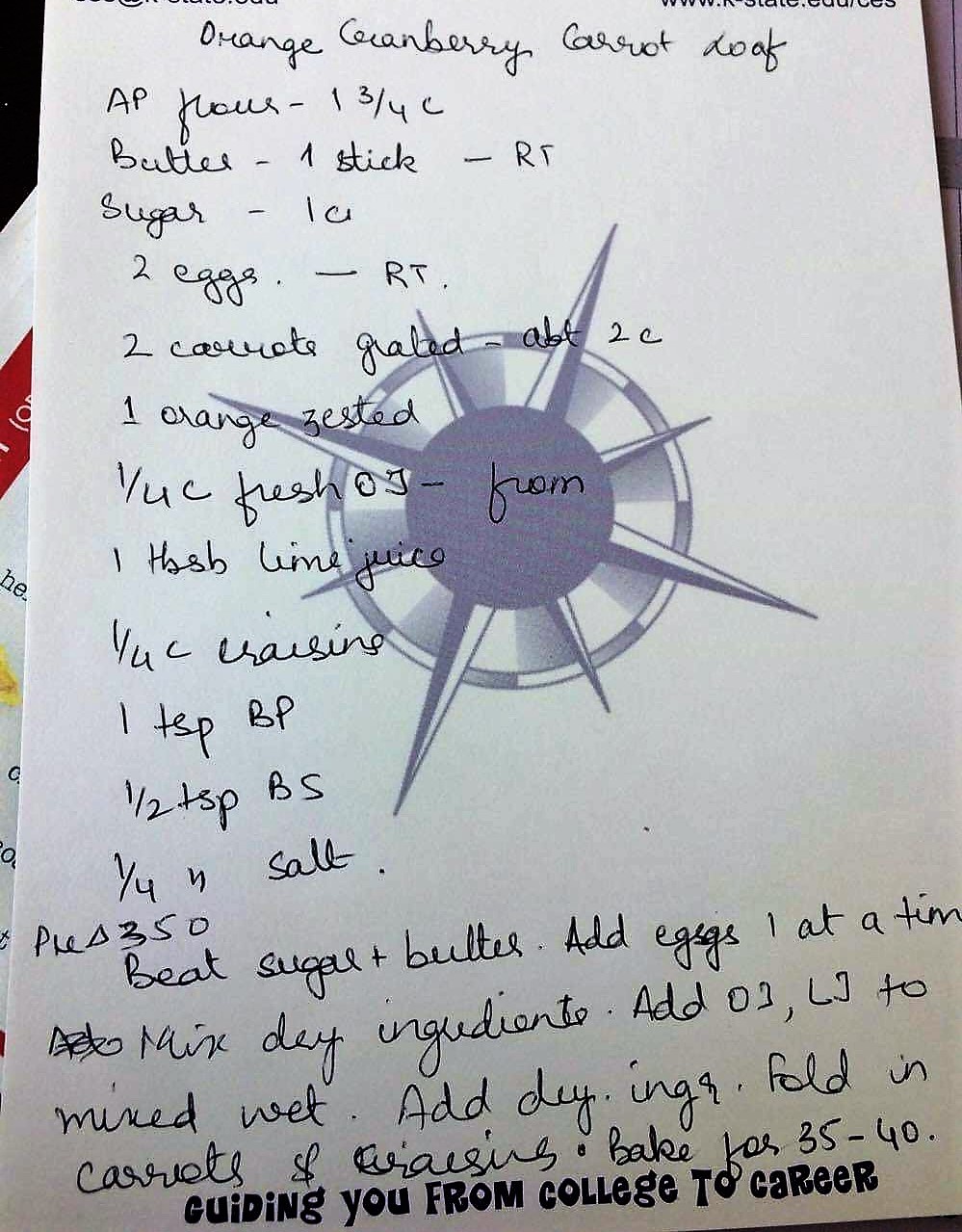 Few years ago, when I first made this bread and posted it on Facebook, a friend asked for the recipe. I clicked a picture of my kitchen notes and sent it to her. I still go look back at that picture to make this recipe. Today, that shall change..hah! Now I will have a more organized source for my own recipe. This is what my blog is all about. So, without further ado –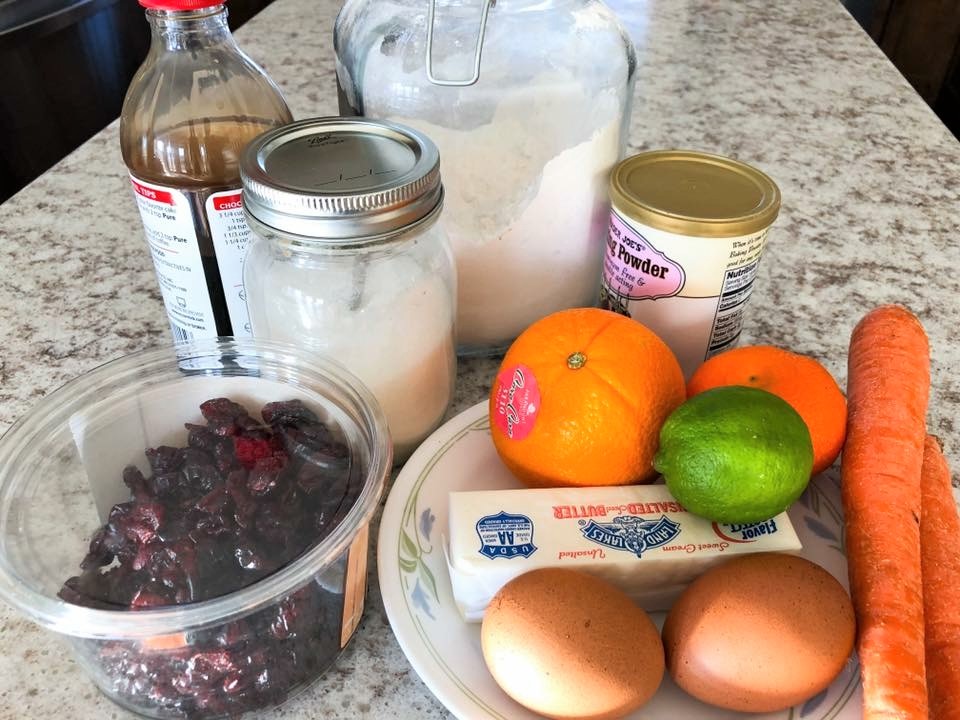 Here is the handy dandy printable
Citrus Scented Carrot Cranberry Loaf Cake
This Citrus Scented Carrot Cranberry Loaf Cake is dotted with dried cranberries, grated carrots everywhere and has a subtle tanginess and fresh flavors from orange juice and zest.
Ingredients
1 ¾

cups

All purpose Flour

1

teaspoon

baking powder

½

teaspoon

baking soda

¼

teaspoon

salt

½

cup

unsalted butter

at room temperature

1

cup

sugar

2

eggs

at room temperature

2

carrots, peeled and grated

about 2 cups

1

tablespoon

orange zest

see notes

¼

cup

fresh orange juice

1

teaspoon

pure vanilla extract

1

tablespoon

lime juice

¼

cup

dried cranberries

see notes
Instructions
PLAN AHEAD - take the butter and eggs out of the refrigerator. Peel and grate the carrots.


Preheat your oven to 350 degrees F or 175 degrees C. Prepare a loaf pan (I used 9 X 5) by greasing it with butter and sprinkling some flour over it. See Notes


Set a sieve over a deep mixing bowl and sift together flour, baking powder, baking soda and salt. If you do not want to, skip the sifting and just whisk these ingredients together.


In a separate bowl or the bowl of your stand mixer (like my Kitchenaid) fitted with the paddle attachment, beat the butter and sugar together till light and creamy, about 1 minute on medium speed.


To the sugar and butter mixture, add eggs, one at a time, and mix them in.


Once the eggs, butter and sugar mixture is smooth and creamy, add in freshly squeezed orange juice, lime juice and vanilla and mix on low speed. Your mixture might look curdled but do not worry about it. It's OK - I promise!


With the mixer running on very low speed, slowly add the dry ingredients and grated carrots. Stir until just combined. With help of a spatula, gently fold in the dried cranberries.

Pour batter into prepared loaf pan and smooth out the surface with a spatula.

Bake at 350/175 for 40-50 minutes or until a toothpick inserted in the middle of the loaf comes out clean. The time might vary according to your oven. I would suggest that you start checking the middle of the loaf with a toothpick at the 40 minute mark.


Take the loaf out of the oven and let cool for 10 minutes (Hah good luck with that!). Loosen the sides of the loaf cake with a knife and carefully remove loaf from pan. Let cool completely before slicing. Enjoy!!
Notes
Use the zested orange to squeeze fresh orange juice. 1 medium size orange will yield ¼ cup OJ.
If you cannot find dried cranberries where you live, you can use golden raisins or dried cherries too.
The wrapping paper of butter stick makes a good tool to spread butter in the loaf pan to grease it.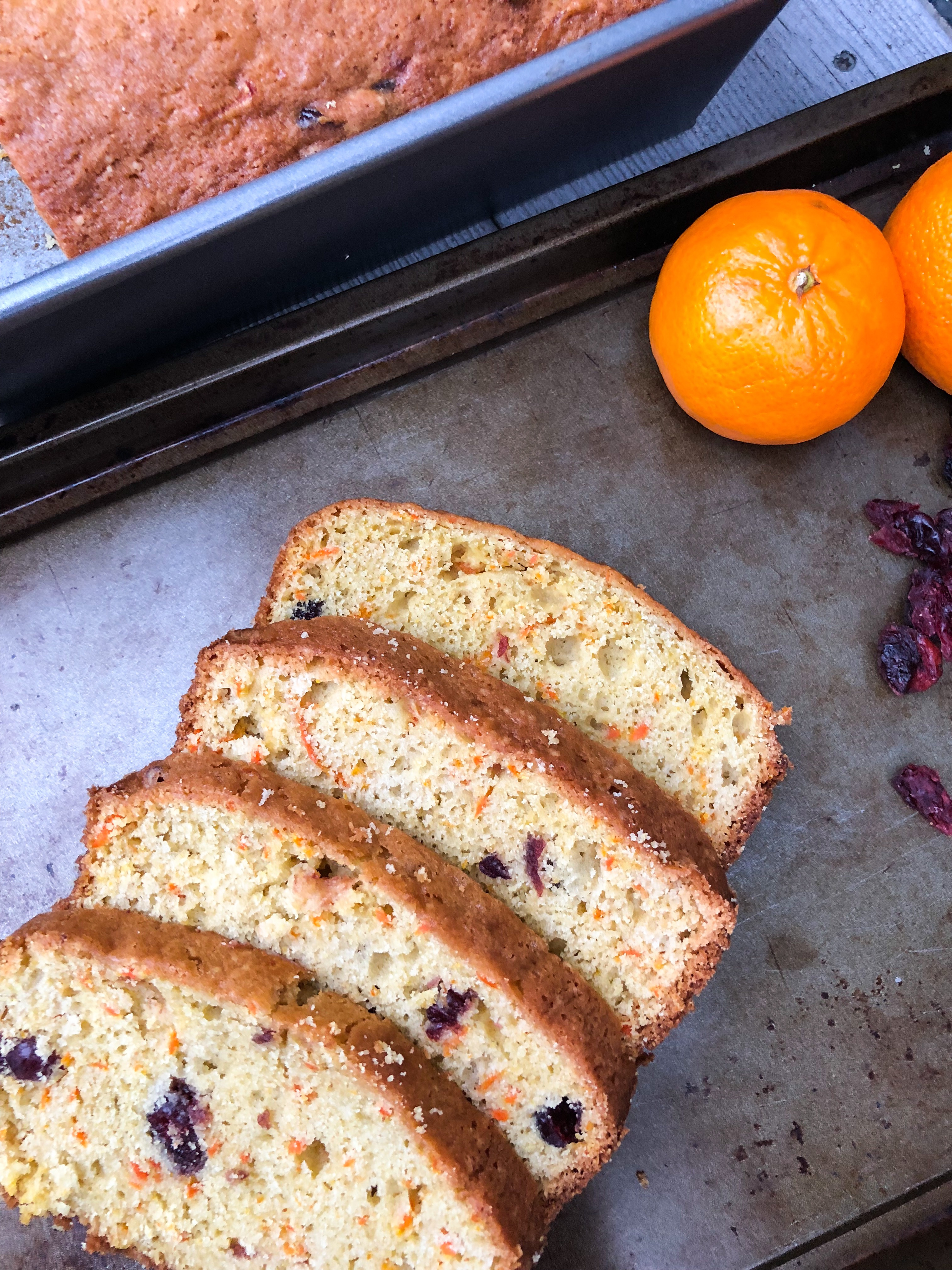 I hope you give this loaf cake a try and enjoy the cranberries and carrots this fall in this simple, yet super flavorful Citrus Scented Carrot Cranberry Loaf Cake. It is yummilicious!
Love - Vaishali.
Tools Used:
Oven
Kitchenaid Stand Mixer:
Mixing Bowls:
Sieve: